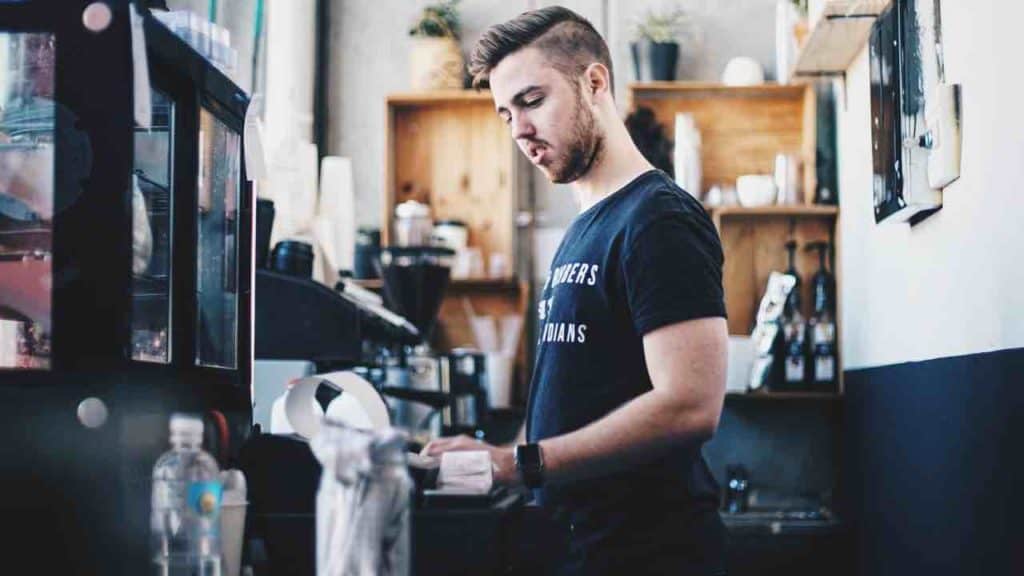 "What do you mean you made a mistake?!" exclaimed the fast-food manager.
My co-worker muttered a response, but all I heard was "Sorry."
Our portly manager turned around and waddled away angrily. When he reached the kitchen, he kicked the trash can with as much might as a soccer player would for the final point in the World Cup. It flew into the air, somersaulted, and some debris poured out.
It's a good thing I rarely used my 50% food discount there.
Luckily, I only worked at that fast food restaurant for a summer and returned to college immediately after. Working at that dead-end job, along with a string of others, has taught me a lot. Here are 4 lessons I learned from working a series of horrible jobs.
1) Bad Leadership vs. Good Leadership
In my days of fast food service, I became well acquainted with poor leadership. The boss I had was quick to anger, raising his voice, and cracking under pressure. I remember seeing literal beads of sweat form on his brow. He was also inept at delegating. Whenever the lunch rush arrived he would jump into a role if he felt the designated person wasn't performing to his standard. He didn't give anyone the chance to learn under fire.
He was an angry man wearing a practiced smile.
In contrast, when I took a position at a start-up company I got to work under a skilled leader. Instead of working with people's food I was working with people's money. My manager always kept a calm disposition, made herself available for assistance, and would guide us in the direction of answers instead of simply telling us. Moreover, she conducted monthly performance reviews to check-in and request feedback for her own growth as well. From her example, I learned to maintain my composure and to communicate effectively.
It's easy to visualize the qualities of a good leader, read about them, and listen to speeches. It always seems so easy and obvious. In a workplace, under pressure, it's quite difficult to find even mediocre leaders.
2) Discovering things that you don't like is important
Everyone will tell you to find a job that you enjoy. I don't think that's bad advice, but I think it's more important to try out a bunch of different things. We often learn that the thing we thought was exciting or interesting is exceptionally boring.
I've worked in fast food, mental health, e-commerce, data entry, and some other fields. I've learned I hate customer service in all aspects, I love helping people with their mental health, and that an insane amount of office jobs involves just staring at a screen.
From all of this I understand I don't want to be directly involved with people unless I get to help them emotionally—such as therapy. I also don't want to be part of a business that involves excessive sitting and staring because I get bored easily.
Take a chance and do something that is outside of your interests. Explore all the available options. This will allow you to hone in on the exact industry you'd like to contribute to.
3) You've got to find a way to keep going
I once had had a job that required me to get up and be on location by 6 AM. I'd wake up every morning at 5 AM, stumble around, get clean enough for work, and then go. If you've read my other posts, you'll remember this was the position in which I'd take 15-minute naps in my car in empty parking lots before stepping into the office.
It was one of the worst jobs I've ever had.
I had no social life. I went to bed at 9:30 PM. My co-workers were heavy gossipers and incredibly nasty to each other. To top it all off the clients I'd see would usually come in wearing sweatpants, smelling intoxicated, and would expect me to give them a job.
At the time I was fighting a lot of depression. It was also during this time I came to the jarring realization that my degree, which cost hundreds of thousands of dollars, was worthless. After all, it was only earning me $26,000/year.
My girlfriend was my only support. She was encouraging, positive, and would call me regularly to check-in. Despite it being a long-distance relationship, her care kept me sane. She offered me the ability to vent and share my frustrations.
There was one occasion in which a worker came to the office and cursed me out for 30 minutes. He then saw me at his job site and continued to scream, stomp, and curse at me. Of course, I didn't get paid extra for this.
Having support really helped me. Whether you're starting your own business or working for someone else you'll need help. Obstacles will always appear. You will get frustrated, depressed, and anxious. You will be too close to the problem to solve it. When giving up seems like an answer you need to find a way to keep going. For me it was the love and support of someone in my life.
4) Serving others pays off
Most recently I've learned that serving others pays off. I'm waiting on the financial aspect to kick-in, but in terms of happiness and goodwill it pays tremendously.
I worked on a team of 20+ people. There was a consensus that everyone felt underappreciated, me included. Instead of whining I decided to recognize my peers. I would approach them individually and express my gratitude. Additionally, I'd say something in team meetings so the individual would get a round of applause.
It may be cheesy but seeing someone smile just because you appreciated their work feels spectacular. It also sows the seed of positivity. People begin to show gratitude to each other and become more willing to help. It creates a new culture.
Find a way to serve others and make the environment more pleasant. For me, this changed how people perceived me. I've been lucky enough to become a person entrusted with other's ideas, concerns, and comments.
When you serve others, you give others the chance to serve you too—it's reciprocity.
Conclusion
Get out there right now and get a crappy job! No, don't do that. If you're in a very uncertain situation and you need help figuring out what you like, or dislike take any job. That's right any. It'll help you learn about good leadership, as well as bad. You'll get the real-world examples. Moreover, you'll get to discover things you like and don't like. It's a great learning experience about yourself. It's also a fantastic chance to find out how you deal with stress and obstacles. Do you cave in? Give up? Perhaps you find ways to circumvent the problem all together.
No matter what just be sure that you help those around you. The best way to financial freedom and self-mastery comes from helping others.