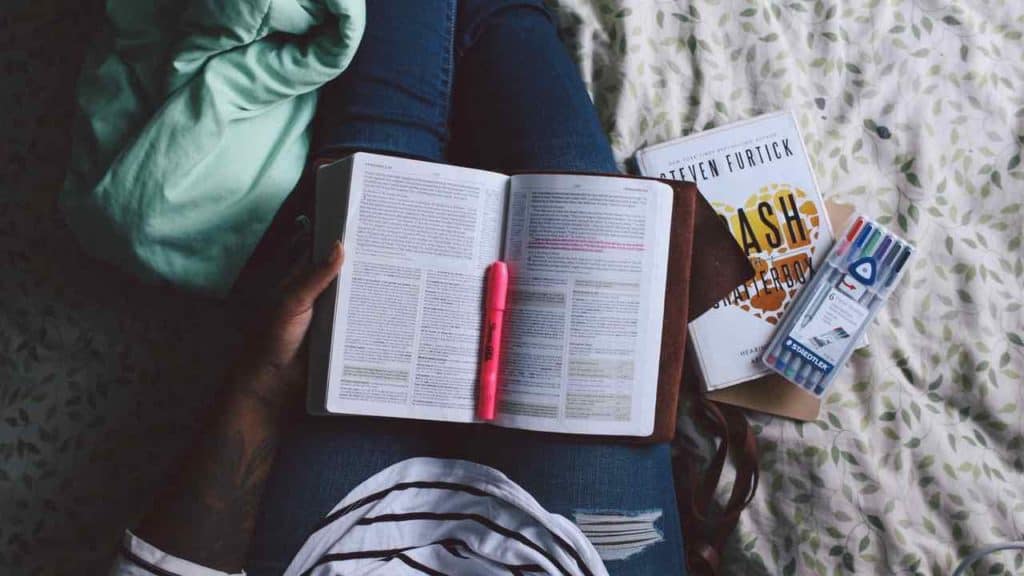 All the students pointed and laughed at me.
My heart fell through my stomach. I felt queasy. I didn't know tardiness would result in this level of humiliation. UGH! This is why I hated school.
I cast my gaze to the floor. Just then I realized why they were laughing. I had a freshly ironed shirt, clean shoes, and my hair was properly combed…but I was in my underwear.
No pants.
I showed up to class in my underwear. The best way to make a first impression…well, at least I don't have a habit of skipping leg day.
My alarm buzzed and I was jolted from the dream. I've been having this same dream years after graduation. Back to school time always puts me in this state of mind.
It's also around this time I hear a lot of exuberant high schoolers talk about college.  While creepily ease dropping in my local coffee shop I'll hear someone say they can't afford to go to college. Their friends hop into cheerleader mode and tell their buddy to "Buck up" and say, "College isn't that important any way!".
They patronize their friend and pat him on the back until the gentlest smile appears.
Although they're only saying these things to make their friend feel better, they're right; college isn't that important, but education is vital. Knowledge doesn't have to be obtained in a classroom. The whole world is a great place to learn, you just need to take advantage of the opportunities. Here are 5 alternatives to the traditional college experience.
1) Travel
DO IT! Go out there and see the world! At the very least check out more of your own country. Traveling exposes you to all different kinds of people with unique experiences. Learning from their stories is more than you can ever get from a textbook.
Oh, the local college is covering economic boom and bust cycles in their 101 class? That's cute. There's a guy at a local factory who lived through a few and can tell you exactly what it looked and felt like. He can tell you about the greed in people's eyes and the itch in their palms.
Traveling will educate you in a live and engaging way. It may seem expensive, but there's always the option of working odd jobs to save up or pooling money with friends. Even if you're only traveling to another state there's a lot to learn.
Be open to new ideas and new people. Everyone has at least one thing they can teach you.
2) Volunteer
To become a millionaire just help 1 million people. That's the formula. It's that simple.
Volunteering is something many affluent people do. It's a way to network with people, create new connections, learn more about different segments of the population, and further understand the community you're a part of. Even better, it's a free class.
It's not required to volunteer at a charity. You can volunteer to help at a start-up company or other organization. This is the perfect way to pick up lessons in leadership. You can take on the menial tasks while asking about things you're genuinely interested in.
I volunteer at a community center and I assist kids with learning to read, write, and communicate. You're probably thinking, "What's the point of that? I already know how to read and write!"
Valid argument. I'm perfectly capable of reading, writing, and communicating but I have no teaching skills. I'm also dealing with sugar fueled 5-year-olds who despise the idea of sitting still. I'm getting a free lesson in teaching and patience. A lot of the time I'll use complicated words to describe things to which the kids reply "What?". This forces me to break down concepts and deliver the information in a more manageable way.
Volunteering is an awesome way to learn a new skill for absolutely free.
3) Trade School
So, maybe all those boring lectures, PowerPoint presentations, and textbook readings aren't for you. I get it, they're exceptionally dull. It would be far more pleasant to be knocked unconscious with a baseball bat and then dragged into a ditch filled with scorpions.
If this describes you perhaps you're more of a hands-on person. You like fixing your car, getting coated in grease up to your elbows, wiping the beads of sweat off your brow, and tinkering with all sorts of high horsepower tools. Why not go to a trade school and become a mechanic?
Trade schools are an excellent alternative to the academic environment of universities. Moreover, where most degree programs take 4-years, trade schools usually get their students out into the work force in half the time. Of course, there are some apprenticeship things you may need to fulfill, but it's still real-world exposure. It's not theoretical, you're doing it. Even better is that you're performing the work under the supervision of someone who has years of experience.
I'd rather fix my car than write a paper on how I'd hypothetically fix it.
4) Military
In his book, Rich Dad, Poor Dad, Robert Kiyosaki mentions a few times how joining the marines led to his eventual success as an entrepreneur. He credits the Marine Corps with teaching him how to lead, communicate, and act.
It's important to remember that enlisting in the military is a serious decision, but it's one that comes with a multitude of benefits. Training will push you to the limits of your physical and psychological limits. You will be forced to become the best version of yourself. The military will give you lessons in leadership and discipline that you will not find anywhere else. You'll even be surrounded by people who want the same thing, who will push you forward.
In addition to acquiring a strong skill set and a powerful network, you may even get the chance to travel. Now, the travel may not be to any exotic places, but it's still time abroad. It is an opportunity to view the world in a different lens, experience new things, and challenge old beliefs.
5) Design Your Own Real-World Degree
Instead of attending the prestigious Stanford University Graduate School of Business, Tim Ferris created his own "Real-World MBA." For him that meant he would get involved with Angel Investing—putting $10-20,000 into early stage start-up companies. He reasoned that any losses or gains would be excellent learning opportunities. The lessons wouldn't be theoretical as many classes are, they would be actual experience.
So, what happened? Tim Ferriss's experiment was successful and he learned enough to publish and market his own book, create a widely read blog, and launch a podcast in which he interviews world class performers in all categories. He's kind of a big deal.
Applying the same logic, create your own degree. I'm not advising you to get involved with high risk investments, but I am telling you to think about education outside of a classroom.
First, figure out something you're interested in learning about.  Let's say you want to become an expert in search engine optimization to help local business appear in Google searches. Unfortunately, you have no idea how any of that works and you're dead broke/hate school and don't want to walk into a classroom.
Awesome! This is where the creative thinking begins. Obviously, you can grow your knowledge by getting books from the library. Hmm, those are just books though, what are some action steps? YouTube, Udemy, Lynda, Coursera, and EdX are great places to find instructors teaching the topic with examples. Not enough? Find podcasts in the category and listen to what the experts do.
Alright, alright I've said all this stuff before. What else? Create a Meetup Group to form a mastermind group to talk about everything you want to learn and share what you know. Feeling feisty? Go out there and find a mentor too. The combination of a mastermind group and a mentor will catapult you towards your target.
Still not enough? Come on! I'm giving you my best. Well, you can always look for tutors in your subject matter and have them coach you as well.
Do whatever you can to acquire the experience. The information is out there, and not all teachers cost $120,000.
Conclusion
I bet you didn't realize how many alternatives there were to attending college. Each of these paths has its own unique benefits and drawbacks. It's up to you to understand how you learn so you can choose the most suitable direction. There's no need to pick only one direction and stick with it. Be adventurous. Treat these options like a buffet and try a little of each to find what truly resonates with you.
Finally, whichever direction you choose to go, just remember to wear pants on the first day. According to my dreams, showing up without pants does not make a great impression.