Disclaimer
We only endorse products that we truly believe in. Some of the links below may earn us some extra guac at no additional cost to you. Please pass the chips & thank you for feeding our habit.
Many believe they need to accumulate lots of money before they start investing.
The truth is, you do not need a lot of money to invest. In fact, you can get started for $100 or less.
Because just about anyone can start building wealth through investing, no matter what your income is or where you are in life.
In this article, we're going to share with you multiple ways you can invest, from stock market investing to retirement accounts like a 401(k) or IRA.
We'll also show you some alternative ways to invest your money so you can make and invest more of it over time.
So, by the end of the article, you'll be ready to begin your investing journey with as little as $100.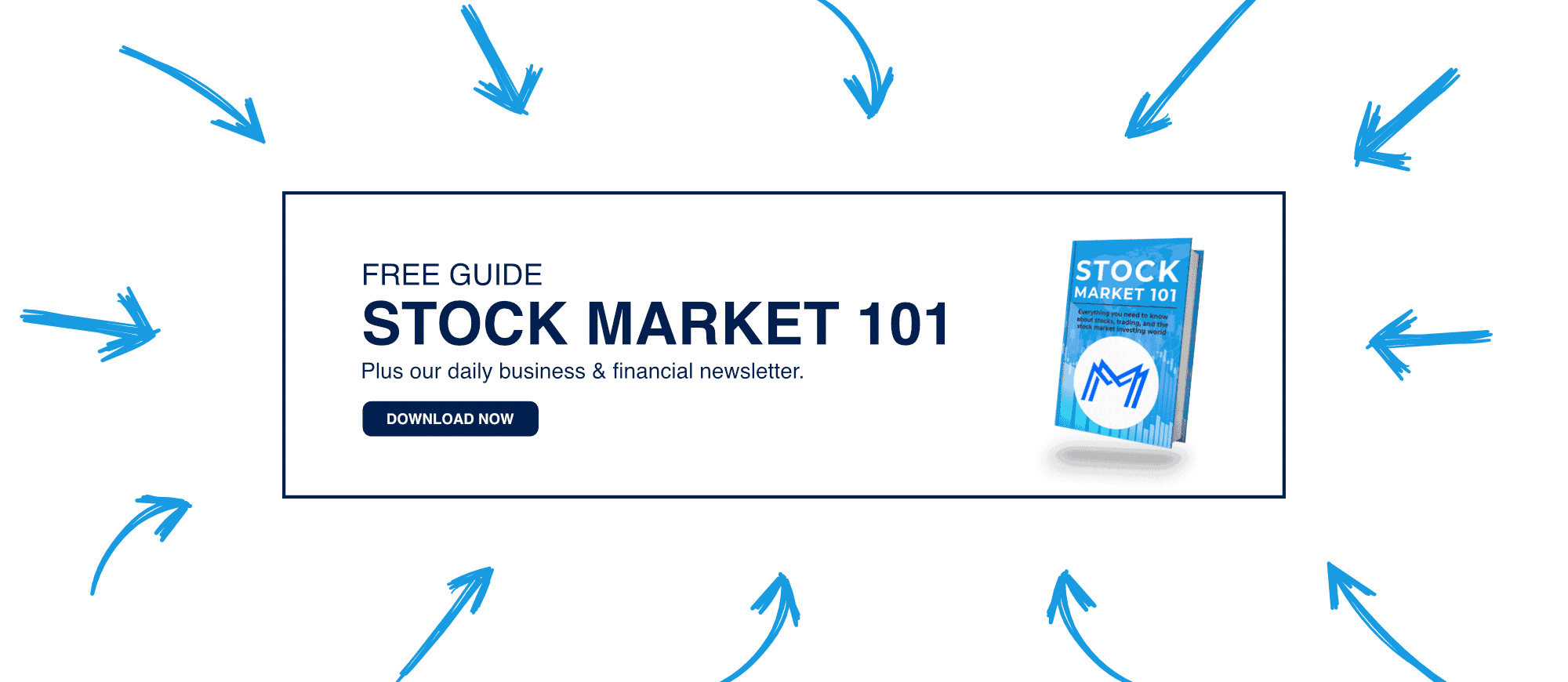 Trading VS. Investing
Before we jump in and show you some of the best ways to invest your first $100, you first need to understand the difference between trading & investing.
Trading
Trading means you'll only hold on to an asset or investment for a short period of time.
With this type of investing, you'll gain short-term profits when you go to sell your investment.
An example of trading is day trading; think of the frenzy traders on Wall Street. Most of them buy and sell stocks by the minute.
Some of the benefits to trading are:
Higher returns – you can generate higher returns in a short period of time.
Day traders are constantly looking to buy low and sell high during price swings in the market.
For example, a professional day trader can turn $100 into $200 within the first hour of the market, which opens at 9:30 am EST.
The more risk you're willing to take, the higher the profit you'll get.
Flexibility – you're in control of when to buy and when to sell
You get to set your own rules. This means you decide on which stock you want to trade and how much risk you are willing to take.
For example, when the market opens at 9:30 am EST, you'll decide which stock you're going to buy and at what price you will buy it at. Then after you buy the stock, you have to decide on when to sell the stock for a profit.
Another benefit of having flexibility is that if you see a stock not performing according to your plan, you can immediately jump out of the position by selling your stocks and prevent further losses.
However, there are some downsides that you need to consider when you decide to trading:
It requires more research – You'll need to do a lot more upfront work before you actually buy a stock.
There are tons of factors that can cause a stock to go in one direction, so day traders need to spend a large amount of time studying the latest trends, charts, and news.
For example, a day trader needs to know when a company announces a newly developed product or service, and must then quickly decide if they're going to sell or hold on to their stock.
They'll also need to check on company earnings calls, campaigns, and literally everything else that has to do with their investment.
But to know a company's announcement, day traders need to follow and study the latest news and trends during off-hours. This is a time commitment that not a lot of people have.
Trading requires more time – you need to pay attention to where the stock is going every second.
When you day trade, you have to track your investmnet every second so you don't miss the best opportunity to buy or sell a stock or miss the chance to get out of a stock because it can plummet just when you think everything is going well.
For example, on March 16th, 2020, the Dow Jones, an index of 30 important companies on the stock exchange, crashed and ended an 11 years-long bull market, and entered a bear market.
A bull market means the stock prices are on the rise and a bear market means that stock prices are falling.
No one can predict a crash, you have to be constantly looking and studying so you can get out of your position and protect your money.
Investing
Investing, however, is long-term. When you invest with this mindset, it doesn't matter if markets go up or down in the short-term.
All that matters is that they go up over time because you'll be holding on to your investment for 5, 10, 20, or even 30 years!
In other words, we're buying an asset and holding on to it indefinitely.
In this strategy, we're taking advantage of compound interest, where the earnings from our original investment grow over time and make us even more money.
If you decide to pursue long-term investing, here are some of the top benefits you can expect:
Lower fees – long-term investment gains have a lower tax rate when you sell them.
When you sell an asset or investment like a stock, you have to pay a capital gain tax, which is a tax on the profit you make from your investment.
If you hold your investment for a long period of time before you sell, you will be taxed at a much lower rate.
Let's say you make $50,000 annually from your job and $5,000 from day trading. The $5,000 profit will be subjected to tax like if you make $55,000.
But, if you hold your investment for longer than a year, the $5,000 can be taxed as low as 5%. This means you get to keep more of the profit for yourself.
And with more profit saved from tax, you can reinvest even more money into your investment and make even more earnings from it.
The compound interest effect – the interest you earn on your initial investment will make you even more money when you reinvest back into it.
A long-term investor counts on the help of the compound effect to generate more money.
The compound effect is the ability of an asset to generate earnings, which are then reinvested with the goal of making even more money.
Suppose you find an investment that can give you a 10% return every year. You decide to invest your first $100 into this investment and every month, you'll make another $100 contribution into the same investment.
By the end of the first year, you'll have a total of $1,320. You decide that you'll reinvest all the interest back into the investment and continue making a monthly contribution of $100.
Over 10 years, you'll have $19,408.
After 20 years, you'll have $69,464.
And by the end of 40 years, you'll have accumulated a total of $536,049!
The investment started with the first $100 deposit and a monthly contribution of $100.
This same strategy is how some people amass millions of dollars without ever making more than $100k annually.
Janitor Ronald Read, who enjoyed learning about stocks, amassed $8 million from stock market investing just from consistent long-term gains.
Secretary Sylvia Bloom duplicated her boss's investment strategy and earned $9 million throughout her lifetime.
But, long-term investing also has its limitations that you need to consider:
You'll need to be patient – it takes a long time before you actually feel the compound effect on your money, hence the name long-term investing.
Can't take advantage of the temporary ups and downs in the market – You can miss the chance to earn more profit during the short-term.
Our market goes in a cycle, which means there'll be times when the market is up, and there'll be times when the market is down.
When you decide to pursue long-term investing, you're not focusing on the short-term boom and bust cycles, you're counting on prices rising over time, which means you can miss the chance of making a sweet profit during the market swing.
Though long-term investing can seem tedious and far-off right now, remember, the earlier you begin investing, the more money you'll generate in the future because time is the main contribution to the compound equation.
Next, we're going to look at what kind of investor you want to be.
Active VS. Passive Investing
When you're going to invest, you'll likely choose an active or passive investing style.
If you choose to be more active with your investment and can spend more than two hours a week learning and following the market, you can be an active investor.
This means you (or an asset manager) will pick an investment and decide when to buy and sell it.
The difference between active trading and active investing is when you actively invest, you're still aiming to hold the investments for an extended period of time but you'll adjust according to the market's ups and downs.
There are some benefits you can harvest if you decide to become an active investor.
Higher profits – You can receive higher profits from markets' ups and downs.
As an active investor, you're spending a lot of time watching the market and adjusting your portfolio according to it while you hold on to your investment for a long time.
This way, you get to make higher returns when the market allows while keeping more of your profit by lower the capital tax rate you have to pay when you sell your investment for a profit.
Flexibility – you can control when to buy and sell your investment.
Although you're aiming to hold your investment long-term, you still buy or sell your investment according to the ups and downs of the market.
Let's say you bought 200 shares or stock in a company two years ago for a total price of $1,000. You've been following the news and you think the stock may crash soon due to labor concerns.
So, you decide to sell your stocks now for a profit of $5,000 and decide to reinvest the profit into the company once its stock price comes down or another company that's doing well and has a positive future.
This way, you can take advantage when the market is up and avoid losing money when the market is about to go down.
However, active investing also comes with two significant downsides.
Higher fees – This can lower or even eliminate all your returns in the long run.
When you're an active investor, you buy and sell according to the market, which means you will jump in and out of trades many more times, and each time you do, you'll be hit with a commission fee.
A commission fee is a fee you have to pay whenever you buy or sell your investment.
This can accumulate and may eat into your profits in the long-term.
Riskier – You're putting all your eggs in the same basket, which can lead to all-or-nothing results.
When you pick your own stocks, you solely depend on the performance of one company. In the case the company fails, you'd lose all the money you invested.
You can't offset your losses by having exposure to different companies or other assets, meaning, you can't lower your risk.
For example, If you invested $5,000 into Walmart. The CEO of Walmart announces that Walmart will be going to history in the next three months.
If you don't sell your stocks before Walmart closes, you will lose the $5,000 you invested regardless of how the whole sector is doing.
But if you want to invest for the long-term, and only want to spend zero to two hours maximum a week, you can become a passive investor.
In this case, you'll be looking for a "hands-off" way to make steady earnings from your investments.
There are two types of passive investing strategies.
Index funds – a low-risk investment that exposes you to a wide range of markets
Exchange-traded funds (ETF) – you own a "basket" of various companies' stocks within the same sector.
Some of the benefits of becoming a passive investor:
Lower fees – Fewer commission fees to pay.
As a passive investor, you don't buy and sell as much as an active investor, which means you'd save a lot of your money from the commission fees.
The more money you get to keep from paying fees, the more money you can invest.
Lower risk – you're spreading your $100 between several different companies, instead of just one or two.
When you invest in index funds or ETFs, you're exposing yourself to different companies and therefore lowering the risk of losing your money, because it's highly unlikely that all the companies within the index will tank, crash, or go bankrupt all at once.
However, passive investing also comes with some downsides.
Smaller returns – you rarely make higher than market returns.
When you invest passively into an index fund, you're investing in different companies within a sector, which means you're following a similar market trend and getting a similar return as everyone else.
For example, the index funds you invested are giving you a 5% return every year. Chances are, the general market will also give you a 5% return since index funds are made up of different stocks that contribute to the general market trend.
You can't take advantage of the market swing – you don't make profits when the market is temporarily going up; you don't sell to cut losses when the market is down.
Unlike active investing, you don't take advantage of the temporary ups and downs in the markets.
For example, when a company announces a newly developed product, the price of the company's stock may shoot up. As a passive investor, you'll won't be able to sell the individual stock for a profit.
In other words, you make your profit from the results of an overall market's performance, not the performance of the individual company.
Each type of investing has its pros and cons, so there's no right or wrong strategy when it comes to investing — Whether you're an active investor or a passive one will depend on how much risk you're willing to take on and how much time you have each week to manage your investments.
How To Invest $100 In Stocks
Stock market investing is a type of investing in which you purchase a portion of a company's ownership on the market. In the US, that would be the New York Stock Exchange.
And today, you can invest in stocks entirely online, which means you don't even need to go to the New York Stock Exchange to buy or sell your investment.
The tiny shares of ownership that you buy are called stocks.
This is an excellent way to invest your first $100 because you can get a return on your money just by owning the company's stock and doing nothing else.
There are two ways you can earn money when investing in stocks.
Appreciation – when the price of the stock rises, you can sell it for a profit.
Suppose you purchase a thousand stocks at $10 apiece. As time goes by, the value of your stocks rises, and now they're worth $50 apiece!
At this point, you can choose to cash out and sell your stocks for $50 apiece and get that $40,000.
Or you can choose to reinvest and get that $40,000 to make even more money because you buy even more shares than you had before.
Dividends – When a company performs well, its board of directors distributes a portion of its earnings back to the shareholders.
Cash dividends – return cash to the shareholders.
Stock dividends – give more shares to the stockholders.
When you reinvest your earnings to make even more money, you can become a multi-millionaire like Janitor Ronald Read — Whether you want to invest actively or passively.
But in order to purchase stocks, you need to open a brokerage account.
A brokerage account is an investment account that you open with a financial firm such as a bank to buy or sell a variety of investments like stocks, bonds, and ETFs.
A brokerage account gives you access to invest in the market anywhere online and it comes with lower fees and flexibility of investing in whatever kind of securities you want.
Without a brokerage account, you can't invest your money into stocks, bonds, or ETFs.
There are three main types of brokerage accounts:
Cash account – You must have enough money in the account to buy whatever stock, bond, or ETF that you want
Margin account – You can borrow some money to buy an investment if you don't have enough money.
When you open a margin account, you're borrowing a loan from the bank or the firm to purchase an investment.
Some firms offer loans up to 50% of your money in the account. This means even if you only have $1,000, you can buy any investment up to $1,500.
A margin account is a double-edged sword that can help you earn more interest or quickly land you in financial trouble because you'll eventually need to pay the firm or the bank back for the loan. If your investment ultimately tanks, you'll be left with no money and a pile of debt.
There are several different firms or platforms you can open a brokerage account with, but we recommend you open a brokerage account with Webull if you choose to become an active investor.
Webull is a commission-free financial firm where you can open a brokerage account. Its platform allows you to buy and sell stocks with zero commissions. It also provides different trading tools and analytics for you to become an active stock investor.
For more details on evaluating a stock, check out this article on how to invest in a stock.
But if you choose to be a passive investor, you can open a brokerage account with M1 Finance.
M1 Finance is a commission-free platform that allows you to build a "pie" investment plan. You can select different investments (i.e., Google, Apple, Amazon), add them to your "pie", and then decide how much of a pie each investment will own.
One unique feature that M1 Finance has: you can purchase fractional shares if you don't have lots of money to spend, which is perfect for those that are just getting started with $100 or less.
We recommend Webull and M1 Finance because they allow you to start investing with as little as $100 without charging commissions when you buy or sell stocks.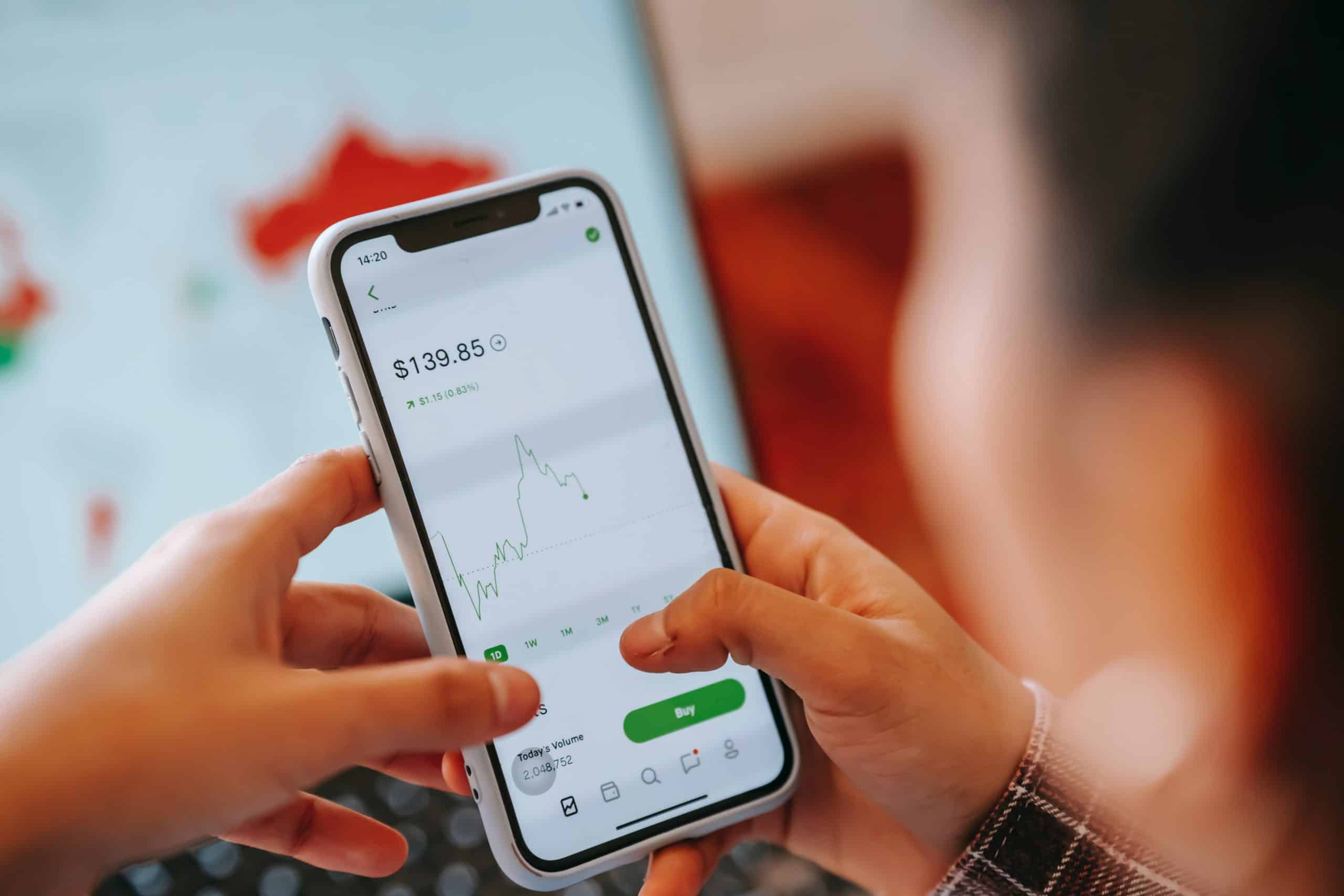 Retirement Investing
Retirement investing is another way you can invest your first $100, it retirement accounts work just like a regular investment.
But one of the main differences between retirement investments and regular investments is the tax benefit you can take advantage of with retirement accounts.
401(k)
If you're currently working in a position and your employer offers a sponsored retirement plan such as a 401(k), this might be one of the easiest ways to start investing your first $100.
Every time you receive a paycheck, you set aside a portion of it into a separate account. The money inside of this account, 401(k), will be invested in a list of funds that your employer offers like an index fund or ETF.
The advantage of having a 401(k) is when you contribute your first $100, the money you invest will not be taxed and will grow tax-free until you start making withdrawals after age 5912.
Some employers even offer 401(k) matching. This is free money from the employer if you use it.
Suppose you make $50,000 annually, and your company offers a 5% match. That means if you invest in $2,500, your company will also contribute $2,500 for you.
That's $2,500 of free money right there — you're doubling the amount of money that is invested and can grow tax-free!
Another great advantage with 401(k)s is that you can reduce the amount of tax you pay on your income.
For example, if you make $50,000 and contribute $2,000 into your 401(k), you only need to pay tax on the $48,000 rather than on the entire $50,000.
But not all employers offer a sponsored retirement plan. If your employer doesn't provide this kind of plan, you can also invest and receive similar benefits by making contributions to an Individual Retirement Account (IRA).
Traditional IRA
A Traditional Individual Retirement Account works similarly to 401(k): the money is not taxed and grows tax-free until you make a withdrawal at the age of 5912.
When you contribute to a Traditional IRA, you can also lower the tax you pay on your income.
A traditional IRA contains a variety of investments that includes stocks, bonds, and index funds.
However, there are limitations you have to watch out for when you use a traditional IRA.
This is not an employer-sponsored account; this is an individual retirement account hence the name IRA.
There is no matching contribution like a 401(k) from an employer
In 2021, you can only contribute up to $6,000 annually ($7,000 if you're age 50 or older)
Roth IRA
In a Roth IRA, the money you invest is taxed at the moment it enters the account. Your after-tax contributions will then grow tax-free.
So one big difference from a traditional IRA is that you can withdraw your contributions from a Roth IRA anytime and tax-free.
Roth IRA contains the same variety of investment options and contribution limitations as a Traditional IRA.
Make sure you do your due diligence when deciding which IRA suits you best; each offers different advantages and disadvantages depending on your financial situation.
Micro-Saving/Micro-Investing Apps
Another way to invest $100 with professional help and very little effort is by using micro-saving/micro-investing apps.
One great example is Acorns. It is designed to have everything done from your phone, from saving to investing.
You first connect your debit cards and credit cards to the Acorns app. Then, every time you make a purchase, Acorns rounds up each transaction to the nearest dollar and transfers the difference to an investing account.
For example, you make a purchase at a grocery store for $10.15. The app will round the purchase up to an even $11. $10.15 will go to pay the merchant, and $0.85 will go towards investing.
When you reach a total of $5, they will invest the money in an ETF for you.
This way, you're investing in your future for literally pennies on the dollar.
Alternative Ways To Invest Your $100
If you're not ready to invest your money into stocks, bonds, and ETFs, there are plenty of other ways you can invest your money. The benefits of these alternative ways can help you save more, invest more, and earn more money over time.
Payoff Your High-Interest Debt
When we talk about high-interest debt, we're talking about credit card debts, student loans, or other debt that has an interest rate of 10% or more.
These high-interest debts are costly and can drain your earnings for a long time.
So if you get rid of these monthly expenses, you'll have more money available that you can use to invest or save.
But if you can't pay off your high-interest debt, try to refinance your credit cards, student loans, and other debts for lower interests.
Suppose you have credit card debts and student loans. Both are currently charging you 5% interest. If you can refinance and lower the initial 5% interest rate to a 3% interest rate, the 2% interest difference is the money you just saved and can use towards your investment.
That small percentage change alone could end up saving you thousands of dollars each year.
So, the lower the interest rate on your debt, the more money you can save or invest.
You can find more tips here on how to eliminate your debts for good.
Invest In Yourself
Investing in yourself means reading books, watching videos, and attending seminars to gain more investing knowledge.
When you equip yourself with more knowledge, you're making an investment that will always pay off in time.
With modern technology, you can often spend way less than $100 to get educated by watching videos on YouTube or reading free articles online.
You can then use this knowledge to start a business or land a high-paying job that will leave you with more money at the end of the month.

The Bottom Line
You don't need tons of money to begin investing.
You can be an active or passive investor through commission-free platforms such as Webull and M1 Finance after you've decided how much time and risk you're willing to take on with your investments.
Then you can become an active investor or trader, and use your $100 to make quick trades, or, you can become a long-term passive investor and let your money compound for several years.
If direct investing isn't your thing, you can participate in a retirement account like a 401(k) or IRA to invest in assets like stocks, bonds, and ETFs.
But if you're not ready to invest your money in stocks, bonds, and ETFs, there're also alternative ways to invest, like paying off high-interest debts and educating yourself through YouTube videos or reading articles online.
In the end, whichever way you choose to invest, don't underestimate the power of your $100. It may be small, but it represents the start of a journey that'll eventually lead to your financial freedom.
So don't waste your time anymore and start investing your first $100 today!