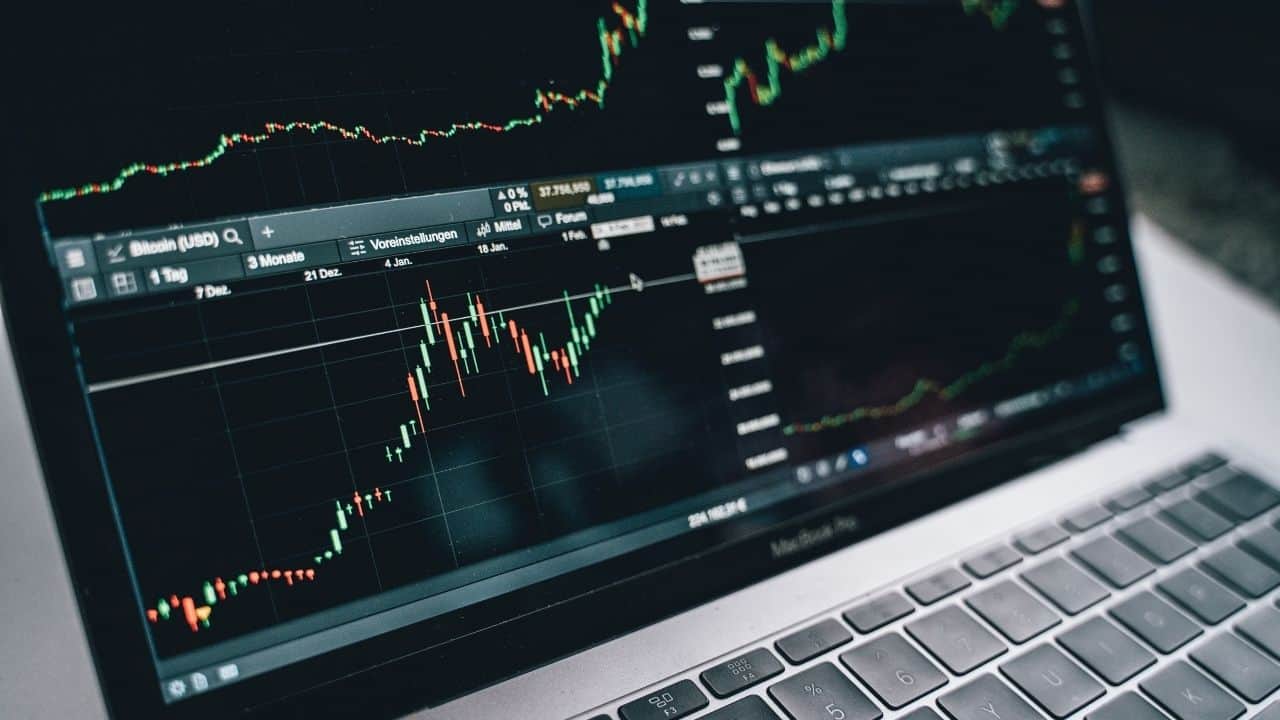 Disclaimer
We only endorse products that we truly believe in. Some of the links below may earn us some extra guac at no additional cost to you. Please pass the chips & thank you for feeding our habit.
The Minority Mindset earns commission from Fundrise via the partner links below. All opinions are the author's.
Islam is the world's second-largest religion, but it's also the fastest-growing. By 2030, the global Muslim population will reach nearly 2.2 billion, compared to just 1.6 billion in 2010. 
This means that, over the next ten years, billions of people will follow the tenets of the Qur'an. But because Islam has distinct financial rules, it's difficult for Muslims to use conventional banking or investing apps. 
There's a big need for faith-based investment apps that fit people's moral code—especially with a growing number of Muslims. While the way most Western banks operate isn't halal ("permissible"), some do follow Islamic law, providing Muslims with several options to grow their wealth.
Halal investing apps consult Islamic scholars to choose investments that fit Muslim values. The eight best halal investing apps are:
M1 Finance
Fundrise
Robinhood
Zoya
Wealthsimple
Aghaz
Amana Funds
Wahed
Curious about how a halal investing app works? Learn what halal investing looks like, as well as a breakdown of the eight best halal investing apps to grow your wealth.
What Makes An Investing App Halal?
So, why is it so critical to find the best halal investing apps? It comes down to Islamic law and ethics. The Qur'an spells out clear financial guidelines that Muslims follow—the problem is, most traditional banks don't follow these principles. 
Many investments have some component that's haram ("forbidden"), which is a real challenge for Muslims who want to fuel their financial future without compromising on their values. If you live according to the Qur'an, you aren't able to invest in deals that involve: 
Speculation

Interest-bearing loans

Pork

Alcohol

Gambling

Weapons

Pornography

Tobacco
Since Islamic law prohibits the collection of interest, Muslim investors participate in profit sharing or equity participation. It also prohibits high debt loads, which definitely takes brands like Tesla out of the running. 
With halal investing apps, you aren't investing in things like: 
Interest-based investments, like bonds. 

Stocks in businesses that carry a lot of debt. 

Businesses that don't adhere to the Islamic way of life (like Anheuser-Busch, for example). 
But this is good news for Muslims! With halal investing apps, you're able to authentically live out your values as a Muslim. These investing platforms tend to be more disciplined and socially conscious than other investments, too. 
The thing is, halal investments tend to be more risk-averse because they involve equity participation. Since Shariah scholars also consider day trading to be a form of gambling, halal investing apps are also a better way to build long-term wealth. 
The only major downside to halal investing apps is that it can be hard to diversify your portfolio. That's why it's a good idea to try multiple investment platforms or funds, so if the worst happens, you have a more balanced portfolio. 
Best Halal Investing Apps
If you go with popular investing apps, there's no guarantee that they're halal. Fortunately, these eight halal investing apps are perfect for building wealth without compromising on your values.
1. M1 Finance

M1 Finance doesn't have the bells and whistles of other investment apps, and it's definitely better suited for experienced investors. But thanks to its ultra-low fees and $100 minimum for investments ($500 minimum for retirement accounts), it's a great option if you want to start investing with less money. 
The neat thing about M1 is that you can build your own Custom Pies to make a Shariah-compliant portfolio. If you feel strongly about investing in industries like energy or biomedical research, you can eliminate these investments with a Custom Pie, too. 
I recommend this option for more experienced investors, though, because it does mean doing the research to find halal investments (but here's a quick list of ETFs to kick off your search). 
The other great thing about M1 Finance is that it makes day trading nearly impossible. Since day trading is considered to be a form of gambling or speculation, this makes the platform halal. 
And hey, long-term investments are a sounder way to build lifelong wealth, so M1 is a good choice anyway.
Best for: Experienced investors who want to build their own Custom Pies.
2. Fundrise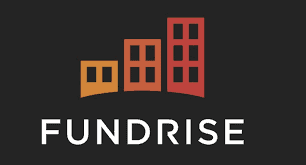 Have you always wanted to invest in real estate? Fundrise is a halal investing app that gives you the chance to invest in private real estate. You won't find any stocks on this platform, which is good if you're trying to avoid interest-based investments. 
On the investment side, Fundrise operates similarly to an ETF. Investors love the platform thanks to its: 
Automation features. 

Direct-to-investor distributions. 

Low fees. 

Diversification of properties. 
If you want to get into real estate but don't have tens of thousands of dollars on hand, Fundrise is a great halal investing app to get you started. Keep in mind that Fundrise investments are private, so it's different from public real estate investments. The good news is that many investors report up to 40% higher returns than their investments on the public market. 
To make sure your Fundrise investments are halal, use third-party screening to make sure a company's income is, in fact, halal. 
Best for: Real estate deals on the private market.
3. Robinhood


Robinhood is a halal investing app that's famous for its no-commission trades. Founded in 2013, Robinhood is a pioneer in the zero-fee space, which made it possible for everyday people to start investing. 
Through Robinhood, you can invest in: 
Individual stocks

ETFs

Cryptocurrency
Robinhood has one of the most intuitive platforms available, making it a solid choice for beginners. It also allows you to completely customize your portfolio so you only invest in halal companies. If you really like the platform, Robinhood's premium Gold subscription costs $5/mo and gives you more detailed market data. 
To make sure your Robinhood investments are halal, check them out on third-party screening platforms like Muslim XChange or Finbox.
Best for: Beginners who want to start investing with an intuitive, zero-commission platform.
4. Zoya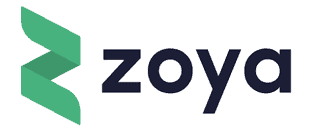 Unlike apps like M1, Fundrise, or Robinhood, Zoya is designed to be halal from the ground up. The platform was built by Muslims, for Muslims. So, if you don't want to do third-party verification yourself and just need an app that's entirely halal, Zoya is a great choice. 
Zoya is an investment platform where you can invest in 2,500 ETFs and mutual funds. However, because it's a halal investing app, it also has a robust Shariah compliance search function, too. See reports for 15,000 stocks in the US, UK, and Canada to see how compliant your stocks are. It will even allow you to filter stocks by Shariah compliance, so you're investing your money according to your values. 
Zoya also includes features like: 
Fee-free trading.

ESGs if you want to do socially responsible investing. 

Stock watchlists so you can view a stock's performance before buying. 

Email alerts in the event a stock becomes haram, so you can take immediate action. 

Fractional shares, so you can invest with as little as $1 while diversifying your portfolio. 

An automatic zakat calculator. 

Completely halal pre-built portfolios for quick investing.
Zoya follows guidelines from the Accounting and Auditing Organization for Islamic Financial Institutions (AAOIFI), as well as its own internal Shariah advisor. It screens for both business activities as well as financial screening, so you get the fullest picture of every investment. 
Best for: Investors who want an out-of-the-box halal investing app.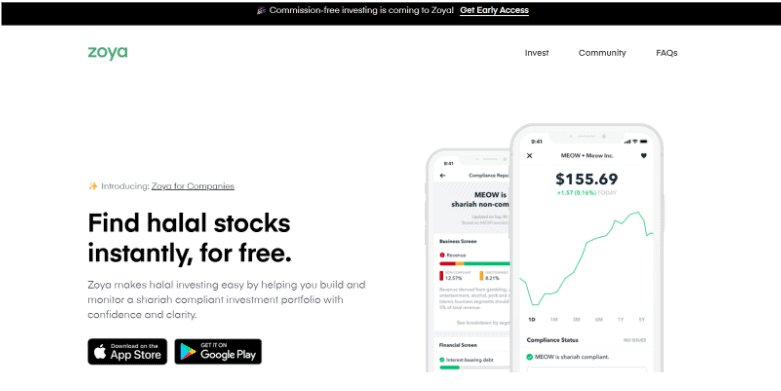 5. Wealthsimple

1.5 million people use Wealthsimple to handle their trades, but the app offers a lot more than investing. You can use it for banking, crypto, and even taxes. Since Wealthsimple bills itself as a wealth management platform, it's a great way to bring all of your financial needs into one dashboard. 
Now, Wealthsimple isn't designed to be halal out of the box, like Zoya, but it does have a Halal Investing Portfolio designed just for Muslim investors. Wealthsimple created this ETF (which is Canada's first-ever Shariah-compliant ETF) that doesn't invest in gambling, weapons, tobacco, or other haram activities.
The ETF is screened by Shariah scholars, and it's even certified by Ratings Intelligence Partners. While diversification is an issue for any halal investing app, Wealthsimple tries to diversify as much as possible, going after broad sectors as well as international investments. 
Best for: Beginner investors who want a halal investing app that handles several aspects of wealth management.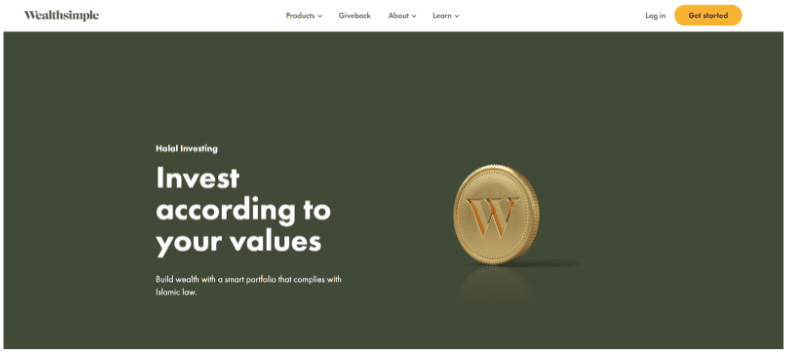 6. Aghaz

Are you investing and saving for a specific goal? If so, Aghaz is the halal investing app for you. Instead of investing just to grow your wealth in general, Aghaz is a goal-based investment platform designed for specific milestones, like: 
Hajj

Travel

Weddings

College

Retirement

Education

Buying a home
This is another app that's designed by Muslims, for Muslims. If you don't want to go through the hassle of certifying that your investments are halal, Aghaz will do the heavy lifting for you. 
All Aghaz investments are double-screened with AAOIFI and Amanah Advisors standards. They also run everything through their own in-house Shariah advisors to certify halal compliance. 
In the screening process, Aghaz removes any haram investments that make their money with:
Alcohol

Interest-based lending

Cigarettes

Pork

Gambling

Music

Pornography

Human genetic manipulation
If you sign up for Aghaz, you'll pay a $2/mo subscription fee as well as an annual 0.49% maintenance fee. In the platform, you can see your overall returns, as well as returns for each goal, which is a great way to see your money growing over time. 
Aghaz is only available in the US right now. The platform does plan to increase its availability and features down the road, though, including retirement accounts and rollovers, so stay tuned. 
Best for: Beginners who want to invest for a specific goal.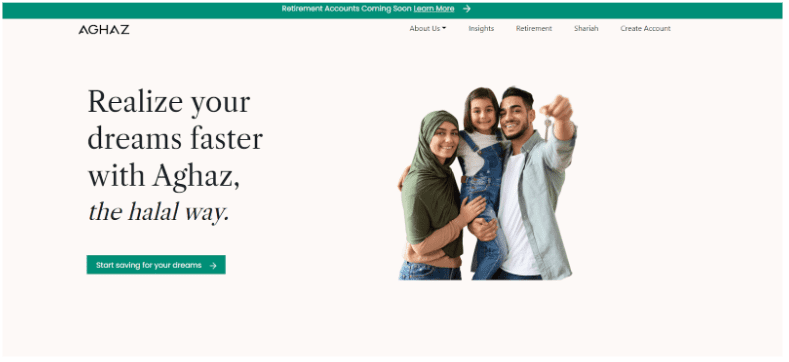 7. Amana Funds
Amana Funds is a suite of funds run by Saturna Capital. It's actually a non-profit investment firm that's associated with the FCNA Islamic Scholars, so it's a solid halal investing option with a long track record. While it isn't actually an app, you can manage your investments in Amana Funds through an online portal, similar to platforms like Vanguard. 
Amana Funds has its own screening process to make sure every investment in its funds is halal. During the screening process, it eliminates any businesses that earn more than 5% of their revenue from haram sources. It takes a more conservative approach to investing, pursuing proven businesses with strong balance sheets and low price-to-earnings multiples. 
All Amana Funds avoid investments in businesses affiliated with:
Liquor

Pornography

Gambling

Banks
They also completely avoid bonds and other fixed-income securities that rely on interest. With Amana, you can choose from four halal-approved funds: 
Amana Income (AMANX)

: This fund has been around since 1986 and uses an equity-income investment strategy. 

Amana Growth (AMAGX)

: Since 1994, this fund has invested with a large-cap style. 

Amana Developing World (AMDWX)

: This fund focuses on emerging markets around the world to diversify your holdings. 

Amana Participation (AMAPX)

: Since 2015, this fund has invested in Islamic certificates (sukuk) to preserve your capital. 
Best for: Experienced investors who want to invest in funds with a proven track record.
8. Wahed

Wahed Invest is another halal investing app that's designed to be Shariah-compliant from start to finish. With this platform, you can invest in halal stocks, ETFs, and even precious metals. 
Wahed screens every investment for interest, securities, high debt, and haram activities. Instead of offering haram investments on the platform, it bans them outright, so you can rest easy knowing your investments are always halal.
When you create your account, Wahed will take you through a questionnaire. If you have particular savings goals for college, Hajj, etc., the platform will actually customize an investing and savings plan for you. 
Wahed will even choose your investments based on your risk tolerance, so it's perfect for total beginners. You only need $100 to start investing, too, so it's accessible to just about anyone. 
Best for: Beginner investors who want a halal investing app to automatically choose their investments.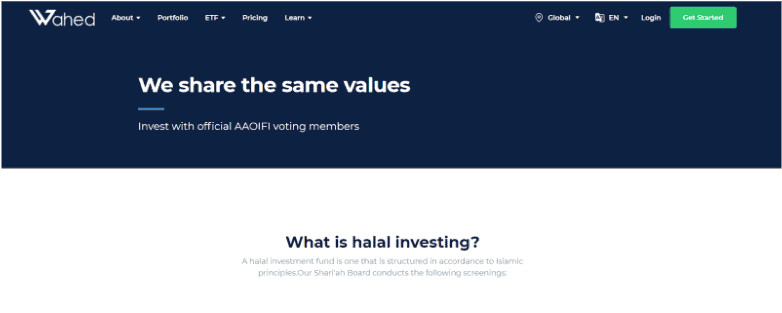 Choose The Best Halal Investing App For Your Goals
As a person of faith, you want to make sure every facet of your life is in accordance with your values. However, it can be tough finding investment apps that are halal, user-friendly, and returns-focused. 
Whether you want to use a common app like Robinhood or you want a halal-focused platform like Zoya, there are so many halal investing apps out there. Choose from these eight to grow your wealth over time without compromising on your beliefs.