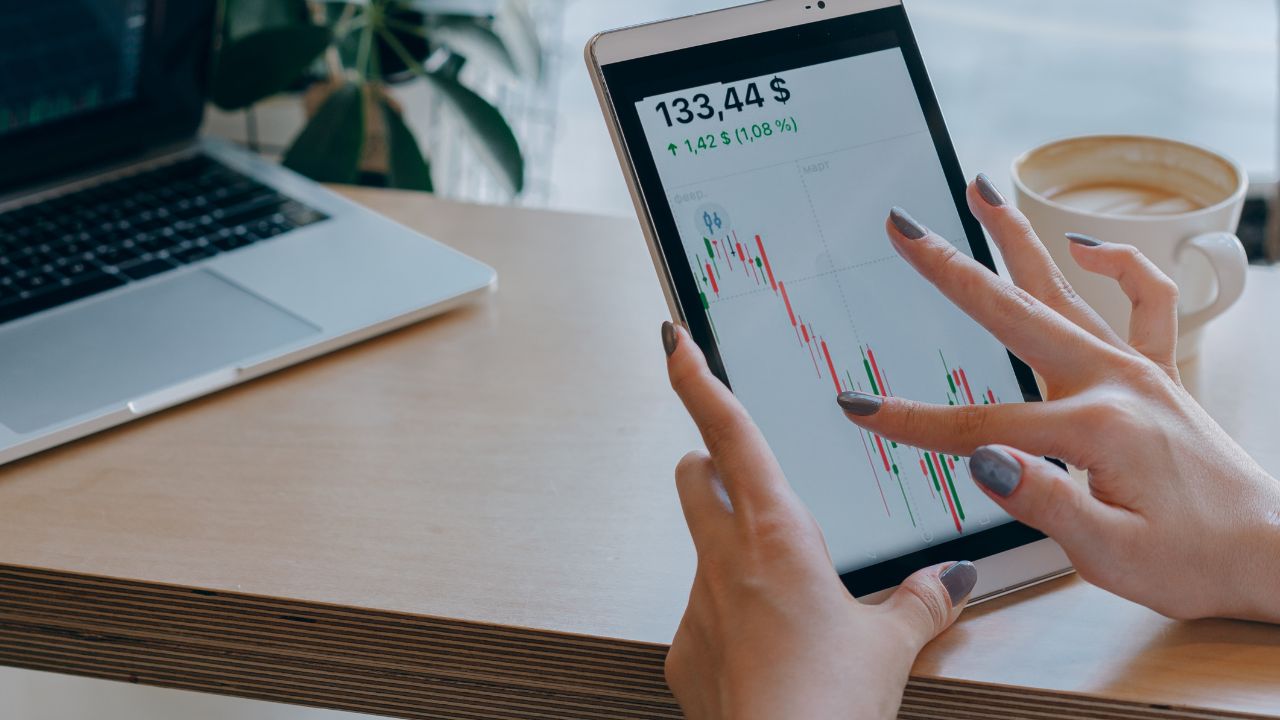 Disclaimer
We only endorse products that we truly believe in. Some of the links below may earn us some extra guac at no additional cost to you. Please pass the chips & thank you for feeding our habit.
It's more important now than ever for young adults to get involved with investing. Long gone are the days when a person could rely on their employer or the government to take care of them financially as they retired. Thankfully, however, it's also easier and cheaper than ever to get started.
There are several great investment accounts on the market for young investors to work with. Between newcomers like Robinhood and M1 Finance to old standbys like Vanguard and Fidelity, there's something for every level of income, experience, and investment style.
So what is it about these companies that makes them so great? And what are some of their shortcomings that might make some financial platforms better choices than others? 
In this post, we'll explore seven great investment accounts that will have you building financial security in just a few clicks.
Best Investment Accounts For Young Investors
Newer companies have crushed the barriers that used to hold people back like needing several thousand dollars to open an account or paying enormous fees for each trade. 
They've also streamlined the process of building a portfolio that now literally anyone with a smartphone can do it from anywhere on the planet.
So whether you've got $10,000 or $10, where's the best place to start? 
The answer to that will depend on what you're looking to do, what your long-term needs are, and how involved you'd like to be in the process. With that said, here are seven well-known platforms for you to consider.
1. M1 Finance
Best for: new investors who want to build wealth over time.

What's To Like:
M1 Finance is a unique financial platform that can best be described as the marriage of an investment brokerage and robo-advisor. Active traders can buy and sell thousands of different stocks and ETFs commission free.
However, M1 Finance is typically considered one of the best platforms for automating your investments.
The main advantage of using M1 Finance, especially for young investors, is the company's approach to helping users maintain good diversification. Investors are taught to think of their portfolios as "pies" where each new security makes up a slice of this pie. 
As more money gets contributed, M1 automatically distributes it across the whole pie so that proper asset allocation of the overall portfolio is maintained.
And just like Robinhood, M1 has recently taken steps to allow users to add cryptocurrency to their portfolios.
For those new investors who don't know what to pick, M1 has "lazy portfolios". 
These are nothing more than pre-prepared pies that you can choose from based on your preferences for growth and risk tolerance (which is very similar to what a robo-advisor would use to make its recommendations).
What Needs Improvement:
Although it's not a ton of money, M1 does require users to maintain at least a $100 account minimum. They also do not offer an instant deposit option. 
These are two features where it falls short against other popular trading apps like Robinhood.
Interestingly, as focused as M1 is on helping users with asset allocation, there is no automatic feature to rebalance portfolios. 
If one or more securities in your portfolio begin to become too concentrated, you'd have to manually sell a portion of them to bring the entire pie back under control.
2. Robinhood
Best for: new investors looking for a place to dabble in the stock market.

What's To Like:
Robinhood has certainly grown in popularity over the years, and anyone who's ever used them can see why. They definitely hold true to their company mantra to "democratize finance" and make investing accessible to everyone.
This is not only exemplified by the fact that they were one of the first investment brokers to allow users to trade stocks and ETFs (exchange-traded funds) commission-free but also in the way that they simplified the way in which securities are bought and sold. 
Unlike other brokerages which still insist on having complicated dashboards with too many options, users of Robinhood often say the app is slick, easy-to-use, and simplified for beginners.
The company has recently turned its sights on the cryptocurrency market and now offers users the opportunity to trade seven popular coins, including:
Bitcoin

Ethereum

Dogecoin
And, users have the ability to store them in a digital wallet for free.
Robinhood also has several other features that are particularly appealing to new investors such as:
A $0 account minimum

An instant deposit feature that allows you to use up to $1,000 immediately after you initiate a transfer

The ability to buy fractional shares
What Needs Improvement:
While Robinhood is a great place to try your hand at investing, it may not be a good long-term choice – at least not from a tax efficiency standpoint. 
Currently, the company does not offer any retirement accounts such as traditional or Roth IRAs, and so investors will have to pay taxes on any dividends or capital gains they earn.
Users also have to know exactly what they want to buy. While other brokerages are attracting young investors with robo-advisors that can make recommendations about what to invest in, Robinhood does not offer a robo-advisor feature.
Finally, it's no secret that Robinhood has faced quite a bit of controversy over the past few years. The company repeatedly made headlines for getting slapped with regulatory fines, public scrutiny, and even lawsuits. 
This has caused some users to question if the company's ethics are really as aligned as they portray them to be.
3. SoFi Invest
Best for: new investors with multiple financial needs.

What's To Like: 
SoFi is a financial company that has something for everyone. Customers both young and experienced will appreciate their wide range of product offerings including student loans, savings accounts, credit cards, and even mortgages.
Their investment arm SoFi Invest caters to young investors in several different ways:
The opportunity to buy and sell stocks and ETFs commission-free

Automated portfolios with no management fee for those who don't know what to pick

30 different types of cryptocurrencies 

Long-term investing using tax-advantaged traditional, Roth, and SEP IRAs
In addition, all SoFi members receive complimentary financial planning. This means you can talk to a real person to get advice about investing, budgeting, and loans.
What Needs Improvement:
While SoFi markets itself as a one-stop shop for all of your financial needs, it doesn't necessarily have as many investment options as the big boys like Fidelity and Vanguard. 
For example, there are no mutual funds or bonds to choose from. 
While their financial products are great for young people, you may find them to be limiting as you become older and a more experienced investor.
4. Public
Best for: Investors who are looking to be a part of a community. 

What's To Like:
Public (formerly known as Matador) is a trading app that's a good alternative to Robinhood or M1 Finance. 
Like its competitors, users can build portfolios commission free by trading stocks, ETFs, and crypto (25 different coins). They also allow the purchase of slices (i.e., their name for fractional shares).
The draw for young investors is that Public emphasizes the social aspect of investing. Similar to Venmo, other users can see your trades (with the dollar amounts hidden of course) and engage in discussion with one another. 
They also have a podcast called Public Live where leading experts, analysts, and journalists will break down what's currently happening in the markets.
Although it's not available yet, Public also advertises that they will soon deal in art, NFTs, and collectibles. 
These are alternative investments that are starting to grow a following among some investment circles.
What Needs Improvement:
While Public tries to be an alternative to Robinhood, it also shares its same shortcomings. 
Users can't open joint accounts or IRAs.
Also like many of the other trading apps, Public doesn't offer any mutual funds or bonds. 
They also don't offer options contracts which could be a turnoff for some intermediate and advanced investors.
5. Fidelity
Best for: Investors who want a company they can grow with over time.

What's To Like:
Founded in 1946, Fidelity is one of the oldest and most well-established financial institutions on this list. 
Over the years, the company has continued to keep up with the times by doing away with commissions, allowing the purchase of fractional shares, and even adding a robo-advisor service for those who don't want to talk to a real person. 
This is all while maintaining a huge array of product offerings such as:
Stocks

Mutual funds 

ETFs 

Bonds
Young investors who are thinking long-term would be wise to start off on the right foot and partner with Fidelity. 
The company offers a full suite of investment and retirement options that may appeal to them later on in life, like:
Health savings accounts 

529 college savings 

Annuities

Other insurance related products
They even offer comprehensive wealth management as you get older and want to protect the nest egg that you've built.
What Needs Improvement:
Young investors who are curious about crypto won't be able to scratch that itch with Fidelity. 
While the company has taken steps to offer crypto-related ETFs, they don't outright give users the ability to buy digital coins directly. 
Fidelity's dashboard is also better suited for intermediate to advanced users. 
Newer investors may be a little intimidated by all the information and options that they're presented with.
6. Vanguard
Best for: Investors who want to maximize their long-term wealth.

What's To Like:
Vanguard is the second largest investment brokerage in the world (behind Blackrock). Similar to Fidelity, they offer a full range of financial services from trading stocks commission free to working with a professional wealth manager. This is another company that you can start with in your 20s and easily stick with them all the way into retirement.
Vanguard is the company that popularized the concept of low-cost index funds. Almost every mutual fund and ETF they offer will have lower expense ratios than similar offerings from their competitors. 
This has helped clients to build more wealth as they make bigger returns year over year – one of the main reasons why they've earned such a devoted following.
What Needs Improvement:
Just like Fidelity, investors who are looking for crypto can't buy it directly with Vanguard. 
Your only options are to buy over-the-counter bitcoin or crypto funds such as the Bitwise 10 Crypto Index Fund (BITW) or Grayscale Bitcoin Trust (GBTC).
Also, while you can buy stocks on Vanguard, they're really better suited for starting an IRA and buying mutual funds. 
Newer users might also find their dashboard to be not nearly as slick or easy to navigate as a newcomer like Robinhood or M1 Finance.
Final Thoughts – Best Investment Accounts for Young Investors
Young investors at every level have a wide variety of good investment accounts to work with. The best one for you will depend on what your needs are and what you're looking to accomplish long term.
People who want to get their feet wet with investing can start with a platform like Robinhood, SoFi Invest, or Public. 
Investors that would like to build diversifying portfolios should check into M1 Finance. 
Those who want a comprehensive partner that they can stick with for decades to come should choose a full-service brokerage like Fidelity or Vanguard.
No matter which platform you ultimately go with, the most important aspect is to choose the one that will make you feel the most comfortable. 
The fewer challenges you'll encounter, the more engaged and interested you'll become. This will help you to become a much better investor in the long run as you build your way towards financial freedom.