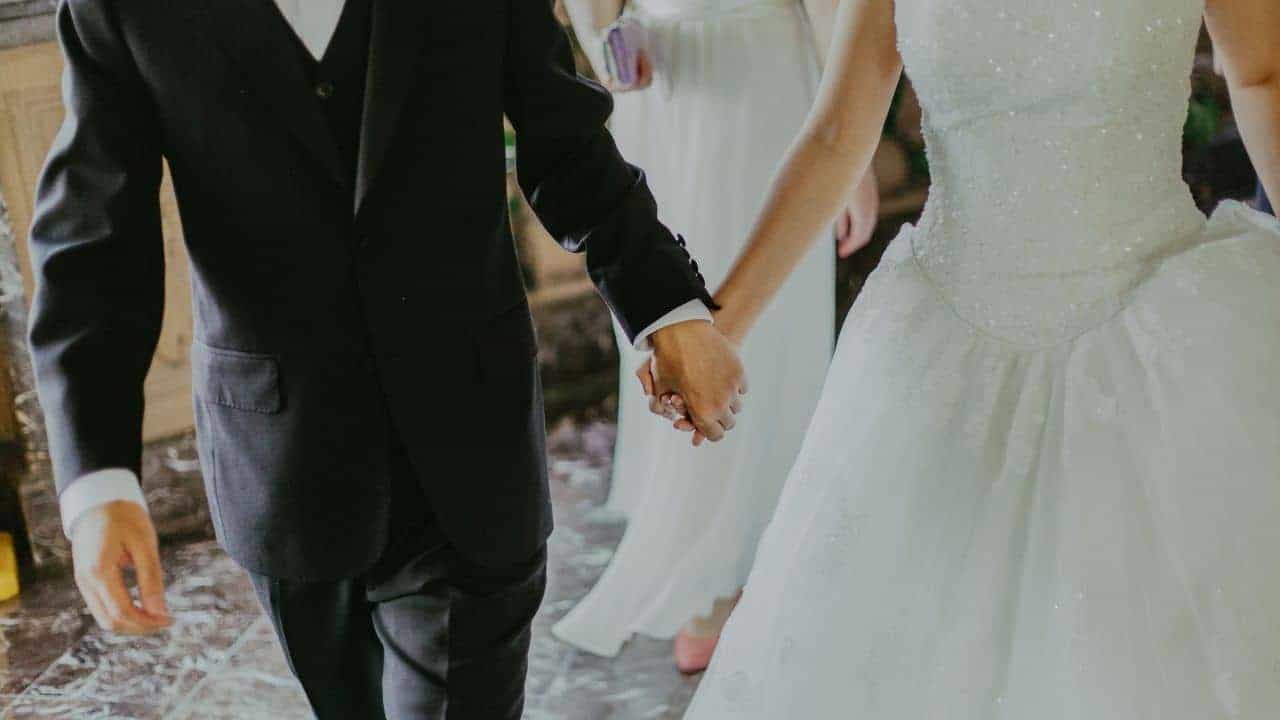 Disclaimer
We only endorse products that we truly believe in. Some of the links below may earn us some extra guac at no additional cost to you. Please pass the chips & thank you for feeding our habit.
In October of 2014, my husband and I finally got engaged. Like most brides to be, I had a grand vision for my dream wedding.
A Google search quickly turned my dreams upside down: I realized my "dream" wedding was going to cost $25,000.
Things don't look much better in 2021: the average cost of a wedding this year is $29,000 – $31,000 (and that doesn't include the honeymoon).
While I was tempted to get hitched for $60 at the Justice of the Peace, we ultimately did decide on a wedding.
We wanted the magic and the memories that came with a wedding, but we certainly didn't want the jaw-dropping pile of debt.
Fortunately, a wedding can cost you a lot less money with proper planning. You can't get around the fact that you'll need to spend money to have a wedding, but you can easily slash your costs with the right tricks.
Here's how my husband and I successfully budgeted for our wedding and honeymoon—the frugal way.
How To Budget For A Wedding
It's easy to let the glitz and glamor of the big day drive up the costs, so follow these steps to create a budget-appropriate wedding you'll still love.
Step 1: Get on the same page with your fiance
When you tell family you're engaged, the first thing they'll ask is, "Have you set a date yet?"
But before you pick a date, you need to get on the same page as your fiance.
How big of a wedding do you want? How many people will be there? Where will it be? You're going to have different opinions, and that's okay. Use this conversation to tease out any differences.
For example, I was all for a casual backyard potluck wedding, but my husband wanted something a little nicer (which was fair).
That meant we had to change our expectations and get on the same page.
This is critical. If the two of you don't agree on the direction of the wedding, every decision after this point is going to be expensive and painful.
Step 2: Ballpark the costs based on your plans
Next, you need to get a ballpark estimate for everything you want to have at your wedding. A simple Google search will help you estimate costs for things like:
Rings, if you haven't bought them yet
Wedding dresses
Suits
Venues
Music or DJs
The officiant
Marriage license filing fees
Food
A honeymoon
You won't know the exact costs right now and that's okay. You just need an estimate for your style of wedding and geographic location. This will help you set a budget for the wedding.
At this point, you'll probably realize that your wedding is going to be too expensive. That means you need to compromise on the nice-to-haves for a lower budget.
That meant my husband didn't get his jazz band and I didn't get my fresh flowers. It wasn't the end of the world and we still had a great wedding.
Step 3: Ask for help
This is an optional step.
While many couples today are funding weddings themselves, sometimes family members will step in to help with the costs.
My husband and I were very fortunate to have a lot of our costs offset by gifts from family.
Not everyone will be in this position, but if your grandparents once offered to pay for your wedding, ask if they're still willing to help out.
Financial help is obviously a huge boon to your wedding budget, so accept help if someone offers it!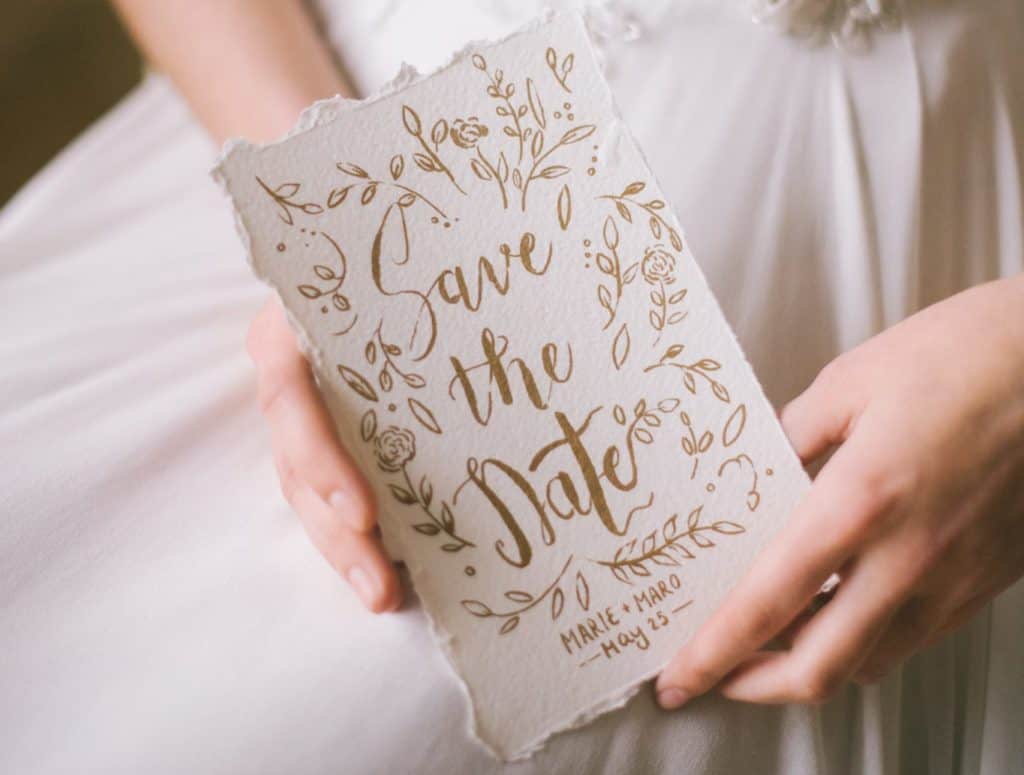 Step 4: Pick a date and set a savings rate
At this point, you know how much your ideal wedding will cost and if you're receiving financial support.
Now you need to figure out how much you should save to get hitched.
Generally speaking, the more expensive the wedding, the longer you'll need to save.
And that means you'll need to push out your wedding date so you have time to pay for everything!
That's why I don't recommend picking a date until you sort out the financial details. We were engaged for only 8 months, which wasn't a lot of time to save money!
Take your wedding budget and divide it by the amount of money you can realistically save every month.
For example, if you need $20,000 to pay for the wedding and you can save $1,000 a month, you need to set a date for 20 months from now.
Step 5: Create a wedding account
I wanted to keep our finances separate until marriage, so we created a joint checking account to pay for the wedding. Just make sure both of you have access to this account so you can pay for the wedding.
Step 6: Pay everything off with a credit card
We love using rewards credit cards. It's not a good option for everyone, but it's a great way to rack up rewards.
We would pay for wedding stuff with the credit card and immediately pay it off with our joint wedding account. This allowed us to earn hundreds of dollars in rewards for little effort.
Creative Tips to Save on Weddings
Planning a wedding is one of the most stressful things you'll ever do. Once you realize how expensive it is, it's tempting to throw your hands in the air and give up.
But you don't have to do that! I was able to have a modest but nice wedding by strategically cutting costs. If you're still experiencing sticker shock, here are 11 tips to reduce your wedding costs.
1. Use Honeyfund
We planned our wedding and Disney honeymoon at the same time. We used Honeyfund to ask our friends and family to donate to our honeymoon instead of a traditional wedding registry.
And guess what? We didn't pay a dime of our own money to go on a fantastic honeymoon. If you already have your house in order and don't need new plates, try Honeyfund to go on a nice trip instead.
2. Book In The Off-season
Every city has its own "wedding season." In my city, it's usually November or March. Because of increased demand, wedding vendors increase their prices for these popular dates.
If you want to score better rates, book in the off-season. You should also look into weekday weddings or Sundays for better prices.
3. Print Everything At Costco
Guys, Costco has a photo center and it's awesome. I printed all of our save the dates, invitations, and ceremony programs for less than $100. We got so many compliments on the quality of the invitations, too!
If you don't want to drop $100, there's nothing wrong with printing invites from your home printer. Pop in a fresh ink cartridge, use nice paper from Michael's, and save your money for something that matters.
4. Buy Sample Dresses
Bridal gowns cost a fortune. One visit to David's Bridal had me running for the hills!
Fortunately, brides don't have to buy custom dresses. I bought a sample dress for half of the national average, which is $1,631. You can find small, local wedding shops that sell sample dresses. You can also buy them from trunk shows.
P.S. You can do this for bridesmaid dresses, too!
5. Crowd-source Photos And Videos
Wedding photography is expensive. If you're on a super-tight budget, ask your friends and family to crowd-source your wedding photos.
Encourage everyone to film or take photos to their heart's content. After the ceremony, ask them to email you the photos or upload them to Instagram with a unique hashtag.
6. Use Fake Flowers
Did you know that flowers alone will cost you $1,500? Yikes.
I'm a nature nerd and love flowers, but I quickly realized that fresh flowers just weren't in our budget.
Instead, I asked my wonderful stepmom to make bouquets from Hobby Lobby flowers. And guess what? They looked awesome! You can't tell they're fake in the photos.
7. Take "something borrowed" Literally
Try to borrow as much as you can to keep costs low. From outfits to decorations, ask your friends and family if they would be willing to lend a hand.
For example, my sister-in-law lent me her veil for our ceremony. It was good luck and it also saved me $50!
8. Choose Food Wisely
Sure, plated dinners are fancy, but they cost a fortune. I know buffets seem cheesy, but they're a great way to feed everyone on a budget.
The food doesn't have to suck, either—we've been married for 5 years and people still compliment us on how tasty the buffet was at our wedding.
If you don't want to do a buffet, the redneck side of my family has done potluck-style weddings for generations.
Food trucks are also another fun, modern way to save on food costs. You prepay for a set number of meals and your guests use tickets to grab their meals. Easy peasy.
9. Limit Alcohol
Omitting alcohol or doing BYOB will save you money, but I guarantee guests will grumble about it. We couldn't afford a full bar, so we did signature drinks instead.
My husband chose a keg of IPA while my drink of choice was a margarita. Our guests still enjoyed some booze without driving up the cost of the wedding.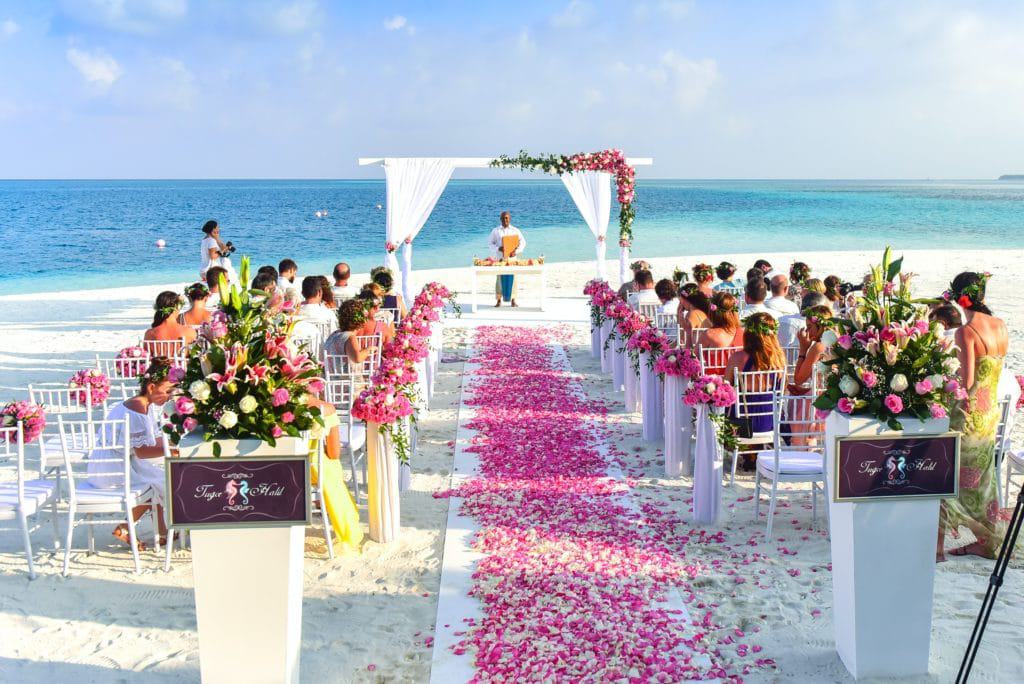 9. Book An Unconventional Venue
The venue is the most expensive part of a wedding. Steer clear of traditional wedding venues; they're nice, but they're overpriced.
Try cheaper venues like:
The VFW post
Parks
Backyards
Restaurant party rooms
A boat
The beach
The library
A museum
I wanted to get married in an old Victorian mansion, but at $10,000 for the venue, I had to look elsewhere. We got married at a small but all-inclusive catering company for $1,000 instead.
10. Fake The Cake
I love cake, but wedding cakes are crazy expensive. I didn't have the money to buy a $500 cake for 40 people, anyway.
We used Nothing Bundt Cakes as our wedding cake, but I've had friends serve Costco sheet cake, too. If it's delicious, who cares where it came from?
If you want a pretty cake in your wedding photos, you can actually rent a fake cake. Yes, I'm serious. People will rent a cake for photos and serve sheet cake to their guests. It's a creative way to get a high-end look without the high-end cost.
11. Pay For What's Important To You
Every couple is different. What's important to you won't be important to other people. When it comes down to it, your money should pay for the things that are important to you.
In hindsight, I compromised on a few things that I shouldn't have. We should have hired a videographer; we have no videos from our wedding!
Don't compromise on the things that matter to you. You might not get everything you wanted for your wedding, but you should still get the things that will matter most years from now.
The Bottom Line
People say weddings are expensive, but it's not until you're in charge of one that you realize just how pricey they can be.
No, I didn't get my "dream" wedding. The realities of life got in the way, and that's okay.
My husband and I started our marriage without the burden of wedding debt, and that was a tremendous gift.
With some careful planning and a little compromise, you can get a nice wedding on a tight budget.
Follow these 6 steps to create a fun, memorable day that won't put you in the poor house. If push comes to shove, get creative with your expenses so you can start your union with a clean slate.
Keep Reading: