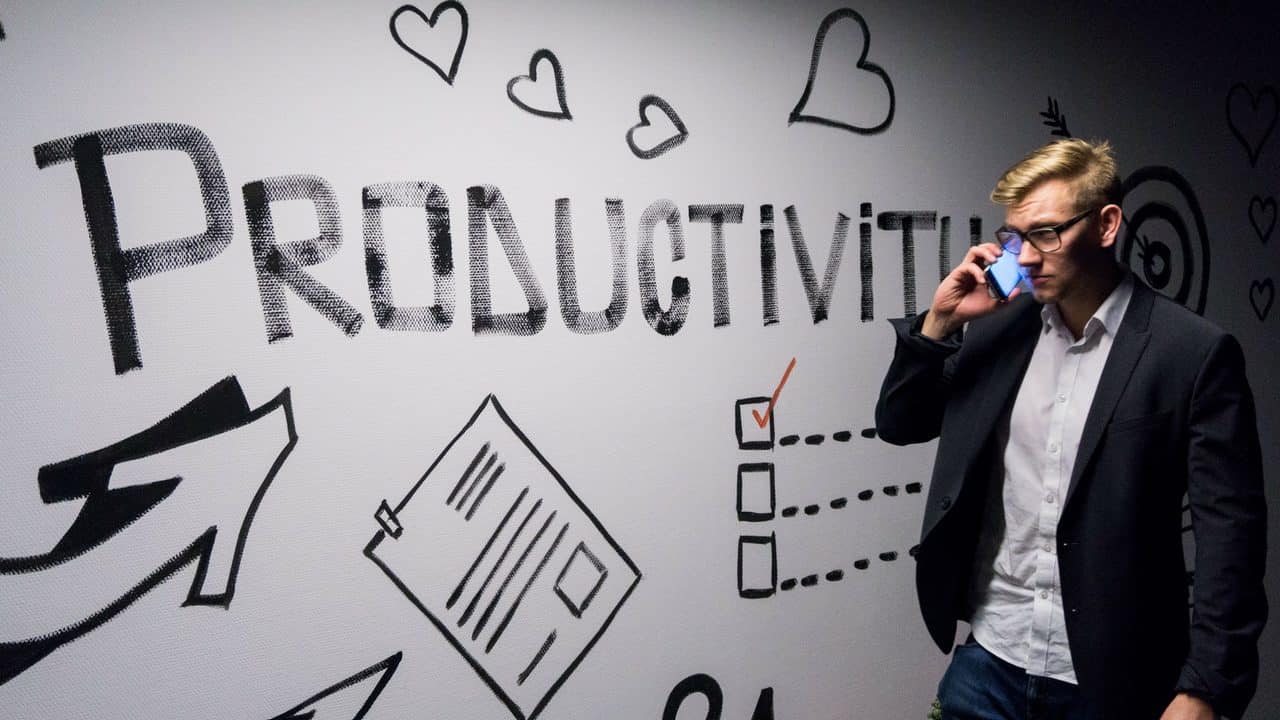 Disclaimer
We only endorse products that we truly believe in. Some of the links below may earn us some extra guac at no additional cost to you. Please pass the chips & thank you for feeding our habit.
If you're hoping to build a brand that attracts an audience, there are a few key points you need to know before getting started. In this article, we'll show you the first steps you can take toward building a successful online presence for your brand.
If you've already begun building your brand's online presence, you can still pick up some handy tips to help you succeed more quickly.
Before we jump into building your brand online, let's take a look at the 3 keys to success. If you've subscribed to our YouTube channel or browsed through our blog, these may already be familiar to you.
There are three basic steps, or "keys," to growing an online business.
Key 1: Getting started and getting known

by building a social media audience and blogging about the topic you're passionate about.

Key 2: Turning your passion into a business

with affiliate sales, dropshipping, or advertising.

Key 3: Getting people to buy

by getting their email address and nurturing potential customers through email marketing.
>>Download your free copy of Minority Mindset's "3 Keys to Business Profits"<<
Great! Now you know what you'll do to become a successful entrepreneur, so you're probably wondering how to get started doing it.
The first step toward making money online begins with your brand – not your product. In order to build your brand, there are a handful of things you need to decide before taking it online:
Your niche

Your brand name

Your first product (optional)
If you haven't chosen a niche or brand name yet, you should make those decisions before moving forward.
Ready? Let's get started!
Step 1: Define Your Brand by Creating a Style Guide
Before you begin telling the world who you are, it's important to define your brand's personality and style. This is done by creating an internal style guide.
Style guides come in all shapes and sizes. Big brands often have entire teams that contribute to their style guides, and can up investing a lot of time and money to create them.
But your style guide will not be complex, expensive, or time-consuming.
Your goal is to create a simple, written guide that helps remind you (and future team members) how you want to present yourself online.
Here are the 6 elements that will make up your first style guide:
#1 Brand colors
Need some help choosing colors? Check out this color psychology guide from The Logo Company.
#2 Logo
If you don't have one yet, try the Shopify or Canva logo creators – they're free.
#3 Personal image
Use the same image across all your online platforms: Website, social media, and email.
It's okay (good, actually) to change your image frequently. The trick is to be sure that whenever you update your personal image, you do so across all platforms at the same time.
This helps to build recognition.
#4 Website fonts
If you haven't started building your website, then you'll skip this step and return to it later. If you already have a website, list the following information:
Body font name and size (should be no smaller than 16px)

H1 header font name and size

H2 header font name and size
#5 Mission and vision statements
These don't have to be formal or public statements right now. But you will need written mission and vision statements to guide you along and remind you of your purpose as you build your brand.
#6 Messaging
How will you describe your brand to other people?
If you describe your brand differently every time you fill out a profile or business page, you'll confuse people and you may lose their trust.
So, you want to practice explaining the message of what your brand is about, and prepare to publish this "messaging" on your website and social media channels.
Prepare your brand messaging by describing your brand in the following formats:
One description in 70 characters or less

One description in 280 characters or less

One description in a 3-sentence paragraph

An "elevator speech" (

You're in an elevator and someone asks about your brand. You've got 30 seconds to explain it to them. Go.

)
As you begin to build an audience and do more writing, you'll also add a 7th element – a guide to tone and style. But for now, it's best to jump in and find your voice before you define it on paper.
Step 2: Build a Website
Please note: This section includes advice on marketing only. It is your responsibility to research and adhere to current laws that apply to your website.
Let's review the 4 basic stages of successful online selling. They are:
FRONT END MARKETING

: Begin building your brand and driving traffic to your website.

FUNNELING

: Pull the audience in and turn your traffic into leads.

REMARKETING

: Nurture your leads and turn them into customers.

BUSINESS WHEEL

: Turn your customers into repeat customers.
In order to begin the front end marketing and remarketing stages, you'll need a website where you can blog, get email subscribers, and tell people more about your brand and product(s). Your website will eventually become a gateway to your products and sales, but for now you'll focus on preparing to build an audience.
The minimum pages your site should contain are:
Homepage

About Us

Contact

Blog
As you move further along in the process, you'll add product pages, sales pages, landing pages, and much more. Today, though, we'll be learning how to set up the top of your homepage so you can build your email subscription list.
Start by using the top of your homepage (sometimes called a "hero section") to get people to subscribe to your email list.
You might wonder "Shouldn't I use the most visible section of my site to sell my product?" The answer is "probably not," and here's why.  According to an Episerver survey,
92% of first-time visitors aren't at your site to buy a product.
This data tells us that first-time visitors are usually on your site to peek around and find out who you are. They're mostly just doing research for a product they might buy in the future.
Instead of losing 92% of your potential customers, get their email addresses so you can keep in touch and give them a reason to return.
Another reason to capture email subscribers instead of promoting your product right away is that your first goal is to build your brand. So it makes sense to use your most valuable web real estate to funnel people into your brand first.
This means that you're going to set your homepage up for lead generation.
A "lead" is someone who's indicated an interest in your company – someone you want to remarket to in order to turn them into a customer.
In digital marketing, email subscribers are considered leads.
Lead generation is the business of turning strangers into leads.
In order to effectively generate leads, the top of your homepage should include:
Headline:

Use your headline to describe a benefit of your brand, product, or service.

Subheader:

Use your subheader to expand on your headline or offer more detail.

Possibly a small amount of text

: Keep it simple, this text is optional.

Form:

Ask only for their email address. Detailed contact information should never be asked of first-time visitors. There is a place and time to ask for more information, but first, you must build their trust.

Call to action (CTA) button
Image
Here are a couple examples of homepage designs that excellent lead-generation machines.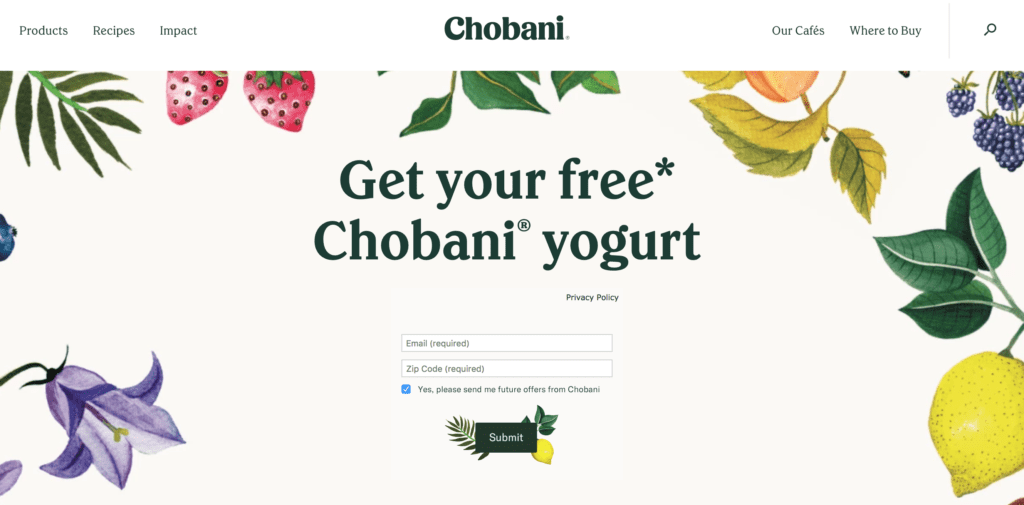 Chobani nails it with a headline that triggers excitement. They've placed the call to action in the subtext, so the button is plain and simple – but still actionable. They ask for nothing but a simple email address, and they offer something of value in exchange for it.
Starbucks is already successful, so they're able to take some risks and experiment in some areas.
Notice that Starbucks brings users to another page for the signup form, and they do ask for detailed contact information once you get to that page. But – they're Starbucks, and you're not (at least not yet). Build trust first and experiment down the line.
As you can see, there is room for flexibility when you write and design your header. The main goal is to pull your readers in and offer them something of value so they give you their email address.
How will you convince site visitors to give you their email address?
If a visitor is new to your site and doesn't know you, it's going to be tough to convince them to give you any personal information. Even a simple email address will take some persuasion.
This is why you'll offer something of value for free in exchange for their email address. At this stage you can offer;
content that they can't resist (like a helpful free ebook, guide, whitepaper, or secret tip sheet), or

a compelling promotion like a coupon code for 50% or $20 off their first purchase.
The important thing is that your offer is 100% free and doesn't require your visitors to make a purchase in order to receive it. For example, a coupon code works great because it's something you give them. On the other hand, "get 50% off if you purchase right now" is not a good offer because you're asking them to buy something in order to get it.
Step 3: Build and Nurture an Audience
Now that you've created a style guide and setup your website, you're ready to begin building an audience.
Begin by choosing an email marketing software like Aweber, Constant Contact, or Benchmark. Make use of their free tutorials and customer service to help you learn how to get set up with email marketing.
Launch your social media channels. Once your email marketing software is set up, you're ready to launch your social media channels. Be sure to have your style guide handy so your branding and messaging is consistent across all your channels.
If you're new to social media, it's best to start with one channel and build an audience on that platform before branching out into multiple channels.
What's next?
Now that you understand the basics of building an online presence for your brand, you're ready to get started. Bookmark this blog and subscribe to updates to find out more about front end marketing, funneling, and remarketing.
>>Download your free copy of Minority Mindset's "3 Keys to Business Profits"<<