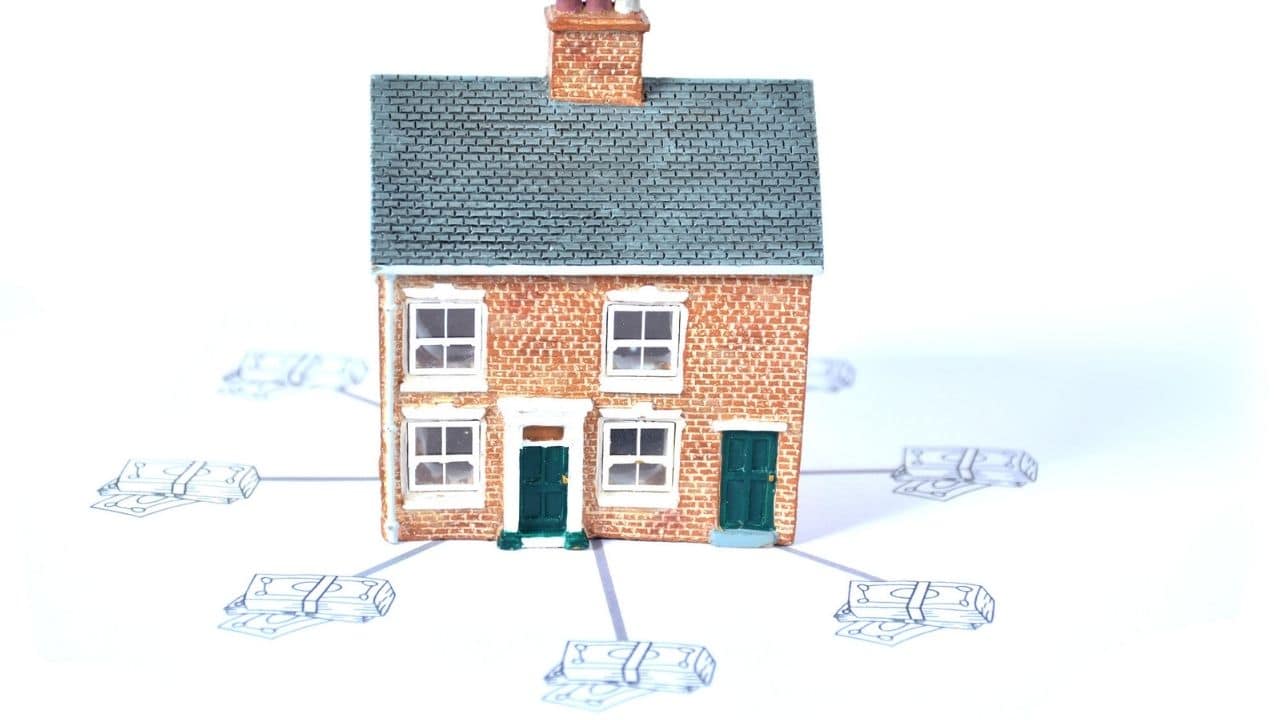 Disclaimer
We only endorse products that we truly believe in. Some of the links below may earn us some extra guac at no additional cost to you. Please pass the chips & thank you for feeding our habit.
If you've ever wanted to invest in real estate "someday," crowdfunded investing may help you get started sooner than you think.
In this article, we explain crowdfunded real estate investing in terms that you can easily understand, even if you have no real estate background.
This type of investing can present an extraordinary opportunity for new investors who are interested in real estate but don't have the experience, cash, or time it takes to buy their first building.
With crowdfunded real estate, you can get started on a small budget right away and learn as you go.
Keep reading to find out what it is and discover whether it may be a good investing option for you!
Platform
Minimum Investment
Fees
Link
$10
1% Fee
Other fees may apply
Learn More
$1,000
2% Fee
Other fees may apply
Learn More
$25,000
0.5% - 2.5% Fee
Other fees may apply
Learn More
Understanding Real Estate Investing
The term "real estate investing" sometimes confuses people, so we want to clear up any misconceptions you might have about the term before we dive into it.
What Is Real Estate Investing?
There's often confusion surrounding the definition of real estate investing.
We at Minority Mindset refer to real estate investing as something that generates passive income to help you build wealth for the future.
Passive income is money derived from businesses or investments that don't require much, if any, effort to maintain.
For example, flipping houses or living in a home for a couple years, then selling it for profit, doesn't fall under "real estate investing" because they are activities that require a good deal of time and attention.
When people mention "real estate investing," they're usually referring to rental properties that generate a passive income, such as:
Residential properties such as single-family homes, duplexes, townhomes, mobile home parks, and apartment buildings
Shopping plazas or retail spaces
Hospitals and medical buildings
True real estate investing generates passive income which you can use to build wealth for your future.
How People Invest In Real Estate
There are several ways in which you can invest in real estate.
Ideally, you save up or raise the money to purchase your first building or property, then reinvest the profits to purchase another.
Over time, you can build several streams of income and build significant wealth by owning and leasing out multiple properties.
Buying and renting properties requires putting together a team of people that includes:
Real estate agents
Contractors
Attorney(s)
Accountant(s)
Property manager(s)
Getting started in this type of real estate investing also requires a bit of time in the beginning as you're assembling a team and learning, first-hand, how to oversee properties.
The problem with traditional real estate investing is that, when you add up the money and time required to get started, the barriers to entry prohibit most people from getting started.
There are other ways to invest in real estate that don't require as much money to get started.
For example, you can find other people to invest with you and become a part equity owner. Or, you can explore creative ways to finance properties such as a land contract.
Raising money is time-consuming, though, and the alternative financing options still don't reduce the amount of time you need to put in to get started buying and renting properties.
Fortunately, there are three easier, less expensive ways to get started with real estate investing:
Rent out your own home. When it's time to buy a new house, consider renting out your old one instead of selling it. Not only can you save a significant amount of money on the interest rate for the loan, but you'll also save time because you probably already know what the property needs for maintenance and have a team in place. Note: Be sure to speak with an attorney to understand the full scope of this strategy before getting into it.
Buy into a real estate investment fund (REIT).When you invest in a REIT, you're investing in a company that owns, operates, or finances income-producing real estate. Most REITS trade on the stock exchange. REITS give you the chance to earn passive income through dividends that are typically paid out quarterly.REITS are nice because they allow you to get started investing in real estate without investing a significant amount of your time or money.
Invest in crowdfunded real estate. With crowdfunded real estate, you invest a smaller amount of money that's pooled together with many other investors. Instead of owning whole properties, you purchase a percentage and share ownership with other investors.
The ability to invest in real estate — even before purchasing a property on your own — is an excellent opportunity for just about anyone.
We love crowdfunded real estate investing because it can be an excellent way for beginners to learn about real estate investing while also building legitimate passive income for the future.
In the following sections, we dive deeper into crowdfunded real estate so you can decide whether it's a good option for you.
What Is Crowdfunded Real Estate?
Crowdfunded real estate is a strategy in which many people pool their money together to collectively invest in real estate holdings.
The crowdfunded approach to real estate investing allows nearly anyone to become an investor, because instead of purchasing an entire property, it allows you to own small pieces of several properties.
What is Crowdfunding?
Crowdfunded real estate is a relatively new opportunity, but crowdfunding itself has been around, digitally, since 1997, when British rock band Marillon funded their U.S. tour with online donations from fans.
The concept of "fan-funding" worked so well that it inspired the launch of a new company in 2003 called ArtistShare. 
Artistshare helped fund indie band tours through fan donations even before the term "crowdfunding" was used. Today, the company is a global platform whose projects have received 30 Grammy nominations and 10 Grammy award wins.
Artistshare eventually became the blueprint for many crowdfunding platforms, including Kickstarter and IndieGoGo.
When did real estate crowdfunding start?
Although crowdfunding has been around since the late 90's, crowdfunded real estate only succeeded after the JOBS Act was signed into law into 2012.
Until then, small businesses and startups were limited in their ability to advertise and raise capital publicly, which made successful crowdfunding nearly impossible.
Fundrise online investment platform was the first investment platform to provide a simple, low-cost way for the average person to access consistent, exceptional returns from a crowdfunded real estate platform.
The company, launched in 2010, was developing its software even before the JOBS act was passed.
Start building a passive income today!
Join Fundrise now
Thinking About Crowdfunded Real Estate?
While crowdfunding likely conjures up images of people raising money to develop and launch new products or to fund a steep hospital bill, nowadays, crowdfunding is completely mainstream. In fact, you can even leverage crowdfunding to invest in real estate, allowing more meager means to be added up into something that gives you real purchasing power. That can help since most real estate is out of the reach of those that may just be starting out on their accumulation of wealth, and it can also be a worthwhile addition to portfolios of any size.
Just like other crowdfunding that brings together various investors for the purpose of something bigger, crowdfunded real estate is a great new way to get into real estate with a low barrier to entry. Companies such as Fundrise and others like it allow you to bring in as little as $500 into a viable real estate play — something that's virtually impossible on the open market as home prices reach the stratosphere and cost hundreds of thousands of dollars — or up to a million or more.
Generally, crowdfunded real estate gives you an opportunity to benefit from the astronomical real estate prices seen today, and it also gives you protection against rising prices in the future by paying you when the real estate market goes up. They're also much easier to understand and manage than real estate investment trusts or REITs, which enable you to directly invest in the companies that invest in real estate.
How Crowdfunded Real Estate Works
Crowdfunded real estate allows nearly anyone to begin investing, even if they have no prior knowledge of the industry and are working with a small budget.
For example, Fundrise allows people to start investing in a diversified U.S. real estate project with as little as $500.
When you join, you become part of a group of more than 150,000 investors who collectively have the type of buying power previously only available to billion-dollar corporations.
Instead of owning your own property, you own a percent of its holdings.
When your properties earn money, so do you.
You received quarterly dividends, plus appreciation on your shares of the investment.
Your investments do the work for you — no labor required.
A team of professionals handles all the investing work for you, including property acquisitions, maintenance, and portfolio management.
The average return on investment varies, but you should expect between 8 – 12 % from crowdfunded real estate.
On Fundrise, the average return, according to a report by CreditDonkey, is 9.47%.
When choosing a platform, watch out for hidden fees.
Fees can eat into your profits, so make sure that you read the fine print when joining a crowdfunded real estate platform.
Like any investment, crowdfunded real estate investing comes with risks. Take the time to understand and minimize the risks associated with crowdfunding before you invest
Please also be sure to do your research before investing on any platform, so that you don't get scammed.
We recommend Fundrise because it's well-known for its super-low costs. It charges no fees for transactions, and its annual fees add up to a total of one percent. To learn more about its fee structure, check out our Complete Review Of Fundrise Real Estate Investing Platform.
Become a real estate investor today!
Pros And Cons Of Crowdfunded Real Estate
Any type of investment comes with its own list of pros and cons, and crowdfunded real estate is no different. Below, we've listed some of the primary pros and cons to help you understand how it works.
Sure, it's much better to buy real estate outright and benefit directly from any market appreciation, but not many people have the funds to finance such an endeavor. Not only do you need a ridiculous amount of capital to start, you'll also need to figure out how to manage the property while it appreciates. If you don't plan on living in the property, that means becoming a landlord or hiring somebody to do the work for you.
But with crowdfunded real estate, you can expect the same types of returns from real estate ownership without the hassle of actually owning property. And, If you need your investment money and want to sell, it's much easier to do so. Compare that to the very real burden of owning real estate and you may find that crowdfunded real estate may actually be the better play.
You'll also get far more diversification with crowdfunded real estate since you won't be buying into just one property that can burn down in a fire or suffer a catastrophic flood tomorrow. That can help strengthen your portfolio, as well as giving you the peace of mind of an investment that won't likely sour on you.
If you don't have much money to put into a real estate investment, crowdfunded real estate may represent your only opportunity to get into real estate, and that can make a very real difference if you're able to start investing in real estate years or decades earlier with the power of crowdfunding.
That said, there are some downsides to crowdfunded real estate. You'll have to pay some nominal fees for the privilege of crowdfunding a real estate opportunity, and some crowdfunded platforms may actually tie up your money for longer than you're prepared for. If you make an investment that you can't sell for years, you could end up back in the same boat as an actual real estate investment without many of the associated benefits.
PROS
No prior knowledge of real estate needed (although you should ALWAYS research before investing your money with any company, because no positive returns are ever guaranteed.).
You can get started on a small budget. Depending on the platform you use, you can begin investing in real estate today for as little as $500.
You can automatically invest a portion of your income. Depending on which platform you use, you can allocate your income and put your real estate investments on auto-pilot. This helps you follow through on an investing plan that can set you up to build wealth over time.
You can learn a lot about how real estate works with the experience you get from investing in crowdfunded real estate. Depending on which service you use, you can access reports, pie charts, and property details that allow you to track your investments as often as you like.
Zero hours required. Unlike direct real estate investing, you don't have to research and visit properties, put together a team, or handle property maintenance. All the "heavy lifting" is handled by experts so you can live your life while collecting a truly passive income.
CONS
The early withdrawal fees can be a killer. Crowdfunded real estate is not a liquid investment. Plan to leave your money sit between 5 – 7 years, or as the platform requires. You will lose money by withdrawing early, and it may be more expensive than you imagine.
It's a long-term investment. This is a plus for many people trying to build wealth. However, if you're looking for something more fluid, you may want to consider the stock market or REITs instead of crowdfunded real estate investing.
Returns may not be as high as traditional real estate investing, but if you're not ready to invest $100,000 or more, you probably won't mind the smaller returns.
There is risk involved. Crowdfunded real estate investments can fail, which is why investing through an established, trustworthy online investment platform is important. Any type of investment presents some risk, so like any other industry, it's critical to do your research before you join and invest with a group of people.
You probably will pay standard taxes on your earnings. Non-accredited investors don't get tax breaks on earnings from crowdfunded real estate.You'll probably pay regular income tax on your investment earnings and won't receive any of the typical real estate tax perks that come with traditional real estate investing.
Become a crowdfunded real estate investor
Join Fundrise today!
How To Determine If Crowdfunded Real Estate Investing Is Right For You
To determine whether crowdfunded real estate investing is a good choice for you, start by evaluating your investment goals. Do you want to:
Create passive income?
Build long-term wealth?
Generate exceptional returns over time?
If the answer to any of these is yes, then crowdfunded real estate investing may be a good choice for you.
However, it's not the right option for everyone. If you want to do any of the following, then crowdfunded real estate investing may not be a good choice for you:
Cash in on your investments if there is a personal emergency or national crisis.
Pick and choose your own investment properties.
Buy and sell as the market fluctuates
Should you decide to invest, we recommend Fundrise.
Fundrise allows you to create an investing plan that fits your financial goals. For example, you begin by choosing a membership plan that aligns with your most basic goals, such as:
Getting started with real estate investing.
Building a passive income stream or retirement fund.
The platform also provides an advanced membership plan for experienced real estate investors looking for a diversified, hands-off investment strategy with simple tax reporting.
After choosing your membership level according to your basic investing goals, you then have the opportunity to advance your membership with specific strategies, such as:
Supplemental income
Balanced investing
Long-term growth
Investing in real estate at a beginner level should be fun.
Look for an investing platform that allows you to easily access reports, charts, and property details that you can follow over time. This will help you learn about real estate investing over time.
For example, on Fundrise you can access in-depth reporting on all your projects.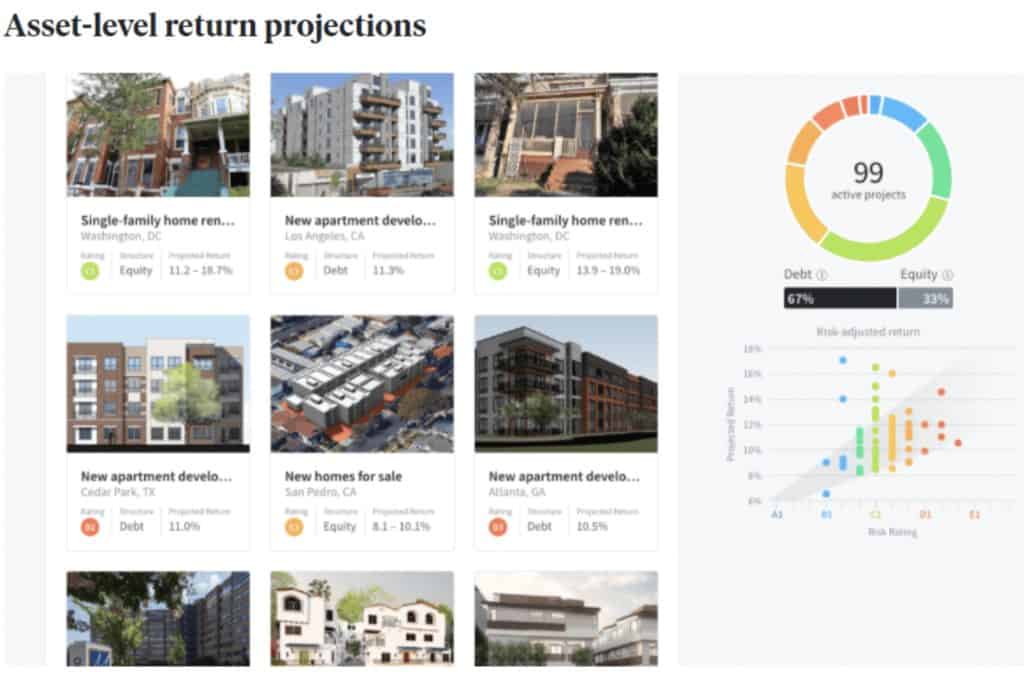 From  your desktop or mobile device, you can access property details, portfolio returns reporting, and more.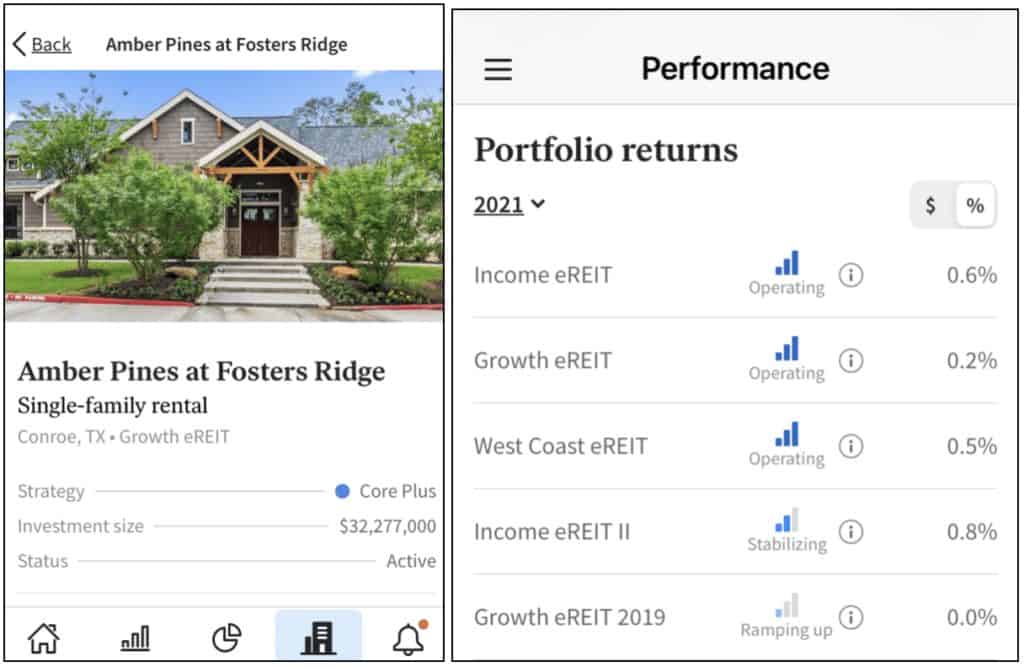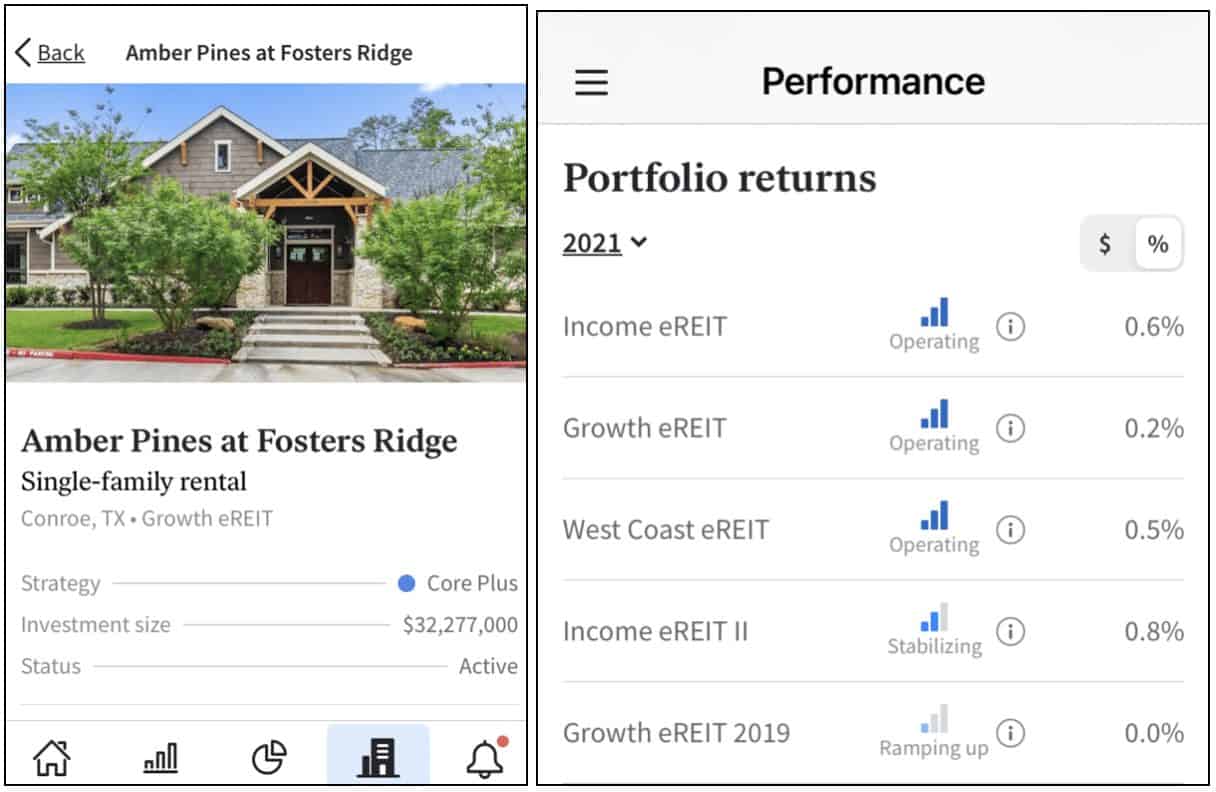 We suggest you invest with a platform that makes it quick and easy to review your investments, so you can check up on them in a matter of seconds.
Whether crowdfunded real estate investing is right for you depends on your long-term goals.
Like any investment, we want you to research before you invest so that you fully understand the risks, limitations, and tax implications before you hand over your money.
People who fully understand real estate crowdfunding and the platform's fees & policies before they invest are much more likely to be happy with their investments.
On a budget?
Become a real estate investor for as little as $500
Join Fundrise now
Crowdfunded Real Estate For Long-term Investing And Passive Income
Crowdfunding has been around for a long time, but has only recently reached the real estate investing world.
If you're considering investing in crowdfunded real estate, make sure to evaluate your goals and do your research to make sure it's the right investment for you.
Crowdfunded real estate investing provides a unique opportunity for almost anyone, even people with average salaries and tight budgets.
If you're looking to create passive income over the long-term without needing to invest a large chunk of time or money to get started, this may be a good option for you.
Start investing in real estate today – all budgets welcome!
Keep Reading: