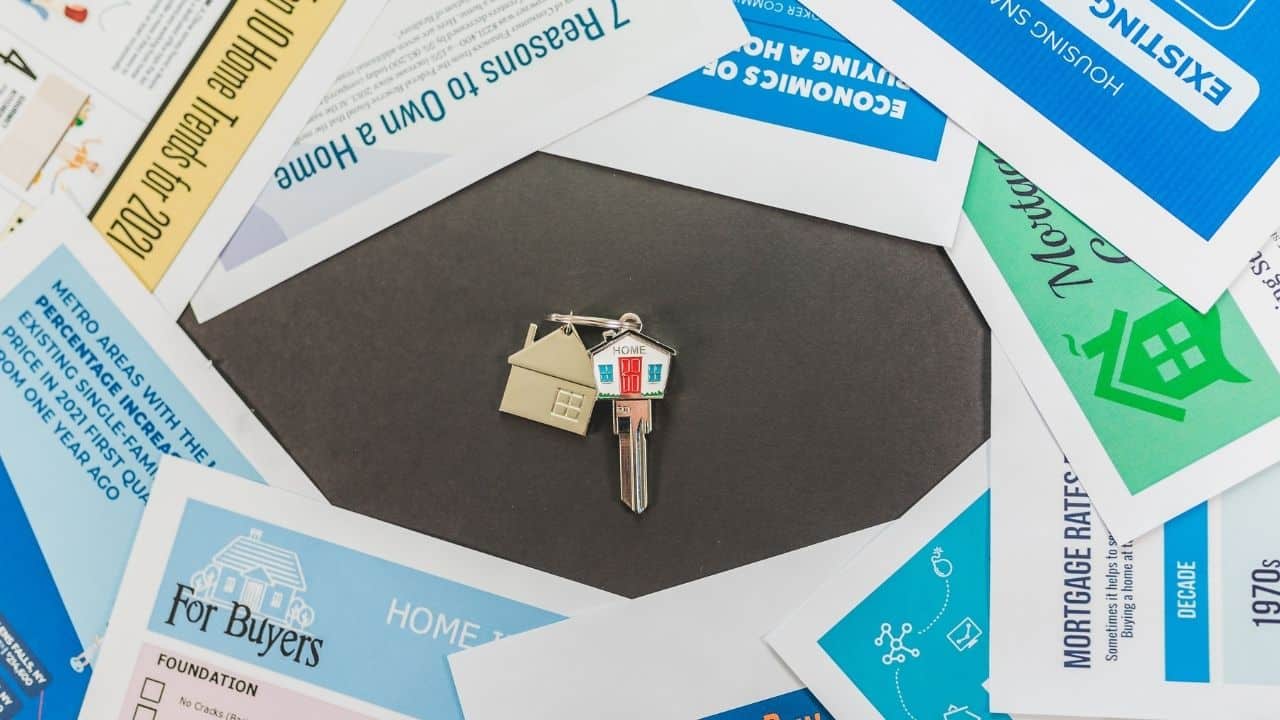 Disclaimer
We only endorse products that we truly believe in. Some of the links below may earn us some extra guac at no additional cost to you. Please pass the chips & thank you for feeding our habit.
The Minority Mindset earns commission from Fundrise via the partner links below. All opinions are the author's.
Real estate investing is quickly growing in popularity with 72 percent of individuals claiming that they love this investment strategy. In the past, investing in real estate seemed like a far-off dream for many because of the high initial costs associated with a down payment and thousands more in closing costs. Over the past decade, real estate investing platforms started to pop up and make this a more accessible option. Two of the most popular platforms battle head-to-head for your attention: CrowdStreet vs. Fundrise. 
CrowdStreet focuses on commercial properties and accredited investors with a minimum investment of $25,000. Fundrise is more accessible and does not require investors to be accredited. They have a minimum investment of just $10, though you gain access to more features with a larger investment. 
If you want to learn more about which platform is right for you, this detailed breakdown will give you all of the ins and outs on both CrowdStreet and Fundrise.
CrowdStreet VS Fundrise – Platform Comparison
Understanding the intricacies of these competing real estate investment platforms will help all investors to make the decision that is right for them. Investors need to consider their needs and wants when it comes to their investment strategy, the amount that they have to invest, and their overall income level. 
While both of these platforms are solid choices for investment, here is what you need to know about their differences.
The Basics: CrowdStreet VS Fundrise
To begin, it is important to note that CrowdStreet and Fundrise are geared toward two different types of investors. 
CrowdStreet is a commercial real estate marketplace, but it is available only to accredited investors (those with income over $200,000 annually or $300,000 if married). This type of investor must also have a net worth in excess of $1 million not including their home. 
On the other hand, Fundrise is available to both accredited and non-accredited investors. This means that anyone who has at least $10 to invest can get started with real estate. They deal in real estate investment trusts (eREITs) and eFunds that are not publicly traded. While CrowdStreet deals exclusively in commercial real estate, Fundrise handles both residential and commercial.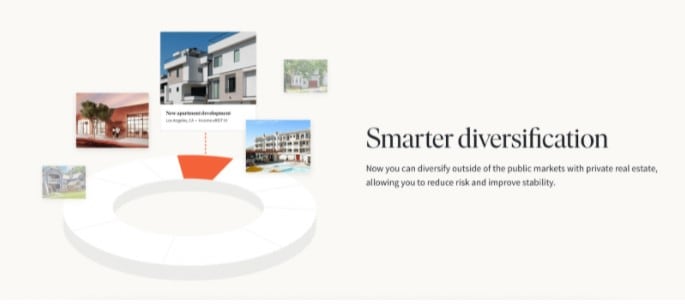 With a high 46 percent of people preferring to invest in real estate over stocks, Fundrise is a solid option for many who are excluded due to the income requirements on other platforms that require accreditation and certain income levels.
Minimum Investments
This is where most people start to really see the difference between CrowdStreet and Fundrise. As many investors have come to expect, CrowdStreet has a much higher minimum investment to get started, but it may not be out of reach for an accredited investor. Their minimum investment to get started is $25,000.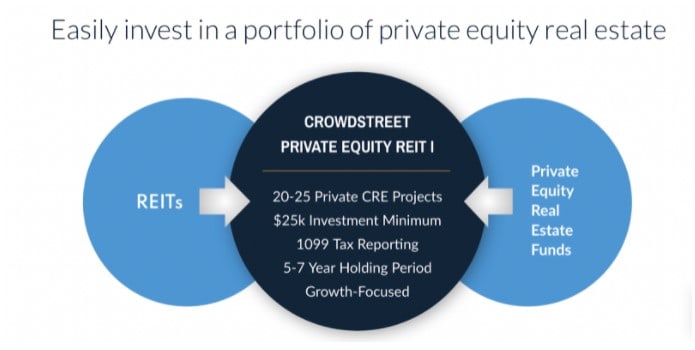 Investors who can swing a much larger initial investment may want to consider creating a tailored portfolio, designed with their unique goals in mind. This is possible when you have a minimum account balance of $250,000. 
Fundrise is much more accessible to the average investor who may just want to start dabbling in real estate investments to diversify their portfolio. Investors with minimal funds can get a Starter account at Fundrise for a meager $10 investment. Investing more will open the door to account types that feature more benefits such as: 
Basic

: Set investment goals and invest in a IRA (minimum $1,000 investment)

Core

: Customize goals for investment, access to more funds, ability to invest in any open eREIT (minimum $5,000 investment)

Advanced

: Invest directly into Fundrise eFund (minimum $10,000 investment)

Premium:

Open to accredited investors, priority access to investment team (minimum $100,000 investment)
It is clear that Fundrise is open to just about every investor, but investors with more spare cash sitting around to invest will experience more benefits. Regardless of what level you want to invest in, you do not need to be an accredited investor unless you are interested in a Premium account. Weigh which features are most important to you before deciding on that initial investment.
For example, if you want to invest in an IRA for your retirement savings, you might want to save up a bit more to hit that minimum $1,000 investment for a Basic plan.
Types Of Investments – CrowdStreet VS Fundrise
Another of the key areas where CrowdStreet and Fundrise differ is in the types of investments to choose from. As mentioned earlier, CrowdStreet specializes in commercial real estate properties. They do nothing with residential properties such as apartment buildings or communities. This is in direct opposition to Fundrise who specializes in a combination of both. 
In addition to noting this significant difference, the way that you go about investing in each of these platforms is a bit different. 
Fundrise focuses on REITs and eFunds exclusively, making it easy to diversify your portfolio with minimal effort. 
CrowdStreet also offers the possibility of investing in REITs if you prefer this type of approach, but they have more options than just REITs. Investors can also make a significant investment in an individual property that they believe strongly in or a custom portfolio. Keep in mind that you can build a customized portfolio based on your goals if you have at least $250,000 to invest on the platform. 
Fees
When it comes to choosing a real estate investing platform, one of the most significant things to look at is what it will cost you in the long run. Investors want to see the lowest management fees so that their money can be hard at work in their investments instead of going toward the costs of administrative work. Fortunately, you will be pleasantly surprised by the fees on both Fundrise and CrowdStreet. 
CrowdStreet has fees that vary depending on the individual deal that you invest in. For example, some of the fees might include: 
3% design fee

5% construction management fee

Variable asset management fee

2% property management fee

1% financing fee 
Fundrise does charge a small management fee of 1 percent each year. This fee is broken down into two parts: an annual advisory fee (0.15 percent) and an annual management fee (0.85 percent). While this can certainly add up, it is a great offer for investors who just want to start to get their feet wet with real estate investments.
Account Types
One area where CrowdStreet and Fundrise have some overlap is in the account types that they have to offer. The type of account that you ultimately choose to go with should depend on your investment goals, but you have plenty of options no matter what those goals may be. 
Both CrowdStreet and Fundrise have several different types of accounts that you can invest in, including: 
Individual or joint accounts

Entity accounts

Trust accounts

IRAs
Fundrise offers both Traditional and Roth IRAs, but they will come at an additional cost. Investors who are interested in saving for retirement through real estate will need to pay the $125 annual fee for investing in an IRA account. Keep in mind that Fundrise has selected Millennium Trust Company, LLC as the custodian of their IRA accounts. 
It is pretty straightforward to invest in an IRA through Fundrise, especially compared to that of CrowdStreet. There will be more hoops to jump through to get established with a self-directed IRA from CrowdStreet. You will still need to prove your accreditation to invest in an IRA. 
One of the benefits of choosing CrowdStreet's IRA program is that they are agnostic about what custodian you select. However, investors will need to do their own research to ensure that the company they choose offers custody of alternative investments. This can be an extra step and a bit of a hassle to get your account set up properly.
Returns
Ultimately, most investors want to know which platform is going to yield the best results. Placing money in any type of investment account comes with some inherent risks. Looking at the history of the platform and their rate of return can help investors make a decision about which platform is the right pick for their investment strategy. 
Fundrise has an incredible high average annual return for the 2021 year. Across all Fundrise client accounts, they had an average annual return rate of 22.99 percent.

Not to be outdone, CrowdStreet also saw some reliable returns for their clients over the years. They boasted an 18.5 percent internal rate of return (IRR).

Selling Assets (Liquidation)
What happens to your investment funds if you decide that you want to cash out before a deal is fully realized? Before you decide to invest in real estate, you should be aware that this a long game with investments requiring several years before being fully realized. This is another area where the two platforms tend to differ. 
CrowdStreet has a relatively short hold period on their properties compared to Fundrise. While Fundrise tends to encourage long-term investing for five years or more, CrowdStreet has an average of a 2.7-year hold period. 
Still, investors occasionally find themselves in situations where they need to cash out of their investments to cover an unexpected bill or some other financial predicament. Fundrise allows their investors to submit a redemption request form that will be reviewed and could be approved within a few days. 
CrowdStreet does not have the same flexibility. There is no private market where you can sell your shares with this platform, meaning that you will be stuck with them for the duration of the investment. If you don't think that you will be able to do without the funds you invest for the next three years or so, then CrowdStreet may not be the right investment platform for you.
How to Choose – CrowdStreet VS Fundrise
When it comes down to it, the easiest way to make a decision between CrowdStreet and Fundrise is to consider your current financial status. CrowdStreet only caters to accredited investors who have a substantial income of $200,000 to $300,000 annually along with $1 million in assets.
If this does not describe your current financial predicament, then Fundrise might be the better fit for you with their $10 minimum investment. 
CrowdStreet is ideal for investors who want to dive right into real estate investing with a hefty $25,000 minimum investment required. It can be geared toward those who have the extra cash in their savings account or those who are experienced with real estate investing strategies. If you want to invest in individual properties, this is another consideration for CrowdStreet. 
Fundrise is better for investors who are just getting started with real estate investing. For those who aren't sure whether this long-term investment strategy is right for them, they might want to just start to dabble with minimal initial investments on Fundrise. 
It is important to keep in mind that CrowdStreet also offers more flexibility with their investment strategy. With the proper investment, you can gain access to custom portfolios and can choose to invest in individual properties. Fundrise only allows you to invest in REITs and eFunds, though they can encompass both residential and commercial properties. 
Last but not least, there is liquidation to consider. With CrowdStreet, you will need to hold your shares until the deal is fully realized in about three years. Fundrise offers liquidation quarterly, but it comes at a cost. However, they also have a longer term for their deals with many exceeding five years.
Investing In Real Estate
If you are serious about investing in real estate but don't want to do the research yourself, you can turn to investment platforms like the two found here. CrowdStreet vs. Fundrise has sparked quite a debate among investors who can see the benefits of both platforms. While they are both excellent, they do lend themselves to different kind of investors. 
Accredited investors who have $25,000 to spare for a few years will want to invest in CrowdStreet for its smaller fees and high return on investment.
Non-accredited investors who still want to dabble in real estate may want to consider Fundrise due to its low minimum investment of just $10. It is a more accessible platform for those who aren't sure yet how they will feel about real estate investing in the next six months, year, or longer. 
What are you waiting for? Sign up for one of these platforms today!