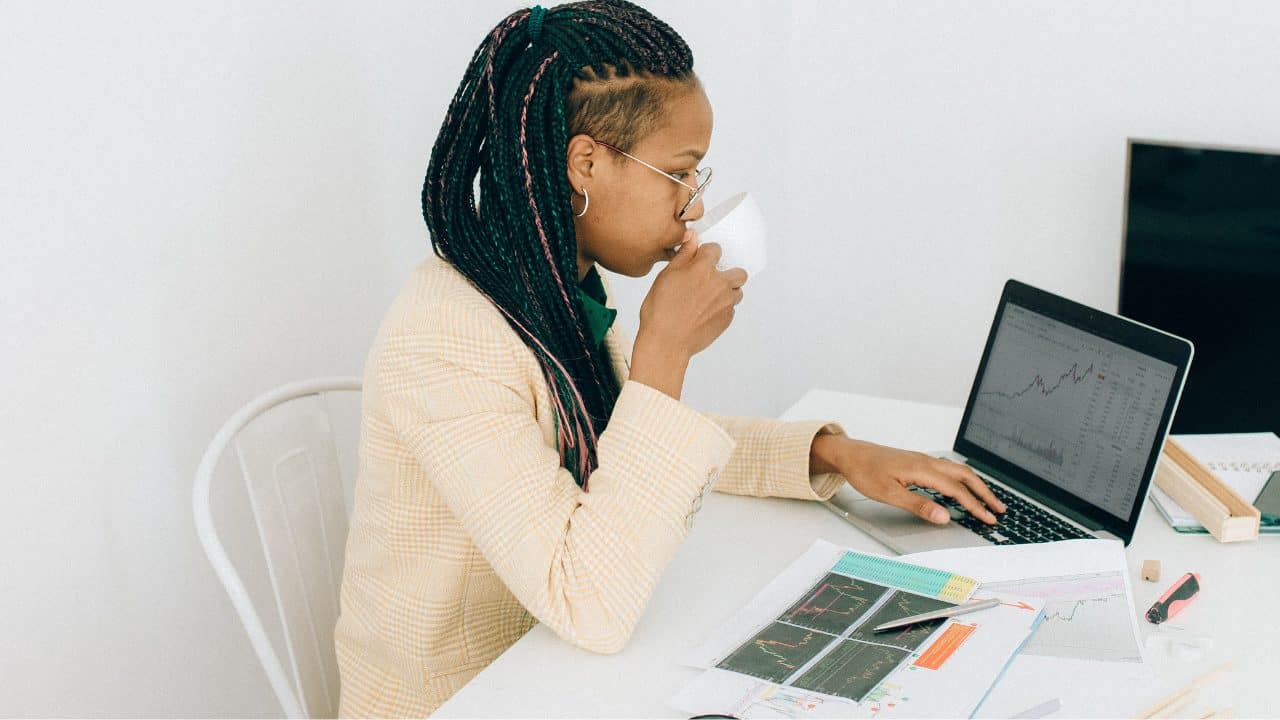 Disclaimer
We only endorse products that we truly believe in. Some of the links below may earn us some extra guac at no additional cost to you. Please pass the chips & thank you for feeding our habit.
As much as I love frugal living and saving, they aren't the best way to build wealth. If you want your money to work for you, you need to invest it.
Truth be told, I'm bad at math and terrified of complex financial projections, so I avoided investing for the longest time. I let my lack of self-confidence and education prevent me from investing, which set me back financially.
After all, personal finance is pretty darn complicated and everyone will give you different advice about investing. It's easy to throw your hands in the air, give up, and avoid investing altogether, but that isn't in your best interest.
Most of the Boogeyman stories we hear about investing are just limiting beliefs. If you don't invest, it can really hurt you, especially in your golden years when you may need to live off of your investments.
There are so many myths about investing that it can make your head spin. It's a combination of bad advice, misinformation, and a lack of confidence that scare people away from investing entirely. I don't want that for you, so let's bust these 7 common investing myths to separate fact from fiction.
| Platform | Fees | Promotions | Link |
| --- | --- | --- | --- |
| | $0 Fees | Get a cash bonus of $30-$500 when you deposit $1,000+ in the first two weeks. | Learn More |
| | $0 Fees | Get one free stock priced up to $225 when you link a bank account. | Learn More |
| | $0 Fees | Get two free stocks when you deposit $5 within 30 days. | Learn More |
| | $0 Fees | Start investing with as little as $1. | Learn More |
1. You Need a lot of Money to Invest
I invest regularly and, I can assure you, I don't have a lot of money! An "investor" sounds like a megalomaniac oil tycoon who's pumping millions of dollars into stocks, but that just isn't the case. In reality, "investors" are regular folks like you and me.
Sure, there are some investments that require a minimum $10,000+ investment, but that doesn't mean you can't invest at all. It just means you need to go for smaller-scale investments.
For example, tools like Acorns help you invest by rounding up your purchases. You can invest just a few cents here and there and won't really notice it coming out of your wallet.
Vanguard ETFs are another great way to invest if you aren't rich. Some funds allow you to buy a single share. Since Vanguard shares are usually in the $50 – $300 range apiece, this is way more affordable.
The thing is, small investments matter. You'll probably build your money faster by contributing $500 a month, but $5 here and there can have an impact, too. So no, you don't need to be rich to invest.
2. You Can Only Invest in the Stock Market
Millions of people invest in the stock market and it can be a good way to grow your money. But it isn't the only way to invest your money.
"Investment" refers to funneling your money into something that will (hopefully) generate a return. Stocks don't have to be part of that equation at all.
You can also invest your money in:
A small, private business.
Multi-family real estate, like apartments.
Cryptocurrency.
Collectables.
Precious metals.
Peer-to-peer lending.
Bonds.
Keep in mind that every investment has a level of risk to it. But if you hate the idea of investing in the stock market, know that you do have alternatives.
3. It Takes a Long Time to Grow Money in an Investment
Story time: back in 2017 I bought two shares of a Vanguard ETF. I wasn't totally sold on the idea, so I treated the investment as an experiment. I forgot about the experiment for several years and checked up on it in 2021. I didn't "get rich," but the modest investment definitely grew in just a few short years.
I'm not saying you can become a millionaire in 3 years if you invest just $5, but you don't have to wait decades to see a return on your money, either. Actually, it depends on the investment itself, how much you put in, the economy, and plenty of other factors.
But no, generally speaking, you don't have to wait until you're old and gray to see a return on your investments.
4. Investing is too Risky
My family is from rural Oklahoma and follows a lot of Depression-era finance rules. I had a relative who thought banking and investing was too risky, so they stuffed their life savings into the eaves of their home. That seemed like a good idea until their house burned down.
Yes, investing is risky, but not investing is risky, too. Even if you aren't stuffing wads of cash under your mattress, you still don't want too much money sitting stagnant in savings. You can miss out on a lot of money this way, and it won't help you beat inflation, anyway.
Investing shouldn't feel like gambling; if it does, you're probably investing in unproven or questionable ventures. There's no guarantee you'll see a return on your investment, but you can still stack the cards in your favor with the right approach.
Balance your portfolio, diversify, and have an investment strategy so it feels less like a gamble and more like an investment.
5. You Have to be a Professional to Invest
Professional investors definitely have an advantage in the stock market. They have education, experience, and firsthand knowledge of the market that helps them choose the right investments.
But guess what? If they could learn how to invest, so can you. In fact, as an everyday investor, you don't have the pressure to generate results that professional investors do. You're less likely to make drastic or risky investments for that reason.
If you want a fund manager to watch over your investments, though, that isn't a bad thing. It can be a good move that frees up your time, but it still needs to make sense. Ensure that the fund performs well and that the manager's fees don't cut too much into your own returns.
P.S. Hiring a professional doesn't let you off the hook. You still need to be educated enough to understand your investments. Otherwise, you risk working with a professional who takes advantage of you!
6. You Have to Buy and Hold
"Buy and hold" was all my high school self knew about investing. While this adage can be true, it doesn't always work that way in real life. It's great if you can get in early on a company's stock and sell it later when it's worth more per share.
But that doesn't mean you have to cling onto that investment for 40+ years. What if the company doesn't even exist in 40 years? How much will your investment be worth then?
I'm not saying you should become a frantic day trader, but context and circumstances should dictate when you sell shares or cash in on an investment. Don't cling to an investment if it makes more sense to sell it.
7. It's Too Late to Start Investing
The only time it might be too late to start investing is if you're on your deathbed. Even if you're 65, you can carefully invest some of your money to generate a nice return. If you live to age 99, you'll likely have a nice nest egg and leave behind a legacy for your family, which is really cool!
Ideally, everyone would start investing at age 18, but that just isn't the world we live in.
Shrinking salaries and increasing expenses make it difficult just to pay the bills, let alone funnel extra money into investments that will pay off at an uncertain date in the future.
If you absolutely can't invest right now, that's okay! However, if you're in your fifties and you're in a better place financially, but you think it's too late—it isn't. I know people who started investing after age 50 and they're glad they started.
The downside of waiting until you're older is that you don't have the luxury of time on your side. A $100 monthly investment in your twenties can grow to be a larger balance because time allows those funds to grow more.
But all is not lost! Investing over the hill means taking a different approach, that's all. You might want to invest in more conservative investments if you don't want to risk losing your life's savings. On the other hand, maybe you want to invest in more aggressive investments to generate more returns so you can catch up. It's all up to you!
You're in control of your financial destiny. If you want to invest and have the means to do so, I promise you it isn't too late.
The Bottom Line
Every myth has a nugget of truth to it. Some of these investing myths might be true for some investors, but in the world of personal finance, very few things are universally true. The best thing you can do is to educate yourself so you can create an investment plan that works for your life.
Generally speaking, myths like:
"You need a lot of money to invest"
"You can only invest in the stock market"
"It takes a long time to grow money"
"Investing is too risky"
"You have to be a professional to invest"
"You have to buy and hold"
"It's too late to start investing"
… will only hurt your earning potential. There's no surefire way to guarantee success, but when you do what's right for your situation, you'll set yourself up for a healthy financial future when you start investing. Bottom line, overcome the myths and educate yourself to get the most out of your investments.