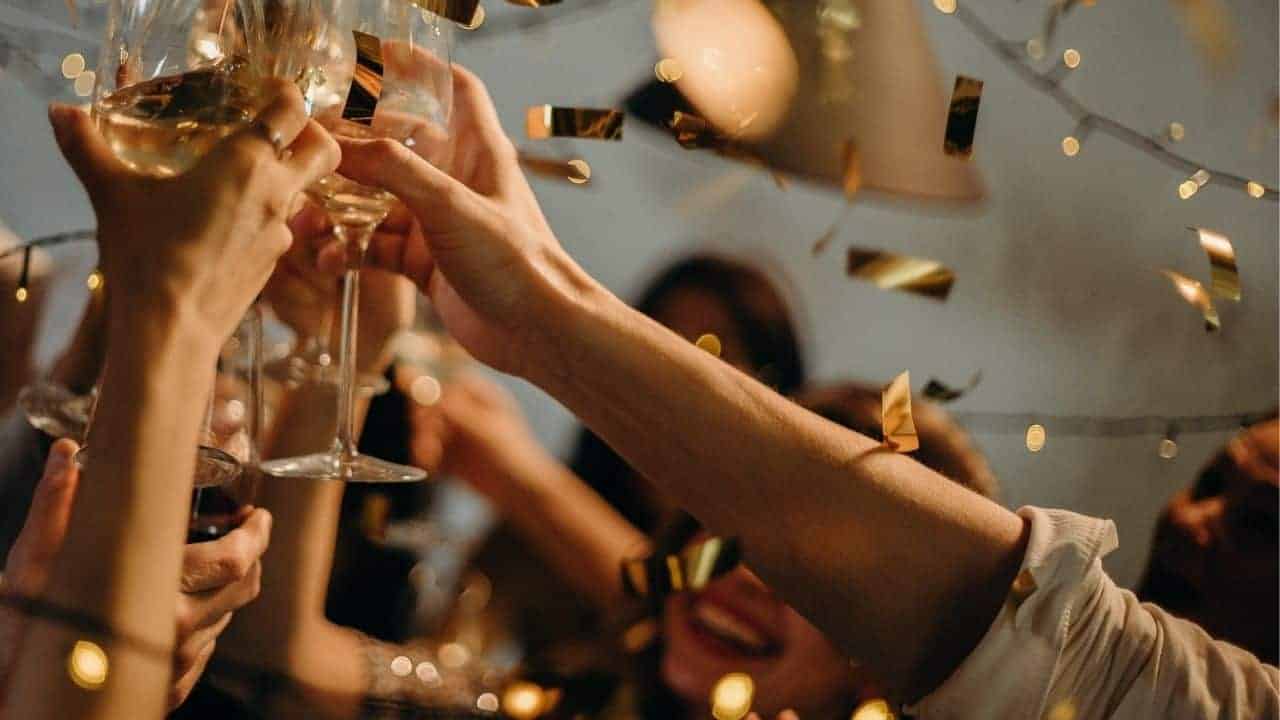 Disclaimer
We only endorse products that we truly believe in. Some of the links below may earn us some extra guac at no additional cost to you. Please pass the chips & thank you for feeding our habit.
Got a wedding coming up? Congrats!
At this point, you have some idea of what you want to do for your wedding, but you're terrified of busting the budget. And I don't blame you: the average cost for a wedding is a whopping $29,000.
Unless you want to start your marriage with a big pile of matrimonial debt, you have to be careful with your wedding expenses. That's why plenty of brides- and grooms-to-be turn to DIY projects to save money on their wedding.
Although DIY is a rite of passage for anyone tying the knot, you have to DIY carefully. I definitely spent way more money DIYing my wedding decor than it would have cost to just pay someone to do it.
Before you start DIYing, know what's important to you. What are you willing to compromise on? A wedding should be as unique as your love, so don't feel pressured to DIY your invitations if it sounds awful. DIY where it makes sense for you.
With that said, there are definitely some line items that are more DIY-friendly than others. Here's a breakdown of what's worth DIYing to save money and what you should never DIY for your wedding.
7 Wedding Tasks Worth DIYing
Got your Pinterest account set up? Great! Try these 7 DIYs to host a fun, creative wedding that won't drain your bank account.
1. Alcohol
Yes, a full bar is a great treat for your guests, but it costs an average of $4,000. You can always opt for a dry wedding, but if that would make your guests grumble, offer signature cocktails instead. Depending on how much your guests drink, you can expect to pay $300 – $600 for signature cocktails.
Buy some nice glass pitchers and create 2-3 mixed drinks for your guests. Here's a good list of recipes for big-batch cocktails. This is an adorable way to personalize your wedding while giving guests the booze they need to dance the night away—without the $4,000 price tag.
2. Photobooth
A photobooth rental will cost you anywhere from $400 – $1,500. I didn't have that kind of money for my wedding, so we took the DIY approach.
I used my Cricut machine to cut cute props out of paper and taped them to sticks from Hobby Lobby. If that's too much work, you can buy cheap backdrops and props from Oriental Trading Company. For maybe $150 you can have a cute photobooth with a much better price tag.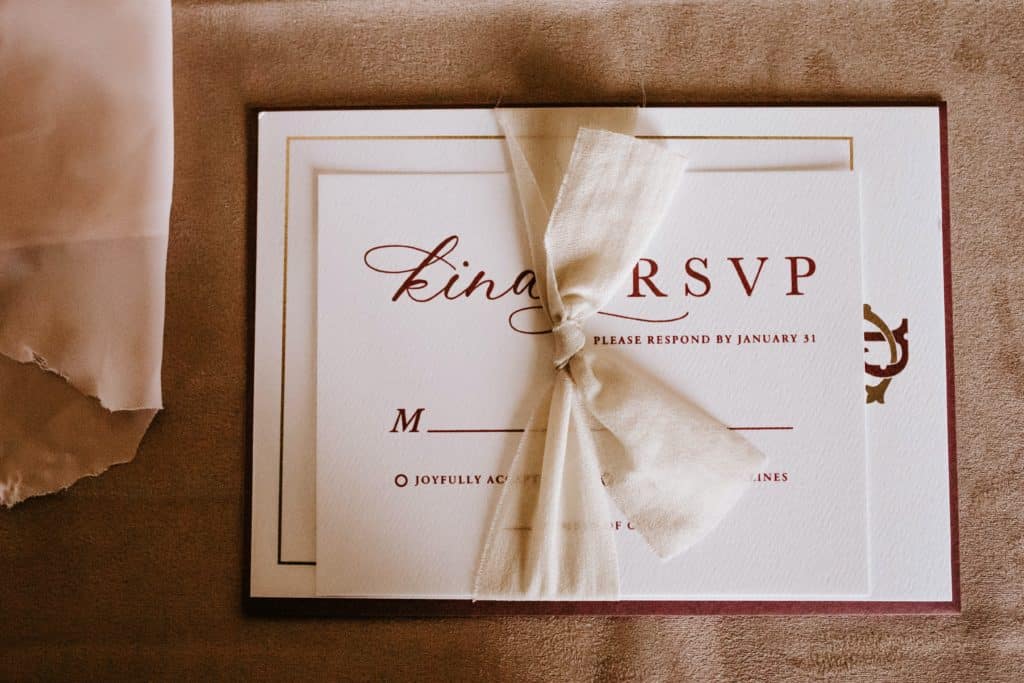 3. Paper Goods
You don't need to spend hundreds of dollars on invitations, table numbers, or signage. This stuff practically screams "DIY:"
Invitations and programs: We printed our invitations and programs at Costco, but there's nothing wrong with DIYing these. Create a design for free in Canva and print it at home on nice cardstock paper. If you don't have a printer, you can always print everything at FedEx.
Guest book: Don't buy a $100 guest book. We bought a pinata for $20 and asked guests to write well-wishes on scraps of paper. On our first anniversary, we broke the pinata open and read the "guest book." It was way cheaper and more fun than a traditional guest book, anyway.
Table numbers: There are so many creative ways to do table numbers and seating arrangements. Or, if you're like us, you can save even more money by skipping this and letting people sit wherever they want.
4. Music
The internet disagrees with me on this one, but I do think it's possible to DIY your wedding music. We didn't have the budget for a band or even for a DJ, so it was either a playlist on my old iPod or silence.
If live music isn't important to you, there's nothing wrong with creating one playlist for the ceremony and another for the reception. I asked a family member to press play for both and it went off without a hitch.
Oh, and did I mention that it was totally free?
5. The Altar
You can buy a fancy altar for $1,000+, but I didn't have that kind of budget. Instead, I bought yet another backdrop from Oriental Trading Company personalized with our names and wedding date for about $100.
Luckily, our venue supplied an arch for free, which I decorated with a $50 canopy, string lights from Dollar Tree, and fake flowers cut on my Cricut.
6. Centerpieces
You don't have to buy fresh flower bouquets for every reception table: you can make an expensive-looking centerpiece without spending tons of money.
But be careful here! It's easy to drop $200 at Hobby Lobby on DIY centerpieces. Make sure you use as many free or found objects as possible to keep your costs low. That might mean using items like wine bottles or old books to make a cheap DIY centerpiece.
Alternatively, you can do what we did: our venue offered an all-inclusive package that included floating candle centerpieces as part of our rental.
7. Wedding Favors
I've never been a huge fan of wedding favors, but some people still expect them. Instead of paying $5 per wedding favor, you can make your own very cheaply.
I bought a huge bag of seed bombs on Etsy and wrapped them in Dollar Tree cloth bags. You can also give homemade jams, coasters, cooking salts, and more. The list goes on.
Don't DIY These 5 Things for Your Wedding
I'm a huge fan of DIY because it can really cut down on your wedding expenses (and it's fun!). However, sometimes DIY can go too far. You don't want to DIY something that's super time-consuming or expensive. Plus, the quality can suffer if you don't hire a pro.
If you want to host a nice wedding on a budget, don't DIY these 5 things.
1. Photography or Videography
We cheaped out on photography and that's my biggest wedding regret.
Yes, photography and videography are very expensive. But think about it this way: your wedding day is one of the biggest days of your life. You're going to look back on that day for decades to come.
Photos and videos are the only way to remember your wedding in vivid detail. Don't ask family members to take photos and definitely don't play the role of photographer yourself. Pay for a professional so everyone can enjoy the day—you'll get better-quality photos you'll enjoy for years to come.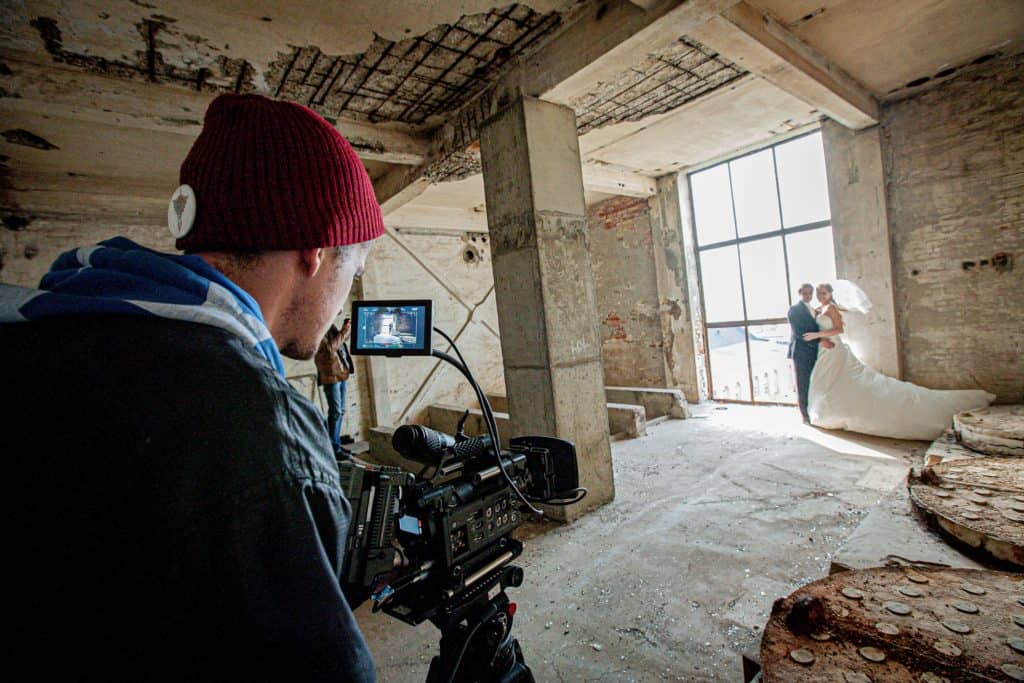 2. Planning
I was so stressed out planning the wedding that I had a huge breakout the day before the wedding. Trust me, it didn't look great in our photos.
A wedding planner or day-of logistics coordinator is worth the money. You'll want someone handling logistics because even a small wedding requires a lot of details.
On average, a day-of coordinator will cost you $600. In my experience, it's worth the money. If that isn't in your budget, ask a close friend who isn't in the bridal party to take the lead on day-of planning.
3. Wedding Officiant
You can't be your own wedding officiant, but it's popular for couples to ask a friend to marry them.
But is that really the best move? Can you really trust your old college roommate to create a beautiful ceremony you'll remember for the rest of your lives?
Shop around for a professional wedding officiant instead. We paid $200 for ours, which was a steal. She was instrumental in structuring the ceremony and even coached us on how to take better photos at the altar.
4. Hair and Makeup
I've never been great at doing my own hair and makeup, so I splurged on an on-site stylist for the big day. There's nothing wrong with doing hair and makeup yourself, but I wanted to look immaculate in my wedding photos.
I did pay $600 for the bridal party's styling, but it was worth it. I felt beautiful and confident in our wedding photos and it's an expense I was happy to outsource.
5. Food
Caterers know how to feed a crowd, provide plates and silverware, and handle food cleanup. It's just too much BS to handle yourself, especially on your wedding day.
By the way, don't DIY your wedding cake, either. I'm a good baker, but there's no way I would have been able to bake a high-quality cake to feed a crowd. Professional bakers know how to build a cake to feed the right number of people.
The average wedding cake costs $350, but you don't have to spend that much. We purchased our wedding cake from Nothing Bundt Cakes for half the price. You can also rent an impressive faux wedding cake and serve Costco sheet cake instead.
The Bottom Line
DIY is a great way to cut down your wedding expenses. But don't overdo it with the DIY projects: you still need to make sure DIY is worth it!
If you're an avid DIYer, you can save money on your wedding by DIYing:
Alcohol
Photobooth
Paper goods
Music
The altar
Centerpieces
Wedding favors
But not all DIY wedding projects are worth it. At the end of the day, you're better off spending money on services like:
Photography
Wedding planning
A wedding officiant
Hair and makeup
Food
Every couple is different, so ultimately, you'll have to choose what's worth doing yourself and what's worth outsourcing. Either way, try to DIY where it makes sense to start your marriage without a huge wedding bill.
Keep Reading: