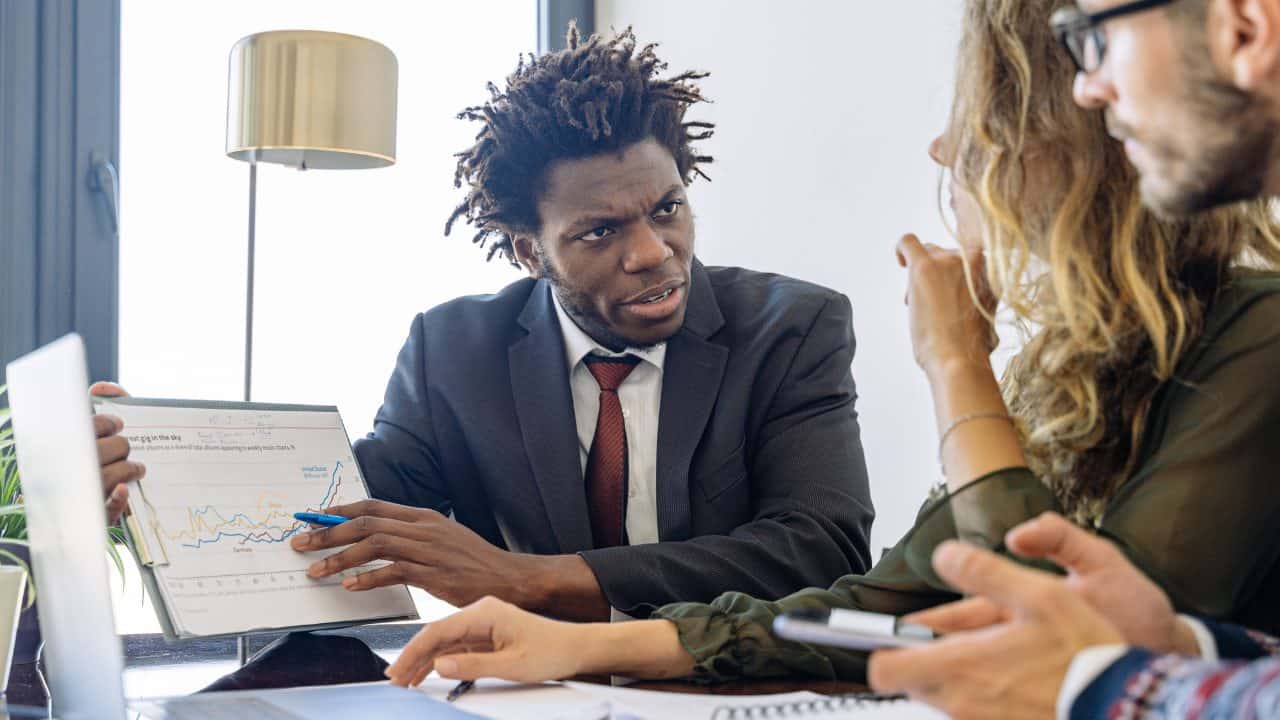 Disclaimer
We only endorse products that we truly believe in. Some of the links below may earn us some extra guac at no additional cost to you. Please pass the chips & thank you for feeding our habit.
After I had been on my own for a few years, it occurred to me that I really needed to start investing for my future. But despite having a firm grip on my personal finances, I had no idea where to start with investing so I started wondering do I need a financial advisor?
So I did my due diligence and learned that a financial advisor could help me come up with an investment plan based on my current financial situation and future goals. Also, they can execute the plan on my behalf and allocate my money in the right places.
I weighed on the pros and cons of hiring a financial advisor, and ultimately decided to go for it – the best financial decision I've made!
So let's cut to the chase and give you more information on what a financial advisor is, how they can help, and the perks of hiring one.
What Is A Financial Advisor?
A financial advisor is a professional that helps you develop a strong financial plan to reach your long-term and short-term goals.
If you want to start investing to plan for retirement or a child's college fund, they can help you determine just how much you need to be saving on a monthly basis.
In addition to creating a plan with you, they also offer advice on the best type of accounts and investments for your unique financial situation.
Moreover, they can offer advice on different types of insurance and even estate planning.
All in all, it's their responsibility to educate you on your options and the products that are available to you.
What Does A Financial Advisor Do?
When you first meet with a financial advisor, they will try to get a clear picture of your current financial health.
You will be asked questions about your current assets, income, expenses, and any investments.
Additionally, they will ask about your goals as well as your tolerance for risk in future investment products.
With all of this information, they will come up with a detailed financial plan that you can refer to for years to come.
You may make decisions to tweak it a bit as you go along, but it gives an overall picture of where you are and where you would like to be years down the road.
In the same manner, a financial advisor can also offer assistance with your investment portfolio. They can help execute trades and facilitate investments on your behalf.
It is your right to ask questions and to monitor the fees you are paying for each individual asset.
You are entitled to meet with them regularly to review your assets and to update you on how your portfolio is doing.
During these meetings, they will review your goals with you and update anything that has changed in your life circumstances such as income.
Types Of Financial Advisers
First of all, you should be aware that there are two categories of financial advisors: fiduciary and those that adhere to the suitability standard.
A fiduciary must give advice that is in the client's best interest, hence they do an in-depth analysis of your current situation and future goals.
On the other hand, advisors who adhere to the suitability standard offer solutions they deem suitable without knowing the full picture.
Now, let's see what types of financial advisors exist.
Financial planner – These advisors might help you plan many aspects of your life, including budgeting, investing, retirement, and even debt reduction.
They usually have several different licenses allowing them to manage your assets, as well as provide plans and advice.
Broker – Brokers are licensed individuals that buy or sell stocks and bonds on your behalf. They usually charge a fee based on the value of your total investments.
Independent financial advisor – these financial experts aren't tied to any overarching investment company (like Morgan Stanley or JP Morgan), and therefore they have more flexibility when recommending certain funds or accounts for their clients.
Registered Investment Advisor – RIA's for short, these financial individuals or firms provide their clients with advice and data analysis to help them pick and manage investments.
How Much Does A Financial Advisor Cost?
Expectedly, a financial advisor is going to cost you some money. Even so, hiring a financial advisor has proven well worth the money for many people.
Their expertise and understanding go beyond that of the average person.
There are two primary ways that a financial adviser may be paid: commission or a flat fee.
Commission-based Model
If your advisor adheres to the suitability standard, there is a good chance that you will never receive a bill at all from them.
This is because they receive a commission based on what products they sell to their clients.
While it can be nice to feel like you are saving money and still receiving professional financial guidance, you need to be very careful.
A lot of the financial products that earn your financial advisor the largest commissions come with higher fees for you and might not be in your best interest.
Fee-based Model
Most fiduciary financial planners work off the fee-based model.
In this type of situation, you will be charged either by the hour or by a percentage of the assets under their management.
Financial advice will often run you between $100 and $300 per hour.
The percentage of your assets under management fee is usually around 1 percent. Obviously, these fees vary with experience and qualifications.
Oftentimes, you can find a financial advisor who offers free initial consultations to determine whether they are a good fit for you.
This is a way to interview potential financial advisors, find out more about their fee structure, and start to discuss your financial goals.
Keep in mind that there is a difference between fee-based and fee-only. A fee-based advisor will earn their hourly rate for offering advice to you while still earning a commission on the sale of certain products.
On the other hand, a fee-only advisor will earn no commission at all.
How Do Financial Advisors Help With Investment Portfolios?
Many people wonder how a financial advisor can actually help with their investment portfolios.
As mentioned before, it all starts by understanding your overall financial health to help you set saving and budgeting goals.
However, they also take this a step further by helping you make a plan to actually meet those goals.
A good advisor is there to educate you on the types of accounts and products you can invest in.
They can explain the difference between a mutual fund, an ETF, stocks, and bonds. Based on the goals you set together, they can recommend which investment product is going to be the right fit for you.
Things Financial Advisors Factor In
One of the things they take into account is your asset allocation and your tolerance for risk.
For example, someone who is very close to retirement may require less risk tolerance.
This means you would invest in products that are not extremely volatile because you will need to access your money sooner rather than later.
On the other hand, someone who is far from retirement can tolerate a bit more risk which often comes with bigger gains when you hold your position for the long haul.
Another aspect of professional financial planning is tax considerations. Different types of investments may come with certain tax consequences, either now or in the future when you go to withdraw your funds.
Benefits Of Hiring A Financial Advisor
Since hiring someone to help with your investments is an investment itself, you should have a clear idea of the benefits of hiring a financial advisor.
Let's take a look.
Time-saving
Think about how much time you really have to invest in researching your investment portfolio.
Do you have time to research every investment product and find the funds, stocks, or bonds that will help you achieve your goals?
A lot of people will try to start their own investment strategy and become easily overwhelmed by all of the options.
Figuring it out on your own takes a tremendous amount of time and you are losing out on valuable weeks, months, or even years where your money could be working hard for you in an investment portfolio.
Objective POV
One of the biggest issues for those who decide to strike it out on their own is the propensity to make emotional decisions.
One day the stock market is doing well, you rush to purchase shares of your favorite stock.
The next day, you notice that shares are declining in value so you quickly sell as many of them as possible. A week later, things are looking up again and you missed out on the opportunity.
Financial advisors are used to the volatility of the market and are unlikely to buy and sell based on emotions.
They have an in-depth knowledge of the market and can make objective decisions. This leads to better gains long term.
Disadvantages Of Hiring A Financial Advisor
A financial planner is not the right choice for everyone, and sometimes it's better to go down the investing route without them. As with everything, there are disadvantages of hiring a financial advisor.
Costly
It's simple, you will be paying for a financial advisor whether they operate on commission or on a fee-based structure.
In addition to that, they could lose all of your money and still get paid for the work they put into your investment portfolio.
So instead of paying for financial advice, you can use that money for actual investments that will bring you more money in return. It just takes a lot of dedication and determination.
The library and internet are full of valuable information about the ins and outs of investing.
Unguaranteed Results
Beating the market is incredibly challenging, even for professional investors and money managers. Financial advisors are not always likely to beat the market.
You will be paying for their professional financial advice, but they may not be able to outsmart the stock market.
Do You Need A Financial Advisor – The Verdict
When it comes to money, it's very easy to make a financial mistake so every decision should be made with careful consideration of all the facts in hand.
Now that you understand how financial advisors work and how they can help you, you can decide if you need a financial advisor to start investing.
With the amount of solid investing apps, like M1 Finance, the average person would be able to wisely invest without one.
If you have a larger income, more investments or just don't want to deal with investing on your own, a financial adviser might be beneficial for you.
But even with this information in hand, always remember to ask a lot of questions before hiring a financial advisor – if you so choose.