Disclaimer
We only endorse products that we truly believe in. Some of the links below may earn us some extra guac at no additional cost to you. Please pass the chips & thank you for feeding our habit.
Are you interested in real estate investing but intimidated by the high costs of purchasing properties?
Now any U.S. resident can begin investing in real estate for as little as $500, thanks to Fundrise — the first company to successfully launch a real estate crowdfunding platform.
Find out how to build a passive stream of income by purchasing a percent of real estate holdings rather than risk your entire savings and future on your first building.
In this article, we walk you through the Fundrise platform and review the pros and cons to help you decide whether it's a good investment option for you.
Discover how Fundrise works, how much it costs, how much money people are making, and what makes people happy or unhappy with its services.
Wanting to invest with low capital? Join Fundrise today!
In this article, we review the following:
What is Fundrise?
Fundrise is a real estate crowdfunding platform that was the first of its kind when it launched in 2011 out of Washington, DC.
It allows any U.S. resident to invest in a portfolio of U.S. real estate projects.
Typically, you need to save, raise, or borrow the money to fund your first real estate deal. Then, if things go well, you can purchase another property with the cash or equity you earn from your first project.
The problem is that it's difficult for an average person to save up enough money to buy their first property, and the risks of losing their hard-earned investment are high.
Fundrise solves that problem by providing a low-cost way to build portfolios that include a percentage of several real estate holdings.
This approach to purchasing a percentage of holdings was previously only an option for large organizations through institutional investing, which involves big banks and large corporations.
In this article, we review the Fundrise platform by walking you through how it works and helping you determine whether it's a good investment strategy for your financial future.
How Fundrise Changed Real Estate Investing
Before the launch of Fundrise's then-new technology in 2011, individual real estate investing was an activity reserved for people who were either:
a) already wealthy, or
b) able and willing to borrow or raise funds needed to purchase their first property.
Traditionally, individual investors had to use all their resources to purchase their first property, then gamble on the hopes that it would be profitable enough to fund subsequent real estate investments.
People with average incomes were at an extreme disadvantage when it came to real estate investing.
Alternatively, large financial organizations (such as banks, hedge funds, pension funds) often pool their resources with other large organizations to make massive real estate purchases (think tens of millions of dollars).
These institutional investors hire full-time financial advisors and high-paid lawyers to provide insights and advice on all their transactions so they can make well-informed, highly-profitable investment decisions.
Traditionally, individual investors (called "retail investors") were limited by the high cost of entry into real estate investing.
The average investor also lacked the funds to hire the full-time advisors and specialty lawyers needed to make the best investment decisions.
When Fundrise launched, it was the first program of its type to harness the power of crowdfunding for real estate.
Today, the platform provides an opportunity for the average investor to purchase a percent of real estate holdings at affordable prices.
How Fundrise Helps Anyone Invest In Real Estate
As a Fundrise member, you can buy into a diversified U.S. real estate project for as little as $500 and own a percent of holdings rather than entire properties.
This crowdfunding-style approach allows almost anyone to invest in real estate like the way institutional investors buy properties.
Once you've invested in a portfolio, you can view your assets' progress on Fundrise's dashboard or app, which provides real-time updates on your holdings.
When your Fundrise assets profit through rental income or interest, you get paid:
Quarterly dividends
Appreciation of your shares in the investment
Investors may also receive periodic cash distributions when underlying properties sell.
The Fundrise team handles all of the work related to your real estate portfolio, such as:
Property acquisitions
Maintenance
Portfolio management
Fundrise provides individual investors the opportunity to invest in real estate in ways previously only available to billion-dollar organizations.
Can You Make Money With Fundrise?
According to a report by CreditDonkey, the average return for Fundrise investments in 2019 was 9.47%.
Ryan Scribner of Investing Simple earned a 4.3% return on his $1,000 Fundrise investment during his first six months on the platform, which began in late 2018.
Scribner used Fundrise's auto-invest feature to reinvest his dividends and began investing more.
Within 18 months of his first Fundrise investment, he deposited a total of $6,000 and earned a 7.7% return ($373.27) on his contributions.
Balancing the average investment with Scribner's experience, we can estimate Fundrise returns to land somewhere between 7 – 10 percent annually, assuming you auto-reinvest your earnings. That's very similar to the average returns on standard real estate and stock market investing.
Fundrise's track record only spans ten years but so far looks to return a healthy profit to its investors.
Currently, the platform accommodates more than 150,000 investors and has paid over 100 million dollars in earnings.
No investment is risk-free. You should research the platform, and the actual property/investment itself, along with all disclosures and agreements, so you understand the risks before you invest.
Get started investing in real estate with Fundrise today! Only $500 required to open
How Much Do You Need To Start Investing In Real Estate On Fundrise?
The minimum needed to begin investing on Fundrise is five hundred dollars, but ultimately you'll decide how much to spend based on your investing goals.
Fundrise provides three membership plan options:
Starter plan: $500 minimumThe Started plan is ideal for new real estate investors looking for a simple, hands-off way to get started.
Basic plan: $1,000 minimumThe Basic plan is for new investors or somewhat-new investors who want to work toward a specific goal, such as creating a passive income or building a retirement fund.
Core plan: $5,000 minimumThe Core plan is for experienced, established real estate investors interested in a diversified, hands-off investment strategy and simple tax reporting.
How Much Does Fundrise Cost?
Fundrise provides investors with a model that's significantly more cost-efficient than other types of publicly available investments.
Upfront costs provide investors with private market access at a rate of 0 – 2%.
Ongoing annual costs total one percent and include:
Investment advisor fee: 0.15% annually
Asset management fee: 0.85% annually
Fundrise is intended to serve as a long-term real estate investment project (minimum five years), not a short-term or liquid investment that you could sell quickly for cash.
Redemption fees of between 1 – 3 percent apply if you decide to pull out of your investments after your first 90 days but before five years.
Can Fundrise Help You Reach Your Long-Term Investment Goals?
On Fundrise, you can opt to advance your membership with specific strategies intended to meet your investing goals called "Account levels."
There are many types of account levels, each accompanied by a different set of minimum and ongoing funds requirements.
For example, the Core Plan offers three levels of investment options that cater to three different goals:
Create a passive income stream: The Supplemental Income plan aims to build more quarterly dividends than appreciation, targeting assets that produce a steady income stream.
Build long-term wealth with balanced investing: The Balanced Investing plan provides lower returns in the beginning and works toward generating higher returns later. Its goals are to weigh income and growth-oriented assets evenly.
Generate superior returns over the long term: The Long-Term Growth plan focuses on assets that may provide the highest potential returns over time, usually providing very low or no returns during the early years.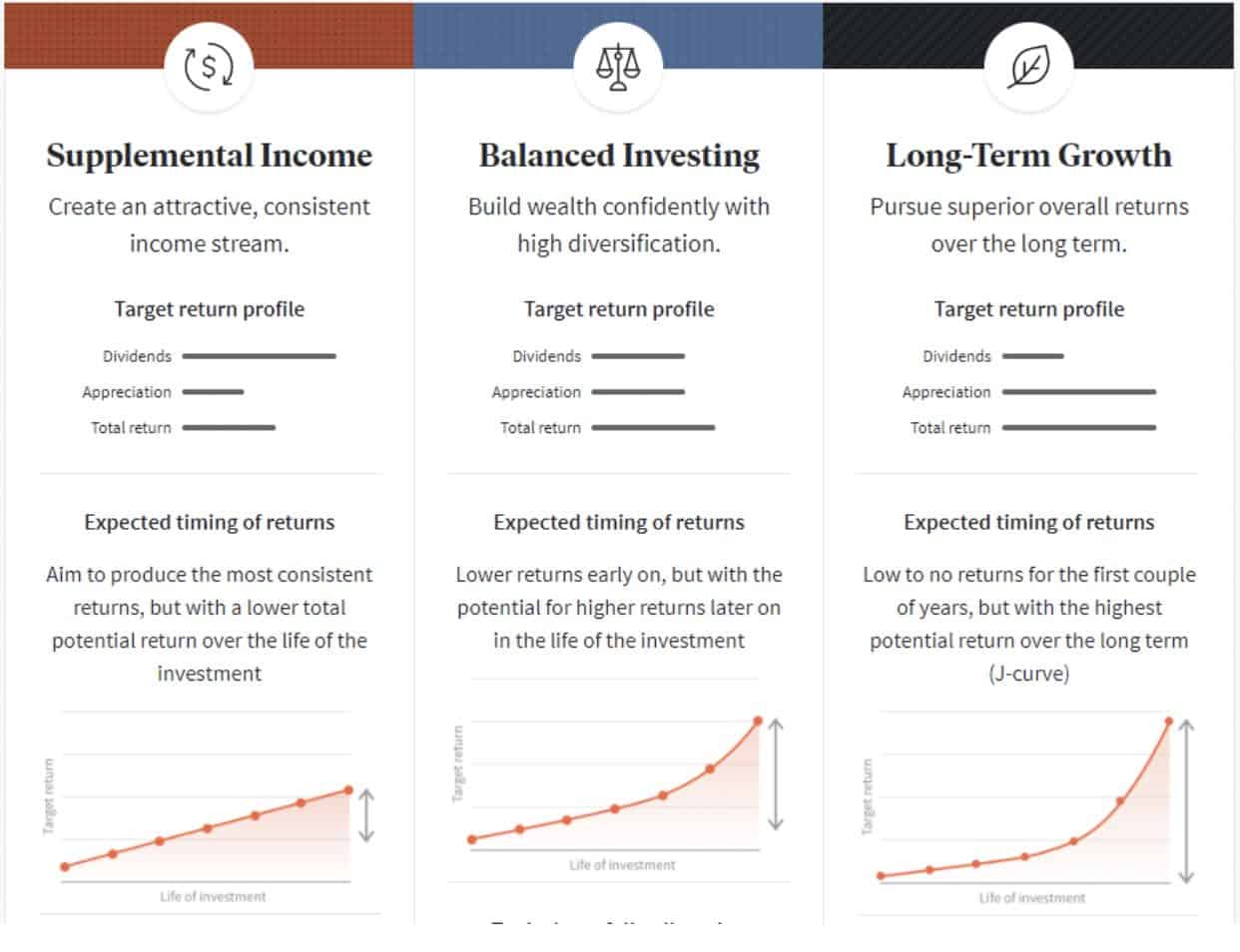 We love that Fundrise lets beginners get started investing in real estate for just $500. This gives you a chance to get familiar with the platform, properties, and reporting before deciding on a long-term strategy.
Start investing in real estate today! Join Fundrise now
Fundrise Pros And Cons
Is Fundrise the right investment platform for you? Below is a list of the pros and cons of the platform to help you decide.
Pros:
Fundrise provides an inexpensive way for anyone to get started investing in real estate.
Fundrise investors own a diversified portfolio that includes several real estate projects.
Investors can work toward generating a passive stream of income over time.
The app and dashboard provide full transparency on all your real estate holdings so you can watch them grow over time.
The hands-off approach requires no time investment. Advisors and staff do all the research and administrative work for you.
New members have 90 days to pull out their money without getting charged any redemption fees.
Cons:
Fundrise investments are not liquid. You should plan on letting your money sit for at least five years before cashing out.
Redemption fees apply to investors who want to cash out before the 5-year mark (but after the initial 90-days).
Real estate crowdfunding is only about ten years old, so we don't know how an extreme economic event, such as a recession, may affect its investors' assets.
Reviews on the Better Business Bureau website and comments on Reddit show that many people who are unhappy with Fundrise end up that way because they didn't fully understand what they were getting into before investing.
For example, Fundrise is a poor choice if you need access to your funds within the first five years. The platform may deny your request for redemption even if you are experiencing financial hard times.
Even after the five-year mark, you must put in a redemption request to get your funds back. This can take 60-90 days to get reviewed, then another 3-5 business days to get approved redemption funds to your bank account.
Consistently, reviewers who requested redemption before five years of holding were unhappy with the service. However, Fundrise makes it clear that it is a long-term investment with a minimum five-year expectancy.
Long-term investors who understand how markets work frequently give Fundrise a five-star rating. Experienced investors know that money needs to stay put to grow, even during volatile economic phases.
Is Fundrise right for you? 
If you can afford to let your investment sit for years without withdrawing, Fundrise may be an excellent match for you.
If there is any possibility you might need to withdraw your investment within the first five years, do not invest with Fundrise.
If you thoroughly read and understand all of the disclosures and agreements before signing on as a real estate investor, you'll probably be delighted with the Fundrise platform!.
Become a real estate investor today! Open a starter-level account with Fundrise for just $500.
Below, we take you inside the Fundrise app so you can take a peek at what it's like to get started as a real estate investor with Fundrise.
How To Open An Account On Fundrise
To get started on Fundrise, you'll create an account in seven super-simple steps:
Enter your basic information, such as your name and email address.
Confirm that you are a U.S. resident.
Confirm that you want to open an individual account.
Fill in account details: your address, phone, social security number, and birthdate.
Add your funding.
Sign agreements.
Review and approve your account details.
The Fundrise app helps you track your assets with a comprehensive collection of reports, graphs, and details on your properties.
You can view maps, images, and several other details about the properties in your portfolio by navigating from your dashboard or within the app.
Reports allow you to track your portfolio's performance, including net returns, cash in/out, income, and growth.
Your Capital Stack chart helps you visualize risks and returns.
Colorful charts and graphics help you scan your investments' details, providing more information with a click or a tap.
Fundrise prides itself on transparency, and this shows in its dashboard and app interfaces, which are packed with colorful details related to your portfolio. This was only a peek into what you'll enjoy as a member.
We loved to show you all of the reports, maps, and graphs — but there are too many to include here. Why not become an investor today and check it out for yourself?
Start building a passive income today! Join Fundrise now
Fundrise Review: Should You Use Fundrise To Invest In Real Estate?
Fundrise is one of the easiest ways to benefit from the astronomical rise in housing prices in recent years. And whether you're a homeowner or not, you don't have to buy or sell a home to benefit — Fundrise is a crowdfunding platform that only requires a minimum investment up front, which is perfect for younger investors or those that want to put smaller investment sums to work while they consider their larger plays.
In fact, Fundrise can make for an excellent starter portfolio of real estate if you're not ready to plunk down the large sums for actual property — and that can make it a viable real estate investing platform for just about anyone. All it takes is a $500 seed deposit to create an account — you can even set up an IRA with them.
The Pros and Cons of Fundrise
Generally, Fundrise is a great way for investors to increase their exposure to the real estate market without having to raise a small fortune to purchase real estate of their own. That makes it open to any investor with a little bit of spending money burning a hole in their pocket, and the convenient website allows anyone to jump in without needing to spend weeks or months researching and learning about the market.
That said, no Fundrise review would be complete without acknowledging the potential downsides. For all the benefits, Fundrise doesn't give you the full flexibility of real estate investment trusts (REITs), which allow you to invest directly in the funds that invest in real estate, as well as sell at any time. But if you're invested in Fundrise, your investment may be tied up until the end of the term, meaning that if you needed your money in the meantime you wouldn't be able to access it, or you'll risk significant penalties if you do decide to cash it out.
Additionally, while the base fee is a low 1%, the true fee structure can be difficult to understand. Furthermore, the Fundrise crowdsourcing platform is also able to match you up with complex investments that may be beyond your expertise, so just because the platform is easy to use doesn't mean that you won't have to do your due diligence and buy into the right investment opportunities.
Who Is Fundrise Best For?
If you're an investor with a long-term outlook and you want to get into real estate but the typical investment opportunities are out of your reach, Fundrise can represent a way forward. Sure, typical stocks can help you invest in companies that you believe in, but what about a real estate play if you're looking to get into this fast moving market? Fundrise allows you to pool your resources with other investors just like you so that you can get your money into real estate and working for you sooner rather than later.
After all, for all the Fundrise reviews out there, it's basically a platform that lets anyone get into private real estate deals. And just like getting into a company's stock when it's cheap and then cashing out decades later, investing in the right building with Fundrise may actually help you get rich.
Even the signup process with Fundrise is easy and only takes about 10 minutes on their website. With a phone number, address and social security number, as well as linking a bank account and funding your account with the Fundrise minimum investment of $500 or more, you can have your own real estate investment account in no time.
Low-Cost Opportunities For Thoughtful Investors
We love Fundrise's "hands-off" approach to real estate investing because it allows you to build a passive stream of income while spending your time doing other things.
Yet, you can jump in and review all your investment holdings online, in detail, anytime.
Fundrise provides a low-cost way to start investing in real estate. It's an excellent opportunity for people who are willing to let their money sit, untouched, for at least five years.
People who may need access to their funds before the initial five years are up may not be a good match for Fundrise.
With average 7 – 10% returns, low minimum funding requirements, and a simple 1% ongoing fee, Fundrise is a fantastic way to gradually invest in real estate while learning how things work along the way.
Get started investing with crowdfunding real estate with Fundrise, the low-cost option for new investors looking to make a long-term impact on their finances!
If Crypto is more your style, get started investing with simple Crypto apps.
Keep Reading: