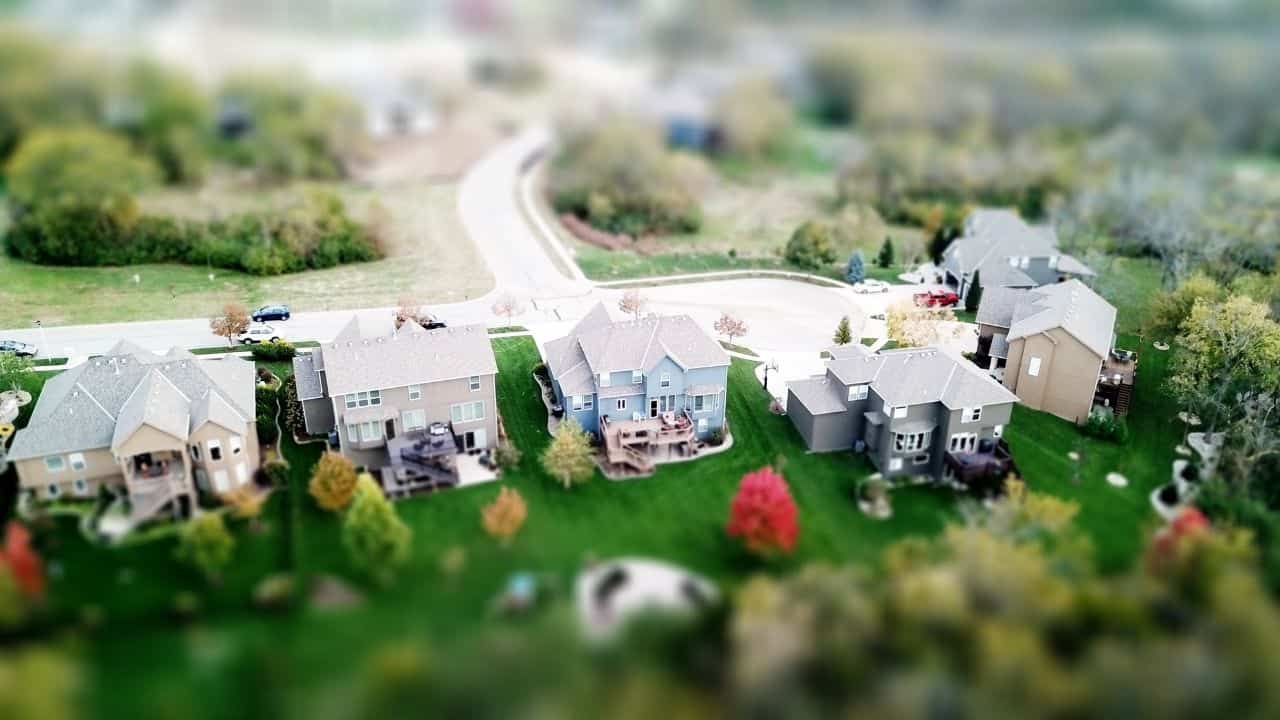 Disclaimer
We only endorse products that we truly believe in. Some of the links below may earn us some extra guac at no additional cost to you. Please pass the chips & thank you for feeding our habit.
The Minority Mindset earns commission from Fundrise via the partner links below. All opinions are the author's.
Fundrise Review 2022
Fundrise Review 2022
Fundrise is an easy to use platform for real estate investing. With low minimums, low fees and great returns, this investing platform has been gaining popularity for all the right reasons.
Pros
Low Minimums
Multiple Investments
User Friendly
Cons
Best For Long-Term Investing
Fees Can Be Confusing At Times
When I first started investing a decade ago, I was always very interested in real estate but lacked the funds to purchase a rental property. Investing in real estate is expensive and risky, but newer platforms are making it easier for investors to get started in the industry. Fundrise is one option that many users are flocking to for their low account minimums, great returns, and low fees. 
Fundrise has many benefits including low account minimums, a user-friendly platform, low fees, IRA accounts, and access to a team of customer service professionals. However, they also have some confusing additional fees and are better suited for investors who are looking at long-term investments. 
The truth is that there are a lot of great features to Fundrise, but what do you need to know about the platform before you invest? Our Fundrise review will help you parse out what really matters before you invest your first $10.
Our Full Fundrise Review 
Fundrise is a great platform to use for those who are interested in getting their feet wet with real estate investments. They claim to be the first platform that offers a low-cost way to harness the market potential of real estate, and they certainly may be. Founded in 2010, this company has a long history of market success for their investors.
It is completely free to set up an account, so you may want to sign in just to see what options are available to you. They will guide you through the process, even giving you an opportunity to share whether you are a novice or an expert at investing.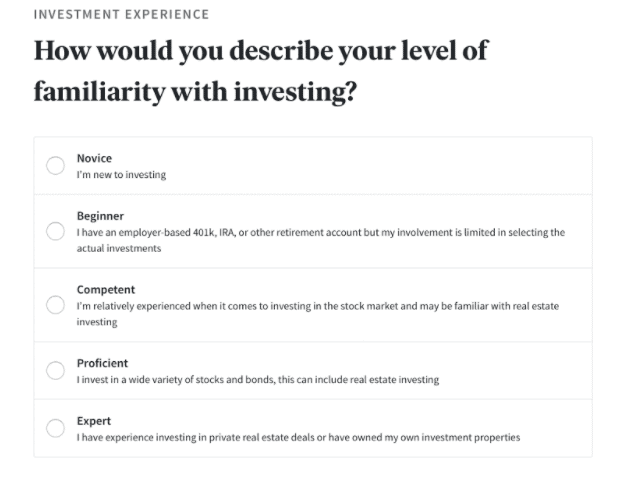 Fundrise offers a number of investment opportunities for those who are interested in long-term investments:
Interval Fund

eREITs

eFunds

Self-directed IRA accounts
To learn more about the details of this investment platform and how it can work for you, be sure to see our detailed breakdown of the pros and cons below.
Pros Of Fundrise
Many investors who are interested in the real estate market but lack the funds to purchase their own rental or income properties will want to consider Fundrise. This site has some really great attributes that make it ideal for both beginners and more experienced investors. While doing due diligence is always recommended, here are some of the benefits of choosing to invest your extra funds with Fundrise.
Low Minimum Investment
When you want to purchase an income property, it often comes with some hefty fees. You have to pay for your down payment as well as closing costs and attorney fees. This can easily add up to be tens of thousands of dollars, even with low down payment mortgages like the FHA loan. 
In contrast to this, Fundrise allows investors to get started with as little as $10. This makes it one of the more accessible investing platforms, particularly when it comes to REITs. 
Investors who want some of the perks of their higher levels will need to put more money into their investments though. The Basic plan starts at a $1,000 account minimum and the Core plan starts at a $5,000 account minimum. These more advanced plans come with some additional benefits: 
Access to IRA investments

Investor goals

Potential IPO access

Direct investment into eREITs (Core plan or higher)

Standard plans (Core plan and higher)
Because their standard investment plan only requires a $10 initial investment, this makes the platform extremely appealing for beginner investors. You don't have to be accredited to invest in the real estate market anymore. Fundrise makes eREITs accessible to any investor.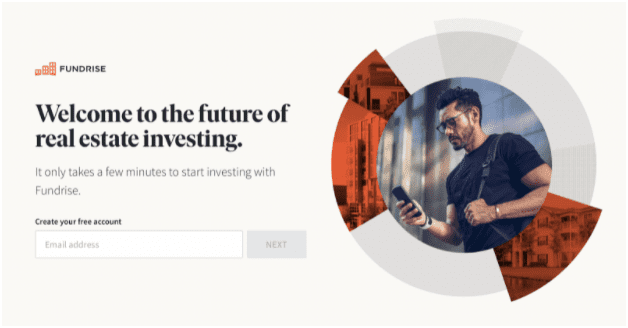 User Friendly
New investors may struggle with the learning curve of how to use some of these more advanced websites. The good news is that Fundrise is extremely user-friendly, making it simple for investors to make decisions and act on them. Everything from the signup to making a first investment is likely to be smooth sailing. 
It takes less than fifteen minutes to set up a new account on Fundrise, so you can get started just about immediately. They will ask you for key details such as your address, phone number, social security number, and banking information to fund your account. 
Keep in mind that it may take longer if you stop to thoroughly read and understand the investor disclosures.
Low Fees
In general, Fundrise has some pretty low rates for managing your investments through this site. They charge a 1 percent fee that is broken down into an annual asset management fee (0.85 percent) and an annual investment advisory fee (0.15 percent). 
They are extremely upfront with what you can expect to pay in terms of the regular fees, but there may be additional fees based on the investments you select.
IRA Accounts Optional
Some investors are more interested in looking toward the future with retirement looming on the horizon. One of the best features of Fundrise is that you can invest your funds into an IRA account with a Basic plan or higher ($1,000 account minimum). Fundrise offers both traditional and Roth IRAs that are self-directed, ensuring that investors have plenty of options for how to invest their money. 
It is important to note that Fundrise uses the help of a custodian to manage retirement savings accounts. Investors who are interested in an IRA will set up their account with Fundrise and then fund it through Millennium Trust Company IRA before selecting investments on the Fundrise platform.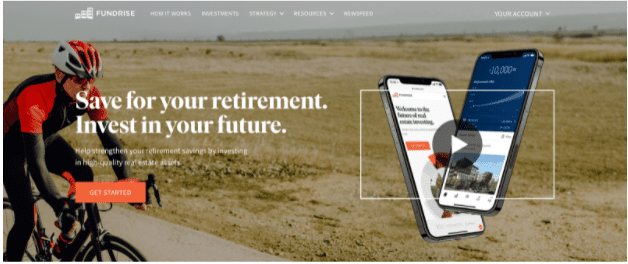 One of the perks of setting up an IRA through Fundrise is that they have extremely low fees. Their custodian charges just $125 per year to manage investments. This fee can be waived if you invest more than $3,000 annually or if you have an account balance greater than $25,000. 
Remember that there are also Fundrise fees you will be charged as well (1 percent annual fee broken down by 0.85 percent annual asset management and 0.15 percent annual investment advisory fee).
Quality Customer Service
For those who need a bit more guidance getting started with their accounts, the good news is that Fundrise has a great customer support department. This is evidenced by their A rating with the Better Business Bureau. They are available for email and phone support during the week from 9:00 to 5:00 EST.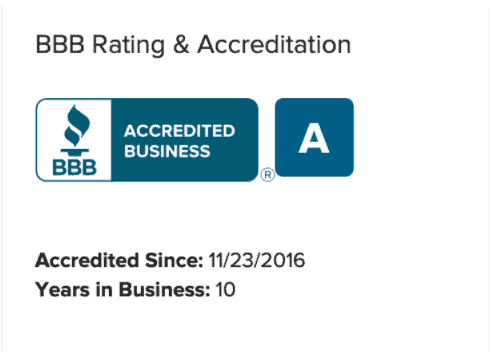 Their website also has a robust help section filled with articles that cover all of the most common questions investors are asking. If you need help after-hours or have a hard time reaching support during their business hours, then you may want to check out their help center to see if you can resolve the question on your own.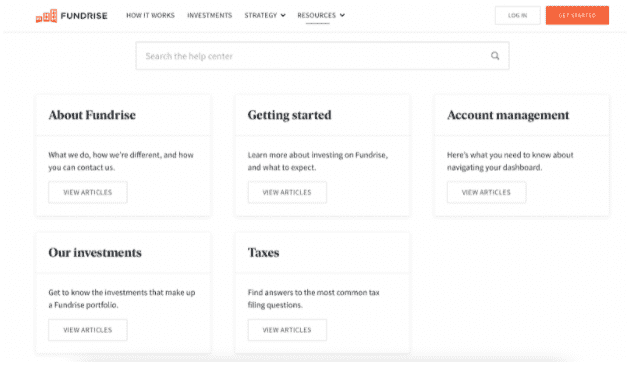 Great Returns
While there is no such thing as a sure thing in the world of investments, looking at performances over time can help you discover whether Fundrise is right for you. There is good news if you have been considering this platform. Fundrise has an average annualized return ranging from 7.31 to 16.11 percent between 2017 and the third quarter of 2021. 
How does this compare to other investment types? For those who are interested in diversifying their portfolio, they may invest in mutual funds to make it easy. Most experts agree that a good return on a mutual fund consisting of stock is anywhere from 8 to 10 percent. This number drops considerably if you invest in bond mutual funds. 
As you can see, Fundrise has the potential to come close to an investment in the stock market. In some cases, it can even exceed what you may find from other common types of assets.
Cons Of Fundrise 
Better for Long-Term Investments
Many investors know that in order to see greater returns on their investment, they need to stick with it for the long haul. This is especially true when it comes to investing through Fundrise. One of the biggest complaints from investors who utilize this platform is that it is relatively difficult to withdraw your funds when you need them. 
The eREITs included in the Fundrise portfolio are not traded publicly. This means that when an investor wants to sell their shares, there are few outlets to get rid of shares and get your money back. You will have to wait until there is a buyer who is interested in your shares before you can actually cash out on these items. 
If you think that you might want to access your funds sooner rather than later, investing in their eREITs may not be the right fit for you.
On the other hand, Fundrise does offer their Interval Fund which has a bit more liquidity than the eREITs will have. Once each quarter, you have the option to sell back your shares in the Interval Fund without penalty. Other funds may incur a 1 percent penalty to sell your shares before the agreed-upon date. 
There are other bonuses to choosing the Interval Fund as the primary tool for your investment including better diversification and access to more assets. 
When you are setting up your account, Fundrise inquires about how long you plan to hold your new investment. If you mark anything less than five years, they are quick to tell you that those who see the most success typically hold for five or more years. This is a great reminder for any investor who is thinking about short-term gains.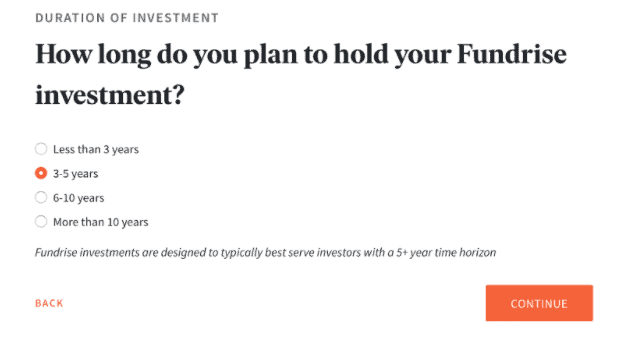 Confusing Fees
Many people flock to the Fundrise website because they want to invest in real estate with low management fees. However, not all of their fees are quite as straightforward as their 1 percent fee would lead you to believe. Fundrise is quite clear that there may be additional fees on some of their investments to account for the cost of development or liquidation. 
How do investors know that some of these additional fees may apply? Read the fine print closely in their offering circulars. This is likely the only place where investors will be able to get a clear answer on those extra fees that are a bit more hidden than their typical fees. 
They are quite open about the fact that you may incur additional expenses with your investments, but it is up to you to do your due diligence on how much those funds will eat into your profits.
Features You Should Know About
Many of the features you should know about were mentioned in the pros section of this Fundrise review. However, here is a quick recap of everything you should know about this major player in the real estate investment industry: 
Low fees (1%)

Multiple types of investments (Interval Fund, eREITs, eFunds, and IRAs)

Great customer service via phone and email

Better returns than the average mutual fund investment

User-friendly platform that is easy to navigate

Low account minimums to get started

More advanced features available with increased account minimums
All of these features are definitely worth noting if you are considering taking the leap to invest in real estate. Fundrise is open to non-accredited buyers as well as those who are more experienced in the industry. Be sure to take advantage of what this investment platform has to offer your next investment opportunity!
Is Fundrise Right For You? 
If you have done the research and know that you plan to hold your investments for five years or longer, then Fundrise may very well be a good investment platform for you. Whether you choose their Interval Fund, eREITs, or a self-directed IRA, Fundrise has a solution for everyone with low annual fees and low account minimums starting at just $10. This makes investing in real estate more accessible than ever before.
Investors who are serious about taking advantage of the great returns seen by Fundrise investors will want to sign up for a free account to see how they can benefit. Spend some time researching and experimenting on the platform to find the investment opportunity that is right for you. When you are ready, fund your account and start investing. 
Is Fundrise the right investment platform for you? If you meet the requirements found in this Fundrise review, it's time to sign up for your free account today!