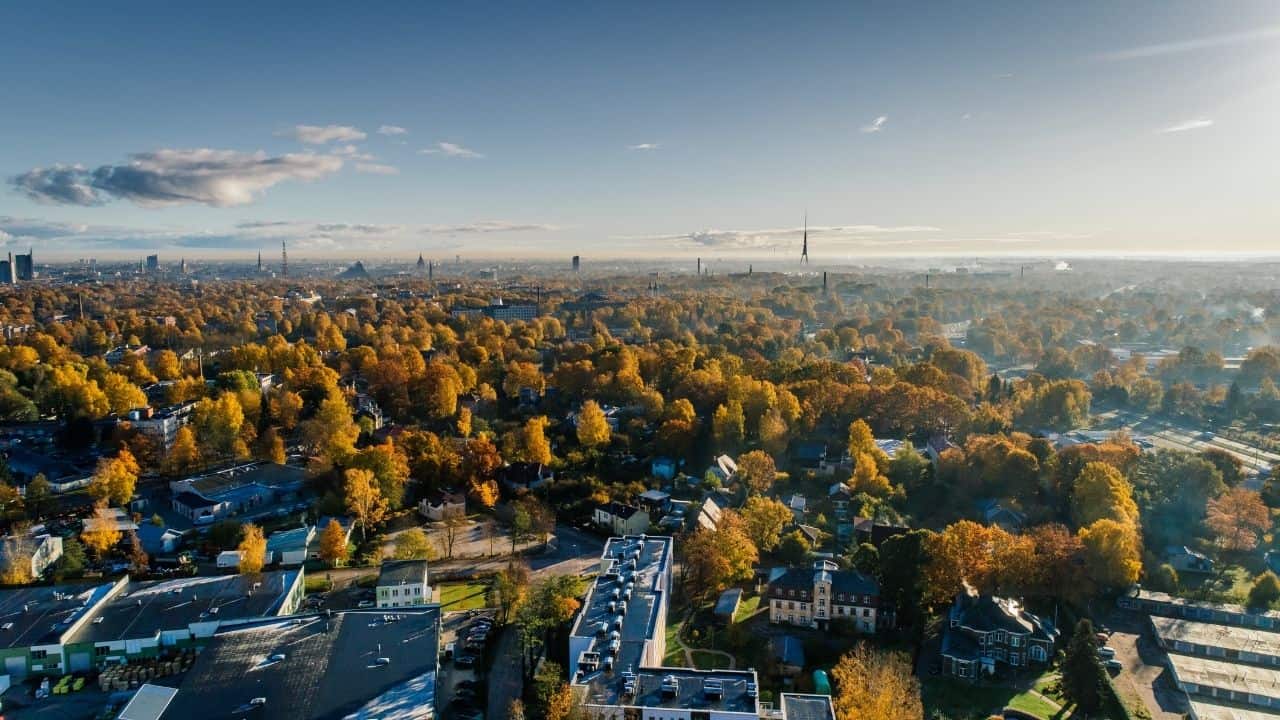 Disclaimer
We only endorse products that we truly believe in. Some of the links below may earn us some extra guac at no additional cost to you. Please pass the chips & thank you for feeding our habit.
The Minority Mindset earns commission from Fundrise via the partner links below. All opinions are the author's.
Crowdfunded real estate platforms such as Fundrise and RealtyMogul make it possible for retail investors (everyday people) to invest in real estate without having to raise big bucks to get started on their first property. While both companies are leaders in crowdfunded real estate and share similar missions to make real estate investing more accessible, each caters to a different type of investor and offers a different type of opportunity.
Fundrise makes real estate investing easy for beginners by offering affordable eREIT options from as low as $10. RealtyMogul caters to high-net-worth, accredited investors by providing elite, crowdfunded real estate investment opportunities from $25,000 and REIT options from $5,000.
The differences between Fundrise vs RealtyMogul don't end at their price points. Before you invest in crowdfunded real estate, find out why people typically lean toward one platform or the other in our review and comparison of both platforms below.
Fundrise Vs RealtyMogul – The Basics
Fundrise and RealtyMogul are two well-known real estate investing platforms meant to make real estate investing more accessible to the general public. 
Fundrise's low fees and low minimums, paired with higher-than-average returns, make it an attractive platform for new investors. 
RealtyMogul's elite property offerings and curated selections allow a more hands-on type of investing that requires a bit more experience and commitment than Fundrise's offerings.
More than 80% of investors plan on increasing their alternative investments (such as real estate) by 2025, and in a recent Minority Mindset poll of 1,245 money-minded people, 46% say they lean toward real estate investing over stocks.
Getting started with traditional real estate investing isn't easy.. 
Saving the money or securing funding to purchase your first building can take many years, and the time commitment required for due diligence is a real challenge for people who are already working full-time.
Fortunately, crowdfunded investing with services such as Fundrise and RealtyMogul make investing easier by allowing you to pool your funds with other investors to purchase properties or buy into a portfolio of properties. 
Crowdfunded investing provides several advantages and more freedom over traditional real estate deals. 
For example, both Fundrise and RealtyMogul allow you to:
Learn as you go

using the platform's resources, written for people who are new to real estate investing.

Get started investing sooner

because you don't need to raise funds for your first building. You can get started investing in real estate for under $500 or even as low as $10.

Save time

thanks to the due diligence, research, and vetting of properties that is handled by the platform's technology and investing experts.

Follow your investment portfolio in just a few minutes a day

, thanks to user-friendly online dashboards.
Despite their similarities, Fundrise and RealtyMogul are very different platforms that appeal to different types of investors. We take a closer look at what the two services offer, and who they cater to, below.
What Is Fundrise?
Fundrise is a real estate crowdfunding platform that makes it easy to get started investing in real estate portfolios and begin generating passive income. Its low fees, low minimums, and higher-than-average returns make it a popular choice among new and experienced investors.
At its launch in 2011, Fundrise was the first and only real estate crowdfunding platform in existence. Its game-changing approach to real estate investing allows everyday people ("retail investors") to buy into a Real Estate Investment Trust (REIT) for as little as $500.
Today, Fundrise has been named the #1 real estate crowdfunding platform by Business Insider and has more than 210,000 active investors who have collectively earned more than $160 million in net dividends.
Despite its rock-bottom fees and minimums, its average returns history is higher than normal for investment platforms. In 2021, Fundrise paid an average 22.9% returns across all its client accounts. Its cumulative average returns are 9% in the first year and 74% after six years.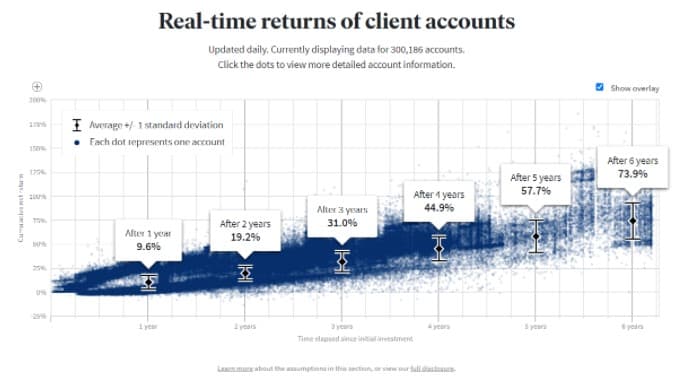 For example, Fundrise investor Terez Lunquist stopped investing on Fundrise after four years — and just let their dividends do the work for them. 
"I've been with Fundrise for 4 years with a total return of 27%. I reinvest my dividends, and get a small increase almost every single day… I no longer add funds to my Fundrise account. I just allow the reinvested dividends and compound interest do it's job." 
Even in their first year of investing, some people see unusually high returns.
"I'm seeing 15.9% returns in about a year of investing with Fundrise. I contribute bi-weekly and reinvest dividends. With inflation on the rise, real estate is generally a good investment so I will probably increase my contributions in the near future." – Reddit user (Michael)
While Fundrise has proven itself with above-average returns, please keep in mind that all investing requires risk, and your results may not be the same as the examples above.
How Fundrise Works
Fundrise's low minimum investment requirements make it possible for nearly anyone to begin investing in real estate. 
The way it works is that you invest in a real estate portfolio that includes a number of properties.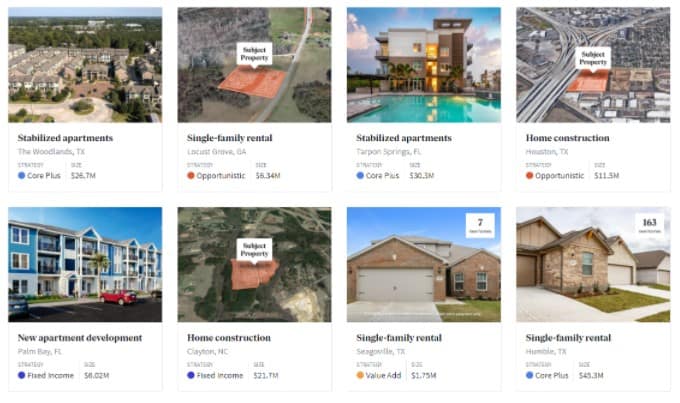 You can browse through its properties, and open individual property pages to learn more about the investments in your portfolio.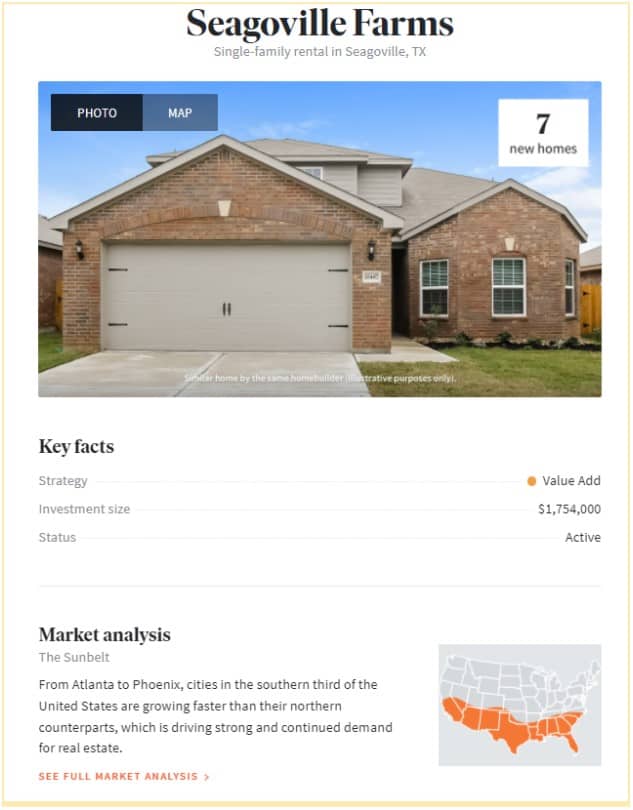 To start investing on Fundrise, you'll choose what type of account to sign up for based on how much you'd like to invest and what investment goals you set.
Fundrise provides four account options to choose from:
Starter account

, $10:

Gives you access to auto-investing options.

Basic account

, $1,000: A

dds the option to invest through an IRA and provides potential IPO access.

Core account

, $5,000:

Add options for direct investment into eREITs.

Advanced account

, $10,000:

Adds options for direct investment into the Fundrise eFund.

Premium account

, $100,000:

Additionally provides you with priority support.
With its low fees and higher-than-average returns, what's not to like about Fundrise? 
For starters, the platform is clearly geared toward long-term investing. The bulk of its customer complaints come from investors who wanted to pull their money out earlier than agreed upon.
Fundrise requires a 5-year commitment. If you try to withdraw earlier, you can count on paying redemption penalties plus you may run into significant delays in the processing timeline. Additionally, its policies clearly state there is no guarantee that early redemption requests will be approved.
Fundrise Pros and Cons
Pros
Low minimum investment requirements

: Choose from five different types of accounts, including a Starter account for only $10.

Low fees

: Its 1% in annual fees include a 0.15% investment advisor fee and a 0.85% asset management fee.

Higher-than-average returns

: Last year, Fundrise paid an average 22.9% returns across all its client accounts. Its cumulative first-year average returns are 9%, rising to an average 74% by year six.

Outstanding app

(with 5-star ratings on Google and Apple app stores) that makes it easy to monitor and manage your Fundrise investments.
Cons
Lack of liquidity:

If you need to withdraw your investment before the 5-year commitment is up, you'll run into penalties, delays, and possibly even a refusal.

Limited options and limited customer service for low-level accounts:

Even though Fundrise does provide low-cost investing options with its Starter and Basic accounts, you'll need to invest between $50 – $100K into a higher-level account to enjoy all its premium features such as the Funrise eFund and premium customer support.
While its long-term focus may not be a good fit for everyone, Fundrise's low fees and easy access may be an excellent opportunity for people looking to invest on a budget and allow their money to sit for at least five years.
What Is RealtyMogul?
RealtyMogul is a real estate crowdfunding platform that focuses mostly on accredited, high-net-worth, investors, but also offers REIT options for non-professional ("retail") investors.
RealtyMogul is a real estate marketplace that provides curated, crowdfunded investing opportunities and 1031 Exchanges for accredited investors, plus a choice of two REIT options for non-accredited investors.
Although its minimum investment requirements are higher than average ($500/REITs and $25,000 for private placements) and highly illiquid, the company makes up for it with extreme research and due diligence on all its projects. 
For example, its representatives make in-person visits to the physical property before accepting a project, and ultimately reject 99% of the deals put in front of them. Potential investors can browse through extensive property information on any project, including the project overview, business plan, financials, images, webinars, and more.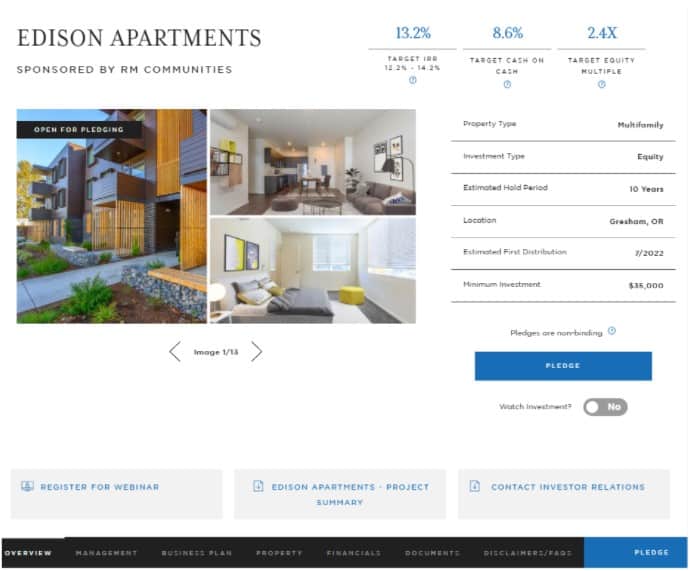 Although the platform's minimum investment requirement is high, its fees (which vary by project) seem reasonable and competitive,
RealtyMogul Fees:
Private placements: 1% – 2 % annual fee

 
Additional fees may apply. Please read the individual property details for full fee information on any project you're considering.
REITs: 1.0% – 1.25% annual fee
It costs nothing to open an account and browse the current projects on RealtyMogul.
Since its inception in 2012, the company has financed over $4.7 billion in property value including more than 15,000 apartment units, and registered over 220,000 investors.
Many experienced investors have high praise for the platform, claiming excellent returns and successful exits. 
For example, in one Google review, investor Mike Garner said he had a number of successful exits with private property investments that delivered a 19 – 25% internal rate of return.

Another RealtyMogul investor, Jeff Robbins, explained that he likes the well-managed portfolios, conservative approach, and heavy vetting that minimizes risk.
Accredited, experienced investors may consider RealtyMogul an exceptional opportunity for alternative investment projects.
How RealtyMogul Works
After a simple initial signup process (which is free), potential investors can browse an elite selection of crowdfunded real estate projects such as multifamily, residential, self-storage, and industrial properties.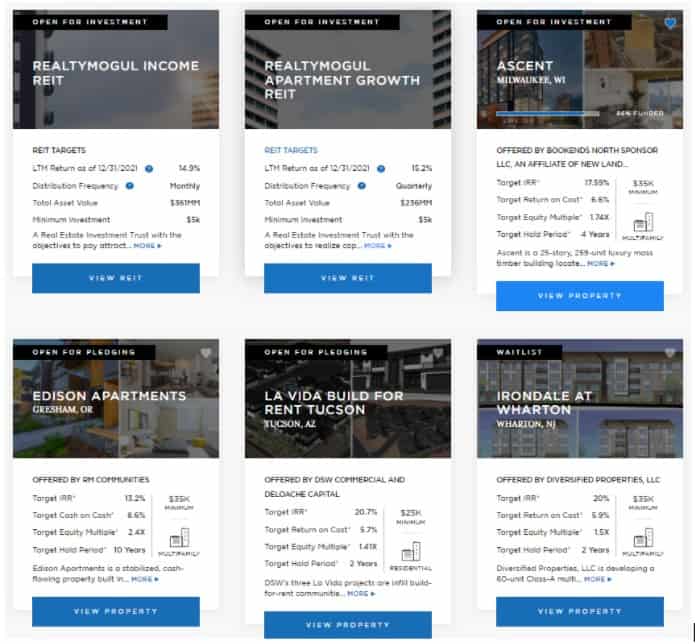 Users tap on any investment property to open its full details, then review its complete property and project information plus investment requirements before deciding whether to invest in the property.
RealtyMogul's extreme due diligence and easy access to full project details make it a good option for accredited investors who prefer a conservative approach to crowdfunded real estate.
However, its limited opportunities, high investment minimums, and absolutely illiquid investment approach mean the platform isn't for everyone, and may not be the best choice for beginner investors.
RealtyMogul Pros and Cons
Pros
Extreme due diligence and highly selective projects

: The company rejects 99% of the deals offered and investigates each property thoroughly (including an onsite visit) before accepting it onto the platform.

Easy access to project details

: It only takes a click or two to pull up full project details on any selection. You will never jump through hoops searching for financials or business plans, since all documentation is made available on its project page.

1031 Exchange available

for accredited investors wanting to (legally) defer capital gains taxes.

SDIRA

(retirement fund) eligible

REIT options

for investors on a budget
Cons
Caters to accredited investors,

with all its opportunities except the two REITs open only to accredited investors.

Sets high minimum investment requirements

of $25,000 for private placement and $5,000 for REIT participation.

Refuses to liquidate

your investments before your agreed-upon time commitment is met. Hold terms vary by property.

Provides no app

for monitoring and browsing investments, so you must use your dashboard on its website. However, you can access the site and your dashboard from the browser on your mobile device.
RealtyMogul provides unique opportunities and benefits for accredited investors looking for long-term, crowdfunded real estate projects. However, non-accredited and beginner investors may not be a good fit for the platform's more serious approach to crowdfunded real estate.
How To Choose – Fundrise VS RealtyMogul
Fundrise is a good option for non-accredited investors or investors on a budget, thanks to its open enrollment policy and low investment minimums. 
RealtyMogul is a good platform to consider if you're an accredited investor with a good understanding of the risks involved in commercial property investing.
| | Fundrise | RealtyMogul |
| --- | --- | --- |
| Types Of Investments | Real Estate | Commercial Real Estate |
| Fees | 1% annually | 1 - 2% annually |
| Minimum Investment | $10 | $5,000 |
| Commitment | 5 Years | 2 - 10 Years (varies by project) |
| Liquidity | Liquid but charges 1% for early withdrawal | No early withdrawals |
| Investor Status | Open to non-accredited investors | Some availability to non-accredited investors |
| Learn More | | |
Both platforms require a long-term commitment to your investments, but Fundrise sometimes allows people to withdraw before reaching the 5-year mark, while RealtyMogul provides no options for early withdrawal.
Both companies are leaders in the field of crowdfunded real estate, but Fundrise is a better fit for beginners and budget investors, while RealtyMogul may be a better choice for experienced, accredited investors.
Fundrise Vs RealtyMogul: Our Recommendation
Fundrise and RealtyMogul are both leaders in the field of crowdfunded real estate investing, but they cater to different types of investors. 
Fundrise makes real estate investing simple and inexpensive for retail investors, and allows people to get started with as little as $10, although it does require a 5-year commitment.
RealtyMogul provides an elite selection of crowdfunded real estate projects plus 1031 Exchange options for accredited investors, and two REIT plans for non-accredited investors. To get started on RealtyMogul, you'll need to invest a minimum of $5,000 for REITS or $25,000 – $50,000 for private placements, which are strictly illiquid for the pre-stated hold time, typically 2 – 10 years.
We recommend Fundrise for beginner investors or investors earning less than $200,000 per year (non-accredited), and RealtyMogul for accredited, experienced investors.