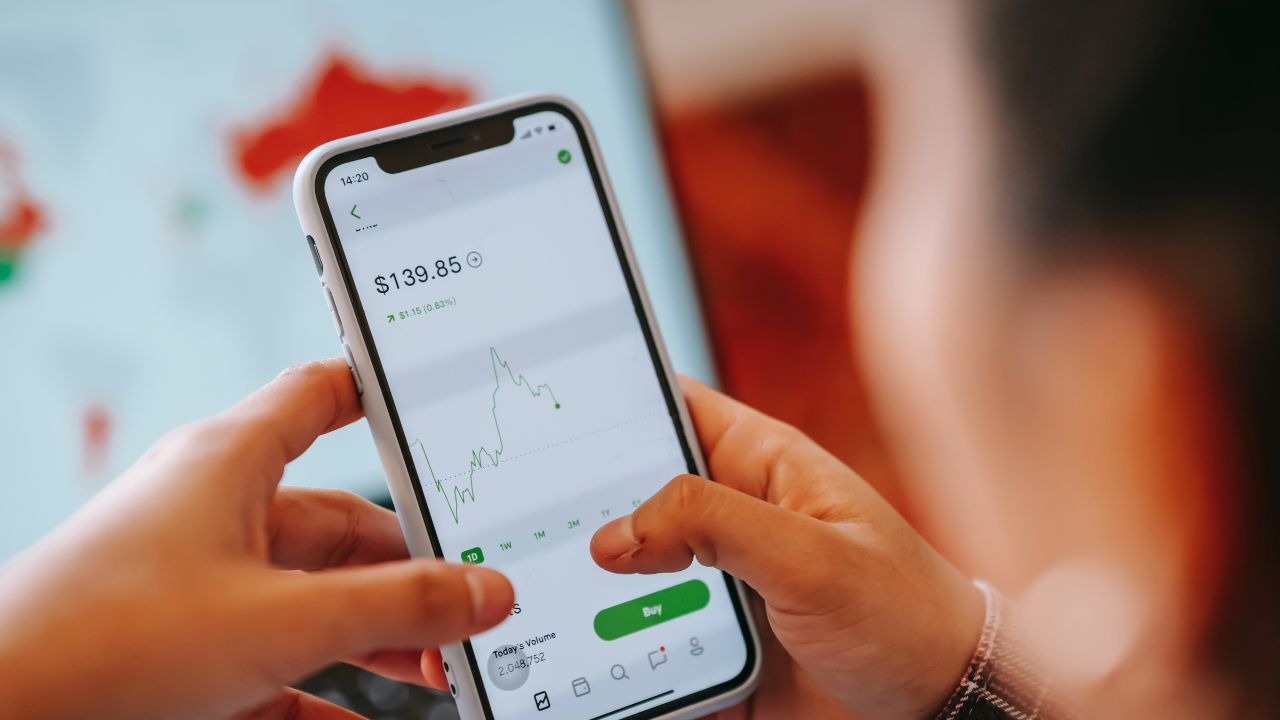 Disclaimer
We only endorse products that we truly believe in. Some of the links below may earn us some extra guac at no additional cost to you. Please pass the chips & thank you for feeding our habit.
What Are REITs?
Real estate investment trusts, or REITs, became an option for American investors back in 1960. Congress passed legislation allowing single investors to buy a share of commercial real estate deals — without the need to buy and own the commercial properties themselves. 
This is a huge benefit because it means that non-accredited investors and folks with a lower net worth can get in on real estate deals that were previously unattainable.
A REIT is a type of company that owns real estate, but its main goal is to own income-producing properties in the form of rent. 
Every REIT is different, but more often than not, they invest in properties like: 
Apartments

Retail centers and malls

Office buildings

Hotels

Retail space

Warehouses

Student housing

Senior housing
If you've ever invested in a mutual fund, a REIT works sort of like that, except it holds real estate deals instead of stocks or bonds.
How Do REITs Work?
REITs give you broader exposure to several investment properties in one fund. The bad news is that the REIT pretty much controls which properties your money goes to, so you don't have very much control over what you're investing in. 
There isn't as much transparency here, so if that bothers you, a REIT might not be for you. Also, REITs are allowed to invest 25% of their assets in non-real estate investments, so keep that in mind. 
REITs are highly regulated by the Securities and Exchange Commission (SEC), so they have to follow a complex web of rules to stay compliant. 
For example, REITs are required to pay out 90% of their taxable income to investors, and that comes to you in the form of dividends. 
So, if you want regular checks coming in the mail, REITs can be a useful way to benefit from real estate investments in the short term, too.
REIT Fees And Minimums
Now, how much do you have to pay to start investing in REITs? It's definitely more expensive than Fundrise's $10 minimum. 
To invest in a REIT, you need enough money to buy one full share in the REIT. For some REITs, that might be $50, but others might require $1,000. 
Because you buy a REIT through a more traditional broker, you might have to follow the broker's rules for minimum investments, too. This generally means REITs are more accessible to experienced investors or folks who have more of a budget.
Fundrise VS REITs – How They Compare
If you think Fundrise and REITs sound awfully similar, you're not wrong. They both offer investments in REITs, so it's easy to get them mixed up. 
Before we go over the differences between Fundrise versus REITs, let's get clear on how they're the same. 
They both allow you to invest in real estate, they both offer commercial and residential properties, and they both generate dividends. 
Outside of that, though, they share a few other commonalities, including: 
Diversification
Both investment options give you a place to invest your money that isn't the stock market. 
If you want to diversify your portfolio, both Fundrise and REITs are respectable choices.
Income Sources 
Fundrise and REITs are long-term investments, but they can generate income every quarter in the form of dividends. 
You can either keep them as a payout or reinvest the dividends to continue growing your money.
Long-term Investments
Regardless of where you invest, your money is going to be tied up for several years, sometimes five years or longer.
Crowdfunding
Both options allow you to pool money with other investors and buy a fraction of ownership in a property. 
That's way cheaper than buying an office building yourself, right?
Passive Investments:
You don't own or manage the property if you invest with Fundrise or REITs. 
Access
Both options are accessible to non-accredited investors.
Fundrise VS REITs – How They're Different 
Okay, so now that we know how Fundrise and REITs are similar, let's break down their major differences.
Liquidity
So, what happens if you want to sell your shares? Well, if you bought an eREIT with Fundrise, you're going to have to wait a while. 
That's because Fundrise is a private platform with private eREITs. There isn't a huge market where you can resell your shares, so it can be really tough to get your money out early. 
REITs, on the other hand, are designed to be long-term investments too, but because they're on a public exchange, it's much easier to liquidate your money.
Volatility
Fundrise isn't publicly traded, which means it operates completely independently from the stock market. While REITs are technically independent of the stock market, they tend to perform like the stock market. So if stocks are down, REITs tend to be down, too. This means REITs tend to be more volatile than Fundrise.
Fees
Fundrise charges a 1% annual fee, as well as a 1% early redemption penalty if you take your money out early. 
REIT fees depend entirely on the brokerage and REIT you choose. They'll charge you an expense ratio, which usually ranges from 0.5% to 1% per year.
But if you can manage to get a REIT with an expense ratio of just 0.5%, that's half the price of Fundrise. 
Investor Experience
I've used both Fundrise and REITs, and as a user, I can say Fundrise is way simpler to understand. 
It's a fintech app that's designed to be easy to use, so if you want clarity and transparency, Fundrise is the better option. 
REITs, on the other hand, are usually traded through a brokerage app or website, which aren't always super modern or easy to understand.
Minimums
Fundrise has a sweet $10 minimum initial investment, which opens the platform up to just about anyone. 
REITs, on the other hand, require at least enough money to buy a single share in the REIT. 
That typically starts as low as $50, but could cost $2,000 or more depending on the REIT. You also have to worry about minimums from the brokerage managing the REIT, too.
Performance And Returns
So here's the big question: which performs better, Fundrise vs REITs?
Best Quarterly Performance:
Fundrise: 9.4%
REITs: 16.7%
Number Of Negative Quarters:
Fundrise: 0
REITs: 4
Average Return (2017-2022 Q1)
Fundrise: 5.42%
REITs: 4.34%
Both have performed well historically. REITs have decades of historical performance that investors can look at. 
However, REITs have posted negative returns in the past, while Fundrise hasn't posted a negative quarter to date.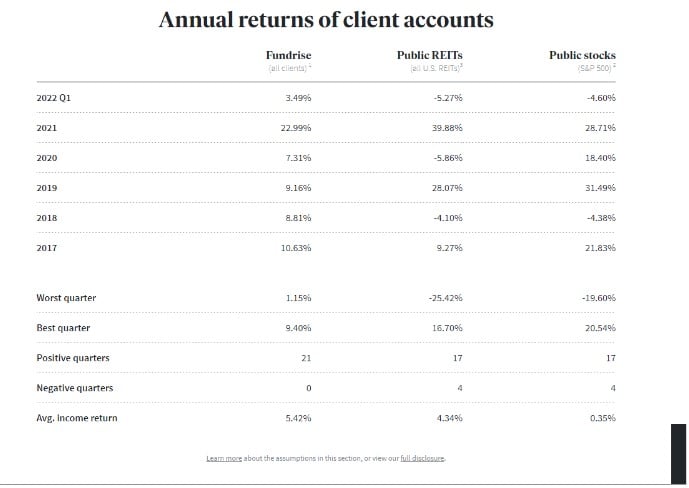 Overall, both Fundrise and REITs have the potential to generate good dividends for investors. Even though REITs have had negative quarters, their performance has eclipsed Fundrise at times. 
The good news is that, regardless of whether you choose one platform or the other, both outperformed the S&P 500 public stocks, which generated an average income return of just 0.35%.
In terms of dividends, Fundrise generates an annual dividend yield of 2.15%. 
REITs average 2.6%, though, so long-term, REITs might actually generate more dividends. We have more data on REITs and Fundrise is still relatively new, so keep that in mind.
Fundrise VS REITs: Which Is The Better Investment For You?
If you want to get into real estate, now's the perfect time to get started. 
Regardless of whether you choose Fundrise or REITs, you don't need a ton of cash or a high net worth to get started. 
Fundrise is better for: 
Newbies who like the ease of the platform

People who want to invest for just $10 upfront

Beginners looking for transparency
REITs are better for: 
Investors who are worried about fees

People who want regular dividend payments

Experts that want a more liquid investment
However you choose to invest, adding real estate to your portfolio is a smart way to hedge against inflation and volatility. 
Both Fundrise and REITs make it easy to invest in real estate, although they each have their pros and cons. At the end of the day, you have to understand their features and choose what's best for your investment strategy.