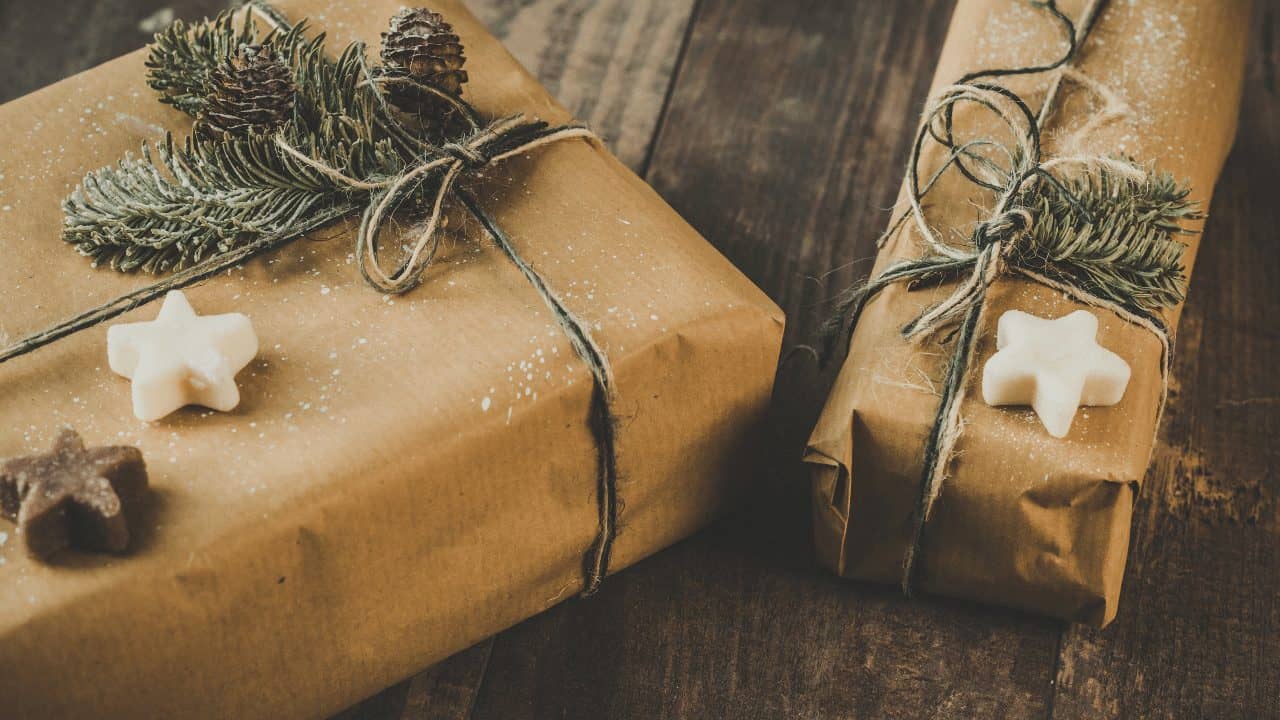 Disclaimer
We only endorse products that we truly believe in. Some of the links below may earn us some extra guac at no additional cost to you. Please pass the chips & thank you for feeding our habit.
The holidays are a time to express gratitude for all the beautiful blessings we have throughout the year.
But in a society that encourages consumerism and spending before the season's true meaning, it's easy to lose sight of the forest for the trees.
Thankfully, you can take a different approach this year and do Christmas shopping on a budget. Yes, it's possible. It just takes some planning ahead, getting creative and using your cashback credit cards smartly.
I'd know that because I was just like you–splurging on holiday gifts and then crying over my January bank statement–until one year I decided to put an end to it and figure out how to save on holiday shopping.
17 Tips To Help You Save On Your Holiday Shopping Budget
While I love the holidays, they used to give me pangs of anxiety. Although I had a small circle of family and friends to gift, holiday shopping always left me in the red. So how to save on holiday shopping?
Luckily, over the years, I've figured out how to do holiday shopping on a budget and still keep the spirit of the season.
And now you can try my holiday shopping budget tips for yourself and show love to your friends and family—without breaking the bank.
1. Set Limits
If your family is big on gift-giving and there's an expectation that you'll spend a certain amount, see if everyone is agreeable to setting a maximum amount per person.
You may be surprised by how many other family members will be on board with capping gifts at $20 or $50 per person and doing holiday shopping on a budget.
Very few people actually want to spend extravagantly over the holidays and get hit with a massive credit card bill come January.
2. Plan Ahead
Long gone are the days of shopping mindlessly at the mall for everyone on my list. These days, I plan my holiday shopping to the tee, creating a plan by:
Making a list of everyone I'm gifting this year. 

Looking at my finances and deciding on the total amount I can spend on gifts. (Typically this is $1,000, thanks to rewards credit cards which we'll talk about later)

Dividing the total gift budget by the number of people on my list. So, if I have 10 people and a $1,000 budget, my limit per gift is $100.

Calculating shipping and wrapping. My family is spread all over, so I have to account for more than just the cost of a gift. For example, if it costs $20 to ship something to my sister, it means I can spend $80 on the actual gift and still stay on budget. 

Planning gifts for everyone. I brainstorm a list of potential gifts for each person, as well as anticipated costs. This way, I know exactly what I need to buy, so holiday shopping goes quicker. 

Tracking everything in a spreadsheet. Maybe this sounds a little Type A, but a spreadsheet will help you track your budget and spending throughout the holidays. 
It might sound like a lot of work to do, but planning in advance actually makes holiday shopping on a budget so much easier.
Before, holiday shopping was so stressful and almost always turned out more expensive than I had wanted.
3. Make It A Game
A game like White Elephant Gift Exchange is a fun way of allowing family members to express themselves with the added benefit of each participant contributing only one gift.
This is a great way to spend time with loved ones and create memories without the pressure of stressing over if each person will like the gift you got them.
You never know who at the party might appreciate a pooping pooches calendar. (Yes, I brought that to a White Elephant exchange last year and someone stole it!!)
Other things we've done with my family are:
Drawing names:

Every Thanksgiving, our extended family would draw names and buy a gift for just one person. Instead of buying gifts for everybody, you were only on the hook for one present. Everyone got a gift and nobody had to spend their whole paycheck buying it!

Going giftless:

Some of my friends were horrified to hear I've done presentless Christmases, but I highly recommend them. It saves money, prevents so much stress, and helps me focus on the real meaning of the holidays–spending time with my family. 

Buying gifts only for the kids:

Do you really need to exchange gifts every year? Two years ago, my family agreed to only buy gifts for all of the kids, and it worked out splendidly. 

DIYing your gifts:

DIY can sometimes be more expensive than just buying a gift, so agree to keep the DIY gifts very modest. I've made DIY presents like homemade bourbon-soaked cherries, a hidden treasure chest made from an old book, and soup mixes. 
The downside to these approaches is that everyone in your circle needs to agree on how you're gifting this year.
It's super awkward if you agree not to buy gifts and you still receive one!
4. Buy On Discount Sites
There's always the possibility to shoot yourself in the foot shopping on discount sites, so shop at your own risk.
But if you're willing to read the fine print and save some money, you can shop through sites like:
You won't always find good deals on these sites, but if you aren't sure what to gift the people on your list, discount sites are a great place to start!
5. Use Coupons And Discount codes
One of my best holiday shopping budget tips is to always search for discount codes or coupons.
A simple Google search can pull up discount codes that will save you $5 – $20 on your order. I'd say that's time well spent. 
I usually use discount codes from:
RetailMeNot

: These codes don't always work, but if you try 3-5 of them, you're almost sure to strike paydirt.

Honey

: This is a browser extension that automatically applies discount codes. If there isn't a code available, you can still redeem reward points by shopping through Honey.

The brand's app

: Obviously this won't work for all of your orders, but if you're buying a gift from a brand with a rewards app, download it! More often than not, they'll send you a few discount codes or offer perks like free shipping.
6. Shop Sales
Well, this is one of the most common holiday shopping budget tips, but it's always worth mentioning.
A lot of people in my friend circle actually complete their Christmas shopping by early November. I guess I'm a procrastinator because I don't start shopping until early December. 
And guess what? 
That gives me access to holiday sales. Yes, it's a little annoying to scour the sale papers or wait patiently for a Black Friday sale, but I save $100 – $400 every year by shopping sales first. 
If you're forgetful like me, set an alarm on your phone for Black Friday and Cyber Monday sales.
Add a note on your phone for which products you'd like to buy, along with a URL to the sale page. Some products sell out fast, so make it easier for future-you to save money!
Frugal Christmas Gift Ideas
Here are a few frugal Christmas gift ideas to help make sure you can celebrate, give, and show appreciation to those you love without breaking the bank.
7. Sentimental Value
There are probably a few gifts you've received over the years that stand out in your mind.
And as you reflect on them, you may realize that it was the thought behind them or the sentimental value they held that made them so special. Not how many of them you received. 
With that in mind, put a bit of effort into thinking about who you're buying for and what they would really appreciate receiving. Consider their hobbies, what makes them excited, or recent conversations you've shared.
Yes, this might take you a few minutes of brainstorming as opposed to one-click ordering on Amazon.
But the look on the face of the person who receives a gift they genuinely appreciate is well worth your time.
Not to mention that you'll find yourself giving fewer, more meaningful gifts, and in turn saving on holiday shopping.
8. Unforgettable Experience
As we get older, we realize that the best things in life are free or aren't even necessarily things. It's the memories we remember, and how we felt.
So giving someone an experience instead of a physical gift might be the best option when doing Christmas shopping on a budget.
One year a good friend of mine decided to forgo presents entirely in favor of a day trip to the local ski resort with the family instead. Get creative with it, and remember that it doesn't need to be far away from home.
9. The Gift Of Time
Is there someone in your life, maybe a spouse, sibling, or close friend, who could really benefit from some alone time? It's likely the person who came to mind has several children and a full-time job.
Giving the gift of your time to someone who needs it is like a gift in reverse.
Offer to perform a household chore, fix something for them, build the garden they've been dreaming about, or just watch the kids for a few hours while they go read a book at the park.
Time is one of the most precious gifts we have as humans. And selflessly gifting yours to another person is not only incredibly generous, but it's also free.
10. Handmade With Love
Not everyone is blessed with the genes of a creative artist. And for those that aren't, there's Pinterest.
There are so many fantastic ideas for homemade holiday presents that are incredibly thoughtful and won't take too much time or money. 
Every year my Mom and I make these homemade lip balms and give them out in packs of 3 to the fabulous ladies in our life!
Also, I've made DIY presents like homemade bourbon-soaked cherries, a hidden treasure chest made from an old book, and soup mixes. 
If you have kids, this is an awesome way to get them into the holiday spirit and help them understand the real meaning of giving gifts. Plus, you'll get to bask in the glory of everyone fawning over your insane craftiness!
However, bear in mind that DIY can sometimes be more expensive than just buying a gift. 
11. Gifts That Keep On Giving
Subscription boxes have become all the rage in recent years.
You can now have clothes, wine, dog toys, date nights, ramen noodles, and virtually anything else you can think of delivered to someone's door all year long.
The best part about subscription boxes is that many of them have incredibly generous introductory offers for the first few months.
That means you get a major discount on a gift that keeps on giving, and the recipient decides if they want to renew it after that.
12. Meaningful Cause
Many organizations would sincerely appreciate a financial gift or the gift of time over the holiday season.
Consider taking the family to volunteer at a local food pantry or shelter, or make a donation in your family's name in lieu of individual gifts.
How To Save On Holiday Shopping Using Credit Cards
The holidays used to rake my finances across the coals. Instead of enjoying a little holiday cheer, I worried way too much about money.
But paying for everything with a cashback credit card has made the holidays fun again! 
13. Get A Cashback Credit Card
Once you feel that you're in a safe place to use debt as a tool (instead of a prison guard), sign up for a cash back rewards credit card. If you don't already have a cashback rewards credit card, here are a few popular, reputable options. 
Now, this is a credit card, so it's not a decision to take lightly. Always remember things like:
The fine print

: For example, my card requires me to meet their direct deposit rules to qualify for my rewards. Always read the fine print and make sure you can meet the bank's requirements every month. 

Paying off the card every month:

Never, ever accrue interest on your rewards card. More often than not, the interest outweighs the rewards (and your bank is betting on that!). So before taking out a credit card, ask yourself: How easy is it to pay off the card every month? Do they penalize you or make it hard to pay off the entire balance? 

Reward categories:

Some cashback cards require you to sign up for specific rewards categories. I use my Bank of America business card to earn rewards for "Online Services," for example. Make sure you regularly shop in your desired category so you can earn rewards. Oh, and mark your calendar if your reward program requires you to sign up again for your rewards categories. They love doing sneaky stuff like that. 

Other credit card perks:

Hey, if you're tiptoeing the dangerous cliffside that is reward credit cards, you might as well know all of your perks. USAA covers the theft or loss of anything I buy on my card, as well as some nice fraud prevention features. 
14. Shop Everything With The Credit Card
This is controversial in the realm of personal finance, but I buy almost everything with a credit card. From groceries to home repairs to my glut of Amazon purchases, everything is covered on the credit card. 
When I put as many charges as possible on my card and pay them off, they reward me with cashback at the end of the month.
So, if I spend more, I earn more. As long as I'm buying things I would have bought with my debit card anyway, it's a good deal for me. 
15. Double Down On Reward Points
Making purchases with rewards credit cards isn't the only way to earn points or cashback. If you plan on doing your shopping online, you can actually double down by using a shopping portal. 
Sites like Rakutenor Mr. Rebates are shopping portals where you use their affiliate links to make purchases to well-known stores online.
In exchange, they will pay you anywhere between 1 to 10 percent of your purchase simply for using them. 
Not only is that a simple way to earn some cashback and do holiday shopping on a budget, but if you're also making that purchase with a credit card that also earns rewards, then that's twice the rewards on every purchase.
16. Pay Off The Card Every Month
This is the most important step in this process. You only earn cashback rewards when you pay off the balance on your card.
So if you just keep racking up debt and don't pay it off, you not only have to pay interest, but you also aren't earning rewards. 
Banks like rewards cards because they're encouraging you to bulk up your debt.
They're betting on you not paying off that card every month. One little slip is all it takes for them to squeeze more interest out of you.
Don't let the bank win: always, always, always pay off your credit card before it accrues any interest. 
17. Cash In The Rewards In November
Paying off the card is the scary part, but the fun stuff comes in November! Every year, we cash in our cashback rewards to pay for gifts. I like to do this in late November so we can shop in early December. 
In a good year, we earn $1,000 in credit card rewards since we put nearly all of our expenses on the credit card.
Then we take the total cash award amount and divide it by the number of family members we're gifting that year.
The key is to stick with your per-person budget. Otherwise, you'll be spending "real money" and not your "rewards money." 
Final Thoughts – Holiday Shopping On A Budget
There's no need to spend a fortune on holiday gifts and tank your finances.
If you follow these tips, you can do Christmas shopping on a budget without disappointing anyone.
Set boundaries, plan ahead, get creative and use your cash back credit card–as simple as that.