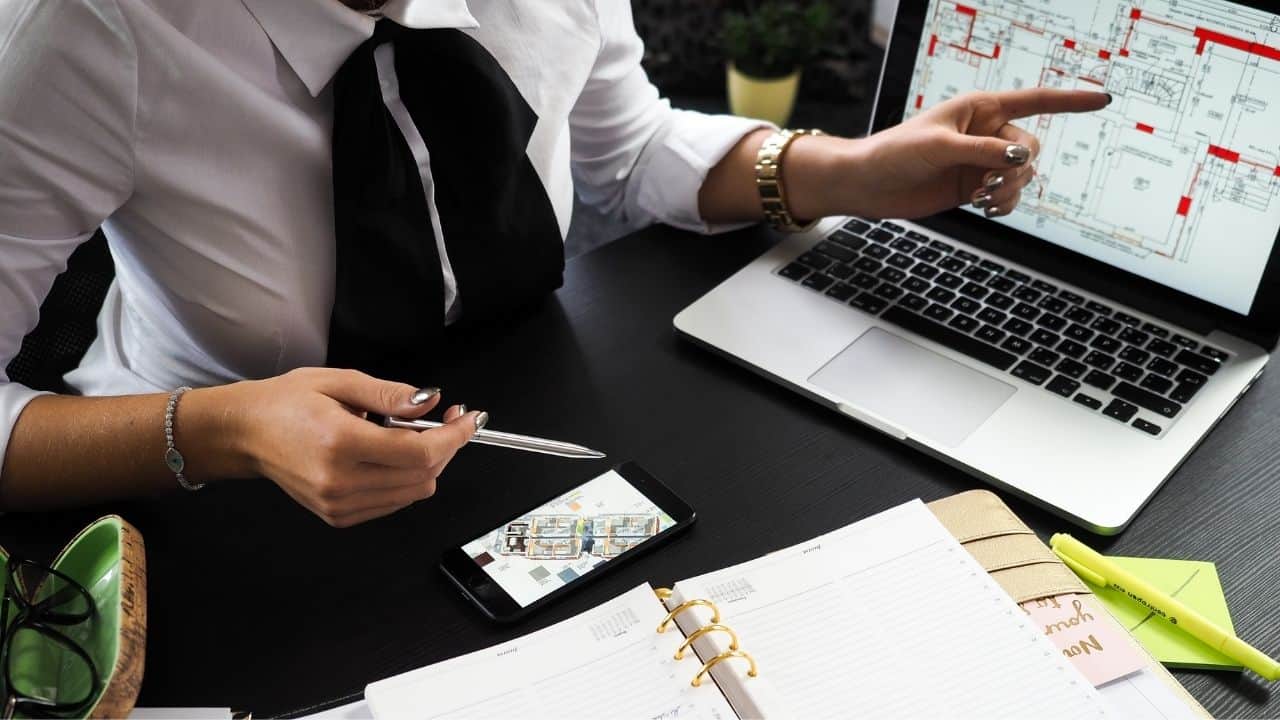 Disclaimer
We only endorse products that we truly believe in. Some of the links below may earn us some extra guac at no additional cost to you. Please pass the chips & thank you for feeding our habit.
Most investing apps charge fees to investors as a way to make money, which can sometimes eat into potential profits. However, CrowdStreet, one of the largest crowdfunded real estate marketplaces, makes its profits without any fees to investors. If it has no fees, then how exactly does CrowdStreet make money?
CrowdStreet makes money by charging fees to sponsors, and it is completely fee-free for investors. It also earns revenue through its optional paid service, called Private Managed Accounts, for investors who prefer one-on-one guidance from an investment advisor. 
Find out exactly what fees CrowdStreet charges sponsors and whether there are any hidden fees for investors, in our guide below.
Best Real Estate Investing Platforms
How CrowdStreet Makes Money
On CrowdStreet, accredited investors can browse, review, and invest in crowdfunded real estate projects without paying any fees to the platform. While many other real estate crowdfunding platforms charge fees to pay for investment advisors, asset management, or placements, CrowdStreet remains fee-free to its investors.
How Does CrowdStreet Earn Revenue Without Charging Fees?
CrowdStreet does charge fees, however, it charges fees to sponsors rather than investors.
Sponsors are the firms or people that publish real estate deals on the platform. Most invest part of the capital for a project on their own, then turn to CrowdStreet to help fund the rest of the deal.
For example, if we take a look at a couple of the March 2022 offerings on CrowdStreet, you'll notice company names, such as The KOR Group and Post Investment Group, on each project card. These are the names of the project sponsors.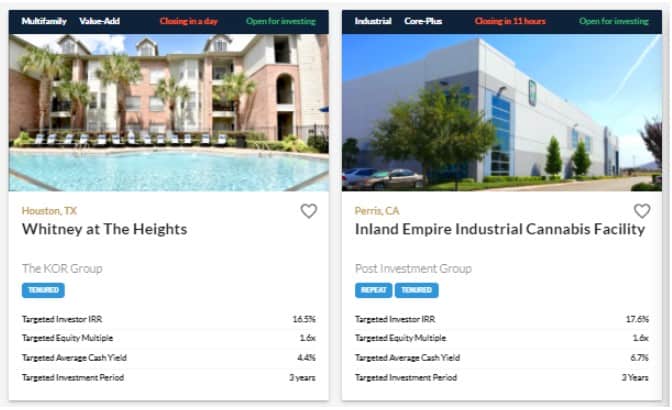 CrowdStreet sponsors enjoy a wide range of services that make their fees worthwhile, such as:
Creating and publishing offering detail pages for potential investors.

Marketing to get the right deals in front of potential investors.

Managing offers to help secure investment funds as quickly as possible.

Provide education for sponsors' teams.

Provide ongoing support to sponsors.

Facilitate communication between investors and sponsors.
For example, CrowdStreet Sponsor Tom Carroll of Watermark Partners Real Estate, says the platform helped his company find investors more efficiently than they could on their own. 
"There was no feasible way we could have scaled our investor base 10x in 12 months if it hadn't been for a platform like CrowdStreet." – Tom Carroll, Managing Partner at Watermark Partners Real Estate
CrowdStreet does not charge fees for investors to invest on its platform, and doesn't bury any hidden fees in its small print. However, it does charge project sponsors for its software and support, and those fees are often passed on to investors by the sponsor
Are There Any Hidden Fees For CrowdStreet Investors?
There are no hidden fees to investors on CrowdStreet. 
However, most sponsors pass the cost of their fees along to investors as part of the project expenses. This shouldn't be a surprise if you understand how business works. 
For example, if you go to McDonald's with a free drink coupon, you don't have to pay for the drink but the expense of it is picked up by McDonald's and the cost is worked into its overall expenses. Those expenses are paid for with its revenue stream, food products, and worked into the purchase prices that you pay when ordering food. Even though you don't pay the restaurant for the free drink, your regular purchases cover the cost of promotions.
It's similar on CrowdStreet. Investors don't pay fees, but sponsors often incorporate their fees into project expenses, so you ultimately cover their fees when you invest in a real estate deal on the platform.
While investors do not pay fees (and CrowdStreet won't hit you up with hidden fees), you can expect those sponsor fees are often passed on to investors.
Fees That Help CrowdStreet Make Money
CrowdStreet earns money by charging fees to sponsors and by offering an optional paid service to investors. It maintains three primary income sources:
Software sales to sponsors:

Firms looking to raise capital for commercial real estate projects list their offerings on CrowdStreet in the hopes of enlisting enough investors to fund the project. These firms are called "sponsors." 

CrowdStreet earns a portion of its revenue through software sales to its sponsors.

Platform fee for sponsors:

CrowdStreet charges platform fees to sponsors, which pay for services related to creating, publishing, and supporting their offerings. 

CrowdStreet earns a portion of its revenue from the platform fees it charges sponsors.

Optional consulting service for investors:

Investors who prefer a full-service approach to investing, one that provides personal guidance when developing a diversified commercial real estate portfolio, can opt into Private Managed Accounts.





Private Managed Accounts, provided by CrowdStreet Advisors, LLC, is an optional paid service for investors. Members receive a customized investment strategy for the CrowdStreet platform, dedicated support with a primary point of contact, and online tracking through CrowdStreet's Portfolio Center.
By charging sponsors for its software and services, and by providing an optional personal consulting service to investors, CrowdStreet is able to keep its platform entirely free to investors.
How To Make Money On CrowdStreet
Investing on CrowdStreet is an easy choice for many accredited investors. Its 18.5% IRR, wide selection of commercial real estate investments with full project details, and fee-free structure help make investment decisions easier.
People new to crowdfunded real estate investing or commercial real estate investing will appreciate the platform's guidance, which includes an orientation process, quick start guide, and plenty of site resources to help you learn more about crowdfunded commercial real estate investing.
For example, its StreetBeats section offers more than 100 videos from real estate experts, all sharing niche insights in their area of expertise.
Its resource center also provides investor education plus news and niche-related articles focused on topics of interest to investors.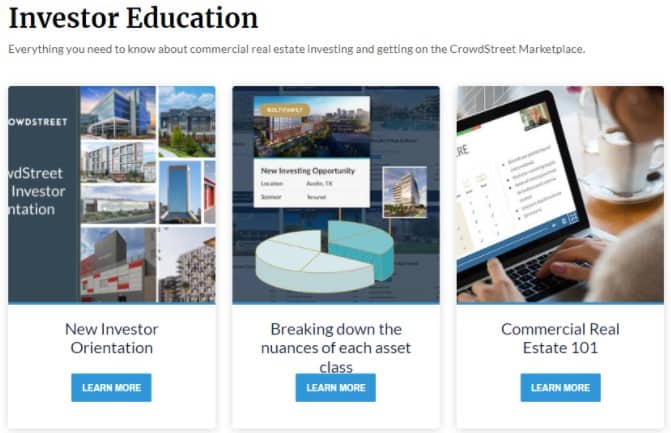 For many experienced or accredited investors, CrowdStreet has proven an excellent choice for alternate investments in crowdfunded commercial real estate. 
You can quickly open a free account on CrowdStreet and begin browsing projects immediately. Simply head to CrowdStreet and click the "Create An Account" button, answer a couple of simple questions (nothing too personal), and you'll get directed to its Marketplace, where you can browse offerings, in minutes.
CrowdStreet Makes Money Without Charging Fees To Investors
Rather than charge fees to investors, CrowdStreet passes its expenses and fees onto project sponsors. Sponsors enjoy a wide range of helpful services, including help with marketing, securing funds, communicating with investors, and publishing project pages on the CrowdStreet platform.
Software sales and platform fees, charged only to sponsors, generate some of the income CrowdStreet earns. Its optional consulting service, Private Managed Accounts, is its other form of revenue.
Private Managed Accounts (PMA's) are an optional paid service for investors that include help from an advisor who works to tailor CrowdStreet investments to fit your goals.
CrowdStreet is open to accredited investors. Its minimum investment amount varies depending on the project, and typically ranges from $25,000 – $100,000 or higher. Many investors say they appreciate the wide selection of offerings on the platform, and sponsors appreciate how quickly the service allows them to scale their investor base.
You can open an account on CrowdStreet and begin browsing investment properties in minutes, without sharing any personal information such as social security or banking numbers.