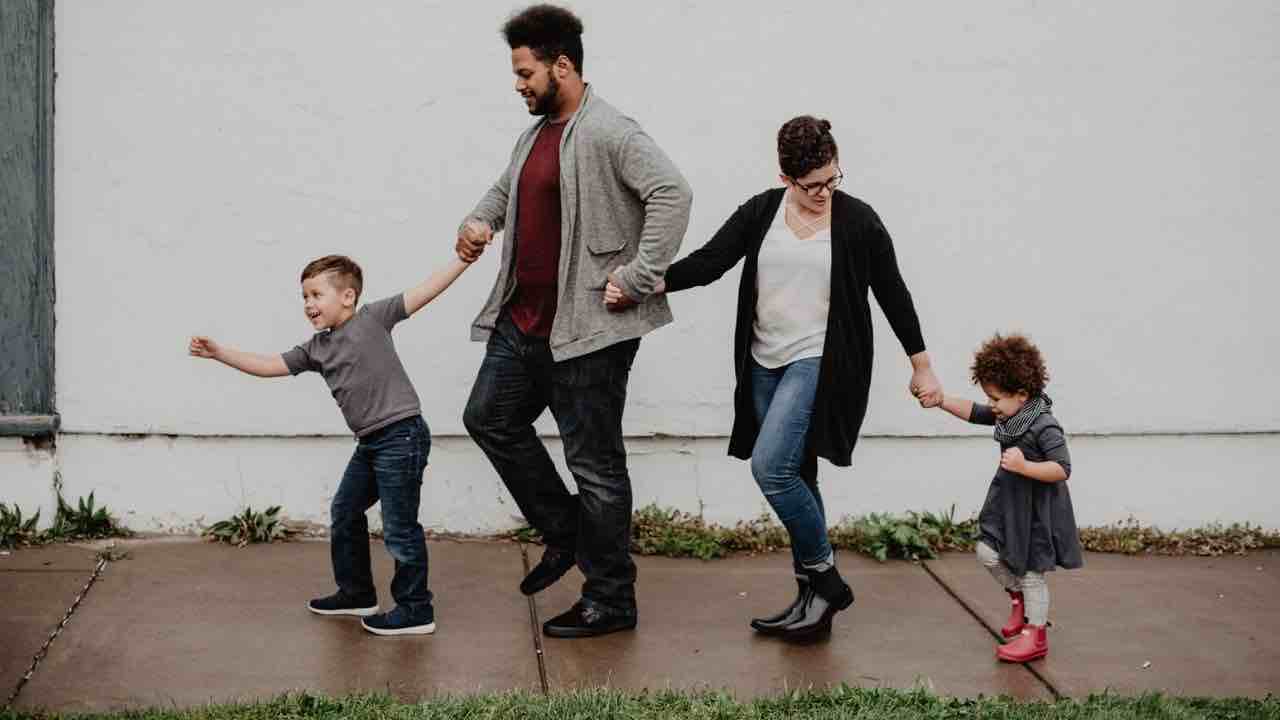 Disclaimer
We only endorse products that we truly believe in. Some of the links below may earn us some extra guac at no additional cost to you. Please pass the chips & thank you for feeding our habit.
Find out how to buy life insurance with this step-by-step guide that shows what you need to know before purchasing your first life insurance policy.
Life insurance is an essential part of a responsible financial plan, but buying it for the first time can be confusing and intimidating.
For starters, insurance companies want to know about things such as what type of insurance you want, how much you want to buy, and what length of coverage you need.
Once you get past all that, they ask you to share personal information while, in the back of your mind, you're wondering if they're going to spend the next two years following you around with sleazy sales pitches.
We know this is nobody's favorite topic, but at Minority Mindset, we recognize that caring for your family is probably the reason you work in the first place.
In this article, we walk you through the three steps of purchasing life insurance, so you know exactly what to expect.
Want to get a free life insurance quote in under three minutes? Visit Policygenius today!
Good news: Life insurance is easy to buy, and it takes less than 3 minutes to apply. It doesn't cost much, either, so — no excuses!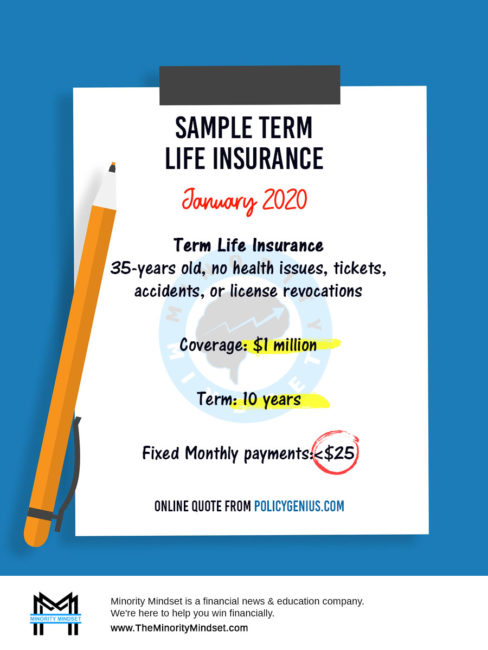 In this guide, we help you understand:
What type, coverage, and length of insurance to buy

Where to

safely get quotes

for life insurance

How to fill out a life insurance application form
You can also learn more about how life insurance actually works. That'll help fill in the gaps so you know what will actually cover you.
Step #1 – Decide What Kind of Policy to Buy
In our previous article, Understanding Life Insurance, we showed you what decisions you need to make before purchasing a life insurance policy, such as: 
What type of insurance

you want to buy: Term Live vs. whole Life (we recommend term life insurance).



How much insurance

you want to buy (we recommend 10X your annual salary).



What policy term length

you want to buy (we recommend a minimum of 10 years).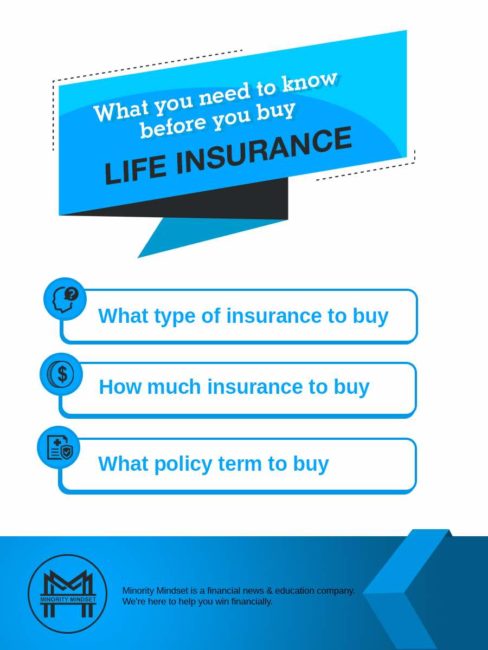 The amount of insurance you purchase and your policy term length is flexible, and you can tailor these things to fit your personal needs and budget. 
What type of insurance you buy (term vs. whole) shouldn't be a question, though, because:
Term life insurance is the only option that makes financial sense for Minority Mindset fans.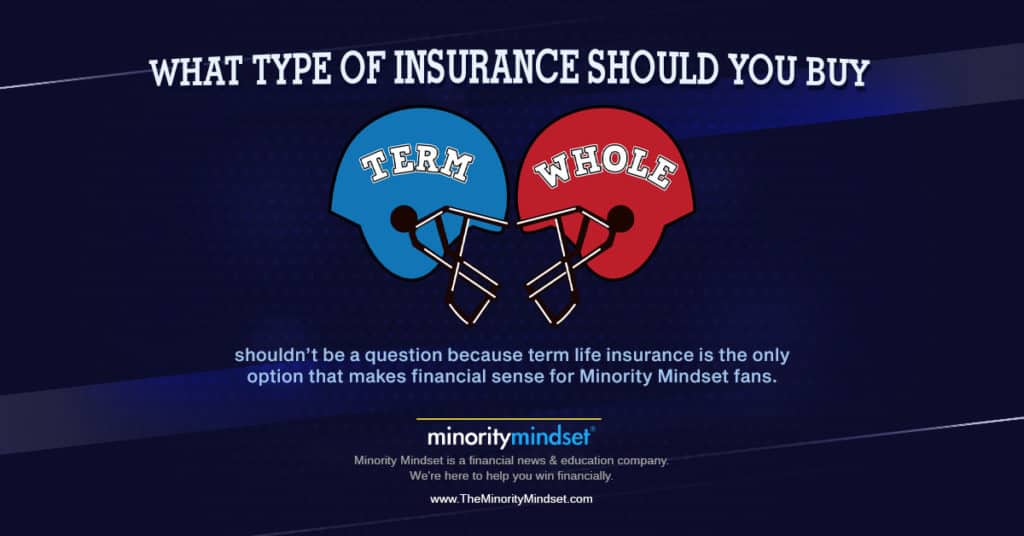 Whole life insurance is a poor investment strategy that masquerades as life insurance. 
Prices vary depending on factors such as your age and health, but if you're a healthy 35-year old man:
Whole life insurance costs about $800 a month

for the rest of your life

.

Term life insurance costs roughly $30 a month or less, for the length of your term, for the same amount of coverage as the $800/mo. whole life policy.
Once you research your options and decide what type, term, and coverage you want to buy, you're ready to compare rates.
Step #2 – Find a Trustworthy Insurance Broker
When it comes to life insurance, the best policy is the one that offers you the coverage you're looking for at the lowest rates.
So how do you obtain rates and compare quotes without getting hounded by salespeople?
Trustworthy insurance brokers aren't incentivized to sell you one policy over another, which means their interest in finding you the best policy at the best price is genuine.
Insurance brokers are professionals that research and make recommendations with the client's best interest in mind.
For example, Policygenius insurance brokers provide quotes by phone or online, and their services are free. 
We recommend Policygenius because they always have their clients' well-being in mind, and are more interested in answering your questions and researching on your behalf than earning a quick buck.
I want to get a free life insurance quote from Policygenius.
Once you find an insurance broker you can trust, you're ready to compare life insurance rates.
Step #3 – Compare Term Life Insurance Rates
You can call an insurance broker directly if you'd like to talk to someone about term life insurance rates. 
Obtaining quotes online is easy, though, and you can get a rate comparison in less than three minutes.
For example, Policygenius begins the application process by requesting your zip code.
Next, they ask if you want human support or if you'd rather fast-track your way to rate comparisons by filling out an online application.
If you decide to apply for life insurance online, you'll need to enter some basic information like:
Gender

Date of birth

U.S. Citizen?

Are you married?
At this point, you're only about 2 minutes away from receiving your quotes.
Next, you'll answer some basic health-related questions about yourself and your family, such as:
Whether you've been treated or diagnosed with any serious illnesses




Whether there are serious illnesses in your immediate family




Whether you've had your license revoked in the past five years, or received more than one ticket, or been in more than one accident



Finally, you'll decide when you'd like your coverage to begin. It usually takes insurers an average of 4 – 6 weeks to send you an offer, and you'll probably need to take a simple, free, routine medical exam.
If you choose to wait the average amount of time for a life insurance offer, then you'll go to the next screen and enter your email address.
Next, you'll select the amount of coverage you're interested in and choose the length of your term.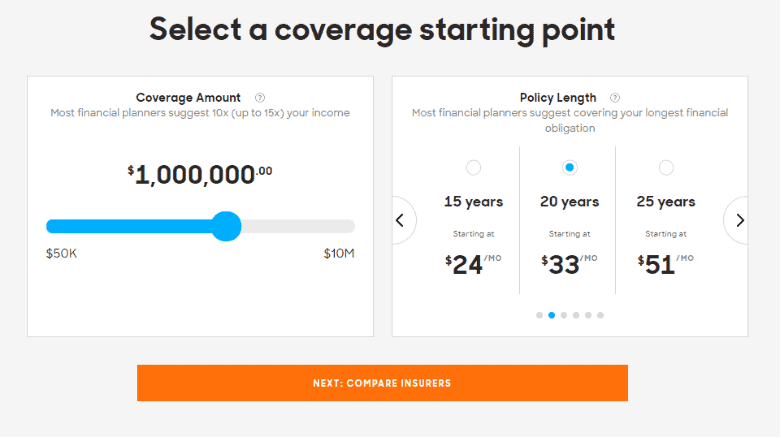 Policygenius
Once you choose your coverage and term, your quotes appear on the screen.
Here's an example of a life insurance quote for a 35-year old non-smoking man with no serious health issues and no tickets, accidents, or license revocations in the past five years.
Term Life Insurance:
Sample quote from January 2020
35-years old, no health issues, tickets, accidents, or license revocations
Coverage: $1 million
Term: 10 years
Fixed Monthly payments: $18.92
Now that you've got life insurance quotes, you can set them aside and think about whether you want to take the leap and purchase a policy.
Just kidding. 
Make it happen! That's our motto at Minority Mindset — so why procrastinate? Take a few more seconds to complete your application and make it happen today!
In the next and final step, you'll enter your name, address, email, and phone number. 
Most insurance brokers won't share your phone number, but you should check for a guarantee on the form. 
To wrap up your application, enter your email and address on the last screen, then submit your life insurance application for review.
Congratulations! You've just taken the financially-responsible step of protecting your loved ones.
Understanding Life Insurance Means You Can Protect Your Loved Ones For a Fraction of the Cost
Whole term life insurance can cost more than 10X more than term life insurance and is a poor way to invest your money.
Term life insurance is a responsible and affordable risk-management strategy to cover you as you are building your assets and investments.
Reaching out to a trustworthy insurance broker to help you purchase term life insurance helps you get the best policy at the best price, and only takes a few seconds.