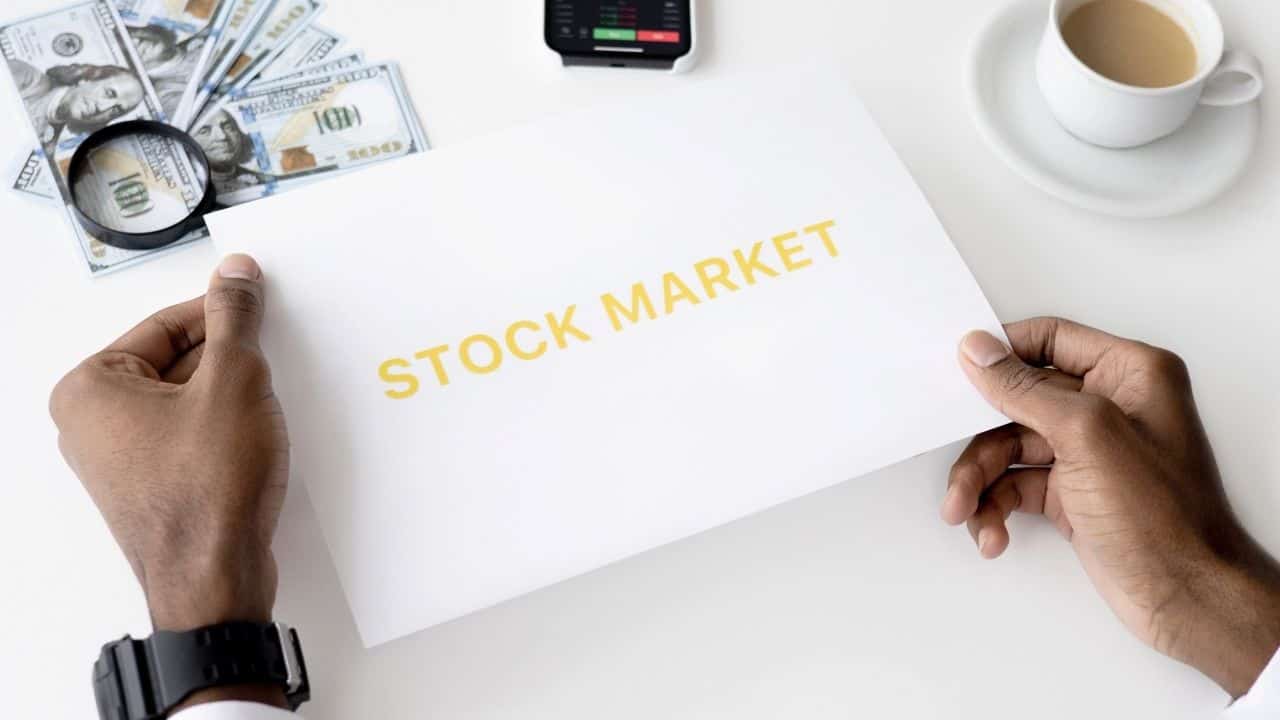 Disclaimer
We only endorse products that we truly believe in. Some of the links below may earn us some extra guac at no additional cost to you. Please pass the chips & thank you for feeding our habit.
Learning how to navigate the ups and downs of the stock market feels overwhelming, especially if you are a complete beginner who just wants to start diversifying your portfolio. I remember my first forays into the stock market and how much I struggled to learn with few resources available to me.
According to Minority Mindset polls, most investors are more apt to invest in the stock market over other types of investments such as cryptocurrency. This increased interest in the stock market very closely aligns with the increase in resources that are now available if you want to learn how to make the most of stock trading. 
Market Insiders is the top resource for how to learn about stock trading because it offers real-time coaching calls and up-to-date information. Free resources can include the blog and financial library at M1 Finance or the tutorial section of Investopedia. Investors may also use classic texts.  
For more information on the resources at your disposal for learning more about stock trading, here are three sources you will want to check out today.
How to Learn About Stock Trading
Beginners will have a steep learning curve when it comes to investing in the stock market. It can take years of experience to learn how to make financially savvy moves, but investors can speed up the process by immersing themselves in educational resources. Whether you want something free that you can find on the internet or a more custom approach like coaching, there are a few resources that you should know about. 
If you want to learn about stock trading, these three resources will be absolutely essential for you.
Market Insiders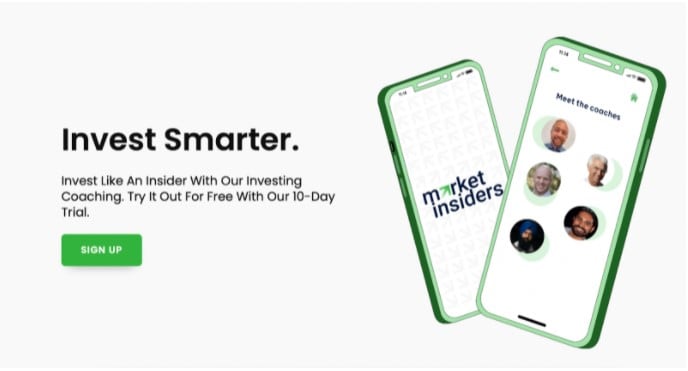 If you are serious about learning how to invest in the stock market, then you need a customized approach to learning. Market Insiders can offer exactly what you are looking for along with a few other perks. This coaching program allows you to benefit from the errors and mistakes that were made by seasoned investment professionals for both the stock market and real estate investing.
Coaching Calls
Weekly coaching calls will help investors to make sense of what is going on in the stock market and how they can wisely invest their hard-earned dollars. 
While they do offer coaching for stock market, cryptocurrency and real estate investments, you can choose your level of involvement with any option. Investors who are interested solely in learning about stock trading can attend just the stock market coaching calls and ignore any real estate calls that are scheduled. 
One important thing to note about Market Insiders is that these coaching calls are held live. This means that you are getting real feedback and information that can be immediately applied to your investment portfolio. Based on current events, the coaches on the Market Insiders team can help you figure out what each market change means for your overall investment strategy.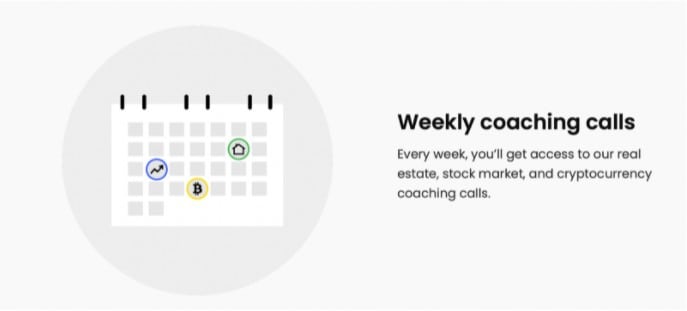 Benefits of Market Insiders
Other perks to joining Market Insiders include: 
Free Stock Market Investing Class

Access to previously-recorded coaching sessions

A private Discord community of like-minded investors
The Stock Market Investing Class is a great starting point if you know absolutely nothing about the market. It is equally great for seasoned investors who want a quick refresher course on how they can make the most of their investments. 
Market Insiders will equip investors with every tool they need to make their first stock purchase. 

If you want to be mentored and coached through the process of trading on the stock market, Market Insiders should be your first stop. The coaches won't tell you what stocks are the best buys, but they will help investors to make sound decisions when it comes to investing money. 
Best of all, Market Insiders offers a 10-day free trial where you get access to everything listed here. Try it out worry-free and see how much information you can glean from their treasure trove of resources before you commit to a membership (priced at $27 per month).
M1 Finance Blog
Some investors prefer a less personalized approach to learning about how the stock market works. For those who aren't ready to commit to Market Insiders and its robust coaching program, then M1 Finance offers a detailed blog that can help anyone get started with their first few trades. 
The information you receive from the M1 Finance blog may not be as in-depth or detailed as that offered by Market Insiders, but it is still a great resource for trending topics. You can learn how to research stocks like the experts and about stock splits among other things. 
One of the major benefits of utilizing the blog found through M1 Finance is that it covers more than simple stock market investments. Investors will also get a crash course in how to manage their money more effectively in other ways. Learn more about how to conduct a personal finance audit, mistakes to avoid when filing taxes, and more.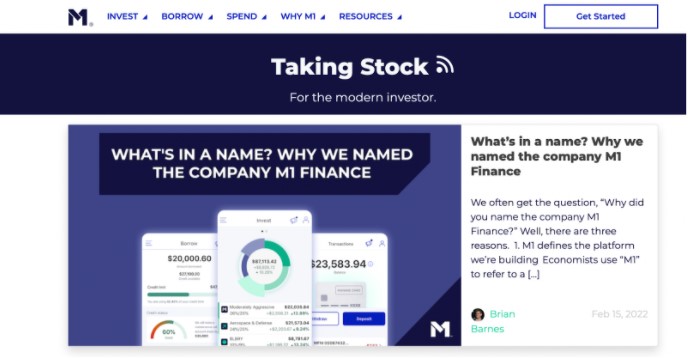 While this plethora of information is one of the main draws to the M1 Finance blog, it also has its disadvantages. You must constantly check for the more recent posts as some of the older ones may contain outdated information. 
Unlike Market Insiders that coaches you on how to invest in the stock market in real time, you will have to consider whether the information in each blog post at M1 Finance is applicable to the investment you want to make at this time.
M1 Finance Financial Education
While the blog is a great resource for those who want to find current information on investing and setting general finance goals, there is another aspect of the M1 Finance website that you may want to explore further. The company genuinely wants its investors to have a solid grasp on how the stock market works. 
To this end, they have created a library of finance articles to give absolute beginners the details they need to safely conduct their first trade on the stock market.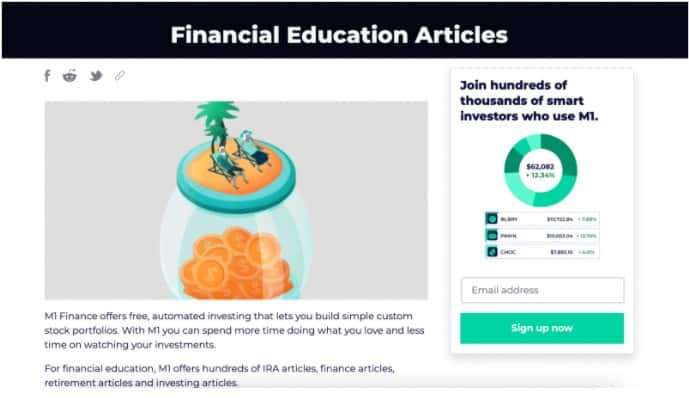 In their library, investors can go over the very basics details that are necessary to learn about stock trading and managing their personal finances, including topics like: 
Definition of a mutual fund

How to establish an emergency fund

Top investment apps

Information on IRAs for retirement savings 
Investors still want to keep in mind that these resources do not detail current events. They are evergreen content that can introduce the concepts that are most important to an investor who is just beginning to dabble in investments and the stock market. For more current information, see their blog.