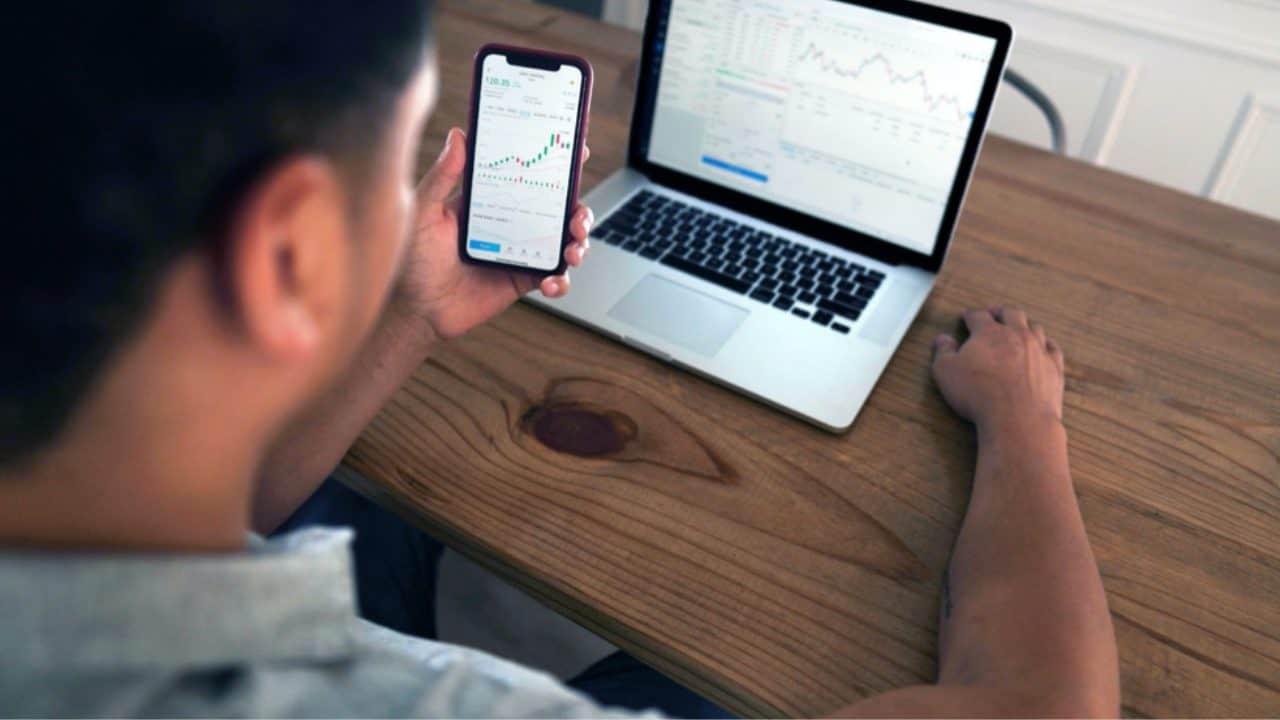 Disclaimer
We only endorse products that we truly believe in. Some of the links below may earn us some extra guac at no additional cost to you. Please pass the chips & thank you for feeding our habit.
The idea of investing was intimidating to me for a lot of years. And the big reason behind that was probably because I had no idea what I was doing. I was setting aside money in a 401(k) at my first job out of college, but I was clueless about what that investment actually meant.
And by no means was I aware of the holdings within that investment account or the fact that I had any say in it whatsoever.
But luckily, I've learned a thing or two over the last decade as an investor. And understanding the value of index funds as wealth-building tools is one of those things. But just like not all investments are created equal, not all index funds are equal.
| Platform | Promotions | Link |
| --- | --- | --- |
| | Get a cash bonus of $30-$500 when you deposit $1,000+ in the first two weeks. | Invest Today |
| | Get one free stock priced up to $225 when you link a bank account. | Invest Today |
| | Get two free stocks when you deposit $5 within 30 days. | Invest Today |
| | Start investing with as little as $1. | Invest Today |
That's why being able to research, find, and invest in the right index fund for your financial situation is key. So if you're ready to dive into index funds, here's everything you need to know.
In this article, we'll cover:
What is an Index Fund?
An index fund is a popular investment option where the holdings in the fund track a broader market index, like the S&P 500. Each index fund can hold tens, hundreds, or sometimes thousands of company stocks or bonds.
These funds are passive investment options because the holdings track the companies in the index and have much lower turnover than a fund where someone is behind the scenes moving companies in and out based on performance.
And because there isn't someone behind the scenes actively choosing the stocks, index funds tend to have much lower management fees, meaning they're cheaper investment options.
What is an Exchange-Traded Fund (ETF)?
Exchange-traded funds (ETFs) are very similar to index funds. They started gaining traction in the 90s as a low-fee passive investment option to rival mutual funds. ETFs are investment assets that hold tens, hundreds, or thousands of company stocks or bonds that can track an industry, commodity, or index.
Where Do Mutual Funds Fit In?
When you're discussing index funds and ETFs, mutual funds are bound to make an appearance. Mutual funds are another investment option that offers instant diversification compared to choosing individual stocks or bonds for your portfolio.
But while index funds and ETFs are both passively managed, mutual funds have a fund manager pulling strings and regularly changing the holdings. And you end up paying more for that service.
Mutual funds have more in common with index funds than ETFs. There are investment minimums investors need to meet, and mutual funds only trade once a day. Plus, mutual funds also have higher tax implications because the fund manager is constantly buying and selling holdings in an attempt to beat the market.
Index Funds vs. ETFs: What's the Difference?
While index funds and ETFs share many similarities, like being low-fee and offering instant diversification, they also have key differences that may make one a better option for certain investors.
The minimum purchase amount
Index funds typically have a minimum initial investment of a few thousand dollars. On the contrary, ETFs can be purchased for any amount and are available in fractional shares.
For example, when I first started buying VTSAX (Vanguard's total stock market index fund) for my Roth IRA, I had to put in an initial investment of $3,000. Once I had $3,000 to buy into that particular index fund I wanted, I moved to weekly contributions to purchase fractions of the same index fund going forward.
But my Acorns account has VOO (Vanguard's total stock ETF), which I was able to start trading from day one with just a fraction of my $15 weekly Acorns investment.
The minimum purchase amount set on index funds puts up a slight barrier to entry that doesn't exist with index funds. For this reason, many people, myself included, choose to use index funds in retirement accounts, where you generally have more money available to buy into them.
How often they're traded
ETFs can be traded throughout the day the same as stocks. But index funds can only be traded once per day, like mutual funds. That makes ETFs a natural choice for day traders who can look to turn a quick profit by buying into and selling ETFs all day long.
But index funds tend to be favorable for long-term investments like retirement account holdings.
Tax implications
You'll have to pay capital gains tax anytime you sell shares of an index fund or ETF (or mutual fund, real estate, or virtually any investment besides your Roth IRA). But ETFs are touted as the most tax-efficient investment vehicle because there are fewer taxable events when funds in an ETF are changed by a fund manager vs. similar changes in an index or mutual fund.
Since an index fund has to buy and sell its holdings to adjust to the companies within a particular index, those capital gains may be passed along to fund holders.
But, generally, the holdings in an index fund change so infrequently that these tax implications may be inconsequential over the long term.
Pros and Cons of Index Funds and ETFs
Now that you're aware of the differences between index funds and ETFs let's dive into the pros and cons of these investments.
Pros
Low fee: The expense ratio of index funds and ETFs are significantly lower than their actively managed counterparts, mutual funds.
Low effort: Index funds and ETFs are very "set it and forget it" investment options. Your investment will ebb and flow with the broader market index without you needing to worry about what an individual company is doing.
"Safer" long-term investment option than stocks: Since index funds and ETFs track a broader market, they tend to perform at levels that don't stray too far outside the norm. While stocks could have a day of trading that puts them extremely high or low, most indexes and ETFs stay fairly consistent by sheer virtue of having a large number of holdings less susceptible to large swings.
Consistent returns: On average, index funds deliver solid returns. Take a look at VTSAX, which I mentioned above. Over the past decade, its returns average about 13%. That's pretty awesome, and at a .04% expense ratio, most of those returns are staying in investor's pockets. For example, let's say you invested $10,000 in VTSAX ten years ago and contributed only $1,000 per year since. Compared to another fund charging an expense ratio of 1%, you'd end up saving over $2,000 in fees.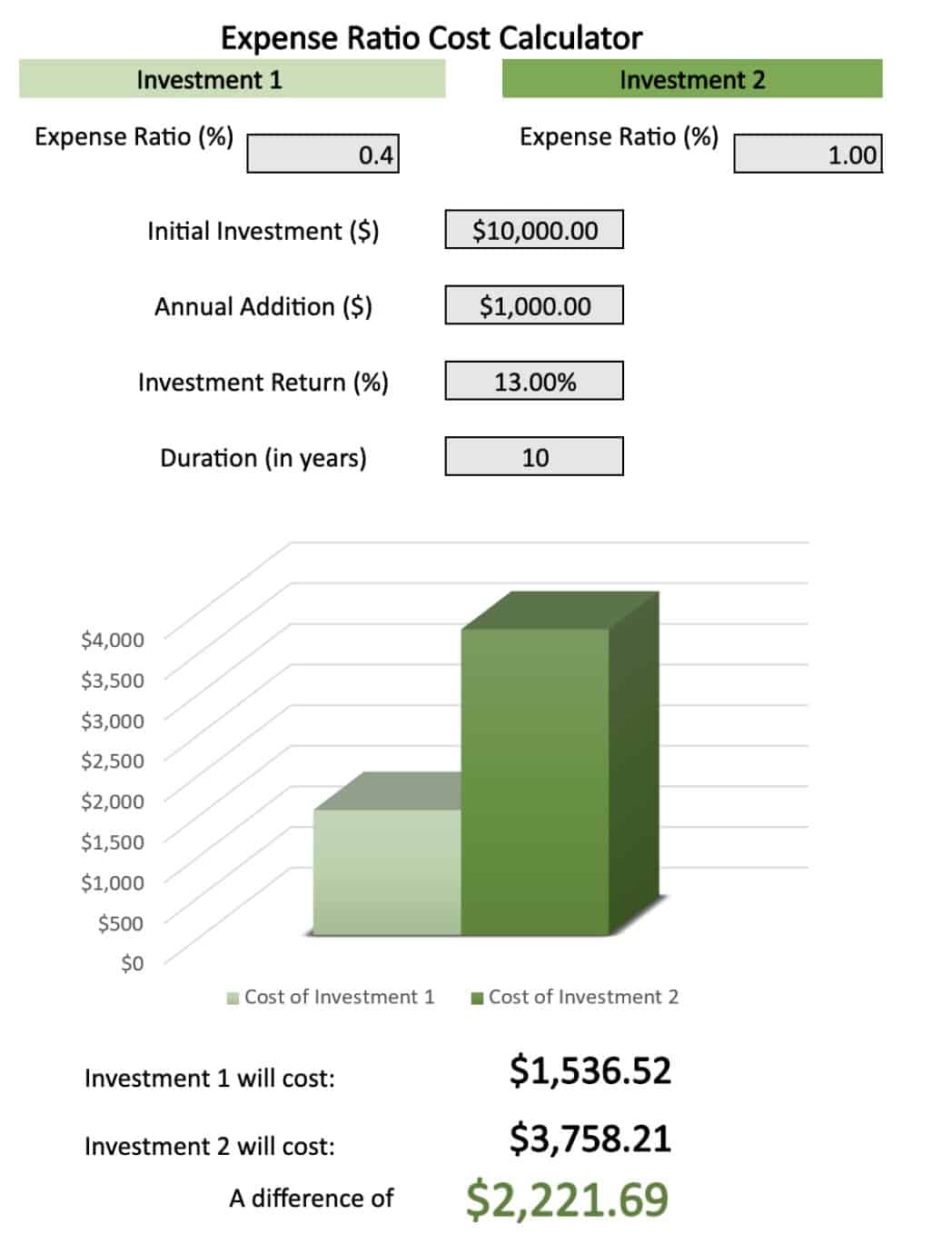 Cons
No control: Since index funds and ETFs track a broader market index, you can't remove a single company if you disagree with their business philosophy. You'd have to pull your investment in that particular fund entirely and opt for one where you agree with all of the funds included.
Vulnerable to market swings: Funds that track markets are susceptible to the volatility of markets. If everything takes a dive in the large-cap tech world, it's likely your large-cap index fund is going to take a dive too. But it's wise to keep in mind that generally, the markets trend upward over time.
How to Find the Right Index Fund or ETF to Invest In
Decide on your investment vehicle: Determine whether you're looking to buy an index fund or ETF for an IRA, employer-sponsored retirement plan, or taxable brokerage account.
Decide where you'll buy: You can purchase index funds and ETFs through any major brokerage firm, like Vanguard, Fidelity, or Charles Schwab. If you're not down with the big brokerage firms, you may opt for a more tech-focused investment platform like Acorns or Robinhood instead. Be sure the account you choose to use has minimum investments you can afford. Each time I want to add a new index fund to my Roth with Vanguard, I know it'll be $3,000. But that's a price I'm willing to pay to play with Vanguard.
Choose your index: While the S&P 500 is the most popular index tracked by index funds, other options are available. If the account you want to invest in already has a large-cap S&P 500 fund, look at another index that tracks small-cap companies, like the Russell 2000.
Research: When you research an index fund or ETF, look at:
Fees: Index funds and ETFs are historically low fee options. But that doesn't mean that all funds will have equal fees. So shop around and consider how much you'll be investing over time. As you shop, look for the keywords "expense ratio." This calculates what portion of fund assets are going towards management, compliance, administration, and other fees. Actively managed mutual funds will have a slightly higher expense ratio than passively managed index funds and ETFs. While at face value, a .02 and .04 expense ratio look pretty close, but if we're talking about hundreds of thousands of dollars over the life of the account, it may end up making a huge difference in the future. That's because what's removed in fees gives your money less time to grow and make money too.
Your existing portfolio's diversification: The right index fund or ETF investment will help to balance your portfolio. If your Roth (like mine) is heavy in large-cap funds, you may opt for a small or mid-cap index fund to balance it out. Also, consider international, emerging markets, and impact funds as points of diversification.
Historical returns for the fund: While past performance isn't always an indication of future returns, it can paint a pretty decent picture of what you may expect from the fund going forward.
Tips Before You Invest
Before you jump into any index fund, be sure to:
Get your financial house in order first. Prior to pursuing any new investment, be sure your finances are in a stable place. That means you have a fully-funded emergency fund, no high-interest consumer debt like credit cards or personal loans, and you're meeting all of your monthly bills.
Figure out what you can afford to invest. What you invest should be part of your discretionary income. That means money that's leftover after all essential expenses, like rent, transportation, and food, are covered.
Outline your investment goals. Figure out how long until you plan to need the money you're ready to invest. If you want to use the money to buy a house in 3 years, you may not want to subject it to the volatility of an index fund. Even though they're a lower risk, it's still the stock market, and there's a chance you could lose money over a short time horizon. But if you're making a long-term investment into a Roth IRA, consider setting up weekly or monthly recurring investments to build wealth.

The Bottom Line
Investing in index funds is a simple process once you understand them and research the best funds for you. When deciding on investing in index funds, remember:
Index funds and ETFs are very similar, but they have fundamental differences in taxes, how frequently they're traded, and investment minimums.
ETFs and index funds are both very low fee and low effort, but keep in mind that these are still investments, which means they're subject to market swings, just not as drastic as picking individual stocks.
Before jumping into an index fund investment, be sure your investment aligns with your financial goals, and you're only investing what you can afford.
Choosing the right index fund is going to take time and research. But finding the perfect fit is going to make your financial life simpler. And index funds will deliver a well-diversified investment option that hopefully brings balance and stable returns to whatever investment vehicle you choose to place them in.