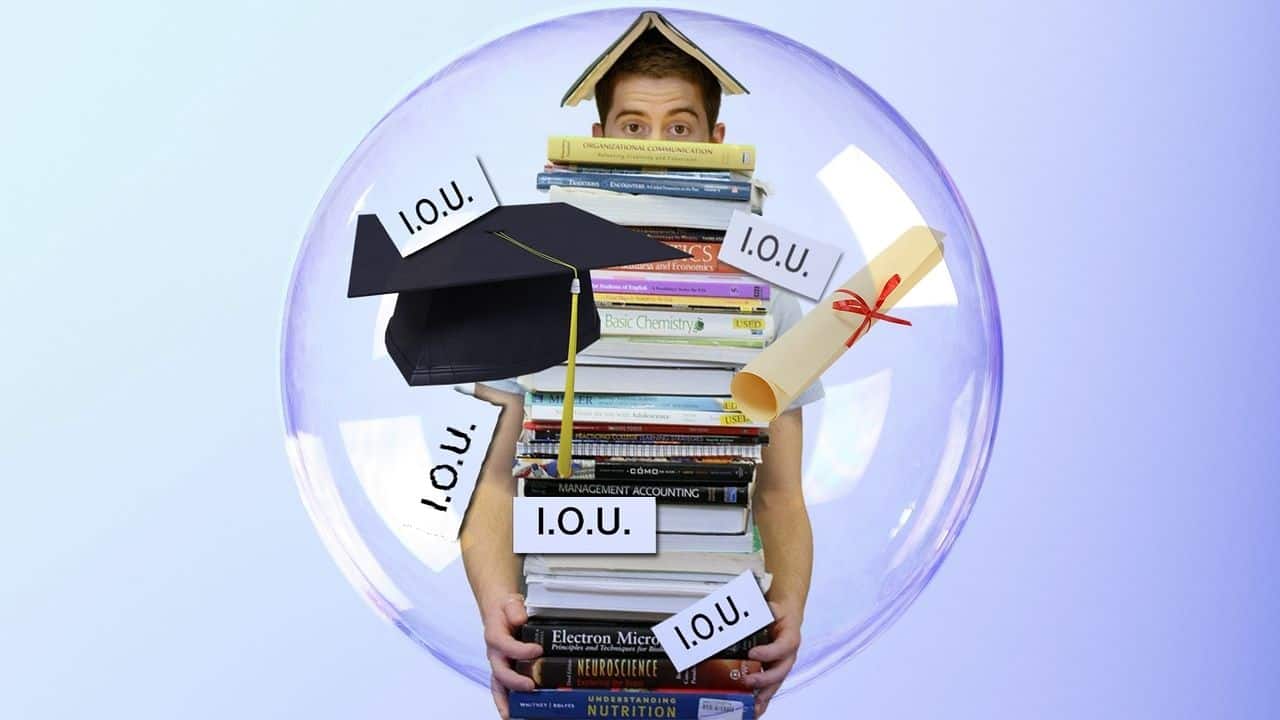 Disclaimer
We only endorse products that we truly believe in. Some of the links below may earn us some extra guac at no additional cost to you. Please pass the chips & thank you for feeding our habit.
The COVID emergency relief for federal student loans, which began on March 13, 2020, will end on May 1, 2022.
As of February, all people with student loan debt are responsible to begin making their regular payments on time again.
Unfortunately, instead of returning to a pre-pandemic norm, many Americans made it through the crisis only to find themselves living a new "normal."
The new normal, for many people, means working fewer hours (often for less pay) even as food, gas, and housing prices have taken a shocking jump up.
Reduced incomes combined with a higher cost of living mean that many will face some very real struggles when student loan payments return.
In this article, we show you how to survive the return of student loan payments.
Whether you're struggling to figure out how to make the payments work with your budget, or wondering how to wipe out your student loan debt faster, you'll find tips to guide your financial path below.
What You Need To Know About Student Loan Payments In 2022
Student loan repayments will resume at the end of January 2022.
That means if you took advantage of the COVID-19 emergency relief for federal student loans, you'll want to prepare to resume your monthly payments by February.
According to a report by StudentAid.gov, there are several things to understand and steps to take before payments resume.
If you paused your student loan payments during the pandemic, there are a couple of tasks you'll want to take care of before the beginning of May 2022:
Update your contact information on StudentAid.gov and on your loan servicer's website.
Log into your loan servicer's website before May 2022 to find out your exact payment due date and amount, since it likely has been recalculated to reflect your current interest rate and balance.
You should receive a bill at least 21 days prior to when your next payment is due, however, you're better off to take a proactive approach and check on the information personally through your loan servicer's website. That way if mail service is behind or the bill doesn't reach you on time, you won't be taken by surprise or risk making a late payment.If you don't know who your loan servicer is, you can log in to your Federal Student Aid dashboard and go to My Aid>View loan servicer details to find out.
If you paused your loan payments and they were previously on auto-pay (automatically debited from your bank), you may want to check with your loan servicer to confirm future payments.
According to a report by StudentAid.gov, here's what happens if your student loan payments were on auto-pay:
If you signed up for auto-debit before March 13, 2020, you'll need to approve your auto payments before they start again. StudentAid.gov states that your servicer will contact you to confirm whether you'd like your payments to remain on auto-debit, and if they don't get a reply from you, your auto-debits will get canceled.
If you signed up for auto-debit after March 13, 2020, the auto-debit payments will resume on their own once payments begin again.
If yours is a Perkins loan, your payments will continue to auto-debit if you have continued making auto-payments all along. If you paused payments, however, you'll need to re-enroll in auto-debit payments.
If you have loans in default, contact the Department Of Education Default Resolution Group about your options.
To ensure that your auto-debits proceed as planned (or not), it's safest to confirm them on your loan servicer's website.
What To Do If You Can't Afford Your Student Loan Payments
If you're concerned that you may not be able to resume your loan payments as expected, there are several ways to avoid severe penalties, default, or a compromised credit rating.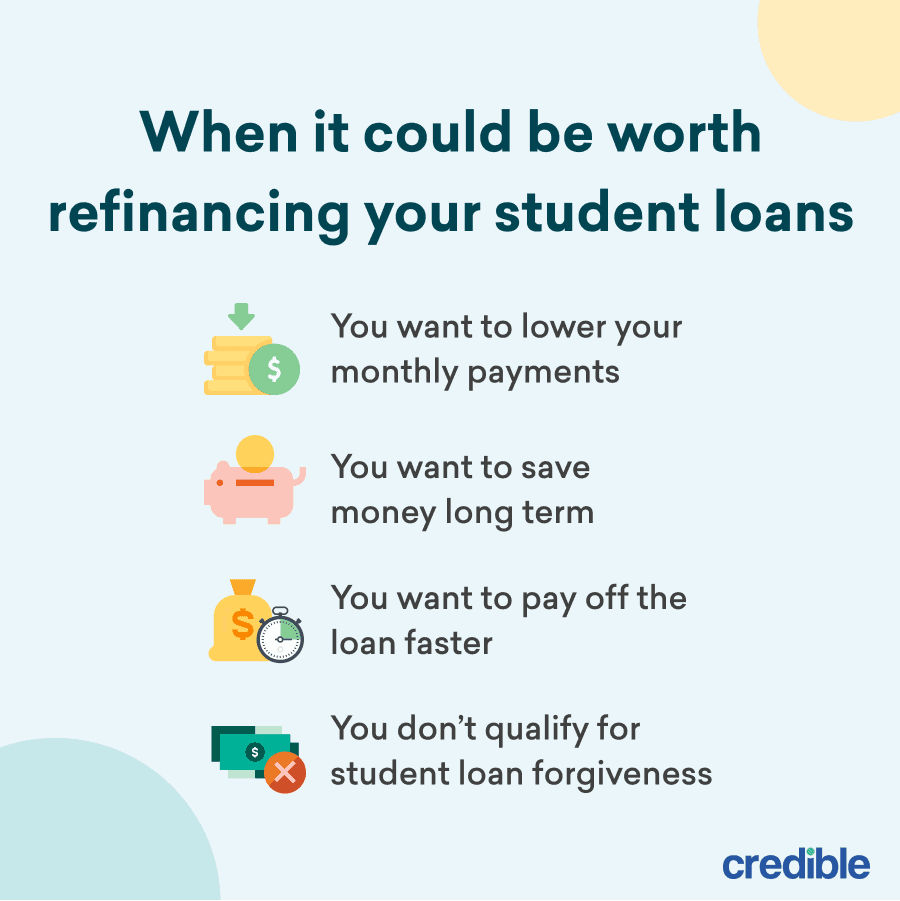 Some of your options include:
Reach out to your loan servicer to set up an income-driven payment plan.
Refinance your student loan to lower your monthly payments.
Pick up a side job that can help you afford your monthly payments.
Adjust your lifestyle so that you can afford the payments.
Contact StudentAid.gov for free guidance.
Whatever you do, don't ignore your student loan payments because the penalties, fees, and interest can snowball and severely affect your financial future.
We explore your best financial options in detail later in this article, but first, let's take a look at what you shouldn't do when loan payments become overwhelming.
Why You Can't Ignore Student Loan Payments
Skipping your student loan payments can affect more than your credit rating.
Missing one or two payments can affect your credit and make it difficult to get caught up financially.
The longer you let your payments slide, the more severe penalties you incur.
If you get more than 270 days behind on payments your loan can go into default, giving the government rights to:
Take up to 15% of your paycheck.
Take your tax refund.
Take part of your Social Security benefits.
For example, disabled veteran Rick Tallini of Long Island, New York had trouble making his payments for 26 years.
Originally, Rick worked a full-time job while attending law school at night.
He finished law school with $60,000 in student loan debt.
Because he had trouble finding steady employment after law school and never got quite his footing as a lawyer, Tallini was unable to make steady payments on his student loan debt. After years of struggling with unemployment and underemployment, his loans went into default.
Even after filing bankruptcy, Tallini's student loan debt was not cleared but instead continued to grow.
Ricks's original $60,000 in loans grew to a $350,000 balance over the course of 26 years.
Twenty-six years after graduating, the disabled veteran now struggles to keep his loans out of default to protect his Social Security benefits.
Avoid Income-Driven Repayment Plans If Possible
If you can't find a way to afford your payments, you might consider enrolling in an income-driven repayment plan (IDR) to help you avoid defaulting on your loans. The US Department of Education provides several repayment plan options for people who can't afford their current payments.
We recommend you avoid income-driven repayment plans because they aren't a healthy path to a financially solid future. 
The problem with IDR's is that you can end up owing more than you borrowed even when you make on-time payments for years.
IDR plans adjust your monthly loan payment to an amount you can afford, which may be as low as zero dollars per month.
However, income-driven repayment plans come at a very high price. 
At a time when your money is scarce, yet probably still hard-earned, the delayed costs associated with IDRs can put you so deep in debt that even your future grandchildren may be affected.
An IDR can lead to out-of-control interest fees that accrue over time and put you deeper in debt than when you started.
When you pay student loans on a sliding-fee scale rather than sticking to the original (typically 10-year) plan, you can expect your overall loan balance to grow over time.
That's because lenders keep charging interest regardless of what you can afford.
Often, the monthly payments you make on an IDR plan can't keep up with the cost of the loan itself (interest).
If you remain on an IDR plan for a long period of time, your loan balance could end up larger than the amount you originally owed — even if you make every payment on time.
For example, Kaitlyn Blount Crow graduated in 2015 with a degree in communications and $31,000 in student loan debt. She struggled to find a reliable job in journalism — or any full-time job at all. Crow enrolled in a federal-driven income repayment plan that adjusted her payments according to her earnings, which sometimes meant she didn't have to pay anything at all. When she landed a full-time job, Crow began making $150 monthly payments, (which still wasn't enough to cover the interest portion of her loan).
After making $2,249.28 worth of loan payments, Kaitlyn's balance was $3,448.76 more than what she originally borrowed. What began as Crow's $34,000 in loan debt grew to $34,448, even though she made her payments on time as agreed.
Crow's story isn't unique.
Many people make student loan payments on time every month only to watch their balance get bigger over time.
Twitter user @MyP_Chicago, shared a balance statement on Twitter that displays a starting debt of $42,558 that grew to $44,208.08 even after $18,140.00 in payments.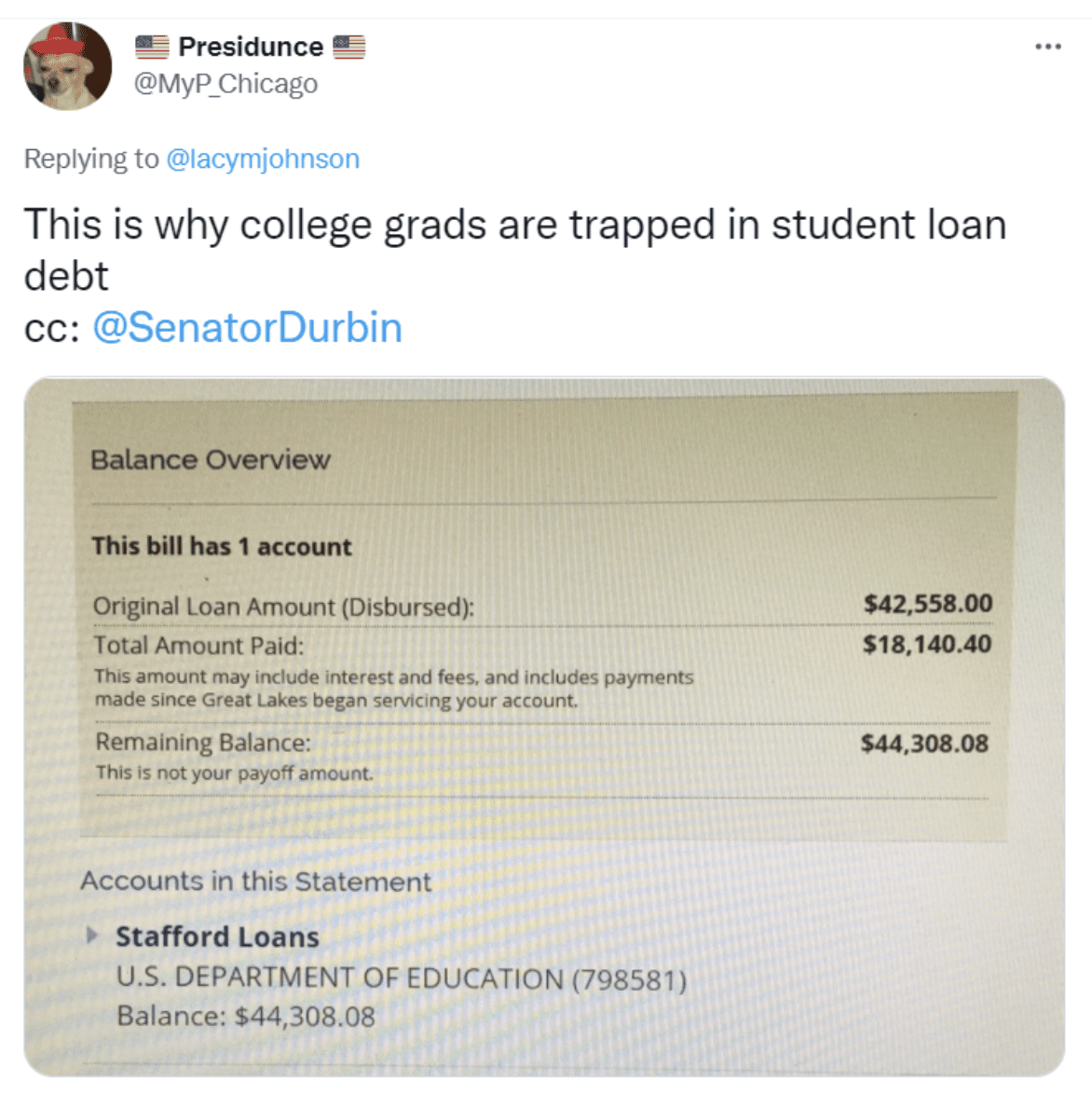 A normal person assumes that making on-time payments every month means their loan balance gets lower and lower over time until it's eventually paid in full.
When you sign up for income-based payments, though, the interest that builds up can be greater than your loan payments. That means you never catch up on the interest or make a dent in your principal balance.
Twitter user @bsaturnineba started out with $120K in loans that grew to $137k, despite never missing a payment in seven years.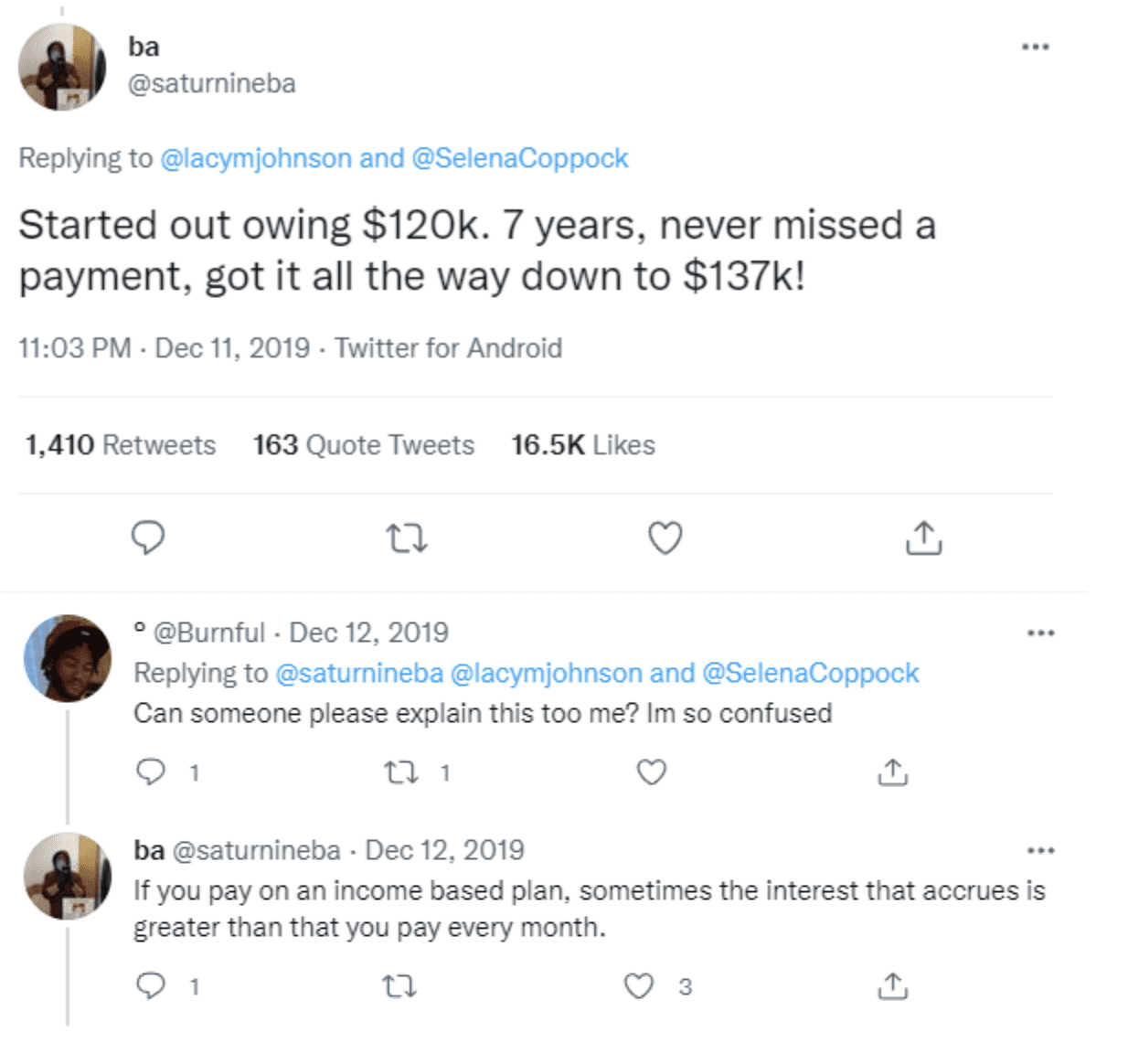 When another user asked how that's possible, @bsaturnineba explained: "If you pay on an income based plan, sometimes the interest that accrues is greater than that you pay every month."
If you absolutely cannot afford to make your student loan payments and an IDR is your only option, it is better than skipping payments or allowing your loans to default.
However, an IDR should be your last resort and it's critical that you come up with a plan that ensures you won't be on IDR for long.
Long-term use of IDR plans means you may risk compromising your family's financial future for many years, or even for life.
Avoid Counting On Loan Forgiveness Programs
There's a misconception that if you fall on hard times and can't pay back your student loans, they might somehow be "forgiven."
While student loan forgiveness technically does exist, the instances in which it is granted are extremely rare.
The Higher Education Act expanded loan forgiveness in 2008, but to this date, it has never been funded.
In the past two years alone, 4X more forgiveness claims have been denied.
There are only three ways to qualify for student loan forgiveness, and most people don't fall into any category:
Set up an income-driven payment plan and make on-time payments for twenty or more years.
Work for a qualifying non-profit or public service employer.
Become a teacher and teach for five years, consecutively, in a low-income district or at an educational service agency.
Keep in mind that if you think you qualify and if your forgiveness request does get processed (nearly half get significantly delayed), that doesn't mean you'll get approved.
Very few people get approved for loan forgiveness from the Federal Government.
According to a report by the Federal Reserve and New York Federal Reserve, only 206 people out of 41,221 received student loan forgiveness in 2018.
Think bankruptcy is an option? Probably not.
Getting loan debt dismissed through bankruptcy is a long shot because most people can't prove the undue hardship requirement.
Beware of anyone who asks you to pay a fee to suspend your federal student loan payments. According to USA.gov, these people are scammers and you should report them to the Federal Trade Commission
To summarize, there is almost no chance of getting your student loan debt forgiven or dismissed. You're stuck with it.
What you can do, however, is make a plan to wipe out your student loan debt so that it doesn't affect the lives of your children and grandchildren, or your retirement income, in the future.
Five Ways To Manage Student Loan Payments
Whether you're still recovering from the economic fallout of the pandemic or simply hoping to wipe out your student debt faster, there are three healthy financial ways to approach your debt.
#1 Refinance Your Student Loans
When you refinance a loan, you take out a new loan to pay off the old one.
When current interest rates are lower than the interest rates on your loan, refinancing can lower your payments and save you a lot of money.
For example, on Credible.com, the average borrower saves $17,000 when refinancing.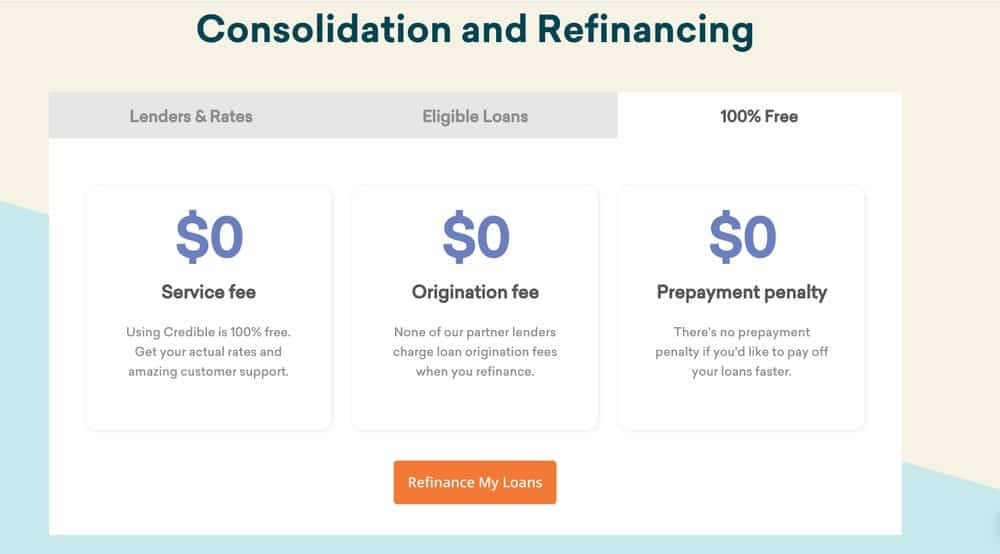 Have you refinanced since interest rates dropped in 2019?
If not, you may be losing thousands of dollars.
Interest rates began dropping in 2019 and hit historic lows by 2020. If you haven't refinanced since the rates dropped, you're losing money.
For example, if you refinance $50,000 in student loans and lower your rates from 6% to 4%, your monthly payments of $650 will likely drop to about $500.
Interest rates fluctuate according to your credit score and what lender you use.
If you have excellent credit and shop around at different lenders, you may be even able to get interest rates under two percent.
Even if you can easily afford your loan payments, refinancing is worth considering since it may help you cut loan costs and pay off your debt years earlier.
The risk of refinancing your student loans is that sometimes lenders encourage you to refinance for more than what you owe, which can backfire in a big way.
Refinancing for more than what you owe is a bad move and can leave debt hanging over your head for an even longer period of time than if you never refinanced in the first place.
When refinancing, borrow only what you owe to avoid getting deeper into debt.
Refinancing can lower the cost of your loan, allowing you to pay it off earlier or lower your typically monthly payments.
Before you refinance, remember to shop around for the best interest rates and refinance only for the balance due on your student loans.
Should You Consider A Consolidation Loan?
A consolidation loan is one giant loan that you take out to pay off all of your debt at once.
You should use caution, however, when it comes to student loan debt and consolidation loans. They aren't necessarily the best option for student loans, for a couple of reasons:
You give up your right to refinance in the future.
You won't be able to take advantage of student loan refinancing in the future because yours won't be a student loan anymore — it will be a consolidation loan.
You will never have the option to enroll in the Federal income-driven payments, no matter what happens in your life.
Federal agencies that provide income-based payment schedules have no power over consolidation loans.
"What I did not realize back then is that by consolidating, I gave up my right to refinance. I watched the offers of 1.2-3% financing come and go without being able to take advantage of lowering my payments. Meanwhile, the amassed interest owed on my loans is almost as much as the amount I borrowed."
– Rosemary Anderson   Watsonville, CA
Consolidation loans can be helpful when it comes to paying off high-interest debt such as credit cards, however, they are not usually the best option for student loan debt.
#2 Pick Up A Side Hustle
Sometimes the easiest way to tackle a problem is to face it head-on and power right through it.
If you can't afford to make your student loan payments on time (or if you want to pay off your debt sooner), picking up some extra work may be the easiest, most painless way to tackle the problem.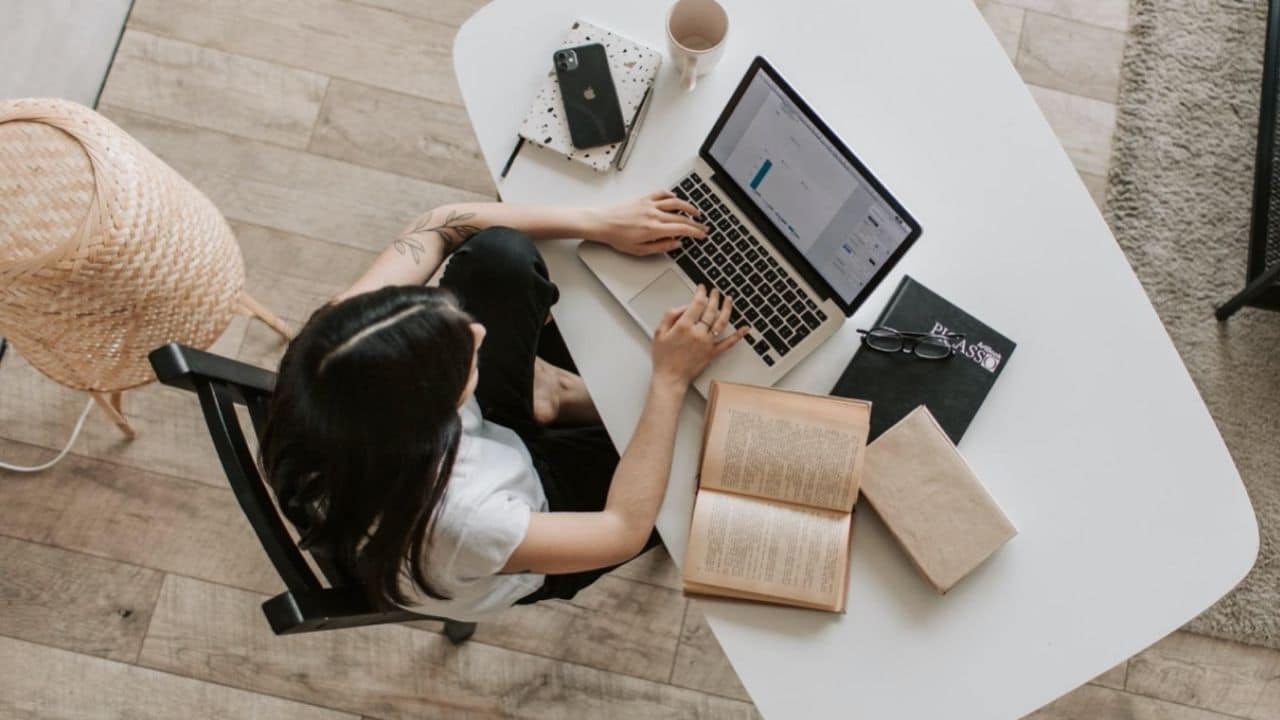 In today's economy, there are plenty of ways to pick up some extra income to help pay for your student loans.
Start your own business: You can start a side hustle tomorrow, without any investment, by offering to mow lawns, clean houses, or walk pets. Do you have any special skills? Use them to start a small local business, such as mobile car repair or oil changes, computer training, or interior design. Got a truck, snowplow, or washer & dryer? Provide junk removal services, snow removal, or mobile laundry services.
Work as an online freelancer (from your home): Use what you learned in college to provide valuable services to businesses, such as writing, programming, or video editing.
If you need more ideas on how to earn extra income (even without a college degree), check out:
113 Ways to Make Extra Money Without Taking Surveys, Selling out Your Friends, or Getting Naked
#3 Adjust Your Lifestyle
Perhaps the quickest way to earn extra money is by cutting your current living expenses.
If you have student loan debt hanging over your head, adjusting your lifestyle for a couple of years may be well worth the sacrifice.
The extra dollars can help you make payments on time so you can avoid the burdens, stress, and limitations of heavy debt later in life.
As you get older, life gets more expensive. Whether it's kids, grandkids, or health-related expenses, life continues to cost more as you move into the future.
By sacrificing a bit on your quality of life today, you may build a stronger financial future and avoid many of the burdens and limitations that come with heavy debt.
For example, you could:
Get a roommate, move in with a friend, or move to a smaller apartment and save hundreds of dollars a month.
Skip prepared, delivered, and take-out foods and cook from scratch instead to save hundreds of dollars each month.
Drive an older car paid for in cash instead of making car payments. This can save you hundreds of dollars per month.
Sell your luxury furniture, clothes, and accessories to earn money to help make your loan payments. This may help you earn hundreds, or even thousands, of dollars to help pay off your student loans.
All of the material things you own and enjoy today will most likely be gone in ten years anyway.
Can you say the same about your student loan debt?
Adjusting your lifestyle to help you make on-time or advance loan payments is a small sacrifice compared to the lifetime of rewards it can return.
Compare student loan refinancing rates in minutes on Credible – try it now!
#4 Ask For A Raise
If you work a full-time job and feel that you bring value to the company, don't be afraid to ask for a raise.
Or, offer to take on additional work for extra pay. For example, if you work at a local business during the day, you might propose developing their blog or marketing the business on social media — after your work hours, from home.
Take a look at your company's help-wanted ads to see if there are any tasks within the job descriptions that fit your talents. It often takes months to find and employ the right candidate, and in the meantime, your company might be happy to hire out some of the tasks to you.
Save $$$ by comparing lenders who will refinance your student loans. Credible finds you the best rates with no hidden fees.
#5 Lower The Cost Of Your Student Loans And Pay Them Off Quicker
By far, the best way to pay off student loans is by paying a little extra toward your balance each year or each month.
Student loans are "frontloaded," meaning you pay more on interest at the beginning than you do toward the principal of your loan.
Making strategic student loan payments, instead of the standard minimum monthly payment, can save you a lot of money and help you pay off your loans earlier.
For example, if you have $50,000 in student loans at a 6% interest rate over ten years:
Paying an extra $50 a weeksaves you $5,200 and your loans get paid off three years early.
Paying an extra $100 a month means you save $3,400 on interest and pay off your loans two years earlier.
Making half-payments every other week, instead of one full payment, each month means you'll make one extra payment each year, saving $1,600 on interest and paying off your loans one year early.
For strategic payments to work, you must have a loan that doesn't charge penalties for early payments. If you're considering refinancing your loans, ask your lender to include a no-penalty early payment clause.
It may feel far-fetched to imagine making higher-than-normal payments when you're struggling with the minimum amount due.
However, you can use any or all of the suggestions above (refinancing, picking up a side hustle, adjusting your lifestyle, and asking for a raise) to help you achieve this final step and make strategic loan payments.
Strategic loan payments are an excellent way to take charge of your debt, instead of letting loans control your life. Taking the initiative to go beyond what's required of you, though, can pay off for the rest of your life.
Taking Charge Of Student Loan Debt
When it comes to student loan debt, there's no easy way out. Income-driven payment plans can raise your loan balance instead of lowering it, even with on-time payments. Bankruptcy rarely dismisses student loan debt. Loan forgiveness is rare.
For most people, the only way out of student loan debt is through it. Refinancing your loans can help you lower costs and monthly payments to something more affordable.
Picking up a side job or adjusting your lifestyle can help you come up with the extra money you need to avoid falling behind and having the debt grow out of control. Strategic loan payments, in which you pay a bit more than what's required, are the #1 best way to lower your debt and get it paid off earlier.
The high price of education is only worth it if you can turn it into a profit.
To do that, you may need to spend a few more years living like you're in college, with long hours and a simple lifestyle.
However, the sacrifices you make now may be some of the best investments you ever make into your financial future.