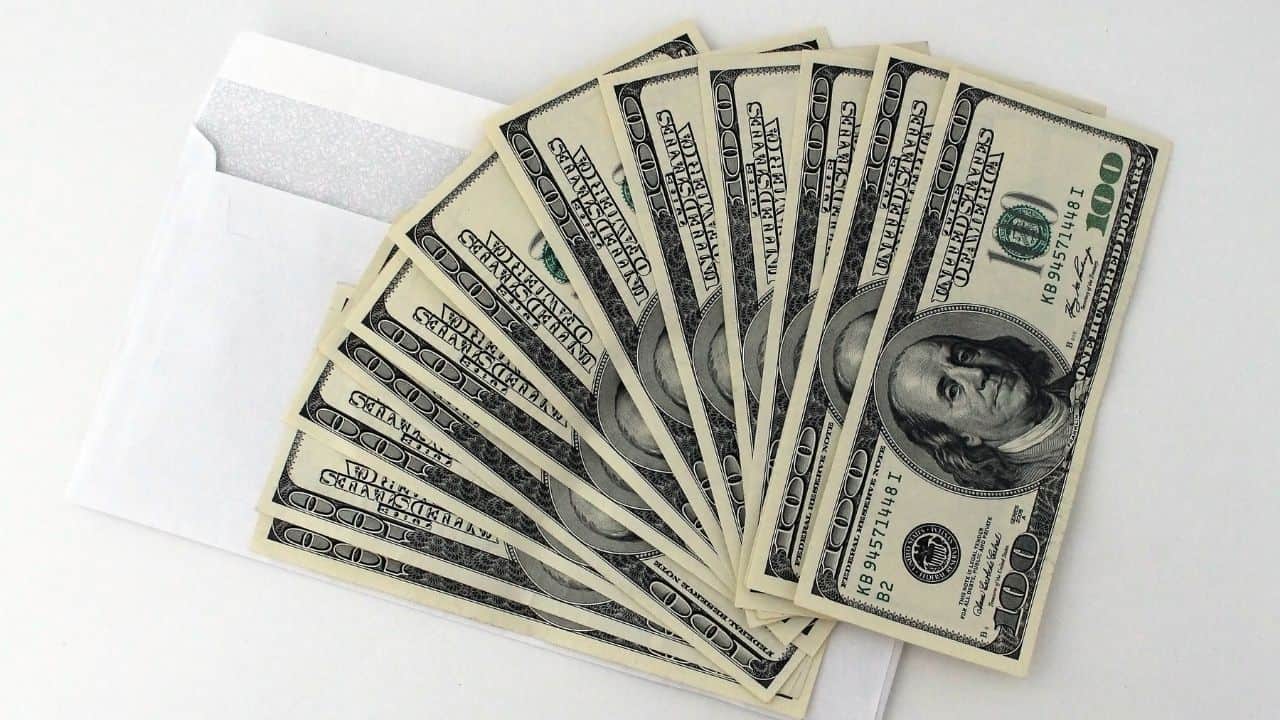 Disclaimer
We only endorse products that we truly believe in. Some of the links below may earn us some extra guac at no additional cost to you. Please pass the chips & thank you for feeding our habit.
Every investor starts somewhere, even if it's just with $100. I remember going to the bank decades ago and learning that the more money I had in there, the more interest the bank would pay me each year. This set me on a journey to learn even more ways that I could make money grow.
But is there a chance that a person could someday earn $1,000 a day from this investment? The answer is yes, but it's going to take a lot of hard work, discipline, and planning under the right conditions.  
It is possible to invest $100 to make $1,000 a day in the future. To be successful, a person will need to use strategies such as buying securities, creating an asset, or acquiring skills that will give them the power to multiply the value of their initial investment several times over.
In this post, we'll explore the possibilities of how a relatively small initial investment could be turned into a future money-making machine. We'll also discuss what other steps are needed to cultivate these initiatives into wealth-generating opportunities 
Your Guide – Invest $100 To Make $1,000 A Day
When we asked our Minority Mindset audience, "Do you want to work a side hustle this year?", the overwhelming majority of you replied Yes! (84 percent). That's great to hear because having a side hustle will be one of the best investments you can make with your spare time.
A side hustle can literally be anything that generates more money. This is so much broader than just the "getting a second job" conventional way of thinking. A side hustle could mean selling products, providing a service, or even just leveraging investment opportunities.
When I think about all of the success stories that have come from such relatively small investments, whether they be in an asset or a person's own abilities, it just proves how many of these strategies exist. With that said, here are five powerful initiatives that I hope help you find your ideal investment opportunity.
1. Learn How To Invest In The Stock Market
The stock market is a place where millions of investors have turned very little into a lot. This is because when you invest in a stock, you're investing in a company that has people and resources who are all motivated to succeed. Choose the right ones, and it could end up making you very, very wealthy someday.
Even an average investor can make money from the stock market through something called compounding returns. These are the earnings that investors make off of their contributions as well as any previous earnings that have accumulated from the previous years.
To illustrate this point, consider how much a $100 investment could be after 50 years of average stock market growth (10 percent):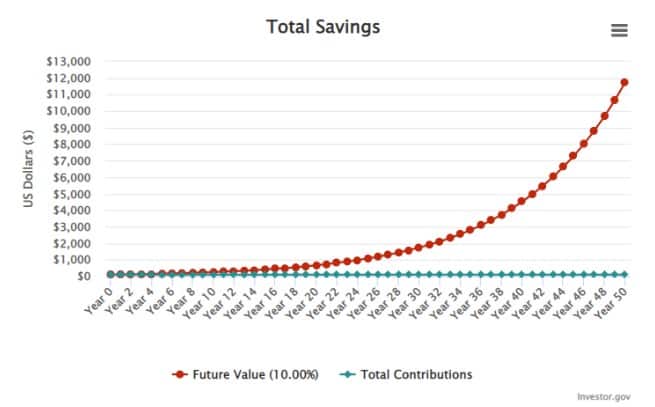 Of course, many stocks do phenomenally better than this. To illustrate this point, take a wildly successful company like Amazon (ticker: AMZN). An initial investment of $100 back in 1997 during their IPO would have resulted in over $200,000 today.
And this is just from the initial contribution. In reality, most investors add more funds to their portfolios over time, and this only increases their long-term earning potential.
So how can you get started? The easiest way for new investors to get their feet wet is to use a trading app.
Trading apps are great because they've reduced the process of investing down to just a few simple clicks. Users can create a profile, link their bank account, and then hit "Buy" when they're ready to invest.
The other awesome thing about a trading app is that they usually have very low minimums. Whereas traditional brokerage accounts might require an initial investment of thousands of dollars, most trading apps will allow users to open an account with as little as $0.
There are two ways someone can earn money through a trading app:
Manually picking investments.

This is where an investor chooses their own stocks, ETFs (exchange-traded funds), or REITs (real estate investment trusts). Users can research their options, consider the long-term prospects, and then put their money into the ones they believe will have the best potential.

Using a robo-advisor.

Investors who want to take a hands-off approach can let a robo-advisor pick their funds. A robo-advisor is just a software program that takes your investment preferences for risk and reward, and then selects your funds for you. This will generally be a collection of ETFs with an asset allocation that aligns with your profile.
While investors should also understand there are risks to playing the stock market, strategies can be used to mitigate these dangers. Those who are in it for the long haul will see that the rewards far outweigh the risks.
2. Fund Your Retirement Accounts
What could be better than investing and taking advantage of compounding returns? How about a tax break to go along with it?
Not a lot of people realize this, but investing through a tax-advantaged retirement plan gives you the added benefit of paying fewer taxes, either now or when you retire. The IRS has intentionally created these accounts as a way to motivate individuals to use them and secure their own financial future.
Investors have a lot of great options when it comes to retirement accounts:
401k / 403b / 457

– Depending on where you work, your employer may offer you one of these types of plans. For each, contributions are considered tax-deferred, meaning that you'll skip paying taxes on them this year and instead owe them in the future after you've retired.

Traditional IRA

– This is an account investors can set up themselves with any financial institution of their choice. Similar to a 401k, contributions are tax-deferred. However, the contribution limits are about one-third of what you can put into your 401k.

Roth IRA

– This is another style of IRA where instead of taking the tax break now, investors can instead take the tax break when they retire. This option is great because it means that your $1,000 per day goal could essentially be tax-free.

SEP IRA / Solo 401k / SIMPLE IRA

– These are retirement plans for the self-employed or those with side hustles. Similar to an IRA, these plans can be set up with any financial institution of your choice that offers them.
One example of how these retirement accounts can be leveraged to your advantage is the story of PayPal cofounder Peter Thiel. Back in 1999, Thiel made a $2,000 contribution to his Roth IRA account. Today, that investment has amassed into a $5 billion, tax-free nest egg! 
Forget $1,000 per day … You could try to spend $100,000 per day of that nest egg and you'd still most likely never deplete it.
3. Invest in Cryptocurrency
Cryptocurrency has become one of the most talked-about investments of the past decade for one main reason: A lot of people have become very, very rich in a short amount of time.
This is largely due to the popularity of Bitcoin. Bitcoin cost just 10 cents back in October 2010. If you had invested just $100, today you'd have around $45 million! 
However, the bigger picture beyond Bitcoin is proof that a digital currency is viable. Bitcoin has not only paved the way for other cryptos (called altcoins), but it has also demonstrated that blockchain, the technology that Bitcoin is built upon, has many other applications beyond just finance.
A more recent example of an altcoin success is the crypto Solana. At the start of 2021, Solana had a price of $1.84. By the end of the year, it had risen to $169.98 recording a growth spurt of over 9,000%!
Though crypto is highly volatile, there will most likely be a lot more to develop within this industry over the next decade. Those investors who do their research, become educated, and can recognize the potential winners from the scams will be able to multiply an investment as small as $100 several times over.
4. Start an Online Following
Do you have something interesting or helpful that you could teach to other people? Are you naturally entertaining or funny? If so, then you could start to gather an online following.
This can be through a variety of ways that would all cost less than $100:
A blog

YouTube Channel

Podcast

Social media posts

Etc.
You might think that there's no way that a blog or YouTube channel could eventually generate $1,000 per day. However, there are many examples out there that prove otherwise.
One such blog that comes to mind is Making Sense of Cents by Michelle Schroeder-Gardner. When she started her blog over a decade ago, it was just a little WordPress site where she posted stories about frugal living and tips for saving money. However, her following grew over time, and last year she reported making over $1.5 million!
That's not a unique story either. There are thousands of people out there who have struck Internet gold by turning their message into its own brand. The more people they reach and touch, the more this translates into sponsorships and money in the bank.
5. Invest In Your Education
It's amazing how the power of learning something new can change your life for the better. This has been done millions of times by people who went back to college or got additional training to advance their careers.
However, not all opportunities require going back to school for another 2 to 4 years. Sometimes learning a niche skill or talent is all that you need to start commanding a rate that's several times more than what you're making right now.
One example that comes to mind is the story of Grant Sabatier from the blog Millennial Money. Before finding success, Sabatier was an unemployed college graduate who had just moved back in with his parents because he was broke.
Having always dabbled with websites, Sabatier taught himself digital marketing, and then things began to change. Not only did he get a new job (one that he actually liked), but he also started his own consulting business on the side. In just five short years, Sabatier went from having $2.26 in his bank account to becoming a millionaire.
This is a great example because it highlights how powerful investing in yourself can be. When you can find the perfect marriage between something you'd like to do and what other people need, your earning potential can go through the roof.
Think about this for your own situation. There are millions of inexpensive books, online courses, and mentorship programs that could lead to lucrative new side hustles. Consider your options carefully and choose the one that interests you the most.
How To Invest $100 To Make $1,000 A Day
There's certainly more than one way for an investor to maximize their earnings potential over time. But how does someone get started down this path?
No matter how much money a person wants to make or starts out with, they will find success by following these steps.
1. Absorb As Much As You Can From Success Stories
One of my favorite things about the Internet and social media is that there are so many great stories out there. Thousands of people who are not much different than you and I have taken small amounts of money and found ways to turn it into substantial amounts of wealth. 
While stories like these make us "feel good", the more important thing about them is to look for details. For example, the next time you hear one, ask yourself:
What was so special or unique about what they did that it generated an income?

What talents did they have or need to develop to get to where they are?

How engaged or active did they have to be?
It's the specifics that you'll want to dissect from these case studies so that you'll be able to apply them to your own situation.
2. What Do You Feel Comfortable Doing?
Based on what you've learned, which one of these initiatives seems like it would make the most sense for you?
For instance, if you're terrified of losing your money in the stock market, then perhaps investing would not be your best option. Likewise, if you love writing or making videos about yourself, then maybe getting a following online is the way for you to go.
This is a very important consideration to ask of yourself because the last thing you'll want to do is get stuck doing something you don't necessarily like doing. Your chances for success will be far greater if the path you take is something you truly enjoy.
3. What's Needed To Get Started?
Let's be real: Not every success story starts off with an investment of $100. For instance, if your dream is to one day build a rental property empire, then you're going to probably need a whole lot more seed capital than this. 
Screen your list for potential financial challenges that you might run into, and remember that this could be a stepping stone to something bigger. For instance, someone who wants to get into real estate could start out buying a REIT or investing in crowdfunded real estate instead. Based on the success they experience, that might blossom into upgrading to a physical rental property someday.
4. Make It Happen!
Planning is good. But eventually you have to get off the sidelines and get into the game!
Take whatever initiative you believe will be the best one for you and make that first step. Invest your $100 and start the process. It will be scary at first, but it could be a moment that you look back on someday that changed your life forever.
5. Cultivate Your Earnings Potential
It's not enough that you plant a seed and wait for it to grow. To make your initiative truly successful, you'll have to work at it – sometimes regularly.
For instance:
If you decide to invest, then how can you add more funds to make it grow?

If you buy cryptocurrency, could it be traded later for a different one with more growth potential?

If you start an online following, how will you add content each day to keep the traffic coming?
Don't be overwhelmed by these questions. Remember that you've got plenty of time to try lots of different things, and you'll probably make a few mistakes along the way. 
What's important is that you're actively working towards your goal. The more you stick to it and remain focused, the more you'll learn and the closer you'll come to your goal.
How Will You Invest $100 To Make $1,000 Per Day? 
It may seem unthinkable that an investment of $100 could eventually grow to produce $1,000 per day. But it's definitely possible if you use the right tools and stay focused on making it happen. Given enough time and effort, anything is possible.
Playing the markets through a trading app or your retirement funds is one way that many people have become millionaires. Others have taken a chance on crypto and become rich in a relatively short amount of time.
An investment in yourself can also open doors to wealth that were previously never possible. You may find that gathering a following on social media or learning a new skill will end up dramatically increasing your earning potential.
The trick to getting started is learning from others. Find out how they got started, what made them so unique, and how they appealed to others. Then turn that around and determine what you could do something similar to experience such success.
You may not see the fruits of your labor pay off for several years. But planting those seeds now, even if it's just with $100, could be enough to get you started. The longer you stick with it and continue to work at it, the more likely you'll be able to command a daily earning rate that's more than you could have ever dreamed.