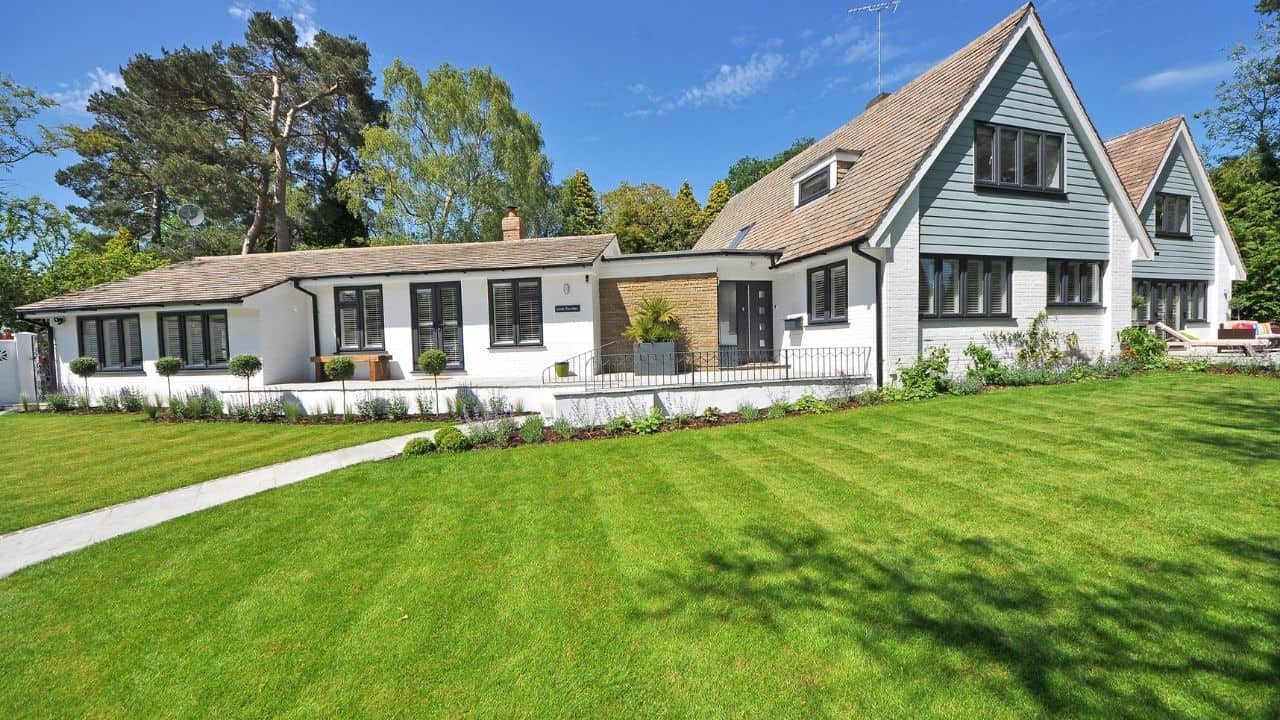 Disclaimer
We only endorse products that we truly believe in. Some of the links below may earn us some extra guac at no additional cost to you. Please pass the chips & thank you for feeding our habit.
Investing in real estate is a great way to diversify your portfolio, but purchasing a property that you can use to generate additional income can be expensive. You need a down payment for the house plus closing costs. It can add up to tens of thousands of dollars in a heartbeat. Still, 46 percent of people would rather invest in real estate than stocks. This is where RealtyMogul comes in. Is RealtyMogul legit and is it a good way to invest in real estate? 
RealtyMogul has been in business since 2013, giving it nine years of experience with earning returns on investments. This platform also has the highest rating with the Better Business Bureau. While they do require higher minimum investments, they are open to nonaccredited and accredited investors.  
Let's take a closer look at the history of this real estate investing platform and what to expect if you choose to invest through RealtyMogul.
Is RealtyMogul Legit? 
Investors who are interested in adding real estate to their portfolio will want to consider this platform, if they can meet the account minimums. RealtyMogul is a legit company and claims to be one of the largest real estate investment crowdfunding platforms around. It has certainly had a lot of growth since its inception in 2013. 
By the end of 2021, they had over 219,000 investors who trusted them with their funds. Using their crowdfunded approach to investing, their clients had collectively purchased more than 400 properties with a total value exceeding $4 billion. 
It certainly seems as though this company is a legit way to invest your funds in real estate even if you are nonaccredited. 
To lend credibility to their platform, they also have an A+ rating with the Better Business Bureau. They are not BBB-accredited, but they have earned the highest rating that they can receive.
Results With RealtyMogul
Any investor who is interested in using RealtyMogul will want to know more about their track record to prove that this is a legit company. RealtyMogul does publish the track records on the two non-traded REITs that are available to non-accredited investors.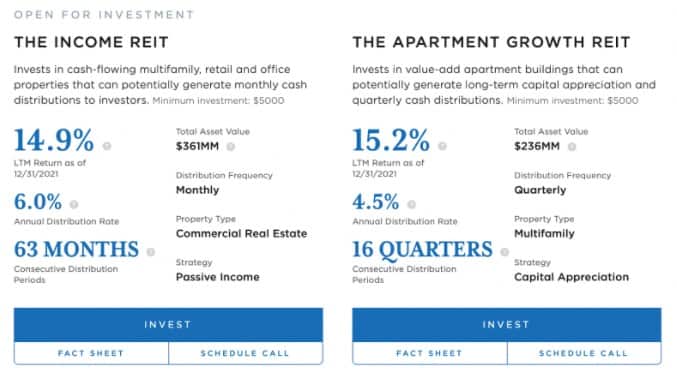 Their Income REIT typically pays between 6 and 8 percent in annualized cash dividends, net of fees. Distributions have been made monthly for more than five years. The Apartment Growth REIT is slightly less successful with quarterly distributions of 4.5 percent and distributions being made quarterly for the past 16 quarters.
How To Use RealtyMogul
Investors who are interested in moving forward with making their claim on the real estate market will want to know just how to go about using RealtyMogul. Fortunately, the process is extremely simple for both accredited and non-accredited investors. Non-accredited investors can choose to invest their funds in one of two public non-traded REITs (Income REIT or Apartment Growth REIT).
To invest in the public non-traded REITs, investors will need to come up with a relatively high minimum investment of $5,000. 
Unlike many investments in REITs, you have a bit more liquidity with RealtyMogul. For these REITs geared toward non-accredited investors, the platform offers a Share Repurchase Program that may allow you to sell back to the program on a quarterly basis for a reduced price. Selling on this market is not a given though. It is dependent on whether there is enough capital available for the company to buy back your shares. 
The repurchase policy determines how much you will get back if you decide to sell your shares: 
Less than 1 year holding: No repurchase options for the first year

1 year to 2 years: 98% of net asset value

2 years to 3 years: 99% of net asset value

3 years or more: 100% of net asset value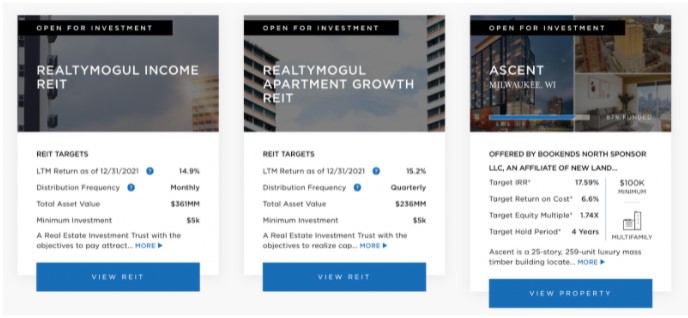 On the other hand, accredited investors (those with a net worth of $1 million or an annual income between $200,000 and $300,000) have the option to invest in private placements. Most of the time, this means investing in single property commercial properties, but it could also expand to encompass portfolios of properties. 
To invest in private placements, investors will need a significant chunk of money set aside for this purpose. Each deal will vary but most of the time, they will range from $25,000 to $50,000 for the initial investment. They also typically have a three-to-seven-year time horizon.
Is RealtyMogul Safe?
RealtyMogul is registered and has all of the licenses required to offer its financial services. They also help keep your data safe through thorough multi-stage testing to uncover and close any vulnerabilities before they happen.
Investing With RealtyMogul
Once investors learn how simple the model is with RealtyMogul, they often wonder what else they can expect if they decide to make the leap to invest with them. One area where investors need to do their research is in relation to the fees set out by the crowdfunded peer-to-peer real estate investing platform. 
Be prepared to deal with the fees if you decide to invest in RealtyMogul. The best thing to do is to examine their offering circular to determine the specific fees for each investment you want to make. Private placements are hard to make generalizations about because the fees are set by the sponsor and will differ for each investment. 
However, the fees are much clearer on their REITs. Income REIT has a lower fee of just 1 percent annualized of total equity value while the Apartment Growth REIT is a bit higher at 1.25 percent.
How To Get Started
Investors who are ready to sign up with RealtyMogul will find the signup process rather simple and straightforward. All you have to do is set up an account. If you desire to invest in private placements as an accredited investor, you will need to certify your income or net worth. 
This step can be skipped for non-accredited investors or those who just want to invest in the two REITs that RealtyMogul offers.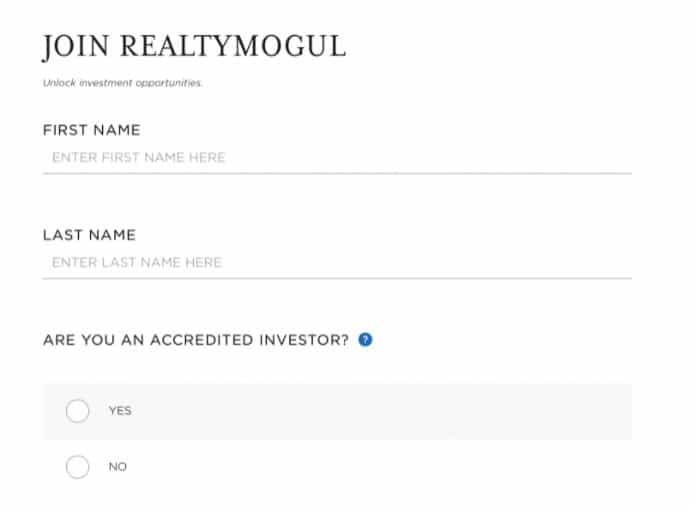 After finishing the signup process, investors gain access to the dashboard where they can do all of their investing. From here, they can track the terms of their investments, amount of money actively invested, and their earnings on those investments.
Is RealtyMogul Legit – Making Wise Investments
If you have been on the fence about investing in real estate and have the $5,000 minimum fee required to invest, RealtyMogul may be the perfect fit for you. It is extremely user-friendly and offers more liquidity than some of the other peer-to-peer real estate investing funds including the always-popular Fundrise. 
While being able to sell your shares of REITs back is not a guarantee, the possibility is great for those who aren't sure whether they will be able to do without their investment for the next three to seven years of the cycle. 
Accredited investors will love the RealtyMogul platform because it enables them to choose from a vast selection of private placement investment opportunities, though they will be required to come up with a heftier initial investment. 
Overall, RealtyMogul is a legit website that can help you to diversify your investments and gain a great return for your investments. Sign up for your account today!