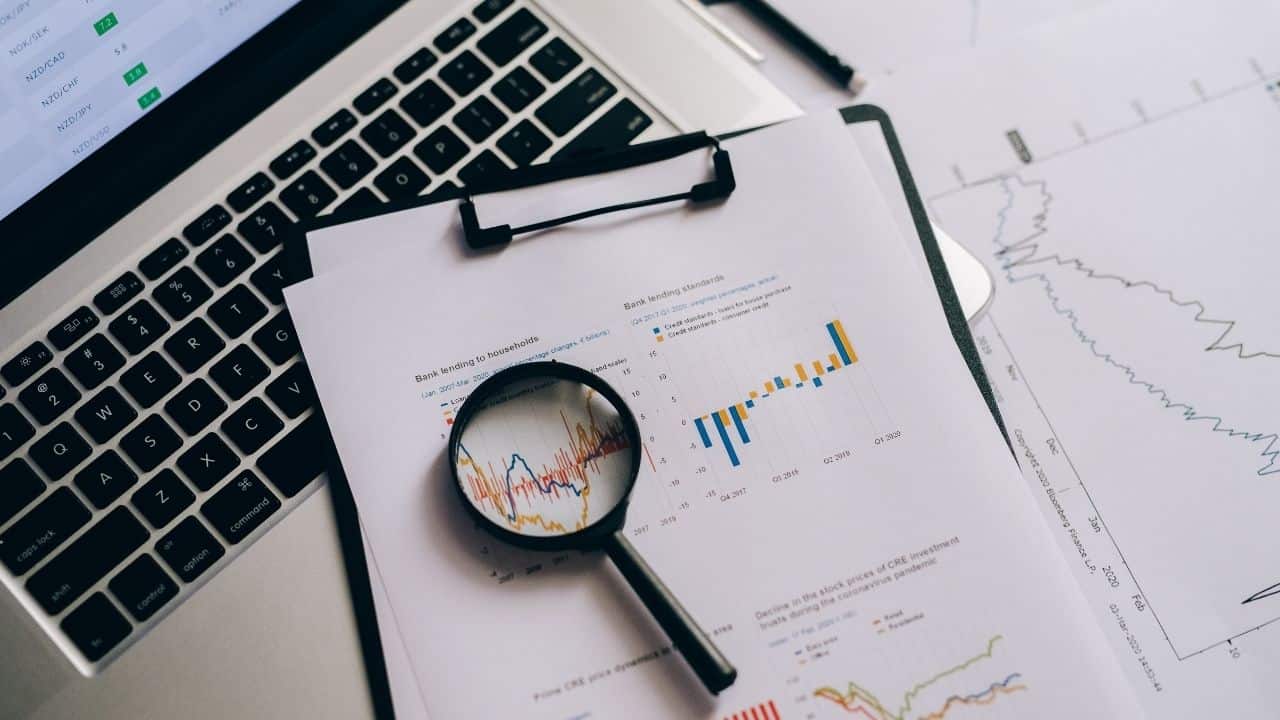 Disclaimer
We only endorse products that we truly believe in. Some of the links below may earn us some extra guac at no additional cost to you. Please pass the chips & thank you for feeding our habit.
If you're trying to streamline your investments, you're probably researching several platforms to do the heavy lifting for you. Webull is one of the most popular investment platforms for investors thanks to: 
No commissions

No minimums

Self-directed investing
Founded in 2017, Webull is based in New York City and uses technology to help its 10 million users make better decisions. I created an account to see what all of the fuss was about, and I loved how easy it was to join. Once you're on the platform, you can set up an IRA, invest in crypto, and even do more advanced things like margin trading.
In fact, unlike platforms like M1, Webull is specifically designed for active, short-term investing.
But is Webull good for beginners? Let's dig into what this platform has to offer investors of varying skill levels.
| Platform | Promotions | Link |
| --- | --- | --- |
| | Get a cash bonus of $30-$500 when you deposit $1,000+ in the first two weeks. | Invest Today |
| | Get one free stock priced up to $225 when you link a bank account. | Invest Today |
| | Get two free stocks when you deposit $5 within 30 days. | Invest Today |
| | Start investing with as little as $1. | Invest Today |
Is Webull Good For Beginners?
No, Webull is not suited for beginner investors.
Webull allows for a lot of customization, which can be overwhelming to someone who has never invested before. The platform is also designed for short-term trading instead of long-term investing, which is only recommended for experienced, active investors. 
To be honest, I've been investing for years and I found Webull's platform to be overwhelming at first: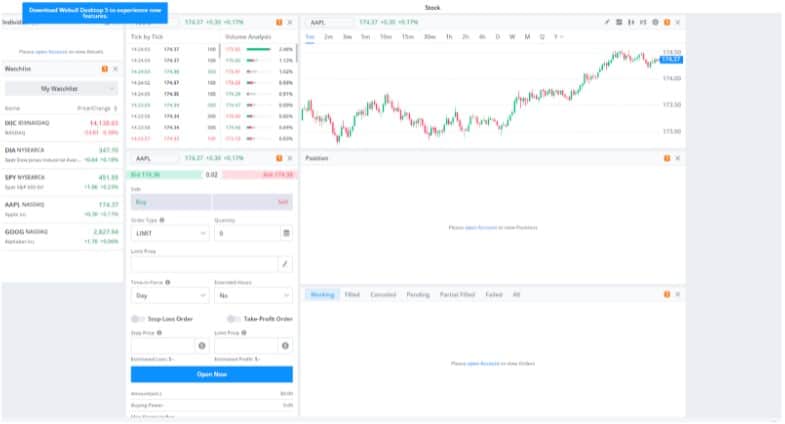 Remember, Webull is a self-directed investing platform. This means you have ultimate control over what you invest in. 
However, that does mean the platform gives investors enough rope to hang themselves with, so if you don't know what you're doing, you can get in trouble.
What You Need To Know About Webull
Curious about the ins and outs of the Webull platform? I'm not saying Webull is a bad option for new investors, but it's good to know what you can expect when you sign up for the platform. 
Customization options
True beginner investors don't need a lot of customization. But if you're an experienced investor, you're really going to like the customization you get with Webull.
First of all, the Watchlist feature is awesome. You can add specific stocks to your watchlist and set custom alerts. For example, if the price of shares goes below $50, you can ask the platform to notify you so you can act ASAP. 
Webull even allows you to customize your keystrokes. This is why I say it's better for active investors; do you really need keyboard shortcuts if you're checking on your investments once a month? No! You need them if you're trading every day.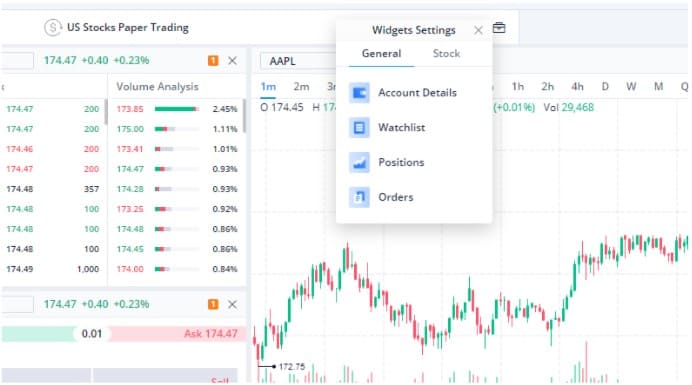 Webull is completely customizable, so if you don't want to see certain widgets, just visit your Account Details page to reconfigure everything. You can also set default settings for trading. Customize your order time, trading hours, price limits, and more.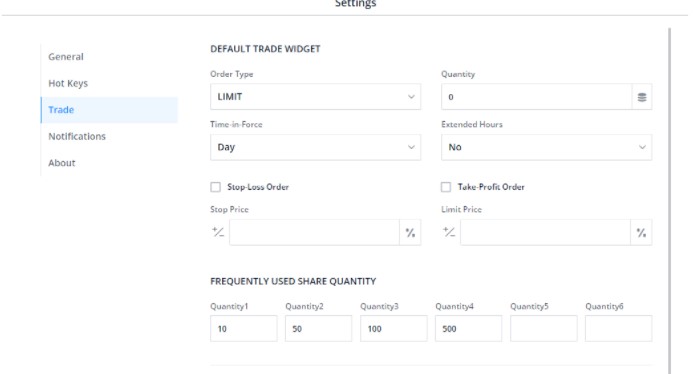 Trading options
Unlike other trading platforms that just give you a single trading window every day, Webull has extended trading hours. Depending on your account setup, you can trade anywhere from 4 AM – 8 PM Eastern. This is yet another reason why I firmly believe Webull is better suited for experienced traders instead of long-term investors or beginners. 
Aside from the trading hours, I do like the different investment options available on Webull. You can invest in: 
Stocks

: Webull does allow fractional shares, so you can invest in stocks for as little as $5. 

ETFs

: Immediately diversify your portfolio with Webull's collection of ETFs tailored to your goals. 

Crypto

: Webull allows you to invest in Bitcoin, Ethereum, Litecoin, and over 20 other cryptocurrencies. 
… and more in an IRA (Traditional, Roth, or Rollover) or an Individual Brokerage Account. 
Fee schedule
The good news is that Webull doesn't collect any commissions on stocks, ETFs, or options. But that doesn't mean that this platform is completely free to use. Webull primarily makes its money off of interest and loans.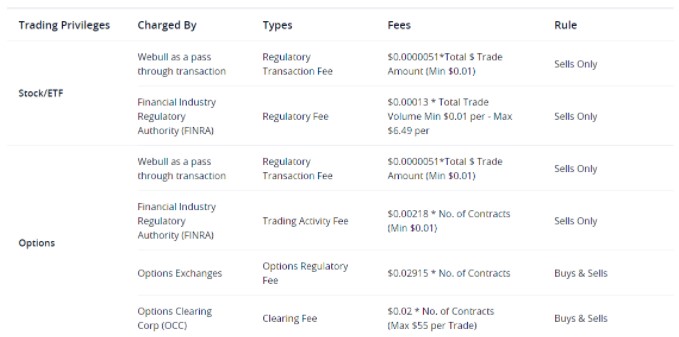 Depending on your investments, you'll be on the hook for fees like: 
Annual margin rate

: This is for margin trades only. But if you have less than $25,000 with Webull, you're paying a 6.99% annual fee. Ouch.

Short selling fees

: If you borrow shares before you sell them, you'll pay a fee for this. 

Regulatory fees

: This is for fees charged by regulatory bodies. They aren't actually Webull fees, but Webull does pass the costs along to you. 

Deposit and withdrawal fees

: There aren't any fees if you use ACH, but you'll pay $8 – $25 for wire transfers. 

Postage

: Yeah, this is a weird one, but Webull charges you for postage. You'll pay $2 – $5 any time they have to mail you a statement, so it's a good idea to sign up for paperless

everything

. 
By the way, Webull doesn't accept debit cards or credit cards. You'll have to connect your bank account via ACH or do a wire transfer to fund your account, so keep that in mind.
Paper Trading For Practice
Okay, so Webull isn't designed with beginners in mind, but that doesn't mean that the platform is a total loss for newbie investors.
For example, my favorite Webull feature is Paper Trading. Think of this area as an investment simulator where you can "play" with different investments without putting any of your real money at risk. 
In other words, it's a practice area where you can play make-believe and get the hang of investing—without the high stakes.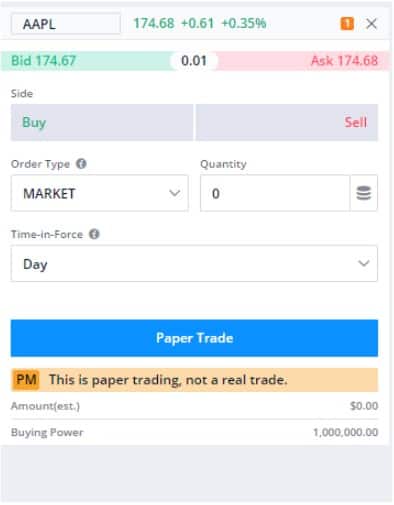 To do paper trading: 
Visit the Paper Trading portal in your Webull account. (You don't have to fund your account to do this, by the way. I was able to create an account and immediately access Paper Trading)

Type in the ticker symbol for the stock you want. In this example, I did Apple, which is AAPL. You can just type in a company name and Webull will auto-fill the ticker if you don't know it. 

Select if you're buying or selling. 

I recommend doing this as

a MARKET order

because it guarantees you'll make the sale, but you can leave it at LIMIT if you want. 

Tell Webull how many shares you want and it will spit out a total. 

Click "Paper Trade" to do the trade and see how things go. It's that easy!
I really like Paper Trading because it allows new users to "play invest." Since Webull can be complex for new investors, it's important to get used to the platform before you put any real money on the line.
Is Webull Good For Beginners? Yes And No
At its core, I wouldn't recommend Webull for complete beginners.
Webull is better for:

Active traders who want lower costs
Traders who want to do margin investing
Short-term trading
While Webull might not be designed for long-term wealth-building, its customization options and paper trading make it a valuable investment tool. Even if you're a beginner, you can still use the paper trading area of Webull to learn about the complexities of investing without fronting your own money. 
When it comes down to it, investing is about building long-term wealth. I wouldn't recommend day trading, but Webull's tools and features can be used by experienced investors to do self-directed investing for lower costs.