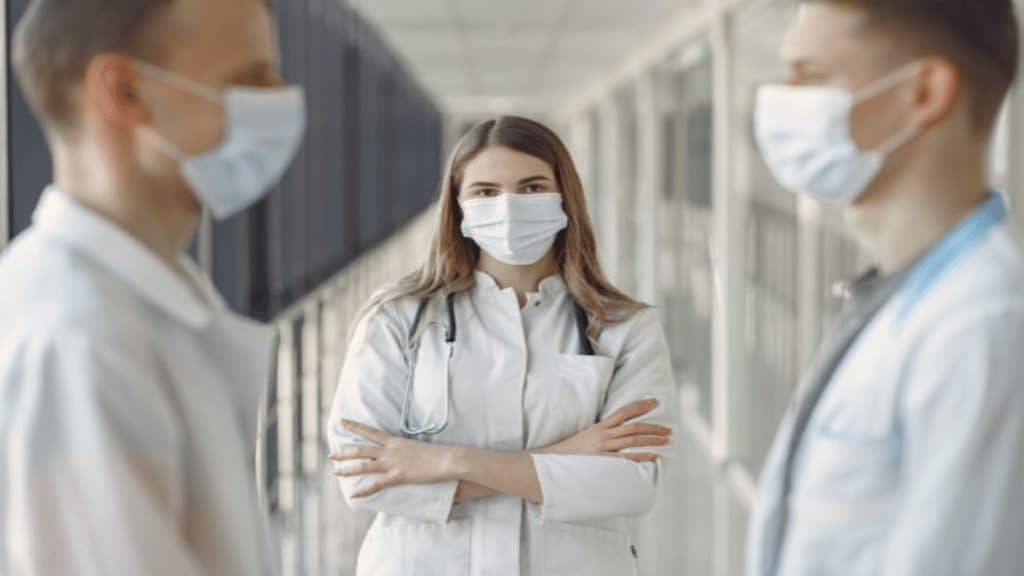 Disclaimer
We only endorse products that we truly believe in. Some of the links below may earn us some extra guac at no additional cost to you. Please pass the chips & thank you for feeding our habit.
Although life expectancy has risen over the past several decades, illness or another tragedy can affect any of us — at any age.
With an unexpected death, loved ones left behind can face crushing financial hardship at an already difficult time. Life insurance provides an effective way to plan for the unexpected and protect loved ones.
28-year-old Adeline Fagan, a Houston OBGYN resident, passed away recently after a battle with COVID-19 that endured for months.
Because of surging COVID cases in South Texas, Adeline was helping in the ER, pulling 12-hour shifts to support a growing number of COVID patients.
A recent CNN article detailed Adeline's ordeal, and a GoFundMe has helped raise money to pay medical expenses and other costs, with remaining amounts going to fund medical scholarships and medical treatment for others.
We're all grateful for the efforts of Adeline Fagan and other doctors and medical workers across the nation, especially right now.
COVID isn't the only risk for doctors and medical workers. Accidental injury remains the leading cause of death for people under age 45, which includes falls and traffic deaths in nearly equal numbers according to CDC data.
Tomorrow isn't guaranteed. The right life insurance policy offers an effective way to plan for your family's future and the financial obligations we often leave behind.
How doctors can determine life insurance needs
As a doctor, you may make a solid living, but that doesn't mean that your family does. Life insurance is here to protect them.
Choosing the right amount of life insurance coverage is as important as making the decision to buy a policy that protects your family.
An old rule of thumb in the insurance industry suggests buying life insurance coverage equal to 10 times your annual income.
Policygenius, a leading online agency, also suggests using this method as a baseline for coverage.
Insurance needs can vary from one household to another, however. A doctor or medical worker with no dependents who rents an apartment may have different coverage needs than someone who is married with 3 kids, 2 dogs, and a mortgage.
Comparatively lower earnings during the early years of your medical career can also make a simple multiple of earnings a less-than-perfect way of choosing a coverage amount.
Your insurance needs may quickly outgrow your original 10x multiple as your income grows or your medical practice expands.
Instead, you may want to consider a policy amount that covers some or all of your outstanding debts while also providing income for family and loved ones.
This number is different for each household. 
You'll want to plan on replacement income for your family for a certain amount of time. Do you have kids? If so, how long will your kids need to be supported? Will your spouse be able to work? Do you need to plan for day care, and further down the road, for college?
These are all important financial planning questions that can affect coverage choices, but you may also need a plan to cover medical school student loan debt, particularly if you have loans from a private lender.
Imagine you're a doctor with $200,000 in medical debt, which is close to the average amount. If the loans are cosigned or if married, others may be responsible for outstanding student loan balances if you die due to an accident or illness.
Without coverage, can your loved ones make the loan payments? Can they provide for life's other expenses? Life insurance offers an affordable way to settle outstanding debts and provide replacement income if the unexpected happens.
The experienced insurance agents at Policygenius can review your options, so you can choose a life policy and coverage amount that's right for your family.
How does student loan debt affect life insurance for physicians?
According to a report published by educationdata.org, the average medical school debt reached a record $216,000 in 2018, with current graduates carrying average debt as high as $250,000.
These figures represent more than a six-fold increase when compared to average college graduates. In fact, medical school debt made up more than half of all student debt for all graduates (in all fields) in recent years.
On average, doctors take on a staggering amount of student debt. And more than 90% of private student loans use a cosigner, often a parent. Federal student loans are discharged in the event of the borrower's death, but in most cases the same is not true for private loans.
Cosigners of private student loans are responsible for payment if the borrower doesn't pay the loan — including cases in which the loan is unpaid because of the borrower's death.
As another consideration, private loans can also make a claim on the estate of a deceased borrower. Private loan balances, including those from refinanced student loans, can affect savings and assets if unpaid.
That means children or other heirs may receive less — or nothing. Additionally, in a community-property state, spouses may become legally responsible for student loans belonging to a deceased spouse, even if they did not cosign the loans.
We all hope to live a long time, but there are no guarantees. As a doctor with student loans, the debt left behind if you die unexpectedly can affect others for decades to come.
A life policy can serve as the foundation of a sound financial plan that protects loved ones while also building toward the future.
Getting started is easier than you might think. Let the experts at Policygenius help you find the right policy to cover student debt and more.
Do I need my own life insurance if I have insurance through an employer?
Employer-sponsored life insurance plans are common, but these plans often limit coverage to 1 or 2 years of salary. Early in your career, an employer sponsored life policy may not provide a death benefit high enough to cover student loans.
These plans also lack portability, meaning that you may lose your coverage if you change jobs. However, employer-provided life insurance plans can serve as a great supplement for a separate policy you own and control.
If your employee offers life coverage for free (or almost free), there's no reason not to take the extra coverage.
What type of life insurance is best for doctors?
There isn't a special type of life insurance designed for doctors. However, in cases where the priority is to insure student loan balances, a term life insurance policy can offer a targeted solution.
Other life insurance types, such as whole life insurance or universal life insurance, may be a fit for some doctors or might serve well as supplementary coverage.
Doctors need to consider several factors when choosing a life insurance policy that's right for them. For example, term policies can be a great fit to cover financial obligations that won't last forever.
By contrast, whole life policies provide coverage that won't expire. However, these policy types often serve different roles and can be used together or separately. It's also important to remember that your coverage needs may be different from other doctors you know.
Be sure you understand how much life insurance you need and what your goals are before choosing a policy.
Here are some common types of life policies.
Term life insurance for doctors
Term policies remain the most common type of privately owned life policy. Term insurance guarantees premiums for a fixed amount of time, called a term.
You'll find term life policies ranging from 5 years up to 40 years, although a 20-year term is the most common. Insurers may reduce availability of longer terms as you get older.
A term life policy doesn't necessarily expire when the term expires, but rates can increase for renewals — sometimes dramatically. Many people cancel the policy when the term expires or replace the policy.
A fixed coverage term that you choose combined with guaranteed premiums makes a term policy an attractive and easy-to-budget option for doctors, particularly if you have student debt.
Recent reports suggest student loans can take nearly 20 years to pay off, on average. Using this as a baseline, a 20-year term policy may be a good fit for doctors buying a life policy to cover student loan debt.
If you have 10 years remaining on your med school loans, a shorter term policy might be a good fit.
Many in the insurance industry refer to term life as "pure life insurance", meaning it is a simple policy that does what it says on the tin without extra features — or the risk that can come with some policy types.
To be fair, term policies can offer some extras, such as living benefits for critical, chronic, or terminal illness. But, generally, term policies are simpler in function when compared to other policy types.
If you die during the policy term, a covered claim pays your beneficiaries a fixed amount under a term policy. If you don't die during the policy term, your premiums (usually) aren't refunded.
Permanent life insurance
Where term life insurance targets financial commitments that have an end date, another group of policy types are designed to offer permanent coverage.
The most common of these permanent insurance types is whole life insurance, so named because it provides protection for an entire lifetime — or until you reach age 100, whichever comes first. Some policies cap this maturity date at age 95 or even as high as 120.
If you don't die before the maturity date, the policy pays the death benefit directly to you at maturity. If you've played Monopoly, you may remember the Community Chest card in the game that says, "Life Insurance Matures — Collect $100."
This is what that game card refers to, but your policy's benefit will be the coverage amount you chose rather than just $100.
If you reach the maturity date on a whole life policy, not only do you get to live much longer than the average life expectancy, you also get paid, albeit with premiums you've paid into the policy.
Whole life policies also build cash value, which means you may be able to borrow against the policy, sell the policy, or use the policy's cash value to pay premiums for a certain amount of time.
The tradeoff, worth noting because it can be significant, is that whole life policies can cost much more than a term policy with the same coverage amount.
The difference in cost for a whole life policy can be 5 times to 15 times the cost of a term policy with the same coverage amount.
If you see a need for a permanent policy, one structure you can consider is to use term life insurance to cover financial obligations that have an end date, while keeping a smaller whole life insurance policy to cover residual medical bills or burial costs assuming an average lifespan (or longer).
This structure safeguards larger financial commitments as you're building your career, while planning for final expenses as well with an affordable coverage amount.
Some whole life policies even offer a way to pay premiums limited to a fixed amount of time, such as 10 years, avoiding the long-term commitment of additional premium payments later in life.
Other life insurance types
Although still considered permanent insurance, universal life insurance and variable life insurance have an investment element and can introduce risk to your life insurance strategy.
These policy types often offer lower overall costs because they have an investment element. But that investment element may also require that you make extra contributions based on investment performance.
These policies have their place, but if your goal is to insure your family's future income needs and provide a way to cover debt from medical school, a term policy may offer a safer option with predictable premiums. 
Protect your loved ones with life insurance
Accidents or illness can strike any family, and age isn't always a factor. Because student loan amounts for doctors are often several times larger than average student loans, life insurance becomes an important choice for doctors and medical students.
If someone else may be responsible for your loans, such as when your loan is cosigned or if you live in a community-property state, a life policy becomes a must-have coverage.
Consider a term policy that guarantees fixed premiums for a fixed period. If needed, a whole life policy can supplement your term policy and offer lifelong protection and an additional way to pay final expenses or provide for beneficiaries.
Policygenius offers a fast and easy way to shop for term life or whole life policies online. If you have questions, the experienced agents at Policygenius help you connect the dots to get the coverage your family needs.
Protect your loved ones. Visit Policygenius to get started today.
Contributor's opinions are their own. Always do your own due diligence before investing.
Keep Reading: