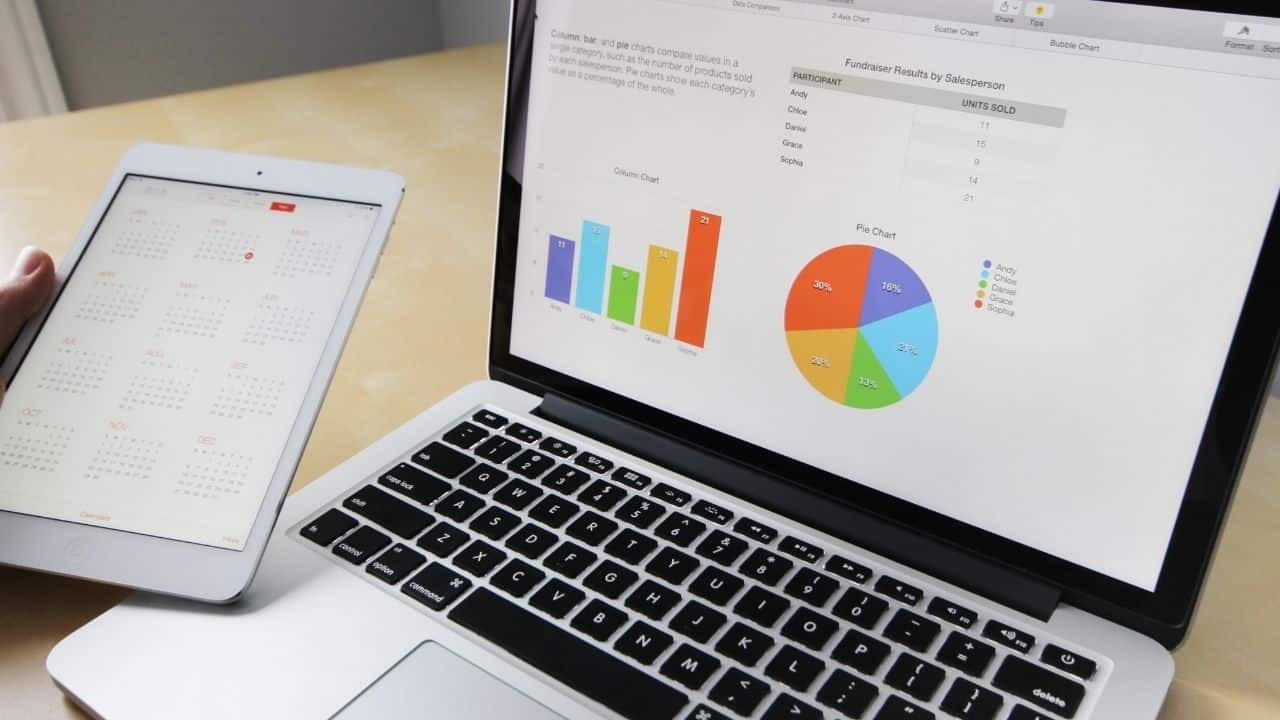 Disclaimer
We only endorse products that we truly believe in. Some of the links below may earn us some extra guac at no additional cost to you. Please pass the chips & thank you for feeding our habit.
M1 Finance has been around since 2015. Although most folks consider it to be an investment platform, it actually offers several products that help experienced investors better manage their money. The app has over 500,000 users today (including myself!), so it's obviously a potent tool for managing your money. 
But is M1 worth the hype? 
M1 Finance offers valuable options for experienced investors, such as: 
Simple signup 
Fast portfolio creation
M1 Plus
Low fees
Investing, checking, credit card, and lending in one place
M1 is only available in the United States. It also doesn't have tax-lox harvesting, robust tools, or advisory services. This makes it a better platform for experienced investors.
Learn more about my firsthand experience as a new M1 Finance user. Check out this ultimate M1 Finance Review to learn what you can expect while using the app, as well as its pros and cons.
M1 Finance Review: Our Initial Thoughts
I've used a lot—and I do mean a lot—of personal finance apps. In my quest for financial freedom, I've used a handful of money management apps, and most of them have been okay. 
In my experience, M1 Finance is one of the better options for more experienced investors. Here's what I discovered after using M1 Finance.
The Ultimate M1 Finance Review
M1 Finance Review
M1 Finance is an easy to navigate platform to get started investing in the stock market quickly. Despite the lack of some features more advanced investors would want, a beginner or more passive investor would be a great fit for M1 Finance.
Pros
Affordable
Easy-To-Use
Customizable To Your Needs
Cons
Limited Investment Types
No Tax-Loss Harvesting
Only Available In The U.S.
Simple Signup Process
Honestly, I was expecting a really long, drawn-out signup process. But M1 Finance made onboarding surprisingly fast—as in, I had an account fully set up in less than 5 minutes. 
When you sign up for M1, you'll need to set up your account with an email and password. Anyone can sign up for an account, but if you're located outside of the United States, you won't be able to invest, so keep that in mind!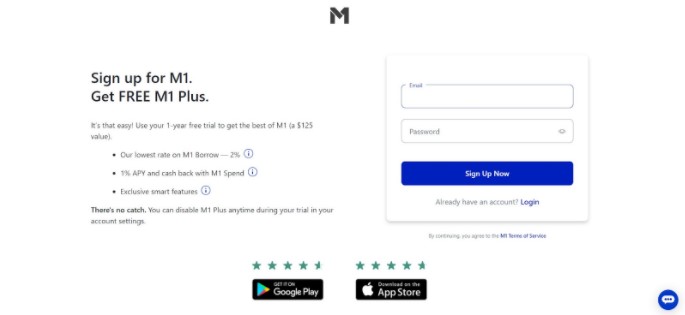 M1 will ask you to verify your email. They're also running a promotion right now where new users get a year of M1 Plus for free. In the interest of science, I signed up for it, too.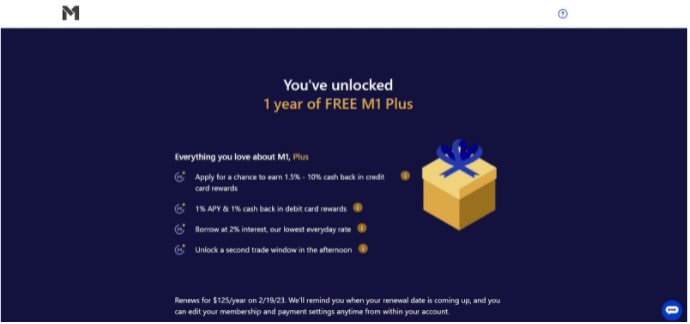 From here, you need to fill out your information to fulfill Know Your Customer rules. You'll need to provide this information to start investing: 
Phone number

Name

Address

Date of birth

Country of residence

Employment information

Social security number (yes, it's legally required)
M1 Finance will then ask you what kind of account you want to set up. I went with an Individual Investing account, but they have several options to choose from: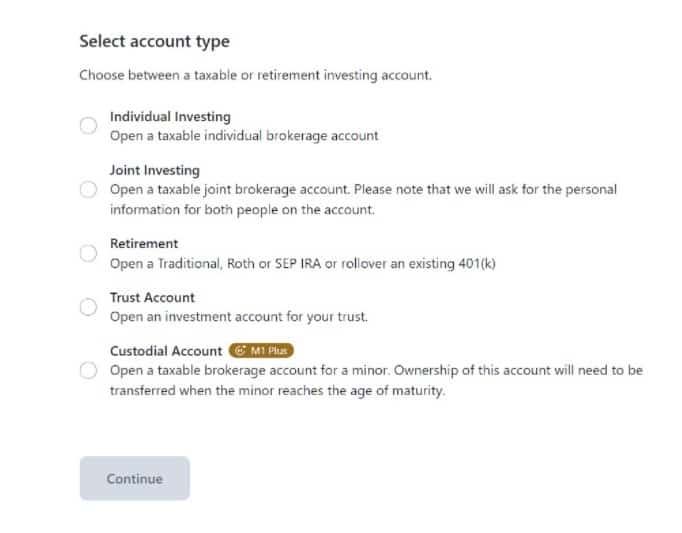 Almost done! Next, you need to fund your account. M1 uses Plaid to automatically connect to your checking or savings account at your bank. 
I did the minimum deposit for an account, which was $100. It takes an average of 2 – 4 business days for transfers to post, but M1 has to approve your first transfer, so it might take a little longer for new users. 
By the way, M1 was running yet another promotion when I joined. If you add at least $1,000 to your brokerage account within your first 2 weeks with them, you'll earn a bonus. They promote it as a $500 bonus, but it's actually a tiered system: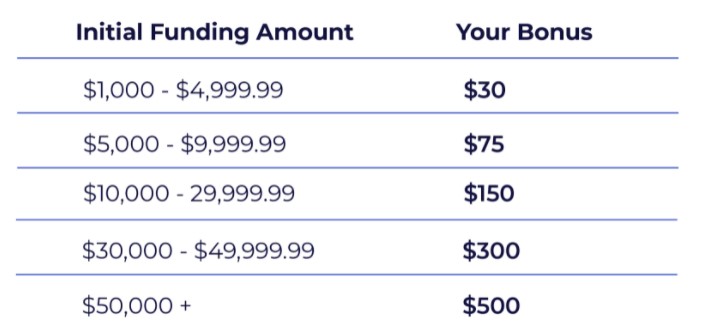 At any rate, if you put in at least $1,000 in your first two weeks, you can expect to score a modest bonus.
Building Your Portfolio
Once your deposit goes through, M1 will automatically invest it into your portfolio during the next trading window. Normally there's one trading window per day, but if you have M1 Plus (more on that later), you get an additional afternoon trading window, too.
M1 will ask you to create a Pie if you're new. Since M1 Finance isn't a robo-advisor, it doesn't automatically choose investments for you. But it does provide 80 pre-built portfolios (called "Expert Pies") to speed up the process. 
I decided to build a Custom Pie using a mix of Expert pPes, individual stocks, and ETFs. But if you aren't sure about adding an investment to your portfolio just yet, you can add it to your Watch List to see how it performs over time.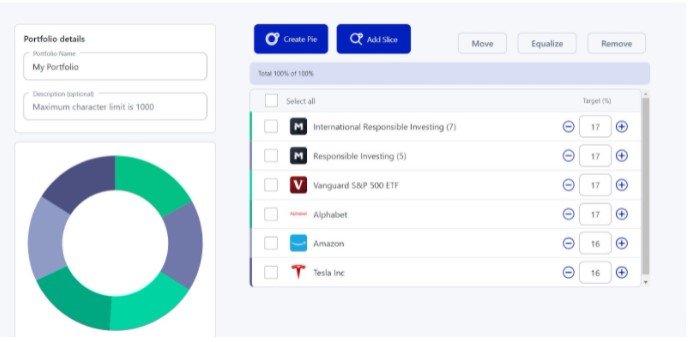 Give your Custom Pie a descriptive name and drop in a description if you want. M1 Finance will show what's in your Pie, including how each option is weighed. You can always add or subtract each slice of your Pie to rebalance to your heart's content.
If you want to do dollar-cost averaging, M1 allows you to auto-invest, too. Just go to Portfolio and turn on Auto-Invest, where you can customize your deposit amount for regular investing.

I normally get turned around in investment apps like this, but M1 made everything super simple. Although it's designed for experienced investors, it simplifies the setup and management experience so much that I can see why beginner investors like M1, too.
M1 Plus Membership
Normally, an M1 Plus membership would cost you $125/year. But they offered it to me for free when I signed up, so I couldn't say no! M1 will remind you before your Plus membership renews, too, so you can cancel before they charge you next year.
I think M1 Plus is worth it if you use the platform religiously. But it does come with juicy perks that could easily recover the $125 fee (if you use M1 Finance enough, that is):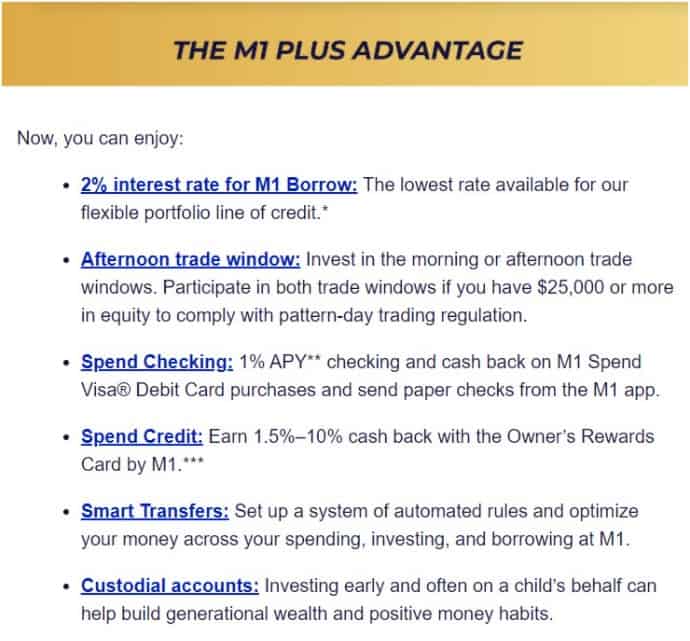 If you're just using the app for investing, you probably won't get the full value of M1 Plus. But if you're using its borrowing, checking, or credit card offerings, the M1 Plus membership is a no-brainer.
I'm a big fan of the Smart Transfer feature, too. This gives you more robust options for automatic investing that the Auto-Invest feature doesn't have. For example, if your savings account goes over $10,000, you can tell M1 to automatically invest $500. With options to add multiple layers of logic and rules, Smart Transfers are a slick way to manage your money while saving time. 
Low-Cost Fee Structure
Honestly, the biggest selling point for M1 Finance is its low costs. M1 primarily makes its money through: 
Borrowing

Plus memberships

Inactivity and termination fees
It doesn't charge you any portfolio management fees or trading fees. In practice, that means you spend less money on fees and you get to keep more money in your pocket. 
Oh, and if you use their checking account, M1 will also reimburse 1 – 4 ATM fees per month.
Expanded Product Suite
Speaking of checking accounts, I love that M1 Finance is more than just an investment app. It's a complete product suite that lets you manage all of your money in one place. 
Keep in mind that M1 Finance Invest is the default. If you want a checking account, credit card, or lending options, you'll need to sign up for those separately. 
M1 Checking Account
Just like any regular checking account, you can use M1 checking to transfer money, use your debit card, and even set up direct deposit. It also includes perks like: 
No minimum balance

Get your paychecks up to 2 days early

Checks

1% interest rate and 1% cashback

No international fees for Plus members

4 ATM reimbursements per month for Plus members
By the way, M1 is running a promotion where, if you sign up for checking with $2,500, you'll get a $100 bonus.
M1 Owner's Rewards Credit Card
Any M1 member can sign up for the Owner's Rewards Credit Card, but honestly, it's better to have M1 Plus if you go this route. Plus members unlock all of the card's benefits, so if you go in, go all-in. 
As an M1 Plus member, you don't pay an annual fee—your $125 Plus membership covers it. Without a Plus membership, you'll pay a $95 annual fee for this credit card. 
With the M1 credit card, you earn 1.5% cashback on everything, as well as 2.5%, 5%, and 10% tiered rewards for participating brands. You can even tell M1 to reinvest your rewards, which is a nice way to automatically contribute to your investments.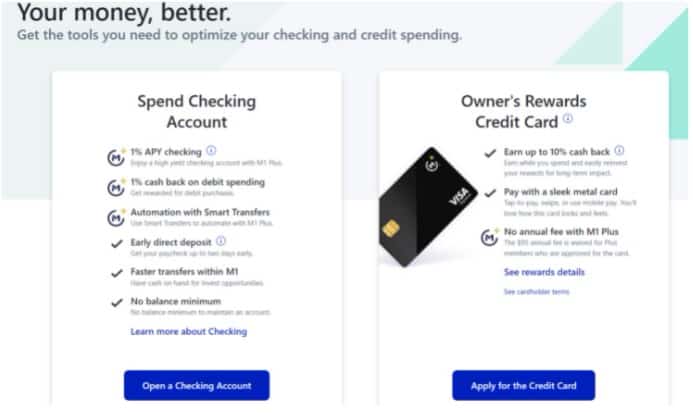 M1 Borrow
With M1 Borrow, you're able to borrow up to 40% of your account's value, as long as you have $2,000 invested with M1. They do give better interest rates to M1 Plus members (2% versus 3.5%), which are insanely low for any kind of lending. 
Plus, you don't have to fill out any complicated applications. Just borrow money in three clicks and you're done. There are no set payback schedules for borrowing, either. 
The only thing you need to worry about is if your borrowed amount dips above 40% of your account value. M1 will then either restrict your account or tell you to sell off parts of your portfolio to pay off the loan. 
Borrowing is always risky, so participate in lending at your own peril!

The Pros and Cons of M1 Finance
Okay, so after using M1 Finance for a while, I've been able to sort out its pros and cons. It's definitely a good app, but it might not be right for everyone. Check out the rest of this M1 Finance review to determine if it's the right option for your situation. 
Pros
Here are some of my favorite things about M1: 
Customization

: You can build whatever you want in M1, which is awesome. It's customizable, but not to the point where it's confusing or overwhelming. I particularly like its Research area, which gives you up-to-date info on how the market is performing so you can choose better investments. 

Automation

: The Auto-Invest feature is

wonderful

. And if you have M1 Plus, the Smart Transfers option can save a lot of annoying back-and-forth.

It's affordable

: It's crazy that you can start investing with $100. You don't have to pay out the wazoo to begin investing, which means M1 Finance is very accessible. With options to buy fractional shares, just about anyone can invest with M1. 
Cons
No FinTech app is perfect, and M1 does have some downsides, including: 
Missing investment opportunities

: If you want to invest in mutual funds or cryptocurrency, you won't find them on M1. 

No tax-loss harvesting

: This is the biggest downside to M1. Experienced investors like to do tax harvesting because it optimizes their tax obligation. Small-time investors like myself might not care about this as much, but if you have a lot of money with M1, this could become a headache come tax season. 

No advisors available

: This is the reason why I say M1 is better for more experienced investors. If you have a question or need help, M1 doesn't have human (or robot) advisors around to help. This keeps their costs low, but it can be intimidating to newbies. 

Few tools

: You're not going to find a preponderance of tools in the M1 app. That's because it's built for experienced investors who want to save time. However, they do have some tools that I really like. M1 Finance includes decent data on different investment opportunities, including their market cap, yield, price history, and P/E ratio. Its Market News section also helps you check reputable news about the market as a whole, as well as quick-reference sections on the S&P, Dow Jones, and NASDAQ 100. 

Penalties

: If you can't invest frequently, watch out! M1 wants investors to be active on the platform, so you could be on the hook for a $20 fine if you don't have any trade activity for 90 days. If you can only invest with lump sums on an irregular basis, M1 Finance might not be the right choice.

Only available in the US: Anyone can create an M1 account, but if you want to actually invest, you need to be based in the US.
M1 Finance Review: Is It Worth The Hype?
In my opinion, M1 Finance is a legitimate, time-saving app that helps you manage several areas of your personal finances in one place. However, I do think it's better suited for: 
People who prefer self-directed investing

Investors who buy and hold—its limited trading windows make day trading difficult, if not impossible

Investors who want to do dollar-cost averaging

Experienced investors who want to streamline the investment process and save time
Thanks to its sleek interface, automation, and customization options, M1 Finance gives its users the best of both worlds. But if you want the app to hold your hand and tell you where to put your money, you'll be sorely disappointed.
This is a platform that empowers investors to make their own decisions. In a world where everyone's trying to tell you what to do with your money, the freedom is surprisingly refreshing.