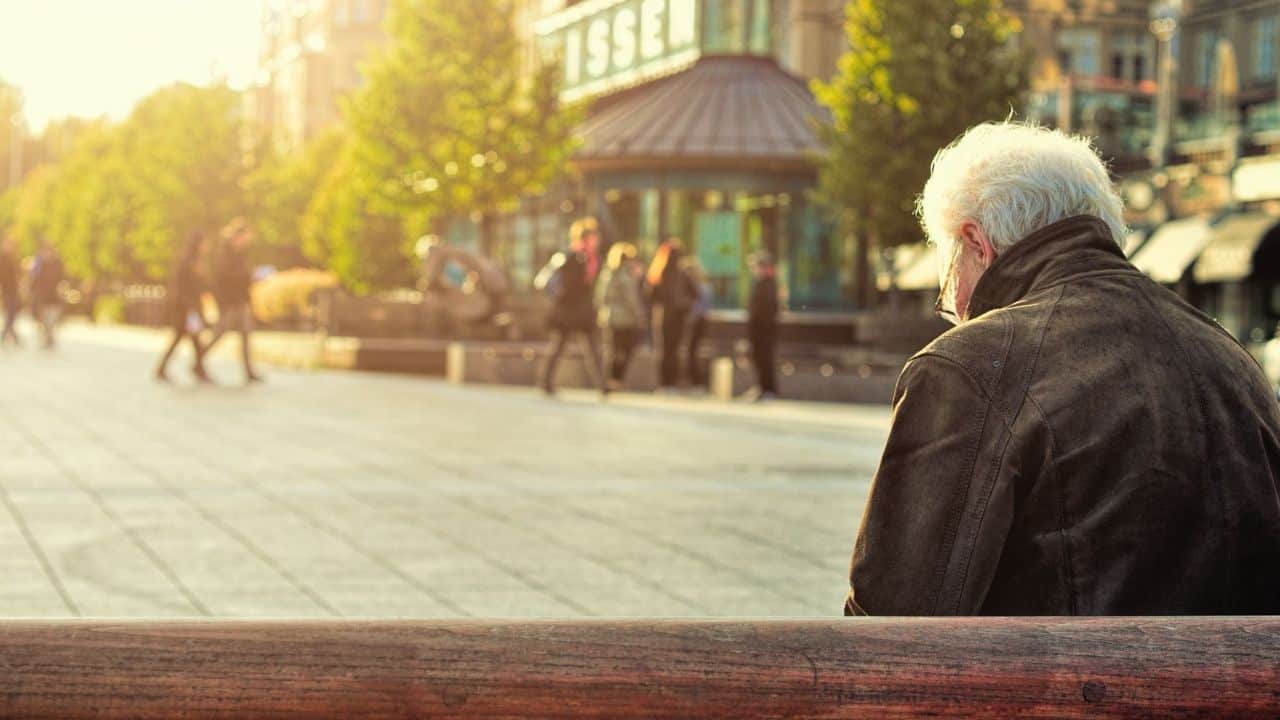 Disclaimer
We only endorse products that we truly believe in. Some of the links below may earn us some extra guac at no additional cost to you. Please pass the chips & thank you for feeding our habit.
No matter your current age, saving for retirement can be a daunting experience. You know that you don't want to work forever, but saving such a large sum of money can be overwhelming. Having the right tools at your disposal can help, including the M1 Finance Roth IRA. I know that having my funds organized for retirement was key, and this M1 Finance Roth IRA review will help you to weigh your options too. 
The fee-free Roth IRA from M1 Finance is great for experienced and beginner investors alike. It requires a minimum $500 investment but allows investors to choose their own investments, expertly-made pies, or target date funds. They also utilize dynamic rebalancing and fractional shares. 
If you want to learn more about how the M1 Finance Roth IRA works and if it is the right tool to help you invest for the future, you are in the right place.
M1 Finance Roth IRA Review
For many investors, a Roth IRA is the best investment vehicle when it comes to saving for their retirement. This type of retirement savings account allows you to invest after-tax dollars that will grow tax-deferred in your investment account. Roth IRAs are ideal for investors who believe that their income in retirement will be higher than their current tax bracket, allowing them to lock in their current tax rate. 
M1 Finance presents one option for investing in a Roth IRA. The platform offers a robust way to manage your money with features that include: 
Traditional and Roth IRAs

Bank accounts and debit cards

Loans

Investment accounts
For the purposes of this article, we are going to focus on the Roth IRA, but you should familiarize yourself with all of the offerings through our full M1 Finance review here.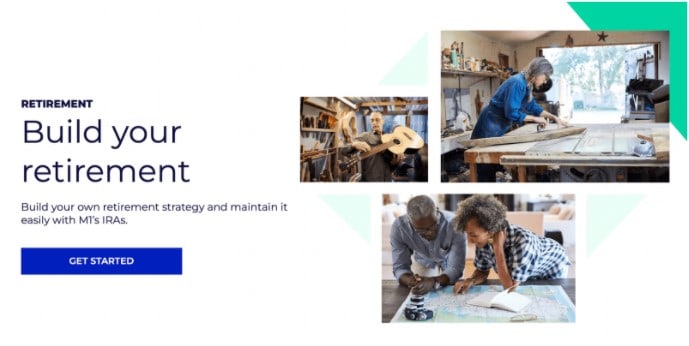 Fee-Free Roth IRA
Many of the most popular Roth IRA options do charge a monthly or annual account maintenance fee to maintain your investments. Most of the time, this is billed as a flat fee of anywhere from $25 to $50 annually. This custodial fee should be clearly documented in the paperwork received when setting up the account. 
The question many investors find themselves asking is whether the M1 Finance Roth IRA will bill them in a similar way. 
The good news is that the M1 Finance Roth IRA is completely fee-free as long as you deposit the minimum investment amount of $500. Investors need to be conscious of maintaining a balance at this level or higher to avoid being hit with fees. 
Keep in mind that this fee-free investment tool will only apply as long as your account is active. There are fees for closing your IRA ($100) and for outgoing transfers to another brokerage ($100). Otherwise, there are no fees for management or trading commissions for the money you opt to invest with M1 Finance. 
M1 Finance Roth IRA Features
Beyond being fee-free, there are some compelling reasons why an investor may decide to open an investment account with M1 Finance. This comprehensive banking platform makes investing a breeze. Let's take a look at some of the features that users have come to expect from the M1 Finance platform.
Custom Investing 
Investors will be pleased with the selection of investments that they can choose from for their Roth IRA at M1 Finance. Experienced investors can create a customized portfolio based on past experiences and market research.
When it comes to selecting investments, there are tons of options. As long as the stock or ETF trades on the NASDAQ or NYSE, it is fair game to be put into your portfolio. This enables investors to create a portfolio that they are excited about with popular stocks like Apple and Amazon. 
No matter what your investment goals are, M1 Finance allows you to explore and experiment. You can choose to invest in major corporations that have tremendous room for growth, smaller companies that focus on the environment, or socially-conscious companies. The world is right at your fingertips when creating your portfolio.
Pre-Made Portfolios for Beginners
However, it is equally beneficial for beginner investors who aren't quite sure how to go about selecting their own stocks and ETFs. An investor who doesn't yet have the confidence to select their own portfolio can choose from a selection of pre-set portfolios. The pre-made portfolios are referred to as pies. 
If you decide to go with an expert-made pie instead of choosing your investments, then you have plenty of options. Pies are divided up by risk tolerance with some being ultra-conservative with a focus on bonds and minimal stocks. Others are ultra-aggressive with the bulk of the investment being placed in stocks.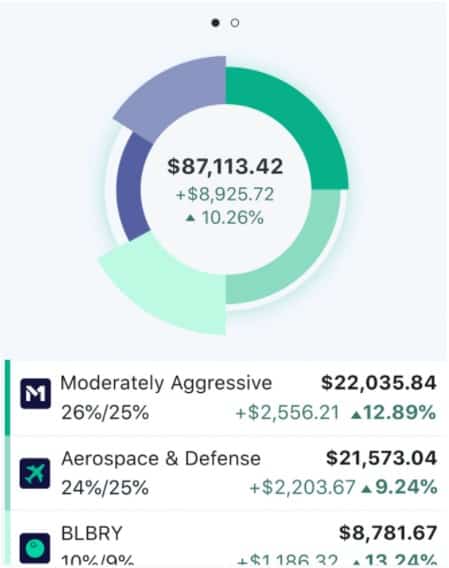 Alternatively, you can invest in target date funds that change as you grow closer to your ideal retirement age. All you have to do is notify them what year you plan to retire, and they will handle every detail. The portfolio will be more aggressive during the years that you are far from your retirement goals and shift to be more conservative as you grow closer to your golden years.
Dynamic Rebalancing
Like any good robo-advisor, M1 Finance also rebalances these pies using a strategy they refer to as dynamic rebalancing. The goal is to help investors reduce the amount of money and time spent on keeping the Roth IRA on track for the goals selected. 
With dynamic rebalancing, M1 Finance has an intelligent feature that automatically re-balances a portfolio as you deposit funds into it. It does not follow a set schedule but rather keeps constant tabs on your investments and how they are doing. 
Dynamic rebalancing has a number of beneficial aspects:
Saves time when it comes to calculating and placing trades

Avoids tax consequences associated with selling

Consistent risk exposure

No commissions or management fees
With this smart-rebalancing feature, you can rest assured that your portfolio is weighted in the way that an individual investor desires. For example, let's say that one of your securities has less weight to it than it should, based on your retirement savings goals. The next time you invest, you will notice that more of the money goes directly toward that asset.
Ability to Purchase Fractional Shares
Even though you have to invest a minimum of $500 into your Roth IRA, it still may not be enough money to purchase the stocks and ETFs that you want in your portfolio. Some of these stocks can be pretty pricey, especially if you are interested in major companies. Fortunately, M1 Finance's Roth IRA has a solution. 
They allow you to purchase fractional shares so that your money can be hard at work even before you have the capital to purchase a full share of your favorite companies. This means that every single dollar you invest into your Roth IRA is going to be hard at work for you. 
Automatic Contributions
Chances are that investing for your retirement doesn't come to the forefront of your mind every day. It may not even cross your mind every month, if we're being honest. The final feature that makes M1 Finance's Roth IRA a great investment tool is the ability to automate contributions. 
You can set up the amount to transfer and the date, allowing M1 Finance to take care of the rest on your behalf.
Opening an M1 Finance Roth IRA 
Are you ready to get started and take advantage of the many features of the fee-free Roth IRA at M1 Finance? There is a lot to be excited about when it comes to retirement savings through this platform. Perhaps the best part is that they do not require lengthy setup processes or hoops to jump through to get your account up and running. 
Set Up Your Account
The first step is to set up your account for those who don't already have one. The process will walk you through filling out your basic information including: 
Name 

Address

Birthdate

Employer information

Social security number (to verify identity but not to perform a credit check)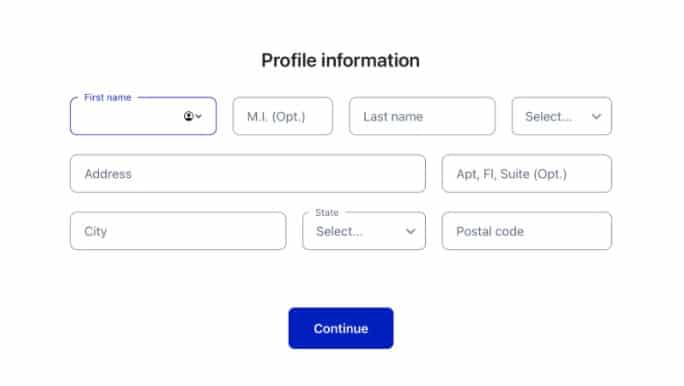 Add a New Account
Once you are all set up on M1 Finance, you can access the dashboard. In the upper right-hand corner of the dashboard, you will select the dropdown box. Click "Add Account" to start setting up a new Roth IRA. 
The following screen will ask you what type of account to set up so simply select "Retirement." 
Once you have specified this, it will ask you what type of retirement account you would like to invest in. If you are planning on opening a Roth IRA, choose this option here. You can also open an SEP IRA, a traditional IRA, or a rollover account. When finished, select the "Continue" button. 
Read the Disclosures
M1 Finance will show investors the terms of use and disclosures, including any pertinent information about how your accounts will work. It can be tempting to click the "Confirm" button right away, but make sure to review all of these documents thoroughly before you confirm setting up your account. 
They will walk you through the terms of use, account agreements, and SIPC disclosure among other things. 
Set Up Your Contributions
Last but not least, you will need to set up your first contribution. In order to open the account, you will need to invest a minimum of $500 and this is the time to do so. 
To simplify the process, M1 Finance uses Plaid to link bank accounts to the new Roth IRA that you are setting up. All you will have to do is follow the on-screen prompts followed by selecting a deposit amount ($500 minimum). You can choose to make a one-time deposit just to get your account up and running or set up recurring deposits from this screen. 
Create Your Portfolio
Now that you have set up the entire profile for your new Roth IRA, investors will need to head back to their dashboard and manage their new investments. Toggle over to your Roth IRA using the same menu in the upper right corner. If you didn't select a pie at signup, this is the best time to do so. 
You can manually set up your own portfolio by searching for securities. If you don't have enough confidence in your investment abilities, then you choose an expert pie at this stage as well. They have a handy feature that allows you to plan for retirement that you may want to explore. 
When you finish, select what percentage of your funds you want to deposit into the portfolio. This is where you will find the target date funds that will re-allocate themselves as you grow closer to retirement age. 
M1 Finance Roth IRA – Is It Right For You? 
When it comes to retirement savings, there are tons of options available to would-be investors. A Roth IRA is a smart tool that allows your retirement savings to grow tax-deferred for the future, but how do you decide which company to go with? 
The M1 Finance Roth IRA has a lot of features and benefits for investors to consider. First, they have a fee-free retirement savings account as long as you maintain a minimum account balance of $500. 
They also offer the ability to customize your investment portfolio, choose a pre-made portfolio, or select a target date fund. Dynamic rebalancing, the ability to purchase fractional shares, and automated deposits are all worthwhile factors that investors should consider when selecting a retirement savings account. 
Overall, there are a lot of benefits to choosing the M1 Finance Roth IRA to invest for your future. It is a simple and straightforward process with plenty of flexible investment options. 
If you know that a Roth IRA is the smartest investment tool for you, then you will definitely want to consider the M1 Finance Roth IRA. Sign up today to learn more about how this investment account works and to get started saving!