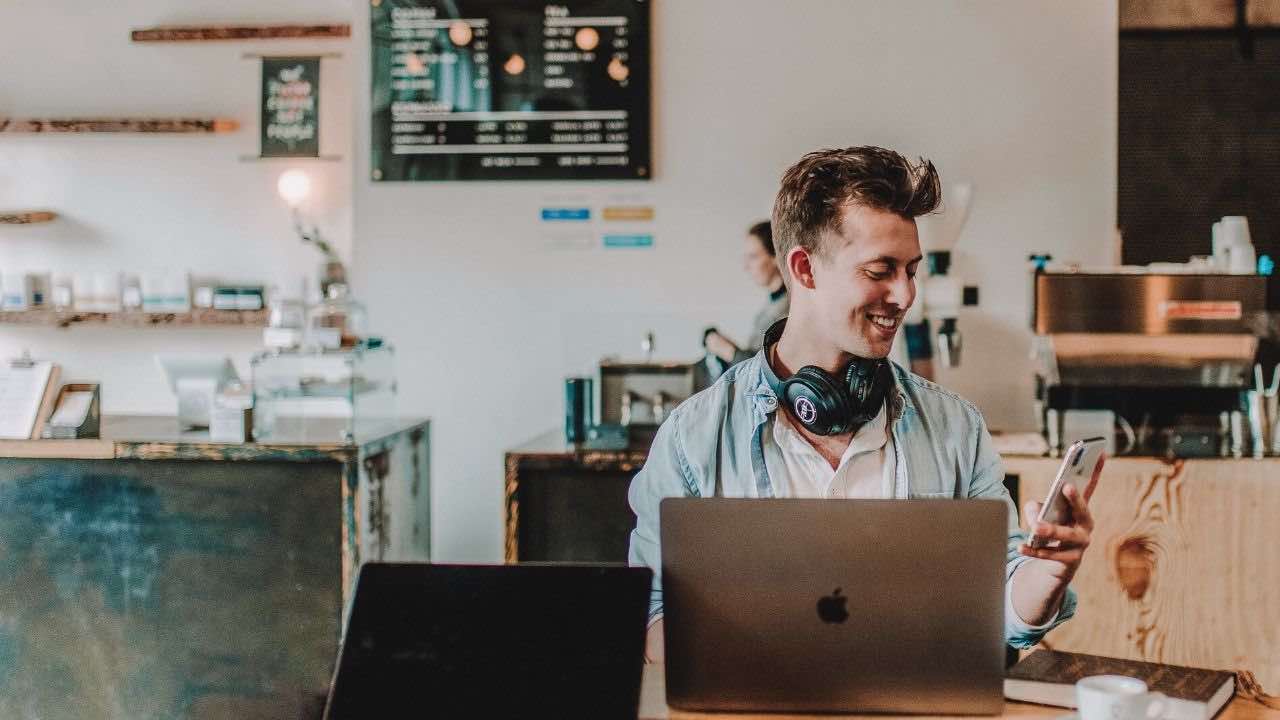 Disclaimer
We only endorse products that we truly believe in. Some of the links below may earn us some extra guac at no additional cost to you. Please pass the chips & thank you for feeding our habit.
Find out why you should put your savings in an online bank account, how to find an online bank, and what to expect when opening your first account.
Most people put money in a savings account, but did you know that a traditional savings account can make you broke? 
Earn one of the nations top interest rates — Open a free Savings Builder account and deposit $5,000 at CIT bank today
With an average interest rate under 0.1% on savings accounts, plus monthly maintenance fees, traditional banks fall way behind the rate of inflation, making you broke as your money devalues over time.
Online banks are an excellent solution to this problem. 
What are online banks?
Online banks are regular banks that you can only access through the internet. They don't have physical branches like traditional banks, but this provides account holders with a few advantages.
Online banks don't have the high overhead of traditional banks. They don't need to pay for physical locations, staff, or other branch-related expenses. 
These overhead savings are usually passed on to the customer, often resulting in lower banking fees and higher interest rates than traditional banks.
Open a free Savings Builder account with an initial deposit of $5,000 at CIT bank today & earn more on your savings
How should you use an online bank?
In our previous article about strategic savings, How to Save Money Without Going Broke, showed you why savings accounts are costly, and how you can use them wisely.
Savings accounts are not a good investment because their interest rates can't keep up with the cost of inflation, and monthly fees can be ridiculous.

Setting aside

six months of living expenses

is critical to your financial well-being, and a

savings account is the best place

to keep your $$$– even though it costs money.

The best solution is to

look for a bank that charges no monthly maintenance fees

and

offers higher-than-average interest rates

on your savings.
What To Look For In An Online Bank
Online bank accounts can be a safe and cost-effective place to store your savings. 
If you've never opened an online account, though, you might wonder if online banks are safe and how to go about choosing the best one for your needs.
The five steps below walk you through what to look for when choosing your online bank.
5 Things To Look For When Selecting An Online Bank
Look for an FDIC-insured bank.
The Federal Deposit Insurance Corporation (FDIC) insures bank deposits for up to $250,000 per bank account.
FDIC was created in 1933, following thousands of bank failures in the U.S. Since the start of FDIC insurance, no person has lost a dime of insured funds as a result of a bank failure.
Whether you bank in-person or online, you should always make sure that your bank is FDIC insured.
Check the reputation of the online bank by looking for reviews, ratings, and awards. 
Reputable online banks often receive awards and top ratings from established review companies such as Bankrate, GoBanking rates, and Motley Fool's The Ascent.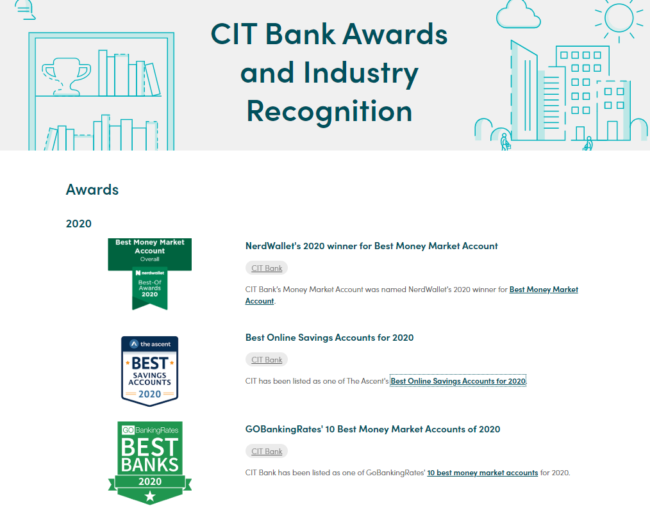 Searching for "best online savings accounts" will help you quickly find your way to the most-respected online banks.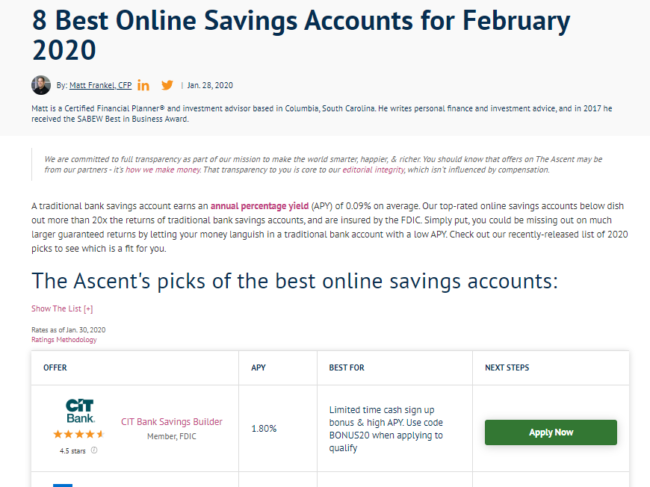 Look for a bank with ZERO monthly maintenance fees on your savings.
Bank fees can add up, and the last thing you want to do is add more expense to your savings. 
Find an online bank that offers free savings — with no monthly maintenance fees!
Look for higher-than-average interest rates.
A lot of online banks are FDIC insured and offer free savings, but here's the deal-breaking question you must ask: 
How much interest will your money earn?
Remember, in our last article, we learned that inflation costs about 2% a year, and some years the rates are significantly higher.
The money you store in a savings account loses money because the interest rates on savings don't pay enough to keep up with inflation. 
That's why it's essential to save strategically, and put your future "savings" into assets and investments that pay a better rate of return.
For example, take a look at CIT Bank's current interest rates here. It's many times higher than the national average! Open an account with a $5,000 minimum deposit at CIT today.
Check the terms of the savings accounts to see if there are requirements for earning the best interest rates.
It's not unusual for banks to require a minimum balance or regular monthly deposits in order to receive the highest interest rates and keep your account free of monthly maintenance fees.
Make sure you understand all the savings account terms and requirements before choosing your online bank.
Make sure the bank offers easy access to your information.
Before you open your online savings account, check to make sure that the bank offers easy access to your account. 
Look for a bank that offers an app or online portal where you can quickly and easily access your information.
How to Open an Online Savings Account
Once you've found a bank that you trust, opening your new savings account is easy. 
For those of you who've never opened an online bank account and are wondering how it all works, we'll show you an example of what it's like to open an account online.
In most cases, you can start, pause, and return to a bank account application at your convenience, and the bank will save the information you entered for up to 30 days. 
The ability to save, exit, and return to the application gives you some time to complete the process in case you need to gather information or make a decision before opening your account.
To fill out your bank application, you'll usually need the following information:
Primary home address

Valid phone number

Valid email address

Social Security number
You can expect to spend about 5 – 10 minutes opening an online savings account.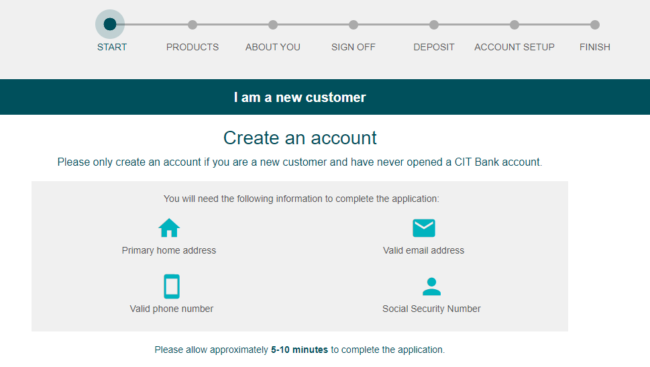 Before you begin filling out your information, carefully select the type of account you want to open (savings).

You'll also choose whether you want to open an individual or joint savings account.

Banks require you to fill out personal information to open an account, such as:
Full name

Date of birth

Social security number

Citizenship status

Mother's maiden name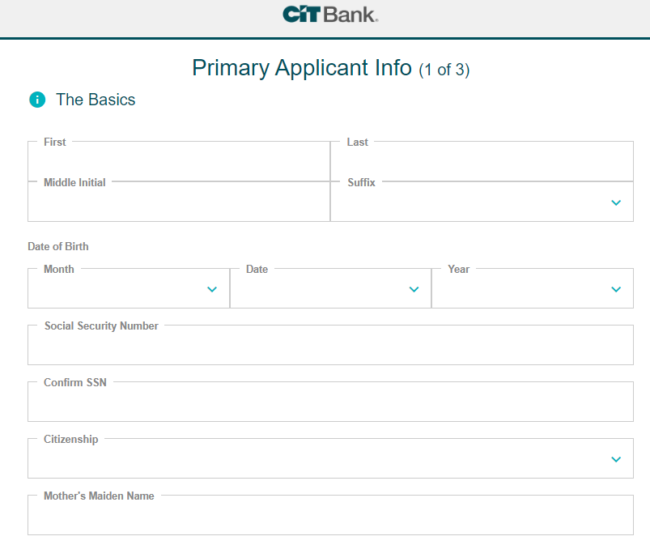 You'll also fill out contact information that lets the bank know how to reach  you:
Email address

Primary phone number

Optional 2nd phone number

Preferred method of contact

Primary home address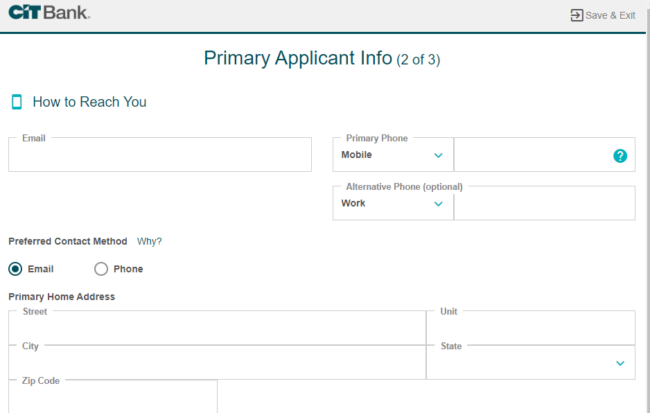 Once you've filled out your personal and contact information, you'll typically answer a couple of questions about your employment status, such as:
What is your occupation?

Who is your employer?

What's your job title?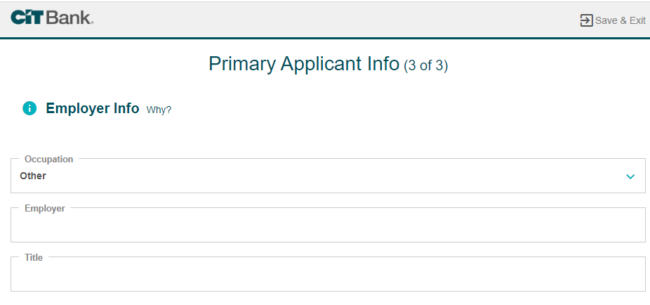 That's about it! Opening a bank account isn't complicated or lengthy, and it only takes a few moments.
We recommend CIT Bank when depositing $5,ooo or more – open your free savings account at CIT Bank and earn higher interest + zero fees
Once you complete your application, you'll finish up with a few final steps:
Review the information you entered

Review the account agreements

Verify your identity

Fund your account
In most cases, you can fund your account with $100 or less. 
Opening an online savings account is simple and only takes a few moments. Yet, it can potentially save you a fortune on monthly interest fees while also paying you the highest interest rates available.
Strategic Savings Begins With an Online Bank Savings Account
Traditional banks can make you broke with their monthly fees and outrageously low-interest rates. Consider opening a savings account with an online bank to cut the costs of your emergency savings.
Before you sign up, check to make sure the bank provides a user-friendly online portal or mobile app that makes accessing your account easy.
| Platform | Promotions | Link |
| --- | --- | --- |
| | Get a cash bonus of $30-$500 when you deposit $1,000+ in the first two weeks. | Invest Today |
| | Get one free stock priced up to $225 when you link a bank account. | Invest Today |
| | Get two free stocks when you deposit $5 within 30 days. | Invest Today |
| | Start investing with as little as $1. | Invest Today |