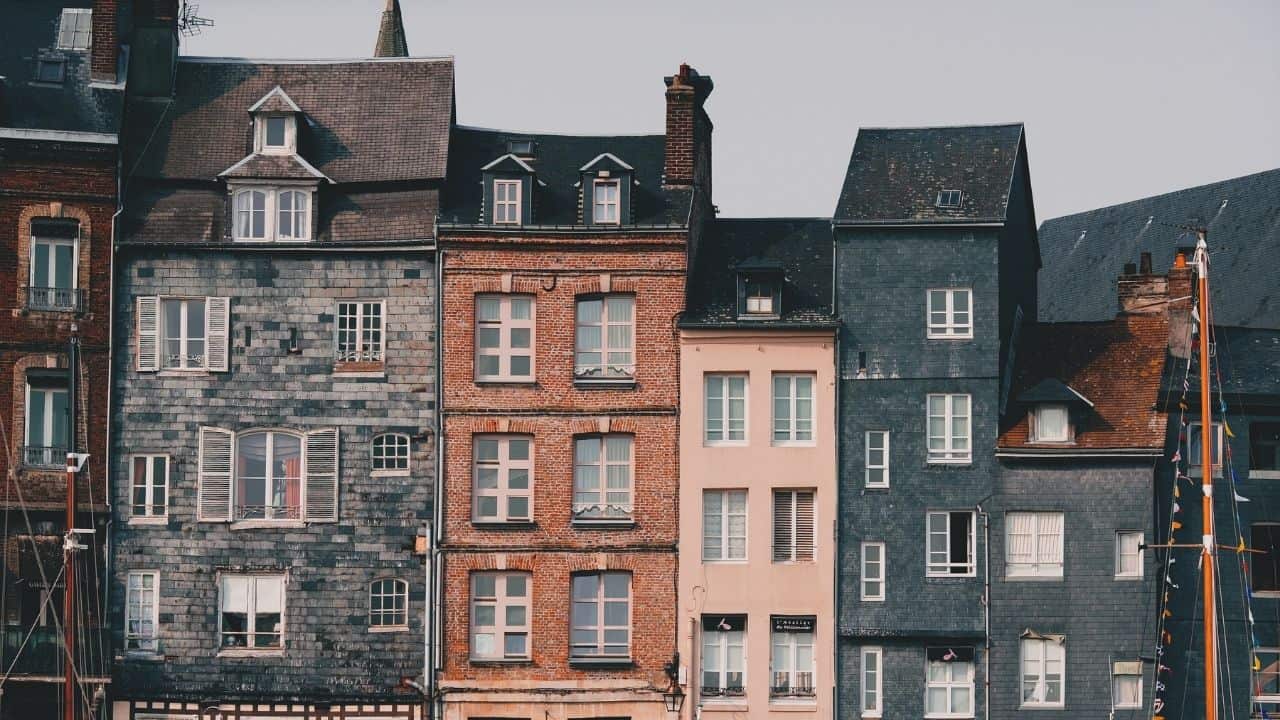 Disclaimer
We only endorse products that we truly believe in. Some of the links below may earn us some extra guac at no additional cost to you. Please pass the chips & thank you for feeding our habit.
The Minority Mindset earns commission from this Fundrise endorsement via the partner links below. All opinions are the author's.
RealtyMogul Review
RealtyMogul Review 2022
With many benefits over its competitors, RealtyMogul does a thorough job vetting each project and providing low-risk, conservative investments. 
RealtyMogul has high fees, a lack of liquidity which makes this platform best for accredited and more experienced investors.
Pros
Due Diligence For Every Investing Opportunity
Excellent User Experience
Project Transparency
Cons
High Minimum Investments
Fewer Investment Opportunities
No Mobile App
Leading real estate crowdfunding platform RealtyMogul prides itself on its highly-vetted, real estate investment opportunities, but is it the best option for everyone? Or, are its high minimums and illiquid contracts too limiting for most investors?
We did a full review of RealtyMogul's services, customer reviews, fees, and profits to determine what type of investor is best suited for the platform. 
RealtyMogul is a real estate investment platform that offers highly-vetted, crowdfunded commercial real estate opportunities to accredited investors, plus 1031 exchanges to defer their capital gains. It also provides REIT investment opportunities for non-accredited investors.
RealtyMogul may be the "unicorn" of crowdfunded real estate investment platforms for the right type of investor. For others, though, it could be a hard "pass." Find out exactly what type of investor is well-suited to RealtyMogul, and whether it's the best platform for you, in our review below.
What Is RealtyMogul?
Real estate investing marketplace RealtyMogul is a selective platform that accepts only 1% of property deals after its extreme due diligence process, which includes an onsite visit of each property. 
Its 219,000+ investors have spent more than $700 million financing over $4 billion of property value.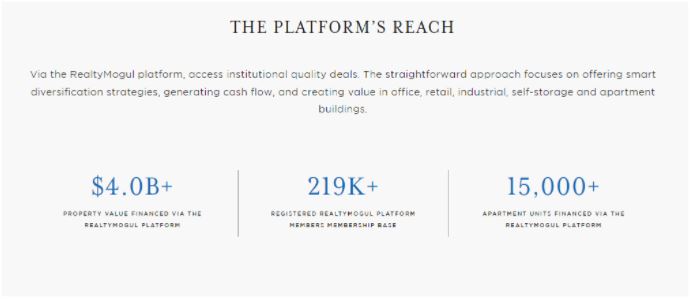 RealtyMogul's investment minimums are higher than many of its competitors, however, its extreme due diligence and 1031 exchange opportunities make it a good fit for high-net-worth individuals looking for crowdfunded commercial real estate opportunities.
What Type Of Investor Should Use RealtyMogul?
RealtyMogul caters to accredited investors, although it also provides limited REIT opportunities for non-accredited investors. 
Discriminating investors who prefer thorough due diligence and conservative investment choices are likely to favor RealtyMogul. Casual investors, however, are likely to prefer services such as Fundrise, which offers lower investment minimums and higher liquidity.
What Type Of Investments Does RealtyMogul Offer?
There are three ways to invest on RealtyMogul:
Crowdfunded commercial properties

1031 Exchange for accredited investors

Real Estate Investment Trusts (REITs)
#1: Crowdfunded commercial properties on RealtyMogul that have investment minimums of $25,000 – $30,000 and typically require a 3 – 7 year commitment. 
During the contracted period, your investment is not liquid and you shouldn't expect to withdraw your funds until the end of the hold period.
RealtyMogul's dashboard allows you to easily navigate through its current commercial offerings, which list the key points of investment, including:
Title and type of property: residential, multi-family, self-storage, or cold storage

Minimum required investment

Target IRR (Internal Rate of Return)

Target Return on Cost

Target Equity Multiple

Target Hold Period

Brief Property Description

Percent of project funded
Potential investors can quickly scroll through current offerings filtered by investment type, status, strategy, or property type.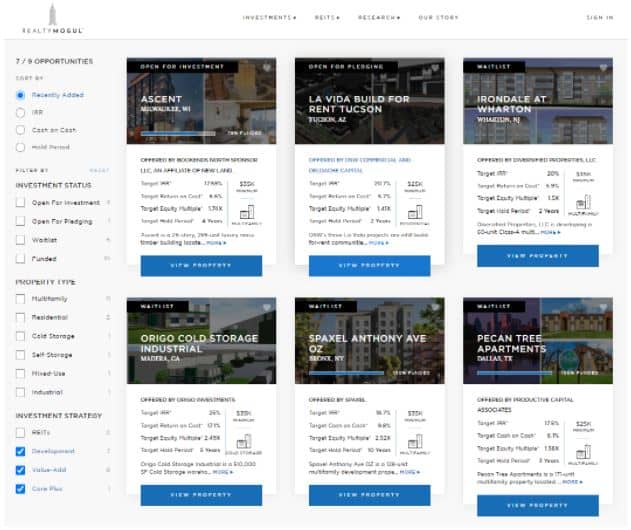 Clicking or tapping on a property page allows you to view extensive information about the project, including:
Project overview

Business plan

Property details, including location, comparables, and market overview

Financials

Project and property Images, videos, webinars

Information about the management company, including its previous track record and management personnel

PDF downloads of offering documentations such as financial summary, operating agreement, and project summary.
You can also follow any project by opting to the "Watch Investment?" option on its property page.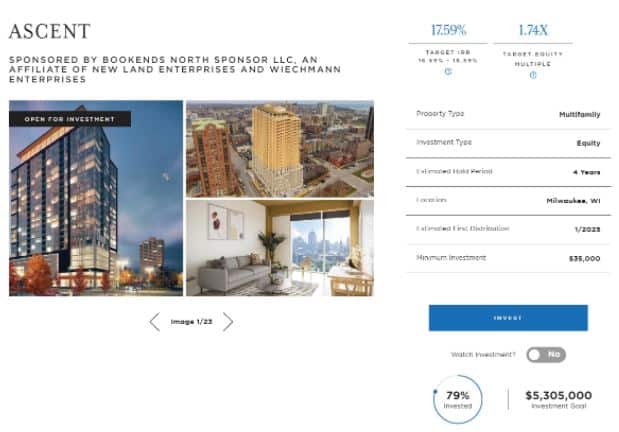 RealtyMogul does an outstanding job conducting due diligence on the properties it offers, and pairs its research with what appears to be complete transparency. 
Details for all its investment projects are easily accessible and clearly intended to answer every question a potential investor may have. Its information is backed up with the numbers and historical data that serious investors need to make fully-informed investment decisions.
#2: 1031 Exchange Platform allows you to defer capital gains taxes (between $25,000 – $50,000,000) on property sales by immediately investing in qualified, passive cash-flow, properties without agents, escrow, or closing costs.
#3: Real Estate Investment Trusts (REITs) allows non-accredited investors to join in on crowdfunded real estate projects for as little as $5,000.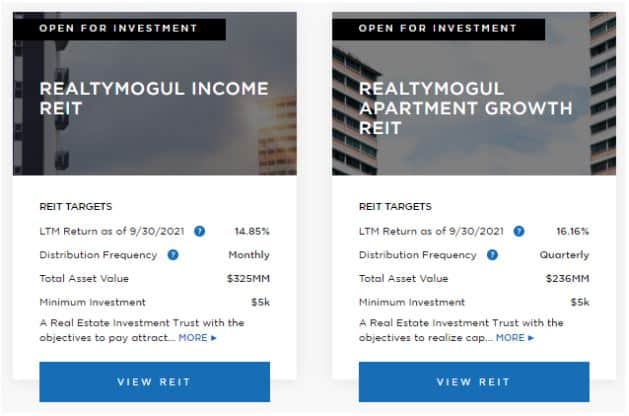 The platform offers two REIT options:
Income REIT

: A public, non-traded REIT aimed at providing monthly passive income to investors. According to RealtyMogul, the Income Reit has paid a steady 6-8% annual returns (net of fees) for the past five years.

Growth REIT

: A public, non-traded REIT that invests in apartment buildings with the purpose of building capital appreciation over the long term. According to RealtyMogul, the Growth REIT has made "quarterly distributions equating to 4.5% annualized based on the purchase price.
REITs are the only option open to non-accredited investors. 
Accredited investors are people who earn more than $200,000(single) or $300,000 (married), or have a net worth of $1 million or more.
If you don't fall into the "accredited" category, you can still invest with RealtyMogul through its REIT opportunities. 
However, its $5,000 minimum investment is higher than many of its competitors, and its 4% – 8% returns aren't as strong. For example, Fundrise allows you to open an account for as little as $10, and its first-year REIT investors typically see a 9% return.
RealtyMogul's commercial property, 1031, and REIT investment opportunities are excellent for accredited investors who want extreme due diligence on each potential investment, without having to put in the time it takes to personally conduct and compile research or visit property sites.
Non-accredited investors may want to consider other options, since RealtyMogul can't offer the low minimums and high returns of other platforms that cater to people earning under $200,000 a year.
However, if you're expecting to fall into the "accredited" category sometime soon, you may prefer RealtyMogul after all. Its transparent research and financial information provide an excellent education in the types of properties and opportunities you'll want to consider when you have more money to invest.
Overall, we recommend RealtyMogul for serious investors looking to spend a minimum of $25,000 and who will not need to liquidate their investments for several years.
RealtyMogul Pros And Cons
For the right type of investor, RealtyMogul is a top choice for crowdfunded real estate investment opportunities. 
Find out the pros and cons of RealtyMogul below, so you can decide whether it's the best investing platform for you.
RealtyMogul Pros
RealtyMogul is popular with serious investors who prefer selective offerings and like to fully understand all aspects of a project before investing.
People like RealtyMogul for many reasons:
Highly selective

properties — the company rejects 99% of the deals offered.

Extreme due diligence

conducted on every project, including an onsite visit.

Transparency

about all aspects of each project, including easy access to extensive information on any open property.

Excellent user interface

that makes investing simple and enjoyable.

Simple signup process:

The initial signup process is quick and easy, allowing you to open an account and browse investment properties before turning over any personal information.

Monthly auto-invest option for REITs

($250 minimum) helps you steadily grow a robust investment portfolio.

Excellent educational resources in the support section of

its website.

Eligible for SDIRA

(retirement fund) purchasing.
RealtyMogul Cons
Fewer investment opportunities

than many of its competitors, due to its high standards.

High minimum investment requirements

: $5,000 minimum for REITs and $25,000 minimum for private placements

Illiquid long-term investments

mean your money is committed for the length of the project and you can't withdraw it.

Projected hold periods

mean your money could be tied up longer than expected. 

No mobile app available

, but you can access the site from your mobile browser.

Non-accredited investors are not eligible

to invest in private placements, and are

subject to limits

on the amount of money they can invest in REITS.
Online reviews of RealtyMogul are mixed, but often share a common theme: Many experienced investors speak well of the platform, but people who don't read the fine print end up disappointed that they're not able to cash out their investments earlier than agreed upon.
The terms of every investment project are clearly listed on the property pages. Investors who understand that they can't liquidate their investments before the hold period is complete seem to be much happier with the platform.
Investor Mike Garner had several successful experiences with RealtyMogul.
"My experience as an investor [on RealtyMogul] has been good. I've had a number of successful exits all with 19-25% IRR, which is great. I have zero experience with their REITs, but all of the private placements I have been part of have done well." – Mike Garner Google review
RealtyMogul investor Jeff Robbins likes the platform's conservative approach that minimizes risk.
"Well managed real estate portfolios with a conservative and heavy vetting approach to minimize risk on return. Great communication on what you are investing into beforehand and through the investment period." – Jeff Robbins Google review
Overall, RealtyMogul provides many benefits over its competitors, such as thorough due diligence and conservative, low-risk investments. However, its high fees and lack of liquidity may be a turnoff to beginners and non-accredited investors.
RealtyMogul Fees
Like any investment platform, you'll have to pay fees to invest in properties on RealtyMogul. Fortunately, its fees are fairly competitive with other platforms.
Joining RealtyMogul is free and doesn't require any personal financial information. Once you open an account, you can browse investment properties for free.
Investment fees vary according to the individual project terms:
REITs: 1.0% – 1.25% annual fee
Private placements: 1% – 2 % annual fee

 
Additional fees may apply. Please read the individual property details for full fee information on any project you're considering.
Generally speaking, RealtyMogul investment fees run between 1% – 2% annually and are in line with most other investment platforms.
Getting Started With RealtyMogul
Opening an account on RealtyMogul is simple, quick, and free to anyone age 18 and older.
How To Join RealtyMogul
To join RealtyMogul, all you need to do is click "Join" from its homepage, then fill out the application.
Its application only requires your name, phone number, and email. You don't need to provide any personal or financial information at this point.
You'll also need to answer "yes" or "no" to the question "Are you an accredited investor?"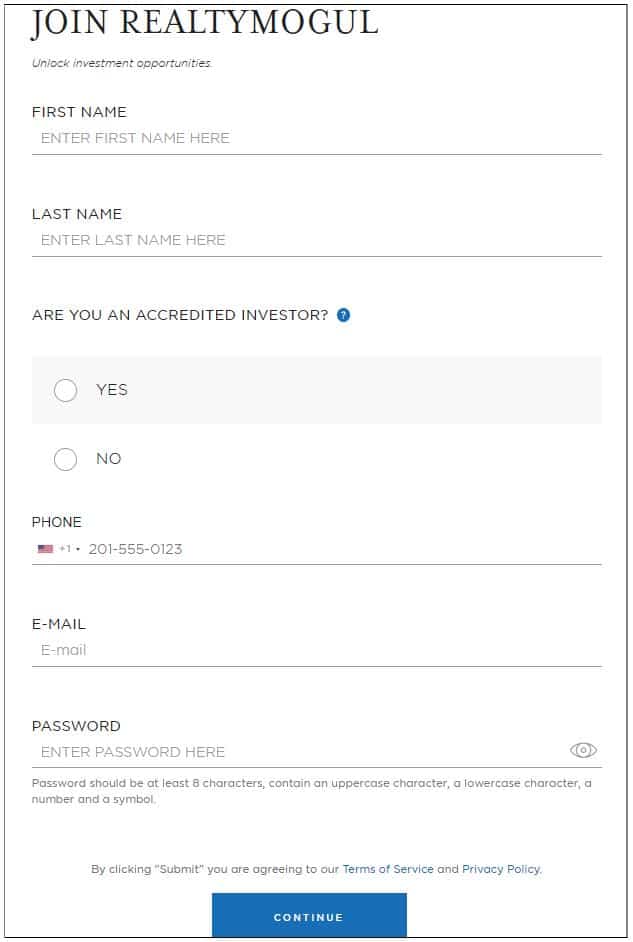 How Accredited Status Affects RealtyMogul Investors
If you're not sure how to answer the "accredited status" question, this section will help you understand what it means, whether you qualify, and why it matters.
What Is An Accredited Investor?


Accredited investors are people who earn $200,000 (single) or $300,000 (married) per year, or have a net worth of at least $1 million (not including their primary residence), or are finance professionals with a Series 7, 65, or 82 license.

Why Do Certain Investments Require Accredited Status?


Federal

securities laws

stipulate that only accredited investors are allowed to participate in certain securities offerings. These laws exist to ensure that the people investing have the understanding, capital, or net worth needed to sustain the risks that accompany these registered offerings.

Why Does RealtyMogul Ask If You Are An Accredited Investor?


While RealtyMogul's REIT investments are open to anyone over the age of 18, you must be an accredited investor,

"as defined in Rule 501 of Regulation D of the Securities Act of 1933, as amended (the "Securities Act"),"

to participate in all its other offerings, including private placements and 1031 Exchange.
If you answer "yes" to indicate that you are an accredited investor, expect to receive a call from RealtyMogul's investor relations department asking questions about your accreditation status. You may also be subject to background information screening.
What Happens After You Submit Your RealtyMogul Application
After you fill out the initial application (regardless of how you answered the accreditation question), check your email for a verification request from RealtyMogul.
Once you verify your email address, you can browse the information, images, videos, and webinars on any RealtyMogul open project.
Before you make an investment on the platform, give yourself plenty of time to read through all its documentation so you can make a fully informed decision and thoroughly understand what you're committing to before spending any money.
Keep in mind that RealtyMogul is not like the "average" crowdfunded platform. Its private placement minimum investment requirements are higher with longer commitments than many other platforms.





Most importantly,

your RealtyMogul investments are seriously illiquid

— meaning you can't convert them to cash before your hold period is up, and hold periods can sometimes last longer than projected.
Overall, getting started on RealtyMogul is simple and quick. 
However, if you plan on investing in private placements, you should expect a waiting period for accreditation verification. Additionally, you'll want to set aside time to review the offerings that interest you, and ensure that you fully understand the individual project terms and fees.
RealtyMogul Review: Our Recommendations
RealtyMogul is an investment platform that caters to accredited investors and specializes in elite property offerings that are accompanied by thorough due diligence.
In a recent survey by Minority Mindset, money-minded people say they lean toward real estate investing:
72% of people say they LOVE the idea of real estate investing.

48% of people already invest in real estate.
If you're interested in real estate investing and prefer the crowdfunded approach, RealtyMogul may be the platform for you.
The platform offers REIT investment opportunities to all investors over the age of 18 and private placement commercial property investment opportunities plus 1031 Exchanges to accredited investors.
RealtyMogul's minimum investment requirements are higher than most platforms, with REIT investments starting at $5,000 and private placement investments from $25,000. 
Additionally, its private placements are illiquid and likely to disappoint anyone who skips over the fine print and expects to cash out their investments before the hold term is complete.
We recommend RealtyMogul for accredited investors who expect a higher quality of crowdfunded investment opportunities paired with an outstanding management team that conducts thorough due diligence on each property.