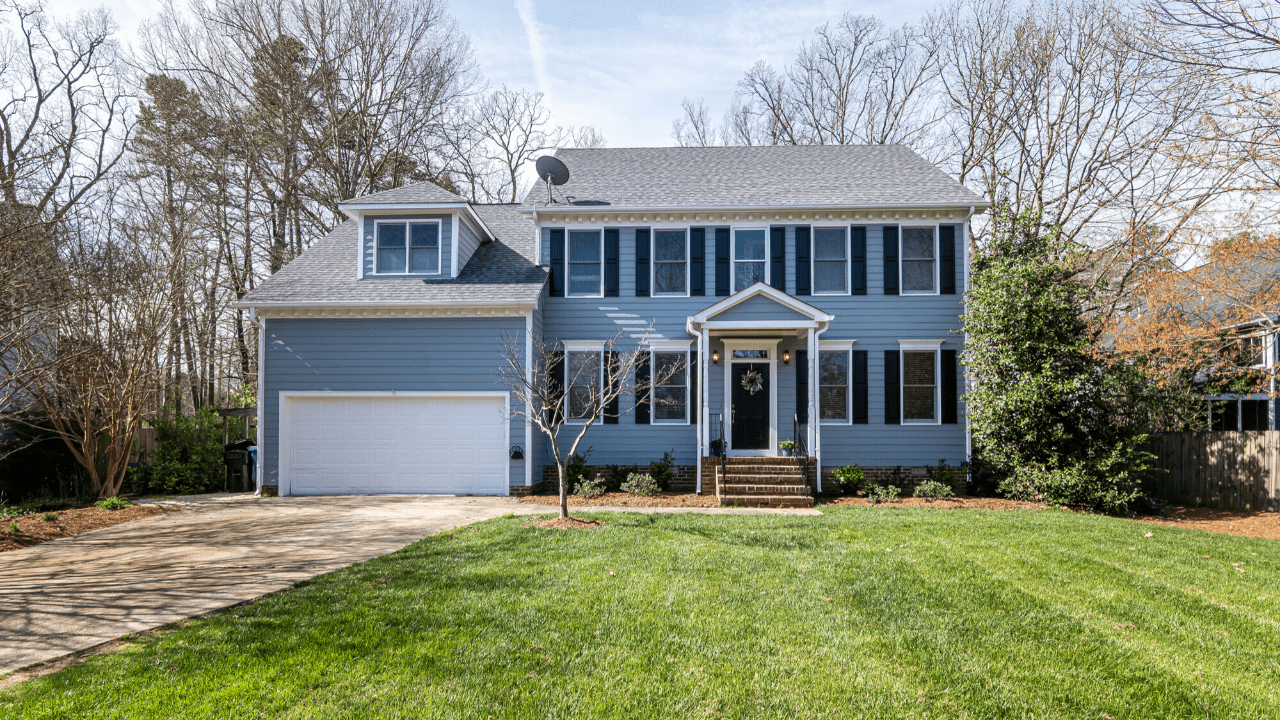 Disclaimer
We only endorse products that we truly believe in. Some of the links below may earn us some extra guac at no additional cost to you. Please pass the chips & thank you for feeding our habit.
[disclaimer]
If falling interest rates leave you asking, "Should I refinance my mortgage?", then this article can help you determine whether refinancing is the right move for you.
Refinancing your mortgage might put a significant amount of money in your pocket over the lifetime of your mortgage.
Refinancing isn't for everyone, though, and not all mortgage loans are beneficial.
How much you'll save, and if a refinance is worth the effort, depends on several factors, including:
Value of your home

Equity in your home

Interest rate

Closing costs

Loan type & term
In this article, we show you ways to simplify the sometimes-complex research process with tips, tools, and resources to help you determine whether refinancing your mortgage is the right move for you.
Here's what you'll learn in this article:
Benefits Of Mortgage Refinancing 
For some people, mortgage refinancing is an excellent financial strategy that provides several benefits, such as:
Reduce the debt on your home.

Lower your monthly payments.

Switch from an adjustable-rate mortgage to a fixed rate.

Cancel your mortgage insurance

if you've reached 20% equity

.

Build equity quicker.

Enjoy significant long-term savings with a 

strategic mortgage refinance.
Lower interest rates mean you could save a ton of money over the lifetime of your mortgage, so a few minutes of research could save you thousands of dollars.
Disadvantages Of Mortgage Refinancing
Mortgage refinancing backfires in some situations, and borrowers who aren't aware of the common pitfalls may end up taking on unnecessary frustration or owing more than they did in the first place. 
Fortunately, understanding how to circumvent common refinancing problems can help you avoid a bad refinance before you reach the "point of no return."
Bait and switch, other lender problems: Finding vetted lenders with a solid reputation is essential for a good refinancing experience. Keep in mind that just because a bank is well-known, doesn't mean that it's a reliable lender.
For example, a report by Rights Radio tells the story of Julian, who started the mortgage process with Bank of America, where he was assured that he qualified for a no-fee mortgage. 
Julian was honest with BOA about owning an investment property in the same city (also financed through BOA), but the loan officer took his $2000 before telling him that the investment property disqualified him from the No Fee mortgage. 
Julian was eventually forced to choose between paying an additional $1000 in fees for a higher-interest mortgage, or losing the $2000 he had already invested. 
Julian went ahead with the mortgage but was seeking an attorney at the time of his story's publication.
Avoid bait and switch and other lender problems by reading reviews before choosing a lender.
It turns out that Bank Of America, the lender that financed Julian's loan, has over two thousand reviews totaling a less-than-2-star review on ConsumerReports.com. The overwhelming majority of BOA mortgage borrowers left one-star reviews, many of them stating that financing through the lender was the worst mistake they ever made.
Get quotes from vetted lenders at Credible.com. Credible is easy-to-use and secure.
Rather than read reviews on the lender's website, visit a reliable review site such as Consumer Reports. Outside reviews are an excellent way to find out what past customers think about refinancing through the institution you're considering.
Non-traditional income: Self-employed freelancers, small business owners, and people with non-traditional types of income may find themselves wading through mounds of paperwork and frustration in attempt to get approved for a mortgage refinance — only to be denied a loan anyway. 
Even if you make a steady income (and have been for years) with documented proof, you may still struggle to get approved for a new loan.
Other types of income can also pose refinancing problems. 
For example, Melanie from Philadelphia was denied a loan while living off of a long-term severance package, despite having included an additional 2 million dollars of retirement assets as part of her income.
Self-employment and non-traditional income challenges don't mean that you can't refinance your mortgage. Before you start the loan process, however, you'll want to thoroughly research your income situation and learn how to get around the hurdles between you and a refinance loan.
Mismanaging your mortgage refinance: Choosing the wrong refinancing options can turn your loan into a nightmare that can't be reversed.
For example, if you borrow more than what you owe on your house (maybe to purchase a new car or boat), you can end up paying up to $100,000 more than needed over the lifetime of your loan. 
Or, if you ambitiously agree to a 15-year new mortgage instead of 30, you could put yourself and your family at risk of losing your home if you experience financial hardship in the future.
Approach mortgage refinancing with a strategy that ensures that you save money and pay your home off earlier. We suggest you borrow only what you owe on your home, opt for a 30-year term, then make higher payments than required to lower the amount of interest you pay.
When interest rates are low, mortgage refinancing can be one of the best things you ever do for your financial future. Refinancing can present some challenges and disadvantages to some people, but most issues can be avoided by taking a bit of time to do your research.
How Much Will A Mortgage Refinance Save Me?
Several factors determine how much money you can save when you refinance. 
Researching interest rates, closing costs, and lenders is the best way to understand whether refinancing your mortgage will save you money.
Fortunately, you can simplify the essential research with tools and resources that quickly calculate your savings.
Mortgage refinance rates and costs vary from lender to lender. You can quickly compare mortgage interest rates at a site like Credible.com, but before you choose a lender, you should also compare closing costs.
Closing costs vary from lender to lender, but they usually add up to between 2% – 6% of your loan.
Learn how to find the best mortgage refinance rates and negotiate your closing costs.
A mortgage refinance calculator can help you determine how much the "do-over" on your home loan will save you. 
You can use a mortgage refinance calculator at different stages of research. 
For example, a simple refinance calculator can help you determine whether further research is worth your time. A more complex tool can give you full, accurate mortgage data that helps you make a final decision.
4 Best Mortgage Refinance Calculators And Why We Like Them
A mortgage refinancing calculator makes research easier by showing you how different loan options will affect your monthly payments and overall savings.
For example, a calculator lets you experiment with loan variables such as:
Term length

Interest rates

Closing costs
Some calculators ask for simple details about your home and mortgage, then produce a rough estimate of how much you can save through mortgage refinancing. 
Other tools require extensive information but provide you with more accurate results and a better long-term overview.
Below are our four favorite mortgage refinancing calculators to help you determine how much money you'll save by refinancing.
1. Credible.com Mortgage Refinance Calculator: In-Depth, Accurate Projections
Credible's personalized mortgage refinancing tool allows you to discover your actual refinancing rate and compare lenders, without affecting your credit score.
If you're looking for accurate calculations, you'll be pleased with the amount of detail the tool considers before it calculates your rates.
Additionally, Credible provides customer support from finance experts, in case you have questions or need guidance during the process.
Use Credible's calculator when you're serious about refinancing, but before you take out your new loan. Its attention to detail will help you understand more about your mortgage refinance than most of the other tools and calculators.
2. SmartAsset Mortgage Refinance Calculator: Simple And Easy-To-Use
SmartAsset's mortgage refinance calculator is super-easy to use and requires very little detail.
Its visual display makes it easier to find and remember the results of your calculations, including the length of time you need to keep the refinance to make it worthwhile and a side-by-side comparison of your current vs. new mortgage payment.
3. Discover Mortgage Refinance Calculator: Step-By-Step Wizard
Discover's mortgage refinancing tool simplifies the process of calculating your new mortgage by walking you through a short series of questions about your current and future mortgage.
After filling out basic loan  information, the tool instantly produces calculations that show you how much money you'll save annually and monthly if you refinance.
Discover's mortgage refinancing calculator is excellent for people who want a simple tool that doesn't require much time.
If you're just beginning your refinancing research, this is a great resource that gives you a quick estimate and helps you determine whether pursuing a new home loan will be worth your efforts.
4. Realtor.Com Mortgage Refinance Calculator: Real-time Results
Realtor.com's mortgage refinance calculator provides line-by-line details, which are excellent for people that prefer to scan essential data rather than visualize it.
The tool asks for a bit more information than some of the simple calculators, but it also provides you with a more thorough estimate.
After you answer some basic questions about your mortgage, the tool shows you how much you'll save every month, how much you'll save over time, and when you'll break even on your new loan.
What we like most about Realtor.com's refinancing tool is that it delivers results in real time. As you input information, your results instantly adjust to the new data. This allows you to instantly experiment with a variety of options.
Boost Your Mortgage Refinance Savings With Research
If you're trying to decide whether refinancing your mortgage is a good move, a few minutes of research can probably answer that question for you.
Compare interest rates and closing costs before you make a decision, and consider using a mortgage refinance calculator to help evaluate your financial data.
*Advertisement from Credible Operations, Inc. NMLS 1681276, not available in all states. Click here for important information about Credible's licenses. Address: 320 Blackwell St. Ste 200, Durham, NC, 27701.
Keep Reading: