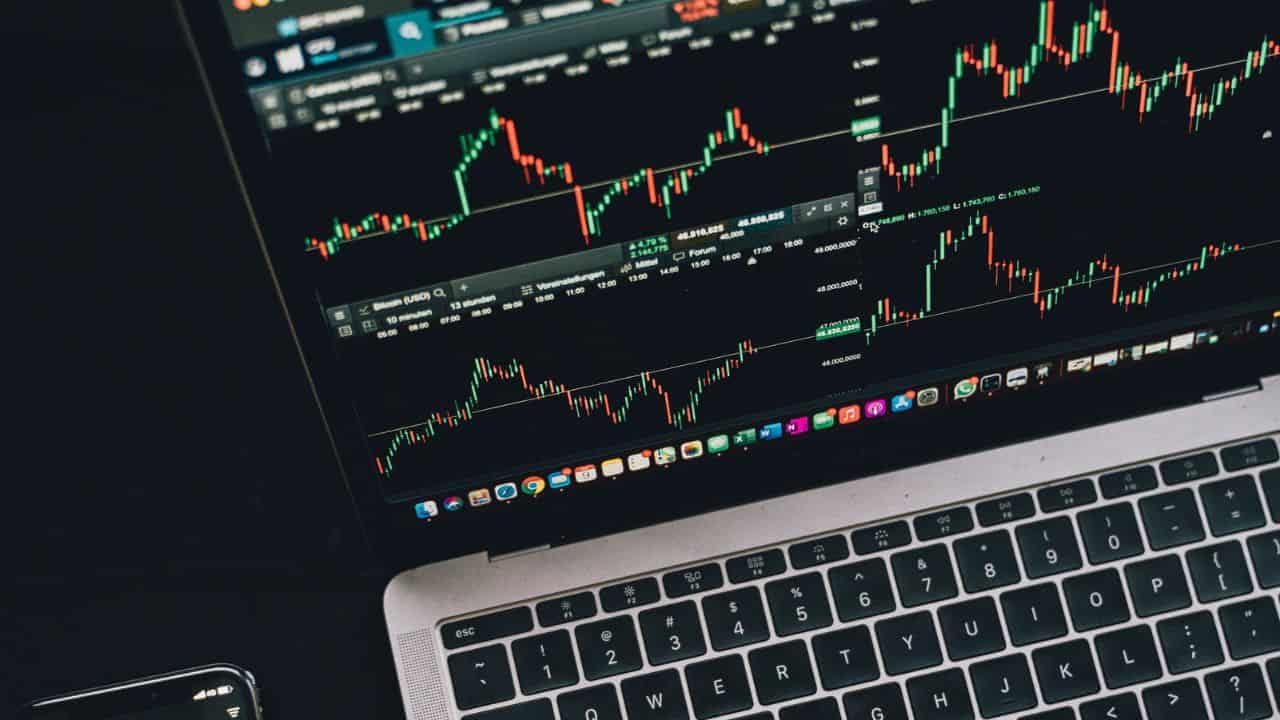 Disclaimer
We only endorse products that we truly believe in. Some of the links below may earn us some extra guac at no additional cost to you. Please pass the chips & thank you for feeding our habit.
SoFi Review - Auto And Active Investing
SoFi Review
Despite being relatively new, SoFi offers its users a lot of perks including money management, and multiple investing types together. If you're looking for a reliable, one-stop shop for your investing needs – SoFi may be right for you.
Pros
Active And Auto Investing In One Platform
Low Fees
Financial Planning
Cons
High ETF Fees
Still A New Platform
Lacks Advance Features
Looking for a smarter way to manage your money? Social Finance (SoFi) is a personal finance app that's been around for over ten years, connecting folks with modern money management tools. 
SoFi got its start in 2011 as a tool for Stanford students and alumni, but in 2012, it started offering student loan refinancing. (Fun fact: it was the first company to offer refinancing for both federal and private student loans)
While I thought SoFi was just a student loan platform, it's evolved into a totally different beast over the past few years. In 2019, SoFi rolled out SoFi Invest, a feature within the SoFi app that lets you invest in ETFs, stocks, and crypto. 
With over 3.5 million members, SoFi bills itself as an all-in-one finance app so you can manage your money in one place. I hate switching between my bank, investment apps, and insurance accounts, so SoFi has definitely streamlined my finances.
SoFi Invest offers both active (self-directed) and automated (robo advisor) investment options. 
Pros: 
Low fees
Fractional shares
Member perks
Free financial planning
Cons:
High ETF fees
The platform is new
Lack of advanced features
But how does SoFi Invest stack up against other investment options? Check out my SoFi review to see if the platform is a match for your financial goals.
SoFi Review – Automated And Active Investing
Yes, SoFi offers a lot of cool features, but here we're just looking at the SoFi Invest product. 
With SoFi Invest, you can do active or automated investments, as well as retirement savings accounts and cryptocurrency. Regardless of how you invest, you'll also have access to: 
No commissions or account minimums

Investments starting at $1 

Human financial advisors—for $0
Now, SoFi gives you two ways to invest: automated or active. One isn't better than the other, though; they're two sides of the same coin. Unlike other investing platforms that only offer one option, SoFi Invest allows you to do both automated and active investing.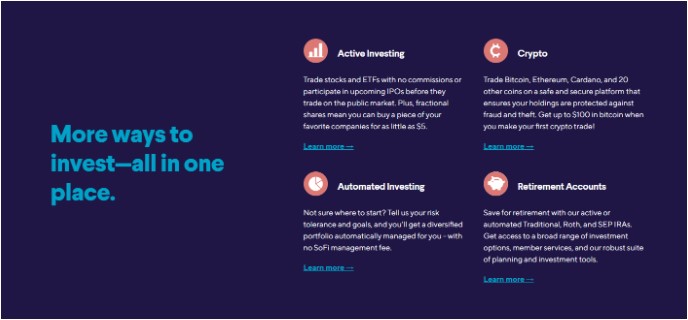 Let's dig into the differences between automated and active investing on SoFi.
SoFi Automated Investing
I'm a hands-off kind of person when it comes to managing my money. That's why I went for SoFi's automated investing option first. This is its robo advisor service, which means that you let SoFi take the wheel when it comes to: 
Setting your risk tolerance

Choosing investments

Rebalancing your portfolio
If you want to let SoFi take care of your investment strategy, but don't want to give up on the benefits of active management, the automated investing service might be for you.
For those who feel like they can't put their finger on what they'd like to invest in, this is a great way to go. That's because you're not going to have to worry about research or making a decision on what stocks to buy—SoFi handles all of it for you.
All you've got to do is pick your risk tolerance and your asset allocation through SoFi's onboarding questionnaire. Then, SoFi will take care of all of the stock-picking and bond-picking for you. 
Once you've chosen your risk tolerance and asset allocation, SoFi will automatically invest your money into a portfolio that's tailored to your needs. It even offers traditional, Roth, or SEP IRAs if you're investing with the goal of saving for retirement. Nice, right? 
Normally you'd have to pay a management fee to use a robo advisor, but SoFi Invest actually offers this for free. For the value you get, it's a darn good deal. With SoFi's automated investing option, you can also: 
Plan for certain goals

: Choose from SoFi's pre-set goals, like saving for a vacation, home, wedding, retirement, or kids' education. The platform will automatically adjust your portfolio so you're able to meet your goals. 

Auto rebalancing

: Normally you would have to check in on your investments to make sure they're still on track with your original goals. But automated investing will do all of that for you! SoFi rebalances your stocks and bonds every quarter, automatically. 

Diversify

: SoFi's automated investing option puts your money into a variety of ETFs, which are basically a big basket of different investments. This spreads your money across different industries, companies, and assets so you're (hopefully) more protected against risk. 
So, what's the catch? 
The only issue I could find with SoFi automated investing is its ETFs. Technically the platform is "free," but ETFs each come with their own separate fees. SoFi sources ETFs from old reliables like Vanguard, but the biggest issue is that it has its own proprietary ETFs, too. 
SoFi temporarily waives fees for its proprietary ETFs, but after a set period of time, these waivers expire. Since SoFi ETFs have expense ratios ranging from 0.29% – 0.49%, that makes this option a lot more expensive than, say, a low-fee Vanguard ETF. 
SoFi's ETFs also have fewer assets and they're newer, so there's always a risk of a new, unproven fund collapsing. 
Even so, I think SoFi's automated investment options are still a solid choice for newbies. It might become too expensive as you build your wealth, but if you're just starting out and need help managing your investments, it shouldn't be a problem.
SoFi Active Investing
Not a fan of automated investing? No problemo. SoFi also allows you to do active investments, if that's more your jam. 
Active Investing is when you try to "beat" the market by picking specific investments. It can be higher risk, but it gives you a greater degree of control over your money.
Active investors can choose the stocks that will make up their portfolio. That means you won't be tied to a specific strategy or just one type of fund. That gives you more freedom to choose the funds that work best for you. 
I like to call active investing the "DIY option." It's great for more experienced investors or investors who are ready to learn more about the market in a hands-on way. With that said, active investing is riskier if you're a new investor who doesn't know much about the market. Only do active investing if you know what you're doing, or if you can put in the time to learn.
With that said, SoFi active investing gives you access to helpful features like: 
Curated content

: See news and updates curated just for your investments and interests within the SoFi app. 

Personal watchlist

: SoFi's watchlist lets you customize which stocks you see when you log into your account. Follow the performance of certain stocks before you buy them—or check up on the health of your current stocks in one convenient dashboard. 

Fractional shares

: You don't have to spend thousands of dollars on a single share of a high-price stock. SoFi offers fractional shares for as little as $5. Pick stocks individually and buy as little as you want, cherrypicking investments based on your preferences and budget. 
But don't let the idea of active investing intimidate you. All SoFi Invest members have access to a free financial advisor. 
Yes, you can schedule a phone call or a video chat with a living, breathing human who will act as a fiduciary, guiding you to make the best decisions for your financial goals. This would normally cost an arm and a leg, but it's a free perk that makes SoFi Invest a juicy option for investors. 
SoFi Invest Review – Pros And Cons
SoFi Invest is an awesome service if you want help growing your money, whether in the form of automatic investing or financial planning. There are so many advantages to SoFi, but it obviously isn't perfect. Let's look at the pros and cons of investing your money with SoFi.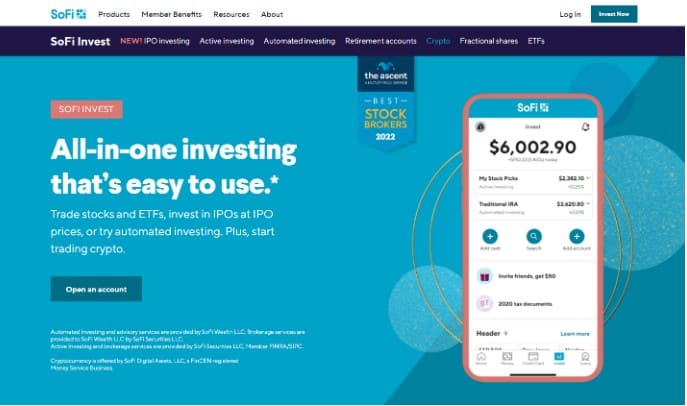 SoFi Invest Pros
Low fees

: Other investing platforms charge you membership fees, management fees, and commissions. SoFi doesn't do that. Sure, you'll pay fees if you invest with ETFs, but even so, the perks of its investing app outweigh the costs. 

Cryptocurrency

: Crypto lovers rejoice! You can invest in 30 different types of cryptocurrency from your SoFi app. Make deals 24/7 from the same app you use for banking, investments, loans, etc. The downside is that SoFi does charge a 1.25% fee for every crypto transaction, so don't get too crazy with frequent transactions. 

Suite of services

: Is SoFi the only service that does robo advisor investments? Of course not. But SoFi offers a full suite of financial services to go with your investment account, which gives you a one-stop shop for everything. If you're sick of switching between 15 apps for everything, SoFi can streamline your personal finances. 

Fractional shares

: There's no need to have thousands of dollars on hand to buy shares in Apple, Tesla, or Google. SoFi's fractional shares allow you to get your foot in the door for a nice 'n' low $5. 

Member perks

: Because SoFi is a suite of financial services, it offers

benefits to its members

. It's similar to members-only banks, like USAA. SoFi offers referral bonuses, free financial planning, discounted estate planning, career advice, and an Unemployment Protection Program. Depending on where you live, you can even check out SoFi's

exclusive in-person and virtual member experiences.

Free financial advisors

: Honestly, the free access to financial advisors is a

sick

benefit to SoFi Invest. Normally you would need to pay a 0.25% fee for this kind of service with any other investment app. But SoFi allows you to talk to a real human about your money goals for $0. These certified advisors are trained fiduciaries, which means they act in your best interests, not SoFi's interests. The only downside is that there's a lot of demand to speak with these advisors, so you might have to wait a few weeks to get on your advisor's schedule.

Low minimums

: Some investment apps require you to have $100, $500, or $5,000 to open an account. SoFi doesn't have any requirements, so you can open an account with $0. Obviously, you need to put money into the platform to start investing, but you can do that with as little as $1. 

Security measures

: SoFi has strict security measures in place to protect your account information and money. It has a team monitoring its accounts 24/7. Your money is also SIPC-insured for up to $500,000 in the event that someone hacks your account or SoFi goes out of business. 
SoFi Invest Cons
SoFi isn't technically free

: SoFi mostly makes its money from loans, but on the investing side, it's still making money off of you. The main way SoFi charges you money is through fees for its ETFs. ETFs are designed to be low-cost, but watch out for SoFi's proprietary ETFs. With expense ratios from 0.29% – 0.49%, they're way higher than the fees you pay on other platforms. 

It's still pretty new

: Let's be honest here. SoFi Invest has only been around since 2019. That means they only have a three-year track record, so it's too early to tell if SoFi Invest performs well long-term. That shouldn't discourage you from using the app, but it's something to keep in mind, for sure.

Lacking advanced features: If you're a new investor, you probably don't care about this, but SoFi Invest does lack more advanced features. You can't do tax-loss harvesting or optimize your investments for taxes. Since SoFi is mostly aimed at beginners, this isn't a big deal right now, but you might have to migrate to a different platform as your wealth increases.
SoFi Review – Who Is It Best For?
Clearly, there are a lot of benefits to using SoFi, but it has its downsides, too. That's because there's an investment app for everyone. Some investors won't like SoFi, and that's fine—it's all about choosing a platform that works for you. 
So, who should use SoFi Invest? In my opinion, the platform is better for: 
Beginner investors

: SoFi's automated investing feature is awesome for newbies. If you want to invest but don't know where to begin, automate your investments while you learn about the market. The free access to a financial planner is also a

big deal

for new investors.

Cost-conscious investors

: SoFi doesn't have an account balance minimum, and you don't need a lot of money to get started, either. If you aren't investing in ETFs, SoFi is pretty darn affordable. 

SoFi power users

: Do you already have your banking, loans, and insurance through SoFi? If so, I think it makes sense to invest through SoFi. If you're already trying to use one app for everything, keep things consistent to get more perks from the platform. 
Does that sound like you? Create a SoFi account now to kickstart your investments.