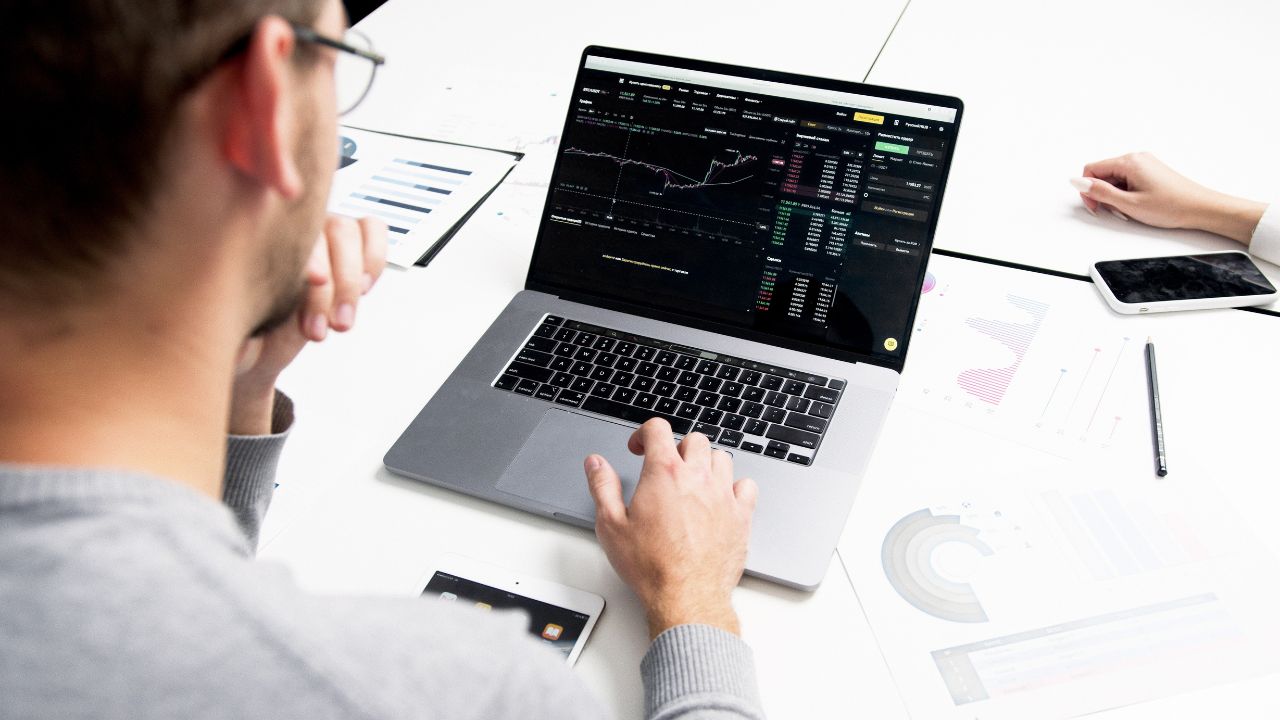 Disclaimer
We only endorse products that we truly believe in. Some of the links below may earn us some extra guac at no additional cost to you. Please pass the chips & thank you for feeding our habit.
When it's time to choose an investment app, you probably want to get to the basics quickly. How much does it cost, what are the minimums, and what services and perks do they offer? Understanding which one is right for your situation can make an impact on how much you invest and whether or not you go into debt doing it.
SoFi is a well rounded investing app offering low-cost investment options, and other banking services suited for beginners. The Robinhood app is recommended for disciplined or experienced investors, that provides 100% commission-free, fee-free investing and limited banking services. 
Keep reading to find out all about the services, features, and fees of both platforms, so you can decide which is best for you.
Robinhood VS SoFi Comparison
SoFi and Robinhood are similar, but not the same. See how they compare to each other regarding services, fees, and features in the comparison table below.
SoFi
Robinhood
Platform
Investing Services

Stocks
Crypto
IPO Access
Stock Lending

Additional Services

Loans
Refinancing
Credit Cards
Insurance
Credit Scores
Budgeting
1.25% APY No-Fee Accounts

Direct Deposit Paychecks
Debit Card w/Crypto Rewards
Interest Paid On Uninvested Cash
NFT Storage
Crypto Gifting

Coins Supported
30+
7+
Investment Fees

Stocks: $0 Fees
Crypto: 1.25% - subject to change

Stocks: $0 Fees
Crypto: $0 Fees

Investment Minimum

Stocks: Starting at $5
Crypto: $10 Purchase

$0 Minimum
Automated Investing
Yes
Yes
Best For
Beginners and those looking for an all-in-one banking and investment platform.
Self-disciplined investors with some experience
Because of their different strengths, SoFi and Robinhood cater to slightly different types of investors and are best suited for different personality types. 
77% of money-minded people use investing apps, according to a 2022 poll by Minority Mindset. 
As apps evolve and people use them more, investing becomes easier because interfaces and features improve. 
Robinhood and Sofi are excellent examples of industry leaders that have kept one step ahead of investing services to provide people with apps that make investing easier than ever.
In addition to investing, SoFi and Robinhood each provide a similar, but different, collection of financial services such as direct deposit, spending rewards, and more.
According to a recent survey by Minority Mindset, 21% of money-minded people use four or more investing apps.

Apps such as Robinhood and SoFi reduce the need to use several apps for investing since each can handle both stock and crypto investing.
SoFi and Robinhood do have their differences. Investors and others looking for online financial banking will want to know the differences between these apps before choosing, so they can choose the one that's better suited to their experience and investing style.
SoFi VS Robinhood – Investment App Features
Both SoFi and Robinhood offer investing platforms that allow you to buy, sell, trade, and manage your stock and cryptocurrency investments from one platform.
Both platforms provide easy, intuitive apps that make investing easy and portable and have 4 or more star ratings on the App Store.
SoFi Investing App Features And Services
SoFi is an excellent, all-around, investment and banking platform with no-fee stock trading and low-fee crypto transactions. It allows you to begin investing in crypto for as little as $10 or stocks (fractional shares) for $5.
SoFi Stock investing features:
Buy fractional shares for as little as $5

Stocks, fractional shares, ETFs
SoFi Crypto investing features:
Minimum investment

: $10 purchase crypto

Daily Max

: $50,000 crypto

Minimum sale

: 0.001 Bitcoin, 0.01 Ethereum, 0.1 Litecoin, 0.01 Bitcoin Cash, 0.1 Ethereum Classic

24/7 trading, real-time buying and selling
Sofi works with 30 different types of crypto, including Bitcoin, Ethereum, Litecoin, Dogecoin, Cardano, Polkadot.
Its user-friendly app for iPhone has an impressive 4.8 star rating in the App Store.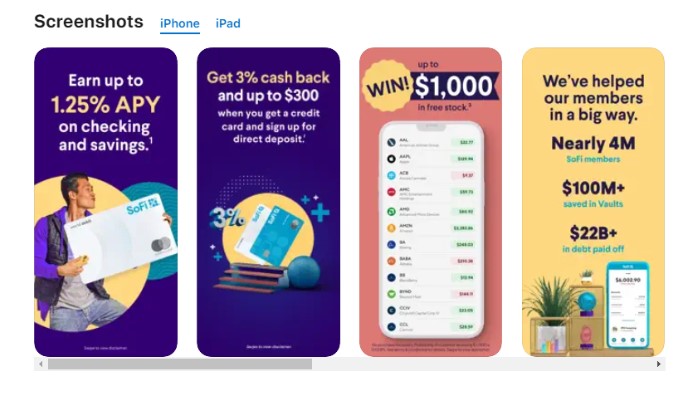 SoFi offers a full suite of online banking services, including
Automated investing

Banking: 1.25% APY – no account fees

Retirement savings IRA

Mortgage loans

Personal loans

Private student loans

Student loan refinancing

Credit card with 3% cashback rewards

Insurance: auto, life, home & renters

Credit score & budgeting
We think SoFi is an excellent platform for beginners or anyone who looking for an all-in-one solution for their banking and investing needs.
Robinhood Investing App Features And Services
Robinhood is a highly user-friendly investment platform that allows you to buy and sell stocks, options, ETFs, and cryptocurrencies. 
It has no investment minimums and charges no fees or commissions on crypto or stock investing — you can get started building an investment portfolio with as little as $1.
Robinhood investing features:
Investment minimum:

No investment minimums

Account minimum:

No account minimum

Extended trading hours:

7 am – 8 pm EST. Orders placed outside regular market hours (9:30 am – 4 pm EST) are queued and fulfilled at or near the beginning of extended-hours trading or near market open time, depending on the instructions you receive.
Robinhood works with several cryptocurrencies: 
Bitcoin

Ethereum

Dogecoin

Litecoin

Ethereum classic

Bitcoin cash

Bitcoin SV
Its investing platform provides several perks for investors:
Stock lending

: Earn income on stocks you own (turn on the feature and they will work to find borrowers — you get paid when they find a match.

Web3 wallet

: 

Trade and swap Cryptocurrency with no network fees.

Connect to

dapps

(decentralized applications).

Store NFTs and connect to NFT marketplaces.

Earn yield on your crypto.

Crypto gifts:

Send crypto, as a gift through the Robinhood app — you choose the design, currency, and amount, then add a personal message to complete your gift.

Bonus fractional shares:

When you refer a friend to Robinhood, you get rewarded with a free fractional share.

IPO Access

: Gives you the opportunity to become an early public investor in companies.

Recurring, automated investments:

Automatically invest on a steady basis – every market day, weekly, bi-weekly, monthly — you can easily automate your investment strategy with Robinhood.

Customer service

: Speak with a live agent anytime
You can also use Robinhood to get paid and manage your spending:
Direct deposit

Cash card allows you to withdraw cash from 75,000+ ATMs and earn weekly rewards.

Earn interest on uninvested cash
Robinhood brokerage firm is a good choice for investors because it offers commission-free trading, no investment minimums, and an easy-to-navigate, intuitive app that makes trading simple.
SoFi VS Robinhood – Investing App Fees
When it comes to choosing the better investment app, you're going to want to pick one that doesn't host a ton of fees.
That way you get to keep more of your earnings, instead of losing your money to fees.
Here's how Robinhood and SoFi compare in terms of fees.
SoFi Fees
SoFi has zero commissions on stocks, ETFs, and IPO investing. If you're interested in its banking features, SoFi's savings and checking accounts also have no account fees.
However, there is a 1.25% fee on crypto transactions, and the apps proprietary ETFs can carry higher fees than traditional ETF or index funds.
With that said, SoFi Invest has no fees and some of the lowest minimums in the industry, making it one of the best apps for beginners to get started trading stocks or other assets.
Robinhood Fees
Robinhood fees are also some of the lowest in the industry. In fact, Robinhood has no trading fees or commissions on any transaction.
The app also boasts a $1 minimum for stock transactions and a $10 minimum for crypto trades, making it perfect for the beginner who's looking to just dip their toes into the market.
The biggest drawback when compared to SoFi is that Robinhood is not an all-in-one finance app, meaning, you'll still need a separate bank or other financial institution to hold your money after trades.
That could mean additional outside fees are waiting for you at your bank, which will vary by institution.
With that said, Robinhood is still a great place for both experts and beginners to invest, as just about everything on the app is about as free as you can get.
Who Is SoFi Best For?
Thanks to its easy-to-use app, low fees, and wide range of services, we recommend SoFi for beginner investors or people looking to condense their banking and investing into one singular platform.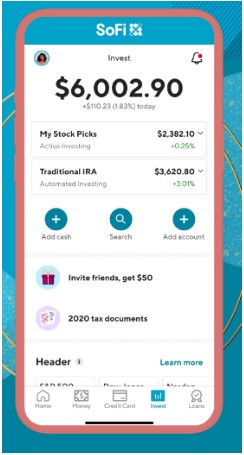 Who Is Robinhood Best For?
Robinhood is a robust investing platform that charges no fees, has no minimums, and makes it easy to get started investing in stocks and cryptocurrencies. 
It specializes in making investing simple, fun, and affordable with a robust app that allows you to learn and grow into a serious investor.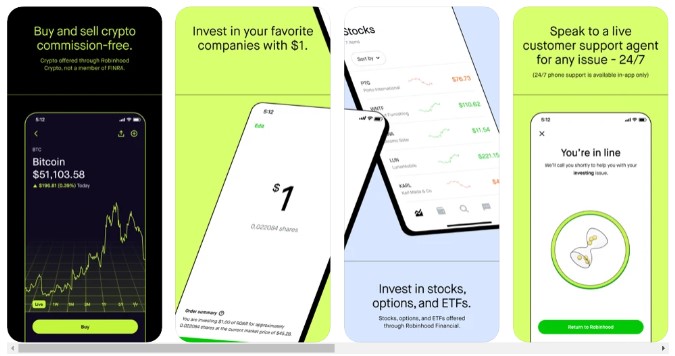 On the flip side, its interface is so user-friendly that some say it makes investing feel like gaming, which is not necessarily a good thing. 
Its tendency to attract young people (78% of its users are under the age of 35) can cause inexperienced or undisciplined investors to lose money, or even go into debt. 
For these reasons, we recommend Robinhood for experienced investors who have already developed disciplined financial habits.
Deciding Between Robinhood VS SoFi For Investing
When making a decision between Robinhood versus SoFi, you might consider reviewing the features that matter most to you:
Both offer low-fee investing, but Robinhood's $0 fee and commission structure makes it the least expensive.

Both allow you to get started on a budget. On SoFi, you can begin investing for just $5 – $10, but on Robinhood you can get started with only $1.

Both offer a selection of banking services, but SoFi provides full-service banking features such as loans, refinancing, insurances, and credit cards, and Robinhood is geared toward simple deposit-and-spend banking.

Both provide superior app experiences that make investing easier for beginners. Robinhood, however, has a reputation for being a little too much fun, causing undisciplined investors to lose money and even go into debt. If you're still learning money management or you have trouble with debt, Sofi is the better choice for you.
Robinhood and SoFi are excellent investing apps for stocks and crypto that also offer banking services so you can conduct your investing and banking in one place. 
Deciding which one is right for you depends on your level of experience with investing and money management, as well as what types of banking services fit your needs.