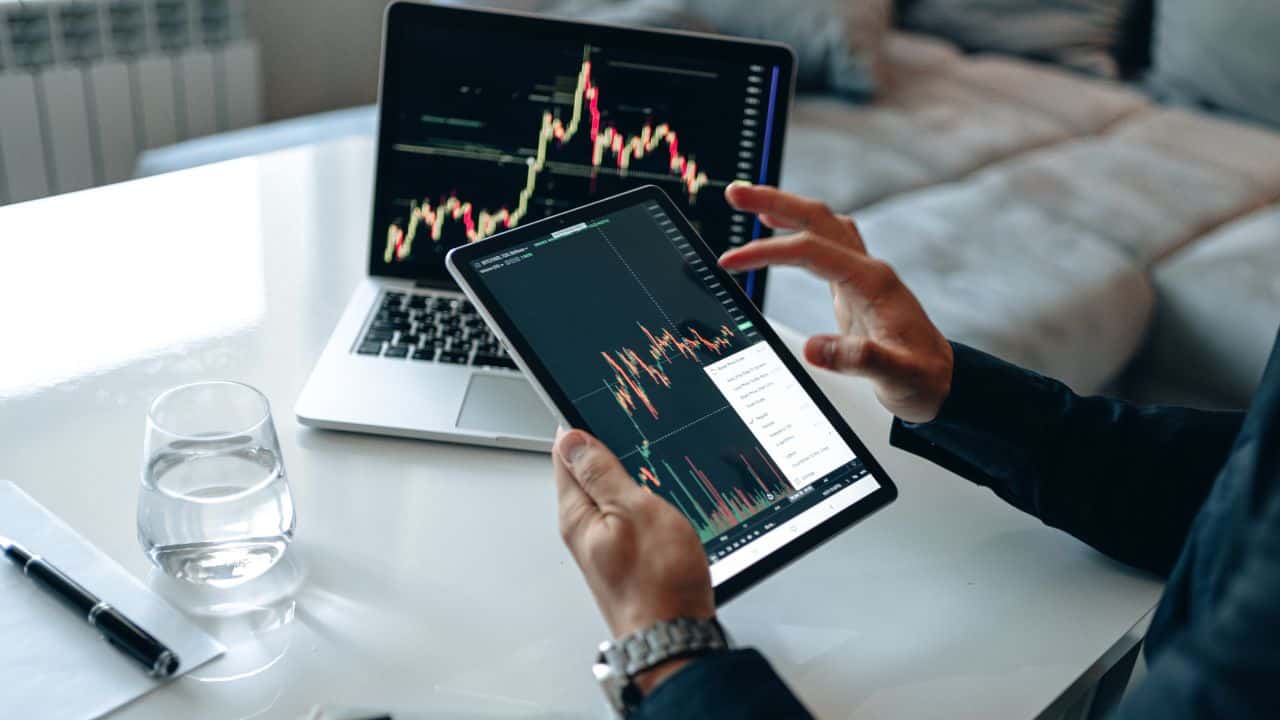 Disclaimer
We only endorse products that we truly believe in. Some of the links below may earn us some extra guac at no additional cost to you. Please pass the chips & thank you for feeding our habit.
Just about anybody can invest, but what does it take to be an investing legend? To get awesome returns on the money you put into the stock market? 
Well, nothing is cut and dry here. The stock market is volatile, so it's going to rise and fall based on the whims of the news cycle. Even if you follow investing best practices, there's never any guarantee of success, either—it's entirely possible to lose your shirt when you invest.
But don't let that scare you away! There are a few rules of thumb that successful investors live by. If your ultimate goal is to steadily build a decent nest egg with the power of investments, these stock market investing tips will get you across the finish line. 
7 stock market investing tips for long-term growth: 
Take a long-term approach    
Use a stock market investing app
Diversify investments
Manage your emotions
Invest in stocks that yield dividends
Research before you invest
Buy stocks during downturns
Sure, you can make money with investment strategies like day trading, but that's way too risky for a beginner investor, and it doesn't earn as much money in the long run. If you want to create true wealth for yourself without a lot of stress or hassle, you need to invest in the stock market for the long term.
7 Stock Market Investing Tips
I used to be really intimidated by the idea of investing. I knew I should start, but I was terrible at math and I was horrified at the prospect of making a big mistake. The good news is that, with a little bit of time and knowledge, I've become a decent investor myself. And if my mathematically-deficient brain can do it, you can, too. 
If you know it's time to start growing your money, but aren't sure where to start, I've got you: try these 7 stock market investing tips to grow your money over the long haul.
1. Take A Long-term Approach
Let's get this out of the way first: investing is about socking money away for years. If you're trying to get rich quick, this isn't for you. 
"But my step-cousin's girlfriend made a huge windfall with day trading!" you might say. And sure, some people can make money with short-term investment strategies like day trading, but in all honesty, that's closer to gambling than it is to investing. 
The stock market is volatile, and short-term gains don't necessarily translate into long-term growth. In fact, most day traders lose money long-term. 
However, the stock market returns an average of 10% per year if you leave your money in your investments long enough. Long-term investments are also a better idea because of: 
Taxes

: You only pay taxes on investments when you sell them (or when they yield dividends). With long-term investments, you pay significantly fewer taxes because you're making fewer stock sales. 

Time

: I don't know about you, but I don't have time to be buying and selling all day—I've got stuff to do! Long-term investments allow you to let your money grow while you focus on more important things. 
So, how do you grow your money long-term? 
Every investor is different, but it's a good idea to consider exchange-traded funds, or ETFs. An ETF is like a big basket that holds a variety of stocks inside it. Investing in index funds is considered extremely safe, and it allows you to achieve long-term growth by simply buying one or a few stocks.
Of course, this doesn't mean you can ignore your investments forever. I evaluate my investments every quarter (four times a year) to make sure I'm on the right track. This isn't about sticking my head in the sand, but it helps me avoid a lot of short-term distractions that divert me from my goals.
2. Use A Stock Market Investing App
Look, I don't have time to call up my broker and place a trade. If you want to do that, that's fine, but the best stock market investing tip I can share with you is this: you need to invest via a platform. 
Investing in the stock market requires knowledge, research, and a small amount of risk-taking. If you don't have time to learn about investing and research companies, you should go with an investment app that streamlines the work for you. 
M1 Finance and Robinhood are both solid options. M1 Finance is better suited for experienced investors who want to do self-directed investing, while Robinhood is better for complete beginners who want more guidance (without a lot of fees).
3. Diversify Your Investments
I love ETFs as much as the next gal, but I don't put all of my money into ETFs. That's because you should never put all of your eggs into one basket. 
If you put 50% of your life's savings into Amazon stock and the company disappears overnight, 50% of your money goes poof. For this stock market investing tip, you need to make sure you have a variety of different stocks in your portfolio, across different industries. 
However, it's also good to consider other types of investments, including: 
ETFs and mutual funds

Real estate

Bonds

Certificates of deposit

Cryptocurrency (as a speculative interest only)
The key to successful long-term investing is to diversify your stock portfolio. You should hold many different stocks to reduce your risk. But don't diversify for the sake of diversification. Instead, invest in quality stocks that: 
Have strong financials 

Have a history of success

Are leaders in their industry, or that have a legacy in the market
At the end of the day, you don't want a single investment to account for more than 10% of your portfolio. That's way too risky, so spread your investments out to protect yourself for the long haul.
4. Manage Your Emotions
Investing might feel like a logical science, but that's not true at all. How many times have we seen investors pull their money out of a company because of a bad news feature? 
There are times when it's appropriate to sell off certain investments, but don't let fear control your decisions. Your investments can only grow if you don't touch them—but if you freak out and withdraw everything, that money can't grow. 
As an investor, you have to learn to manage your emotions. Distance yourself from the panic that is the 24/7 news cycle and take a long-term view instead. Rash, emotional decisions can really hurt you in the long run, so keep a cool head.
5. Invest In Stocks That Yield Dividends
I love making money while I sleep. By investing in stocks that yield dividends, my money is making more money for me without any additional work on my part. Pretty sweet, huh? 
Some stocks don't pay dividends, while others pay out on a monthly, quarterly, or annual basis. Be sure to research stock to make sure it pays dividends—as well as its dividend schedule—before you put your money in. 
Now, you're free to take those dividends as payment, but in my experience, it's a good idea to reinvest your dividends. Most investment platforms allow you to roll your dividend earnings into fractional shares. Since I don't live off of my investment income, this allows me to buy even more shares in a business and earn more dividends over time. It's a snowball effect that can seriously grow your money for the long haul.
6. Research Before You Invest
I have a friend who likes to invest in high-profile companies like Amazon, Apple, and Tesla. While there's nothing wrong with investing in big-name companies, my friend didn't do any research! They invested based off of the brand name alone, which I wouldn't recommend. 
Buying stock makes you a part-owner of a business. Sure, I own a minuscule share in Amazon, but I technically own part of the company. As an investor, you have to act like a business owner: so approach investing like a business partnership. 
Always research a company before you buy its stock. Is it future-proof? Is the company competitive? Are there any gaps in its strategy? How will it use your money? What returns can you expect? 
You need to make informed decisions, and you can't do that without education and research. Look up a company's performance first so you know it aligns with your personal values and financial goals.
7. Turn down turns into opportunities
Remember the economic downturn during the pandemic? Everyone said the sky was falling, so investors pulled their money out of the market in droves. 
But guess what? The market eventually rebounded, and investors who were wise enough to buy stocks during the downturn are now seeing decent growth in their investments. 
The stock market will rise and fall over time because that's how it works. Don't be the guy who freaks out and sells during a downturn. 
Instead, treat a dip in the stock market as a special sale on stocks. I like to keep cash reserves in my brokerage account for this very reason! Depending on the stock and the nature of the market, I can buy stocks at a "discount," which is a great way to grow my money over time.
Using These Stock Market Investing Tips
Investing will always involve some sort of risk. But the stock market isn't a gamble: with the right approach, you can reduce your risk and grow your money into a sizable nest egg. 
You won't get rich quick in the stock market, but if you want to grow your money for the future, a long-term approach works best. Follow these 7 stock market investing tips to help you keep a level head as you learn about the ins and outs of the stock market. 
You don't have to figure this out on your own, either. Market Insiders helps investors get up to speed on the stock market, real estate, and even crypto. If you're serious about improving your investing IQ, give Market Insiders a try for free for 10 days.