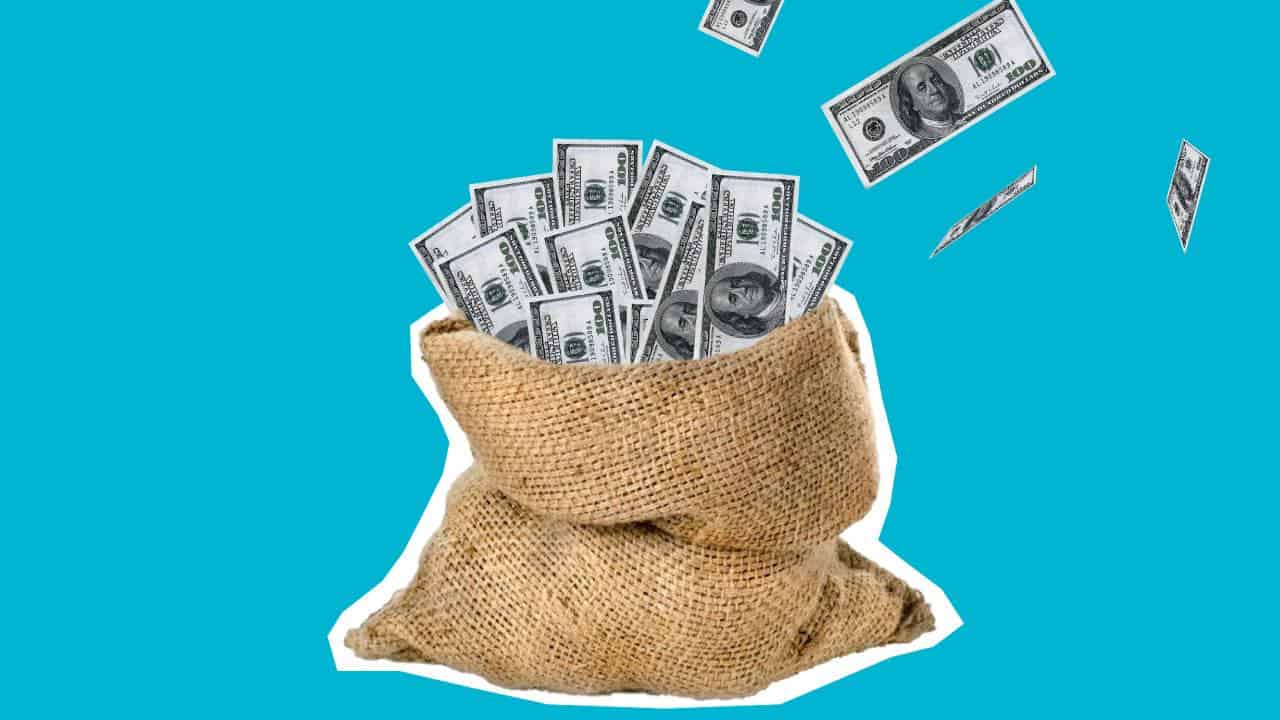 Disclaimer
We only endorse products that we truly believe in. Some of the links below may earn us some extra guac at no additional cost to you. Please pass the chips & thank you for feeding our habit.
The stock market is one of the best places to build long-term wealth. It's one of the most passive forms of investment, yet it has returned investors an average of 10% over the last 100 years of its existence. 
I haven't been investing actively for long, but as I look back on a graph of my investment contributions and the corresponding returns, I've seen this truth play out.
After only a few short years, I've begun to see the power of compounding interest at work in my investment accounts.
Contrary to what your brother-in-law might tell you, growing wealth in stocks isn't often achieved by following "hot tips" or day trading.
Consistent and patient people who commit to investing in their own futures day after day, year after year, are the ones who come away with long-term wealth.
If you're at the beginning of your wealth-building journey, you've found a good place to start.
In this article, we'll help you determine your investing parameters, introduce you to the best places to keep your stocks and give you some helpful tips on what to do (and NOT to do) if you want to build long-term wealth in the stock market. 
How To Invest In Stocks For Long Term Wealth
Investing means that you are going to hold on to an asset for the long haul. Sometimes 30 or 40 years.
With that said, here are some of the best ways to invest for long term wealth:
1. Determine Your Goals
You wouldn't start a road trip without a destination or a map. Why would your path to wealth be any different? 
Before you go throwing money into stocks, take time to assess your goals and how your investments will get you to them.
I have two main goals for my investments. 
Grow long-term wealth through mutual funds, ETFs, and stocks in my retirement accounts

Increase earnings on my discretionary savings (i.e., saved money that's not part of my emergency fund)
I have different accounts to hold a different collection of assets for each of these goals. (More details on that below.)
2. Motivation
Why are you trying to build wealth? 
Are you saving for a down payment on a house? Are you looking to fund your child's college education? Are you investing for retirement? 
Your motivation for investing will be key in determining not only what stocks you buy but also what kind of account you keep your money in. 
Not all accounts are created equal.
Even If you own the same stock in brokerage, retirement, and 529 accounts, the money you make from it can be very different based on taxes, penalties, and fees. (More on account types below.)
For instance, I keep my retirement savings exclusively in IRAs and Roth accounts to reap the tax advantages. I know I can't take the money out without penalty any time soon, so I am not tempted to do so. 
I'm also socking away cash for a trip to Italy. Given the current state of the world, I don't need that money very soon, but I do need it to be liquid enough to buy a plane ticket when Italy opens back up.
So I keep my "Italy Fund" in a brokerage account where I can get to it easily.
Time Horizon
When considering your time horizon, there's only one question to answer: How soon do you need to take the money out? 
A nearer time horizon may shorten the list of stocks and investments that are right for you since you won't be able to tolerate dips in the market without the risk of losing your initial investment. 
The longer you can stand to keep your money in your investments, the more risk you can tolerate—and the more potential for the reward you stand to gain.
But if you only have even five or ten years to work with, your cash will probably return more if it's in stocks than if it's in a savings account or under a mattress due to stocks' higher rate of interest.
Cash will lose value to inflation, which is about -3% per year. This means that if you stick $200 under your mattress in 2021, that will only buy you $167 worth of stuff in 2031 because your money is worth less. 
Even in a savings account, you'll have less buying power in 10 years as savings accounts these days are lucky to give you even 1% in interest. You'll only lose 2% annually, but you're still losing out by not investing.
Compound interest is powerful. If wealth is your goal, you'll need this tool on your side—it's simply impossible to penny-pinch your way to lasting wealth.
Over time, your invested money will work harder for you than you ever can for it. 
For this reason, an investor that contributes $200 a month to her retirement account at age 20 will have $1.1 million (assuming a 10% return) when she retires at 60.
If she waited to start until she was 30, she'd need to contribute $540 per month to get a similar nest egg. 
The curve for the benefit of compound interest isn't linear—it's parabolic.
The curve at the end of the timeline is MUCH steeper than it is at the beginning; the majority of the gains your investments earn come at the END of your time horizon. Give your investments the best chance at long-term growth by starting early.
Types Of Long Term Investing Accounts 
With the questions of your goals and time horizon answered, choosing an account to buy your stocks in is relatively easy.
Here's a rundown of some of the different types of accounts for long-term stock investing, and the benefits of each. 
529 Accounts
A 529 account has definite limits in that contributions can only be withdrawn without penalty if they're used for educational purposes (tuition, books, fees, etc.).
But if you're saving up for a college education (for your child, grandchild, or even yourself) and you have a long time before you need the cash, a 529 account is a good way to go. 
Unfortunately, you can't pick the individual stocks in this account; you select from preset portfolios based on your time horizon and risk tolerance.
Your contributions enjoy tax-free growth, and many states will credit a certain amount of your contributions toward your state income tax.
Each state offers its own plans, but you don't necessarily have to reside in the same state that your plan originates from, nor does your child have to attend school in that state to use the funds. 
Each 529 account can only have one beneficiary, so if you have multiple children, you'll need multiple accounts.
However, if one child doesn't need the funds or chooses not to pursue an education, you can transfer the account to a different beneficiary. 
Be advised, however, that if you withdraw the funds from your 529 plans for anything other than educational expenses (books, tuition, fees, etc.), you'll not only owe federal income taxes but a 10% penalty as well.
Your retirement and other savings belong in other types of accounts.
401K
One of the most common retirement accounts, 401ks are offered by employers and often come with a match—which is free money!
If at all possible, contribute enough to your 410k to get the employer match. 
Aside from an employer match, the biggest perk of the 401k is that your contributions reduce your taxable income—freeing up more of your money to invest!
You only pay taxes when you withdraw the money during retirement. Withdraw any earlier and you could be subject to federal taxes on the money and a 10% early withdrawal fee.
Roth IRA
This retirement fund offers no tax deductions on the front end, but all the gains your investments earn can be withdrawn tax-free during retirement.
If you meet the income requirements for a Roth account, it's one of the best ways to shelter your wealth from taxes. 
After contributing enough to get my husband's company match, we put all our retirement savings in Roth accounts before using IRAs, since the growth of our investments is tax-free. 
As another perk, you can withdraw your original investments (NOT the gains) at any time without penalty.
So if you're saving for a down payment on a house and want to park the cash for a year or two, a Roth is a good place to do it. 
Traditional IRA
Like a 401k, a traditional IRA reduces your taxable income, but your yearly contributions are much more limited ($6,000 vs. $19,500 in a 401k). Distributions during retirement are taxed as income. 
However, traditional IRAs often offer a broader diversity of stocks, ETFs, and mutual funds to choose from.
If your employer offers a match, fund a 401k first. If not, use a traditional IRA to grow your retirement nest egg.