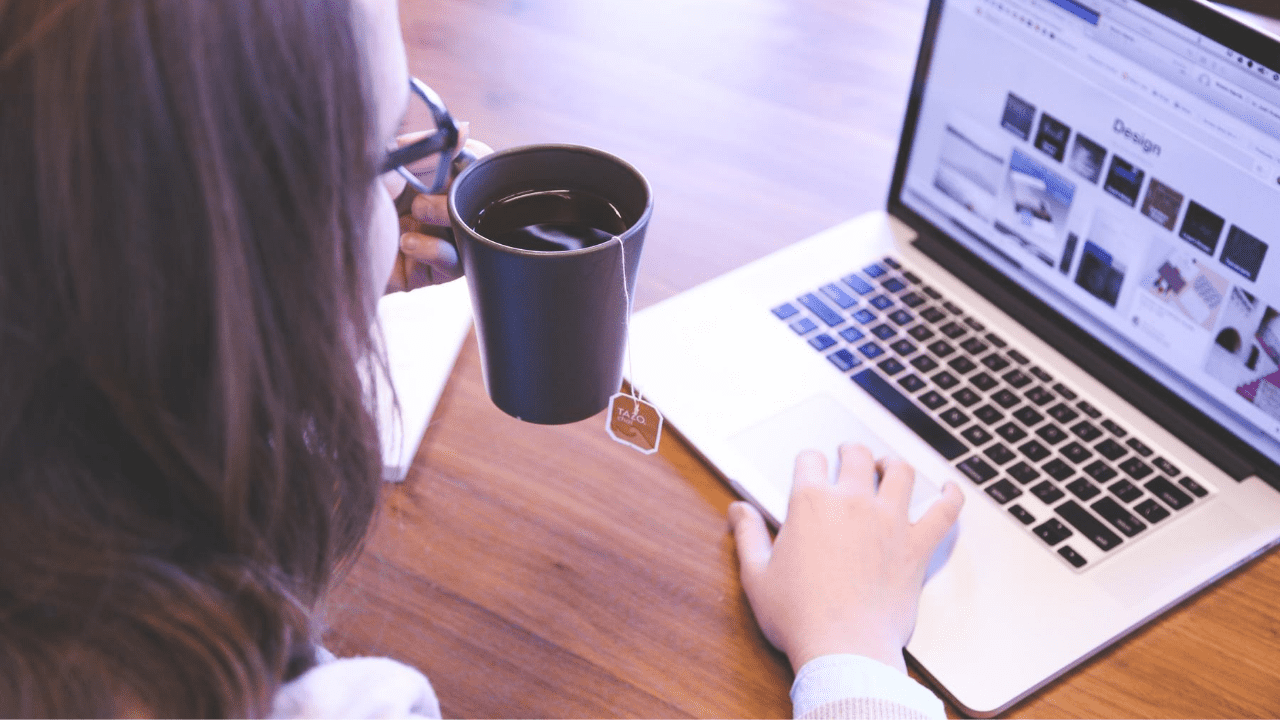 Disclaimer
We only endorse products that we truly believe in. Some of the links below may earn us some extra guac at no additional cost to you. Please pass the chips & thank you for feeding our habit.
Discover the best work-from-home jobs that you can get without a college degree. Plus, learn how to get training, find jobs, and network with peers in each industry.
If you're hoping to find a work-from-home job, we've got good news! 
Postings for freelance jobs rose by 41% during the second quarter of 2020 compared to Q2 of 2019. 
As national unemployment rises, the demand for remote workers continues to grow.
If you're willing to work from home (and let's be honest – who isn't?), you can use this list to find out what industries are thriving in the current market, and what jobs provide the best opportunities for people without a college degree.
In addition to job descriptions and salary averages, we provide you with helpful resources for each job, including:
Where to go for training

Where to find work

How to network with peers

Where to learn more about the industry
Before you begin your search for remote job openings, check out the possibilities below, which will help you find your way to some of the best jobs for your experience and background.
Work-From-Home Jobs In Thriving Industries
Before we get to our list of top ten work-from-home jobs, we want to share which industries are thriving despite the pandemic.
Looking to pick up new skills fast? Try Skillshare free for two months. Thousands of professional classes to learn from!
Due to the rapidly fluctuating economy and massive layoffs resulting from COVID-19, you may find yourself looking for fast or temporary employment to get you through the next year.
If you're looking to pick up a job quickly, check out remote customer service, sales, or other open positions within industries that are thriving in spite of (or because of) COVID:
Food retail, distribution, or delivery

Gaming

At-home fitness and wellness

Companies that produce

disinfectants

and personal protective gear

Online Education

Telemedicine

Education and

training
Below, we list the top remote jobs you can do without a college degree. 
We chose the top based on three factors: salary, growth potential, and demand.
The jobs below are listed in no particular order, because the "the best" jobs are different for everyone, and determined by a combination of your skills, experience, and personality.
1. English Teacher
Remote English teachers, or ESL (English as a Second Language) teachers, help students gain fluency in the English language. ESL teachers do not need to share a common language with their students.
The average salary for remote English teachers is $46,677 but can range between $34,000 – $60,0000 a year depending on your background, the company you work for, and the times of day you're willing to work.
ESL resource websites, such as FluentU, provide resources, tools, and guidance for remote English teachers. 
To find work as a remote English teacher, visit job listing sites such as Glassdoor and Ziprecruiter, or ESL teaching websites such as Cambly,  Sayabc, and Palfish.
A TEFL certification can jump-start your remote ESL teaching career and open up more job opportunities for you. The certification is highly recommended for people without a degree or teaching license.
People interested in remote teaching positions might also consider work as an online tutor or virtual music teacher.
2. Customer Service Representative
Customer service representatives help customers by listening, problem-solving, and communicating. CS reps receive on-the-job training, and most positions only require a college degree. 
The average salary for a remote customer service representative is $27,834 per year. There are several ways to earn higher-than-average pay, such as.
Adjust your search to the term

Customer Support Specialist

to see if your background qualifies you for a better-paying position.

Search for specialized customer support positions in your area of expertise. For example customer service rep positions in finance and healthcare are likely to pay more.

If you're bilingual, look for customer service jobs that provide higher wages for your skills.

Tech support agents start at much higher salaries, so if you're tech-savvy, consider training or searching for a tech support position.
You can find remote customer service job openings on general job listing sites, and freelance sites such as UpWork.
Customer service blogs such as HelpScout and WinTheCustomer can help you learn more about how to excel in the customer service industry.
3. Sales Person
Remote salespeople often take incoming sales calls or follow up on leads generated online, but roles can vary according to the company, product, or position.
While the average pay for sales jobs lands at about $51,000 per year, ambitious salespeople are likely to earn much more.
Top paying industries

such as consulting, digital media, and consumer-packaged goods, offer better-than-average pay for salespeople. 

Specialized salespeople

enjoy higher-than-average salaries. For example, the average salary

medical device salesperson

earns

$55,000 per year

.

Experienced salespeople

who move on to executive sales positions can earn more than double the

average salary

. National sales account executives, for example, earn an average salary of

$125,000 – $200,000

a year.
While you can find remote sales positions on any job listing or freelance site, consider specialty services such as Rainmakers, SalesJobs, or SalesHeads. Most sites combine in-person and remote jobs, so remember to search for the keyword "remote" or "telecommute" when browsing. 
Blogs such as SalesHacker and Hubspot Sales Blog can help you find your way around today's sales industry.
For people wishing to boost their chances of landing a high-paying sales job, websites such as Hubspot Academy and SalesEngine provide online sales training.
Salespeople might also enjoy work-from-home jobs in marketing or social media.
4. Content Writer
Content writers produce written content such as blog articles, guidebooks, website pages, ads, newsletters, and whitepapers for businesses.
Most successful writers have a passion for reading and a flair for grammar, although a college degree is not needed to succeed.
Content writers earn an average salary of $79,000, and can easily flex their hours or salaries to accommodate their lifestyles. 
Writers with expertise in their industry, such as medical writers, can often command top dollar and find work quickly.
Content writers network with their peers through Facebook Groups, social media sites such as LinkedIn, and writing and marketing blogs such as TheWriteLife and Hubspot.
Work-from-home content writing jobs are available on most general job listings and freelance websites.
Newcomers wanting to learn how to write for the internet can take advantage of several online courses, including Hubspot, Moz, and Coursera. 
If you like writing, you might also consider similar remote jobs such as copyediting or proofreading.
5. Interpreter
Language interpreters are proficient in more than one language, and interpret conversations by phone or video.
Many interpreting jobs offer remote work, but you shouldn't use the term "remote" when searching for these jobs. 
A "remote interpreter" is a sign language specialist, so use terms like "work from home" or "online" interpreter when looking for language-related positions.
You don't need a degree to work as an interpreter.
Online interpreters earn an average of about $52,000 per year. Remote interpreters (sign language) earn an average $70,000 + per year.
To find work as an interpreter or translator, search Google or LinkedIn, or visit a translation service such as United Language Group. 
Staying connected to the interpreting industry is easy with websites such as Bootheando and The Interpreter Diaries. Also, search Facebook for professional interpreter groups where you can network with others like yourself.
If you're bilingual, you might also like to consider a job as a translator, converting written material into another language.
6. Transcriptionist
Transcriptionists listen to voice recordings and convert them to documents.
The average salary for a work-from-home transcriptionist is about $62,000 per year.
Transcriptionists who specialize in fields such as medical and legal typically earn higher salaries.
Transcription requires a flair for the English language and an eye for detail, but you don't need a degree for this career.
You can find remote transcription jobs by searching Google, Indeed, or any job listing or freelance service. Or, visit the websites of companies that hire transcriptionists, such as 3PlayMedia and CaptionMax.
7. Insurance Agent
Remote insurance agents sell insurance (home, auto, health, etc.). Getting a job as an insurance agent doesn't require a degree, but you do need a license. Fortunately, you can obtain an insurance license in just a few weeks.
The average salary for a work-from-home insurance agent is $61,589 per year.
To learn more about getting started as an insurance agent, visit an educational site such as StateRequirement, Kaplan Financial, or WebCe.
8. Computer Programmer or Software Developer
We could fill this entire list with computer-related jobs that provide long-term growth and high salaries. If you're trained in computer science or have an aptitude for tech jobs, there are many opportunities.
Computer programmers write programs that make computers work, and software developers design apps and programs. 
The average salary for computer programmers and software developers, according to Ziprecruiter, is:
Remote computer programmer:

$81,726 per year

Remote software developer:

$111,781 per year
Computer programming blogs, such as CodePen and SitePoint can help you connect with other tech professionals, improve your skills, and find the best employers.
Many tech professionals hold bachelor's degrees, but a degree isn't always necessary.
If you don't have a college degree, but would like to work in tech, consider getting training through a computer coding bootcamp, accelerator program, or remote learning course.
If you enjoy coding and software development, you may also be interested in work as a video game designer, web developer, or computer systems analyst.
9. Virtual Assistant
Virtual assistants provide administrative support to businesses or executives. While each position is tailored to the needs of your client, VA work generally includes tasks such as scheduling, making travel arrangements, email management, and billing.
The average salary for virtual assistants is about $40,000 a year. 
You can find virtual assistant jobs on any job board or freelancer website, or by visiting virtual assist services such as Zirtual and Belay Solutions.
You won't need specialized training or a degree to work as a VA, but you can network with peers and learn more about the industry at niche forums such as VA Networking and VirtualAssistantForums.
10. Start Your Own Business or Freelance Service
We'd be remiss if we left out the one job opportunity that allows you to earn a high-paying salary while working flexible hours and doing work that you enjoy!
Starting your own business provides you with the freedom to tailor your career around the things you love doing. 
As a business owner or self-employed freelancer, you have unlimited income potential.
Whether you fold laundry, do bookkeeping, create graphic designs, or provide business consulting – there's probably something you can do well enough to earn a profit.
For example, instead of getting a job as a virtual assistant, consider providing a service that offers data entry, calendar management, or metrics tracking.
You'll find plenty of advice on how to start a business at SBA.Gov, and if you're interested in ecommerce, the Shopify Blog provides excellent tips and guidance.
Browsing job openings on Upwork and Freelancer will help you generate new business ideas, as well as provide you with a guidepost for pricing and presenting your services.
Get more ideas on remote work opportunities here: Where To Find Work-from-home Jobs Right Now
2020 – Time To Hustle!
Don't let negative headlines convince you that you can't get a good-paying job without a degree during a recession or afterward.
Look for jobs in industries that are currently thriving, or consider starting your own freelance business.
Whatever your background or skills, there are plenty of remote job opportunities available for people who've got the drive and determination to MIH (Make it happen).
Keep Reading: