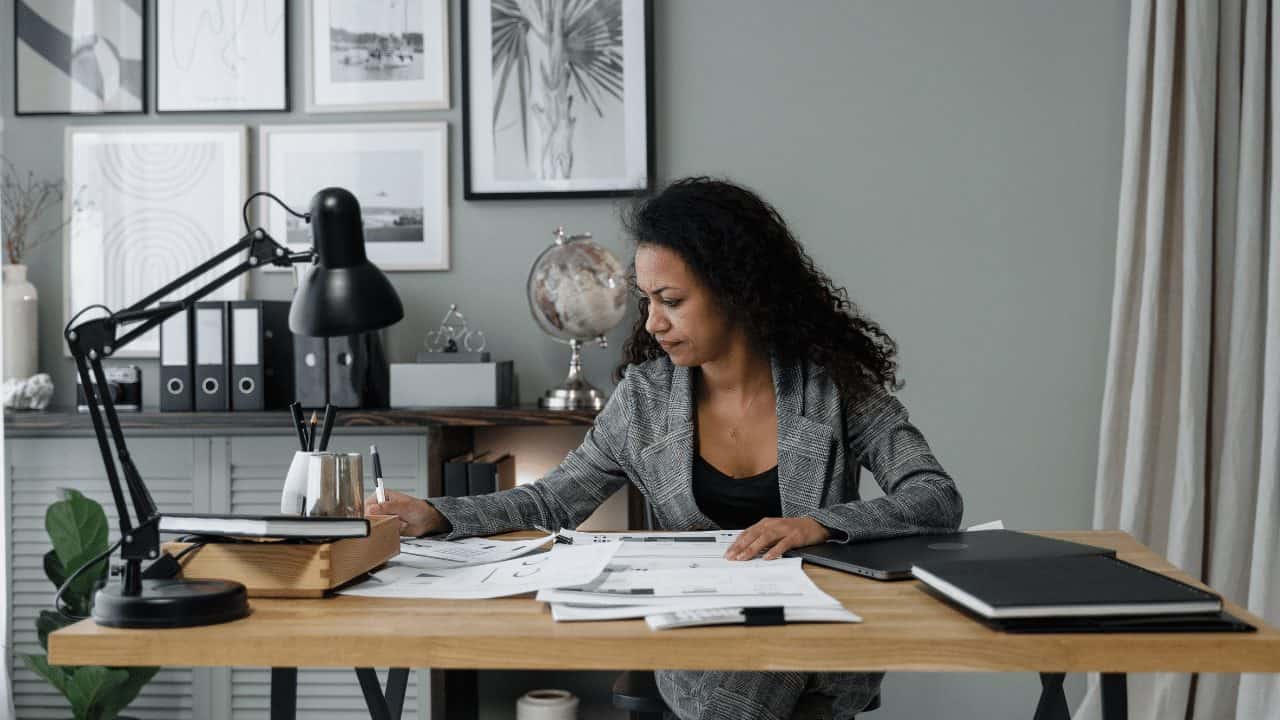 Disclaimer
We only endorse products that we truly believe in. Some of the links below may earn us some extra guac at no additional cost to you. Please pass the chips & thank you for feeding our habit.
You don't have to make a lot of money to turn 2021 into the best financial year of your life.
By changing the way you manage money, you can kick off a path to wealth that alters your future, even if you're working with a limited income.
In this article, we share four positive money habits that can change your future for the better, yet are simple and painless to execute.
Continue reading to discover the four money habits that can put your finances on track to reduce stress and build wealth so you can enjoy your life (even more) along the way.
| Platform | Fees | Promotions | Link |
| --- | --- | --- | --- |
| | $0 Fees | Get a cash bonus of $30-$500 when you deposit $1,000+ in the first two weeks. | Learn More |
| | $0 Fees | Get one free stock priced up to $225 when you link a bank account. | Learn More |
| | $0 Fees | Get two free stocks when you deposit $5 within 30 days. | Learn More |
| | $0 Fees | Start investing with as little as $1. | Learn More |
Change Your Habits, Change Your Life
The start of a new year traditionally ushers in a sense of renewal and willingness to make changes that improve our lives. 
That's why New Year's resolutions are so common, and we can't resist setting new goals at the start of a new year.
Never has the sense of hope and renewal been more significant than it is 2021, as nearly the entire world's population wants nothing more than to put 2020 in its rearview mirror and never look back.
According to a 2021 New Year's resolution statistics survey by Finder, nearly three-quarters of adult Americans are determined to better themselves in 2021. More than one-third of them set resolutions related to improving their money situation.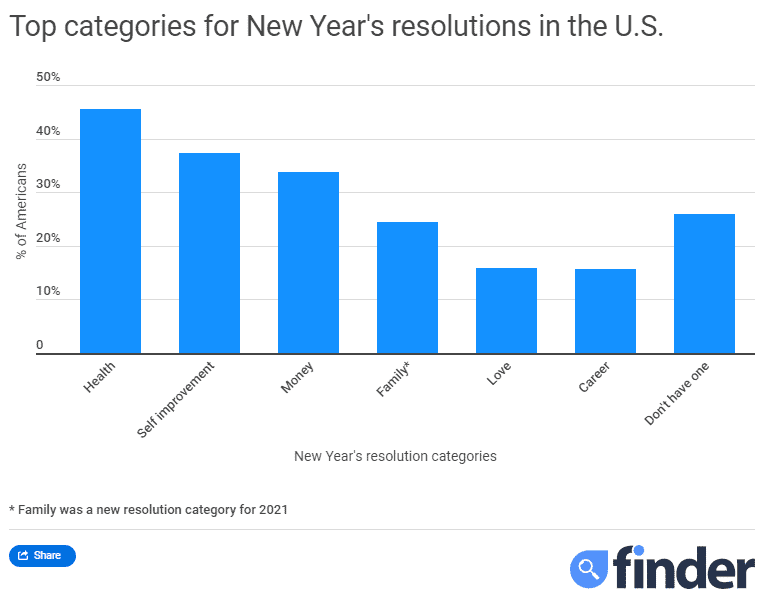 Unfortunately, despite their best intentions, most people fail when it comes to sticking with their resolutions.
For example, in 2020, only 35% of people that made resolutions kept them throughout the year.
The good news is that you can overcome the "resolution curse" by approaching financial change logically.
If you want to improve your money habits in 2021, you can create a non-emotional, effective strategy by building new habits.
Habits are the key to your character and your future, according to Philosopher Lao Tzu.
"…Watch your actions, they become your habits; watch your habits, they become your character; watch your character, it becomes your destiny." – Lao Tzu
Building habits that lay the groundwork for long-term goals can change your financial future — and your new habits don't need to be overwhelming or even uncomfortable!
As long as you understand which habits have the most significant impact on your financial future, you can build new behaviors that are simple and painless to execute. 
The top habits to build a stable financial future, which we expand on below, include:
Allocate your income.

Create a realistic budget.

Start investing now.
Commit to small habits.
According to Dr. BJ Fogg, Ph.D., founder of Stanford's Behavior Design Lab and author of the book "Tiny Habits: The Small Changes That Change Everything," the primary reason people fail to achieve is that they rely too much on motivation.
Motivation is an emotional approach that comes and goes, but habit-building (even in tiny amounts) can change everything.
If you've made financial resolutions before but failed, try forming small habits instead. 
As time goes on, you can evaluate how well these new habits are working and adjust your "system" if needed.
Positive Habit #1: Allocate Your Income
Allocating your income gives you a big-picture view of how your money will be spent. 
Allocating your paycheck to specific purposes (before you get paid) is critical to helping you move beyond the month-to-month mindset and begin preparing for your future.
Allocating your income means determining what percent of your paycheck will go toward spending, savings, and investment.
For example, we recommend that most people allocate 75% of their income toward spending, 15% toward investing, and 10% toward savings, however:
If you're young and single and running your own business, we suggest allocating 50% to spending, 20% to savings, and 30% or more to your business.

If you're young and have no children, mortgage, or other major expenses, we recommend allocating 50% to spending, 30% to investments, and 20% to savings.

If you're supporting a family with children, allocate 75% to spending, 15% to investments, and 10% to savings.
There are a couple of exceptions to the recommendations above:
If you're carrying any high-interest debt or if you don't have at least $2,000 in savings, you should take care of those expenses before allocating your income as suggested above.

Once you've saved six months of living expenses, your savings account is complete. At that point, you can funnel the savings percentage to investing so that you're investing more each month.
Allocating your income is the first essential step toward gaining control of your money and building wealth for your future.
Open an account at M1 Finance and start investing today!
Positive Habit #2: Create A Realistic Budget
Developing a written monthly budget is the first step toward controlling your spending — so that your spending doesn't control you!
A monthly budget breaks down your expenses in detail so that you know how your money will be spent before it hits your bank account.
For example, if you take home $4000 a month and allocate 75% of that ($3,000) to spending, your budget will list how you'll spend that $3,000: how much should go to food, clothes, rent/mortgage, utilities, etc.
It takes many people time to learn to budget in a way that works for them and that they can stick to. It's normal for people to struggle with budgeting for many months before settling on a plan that works well for them. 
The key to developing a realistic budget is to remember that this is a long-term resolution and you should continue adjusting until you can follow through with your plans.
Give yourself credit for forming the habit, even if the budget doesn't work out as you had hoped right away. Then, improve on your budgeting skills over time so that you can successfully plan how each dollar will be spent before it hits your bank account.
Positive Habit #3: Start Investing Now
There are only 24 hours a day where you can earn money, so paychecks are limited to what you can make during those hours.
That's why building passive income streams is critical to your future. Getting your money to earn money while you're doing other things such as working, sleeping, or even vacationing, is how you build a path to wealth.
Investing in the stock market is one way to build long-term wealth for your future.
What you might not know about stock investing is that it's not only for rich people.
For example, stock brokerage firm M1 Finance allows you to invest in index funds with as little as $100 to open an account and a minimum deposit requirement of just $10.01 afterward.
The younger you are when you begin investing, the more money your investments can make over time. 
Even if you can only afford $10 a month for investing, getting started will help you better understand the process and begin learning about stock investments.
Positive Habit #4: Set Up Automated Finance Systems
Automated systems, such as direct deposits and automated bill pay, can help you maintain control over your finances while saving money along the way.
When you set up automated payments for monthly bills such as your internet services and car insurance, the companies often provide a discount in return for signing on to auto-pay.
Visit M1 Finance and start automating your investments today
Additionally, automatic payments can help you avoid late fees, which are a waste of your income (they provide no value to you) and can really add up over time.
Automated investing tools are another excellent way to reinforce your New Year's resolutions. 
By automating your investments each paycheck, you can save time, improve your investing focus, and reinforce the new money habits you're working to build.
Plus, automation takes the emotional aspect out of stock investing, which helps you to remain focused on long-term earnings.
Automating your finance systems, including bill payments and investing, helps you stick to the goals you've set and build steady habits. 
You can streamline your automated finance systems on M1 Finance with customizable portfolios, free investing, and best-in-class security.
Consider transferring to M1 Finance.
M1 Finance provides top finance automation with dynamic rebalancing, auto-invest, recurring transfers, and Smart Transfers. 
With M1 Finance, you can set triggers such as maintaining a specific balance in your spending account and channeling the rest into your investment account.
M1 Finance lets you invest, borrow, and spend your money from one central place, and it can automate your finances for free.
If you're serious about gaining control of your finances and allocating a portion of your income toward long-term stock investing, consider opening an account at M1 Finance to support your New Year's resolutions by building smart money habits.
M1 Finance makes it easy for beginners to start investing. Open a commission-free brokerage account today
Keeping Your Financial Resolutions
New Year's resolutions are often based on emotion and laced with high hopes for the coming year.
Resolutions can be a turning point, though, if you turn them into habits instead of relying on daily motivation to make them happen.
You can make 2021 a banner year by forming simple new money habits that positively affect your entire financial future. 
The best New Year's resolutions to improve personal finances are painless and straightforward. 
Allocate your income, budget your money, start investing immediately, and automate your financial systems to get your money on track and begin building wealth for your future.
Keep Reading: