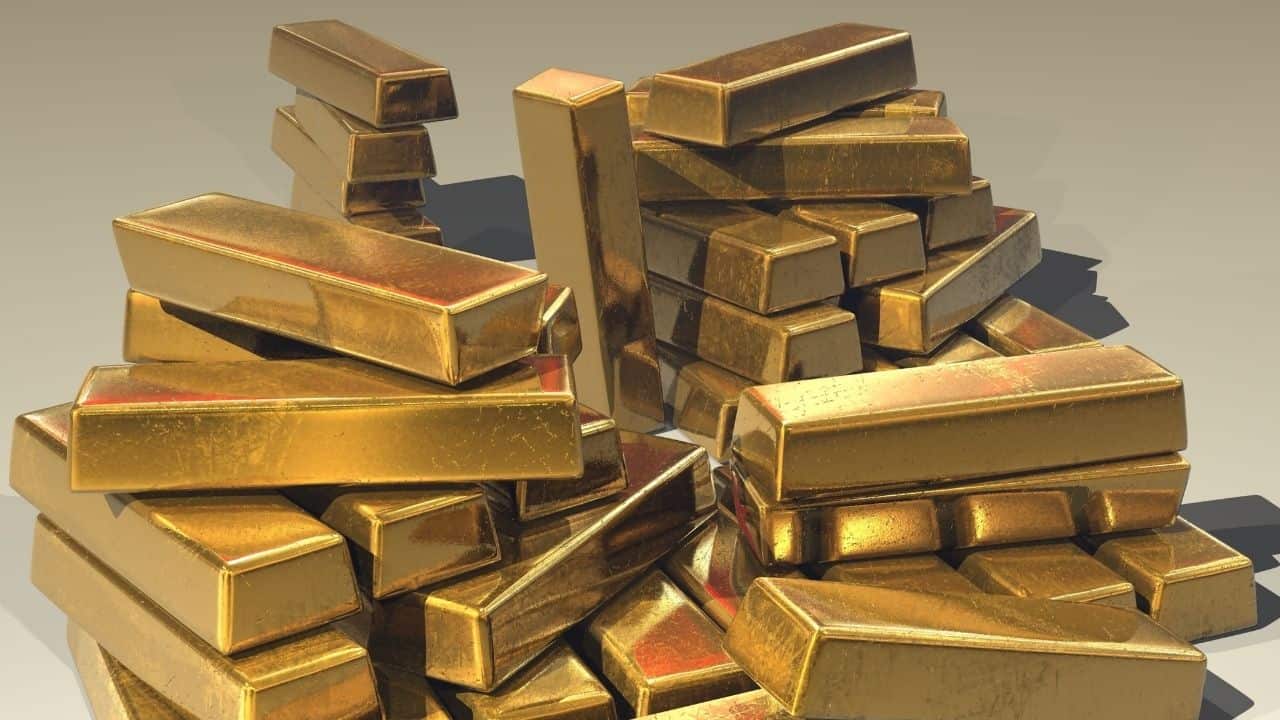 Disclaimer
We only endorse products that we truly believe in. Some of the links below may earn us some extra guac at no additional cost to you. Please pass the chips & thank you for feeding our habit.
Vaulted Review
Vaulted Review
Vaulted makes it incredibly easy to invest in gold, even if you're a beginner! The platform does most of the work for you, but you will need to decide whether to incur the annual storage fees or spend the money to ship it to yourself. Overall, Vaulted is a great way to easily invest in gold.
Pros
Secure Storage
Beginner Friendly
Cons
Expensive To Ship To Your Home
Annual Storage Fee
Investors who want to diversify their portfolio might consider whether investing in bonds or more stocks is really the best way to go. Many consider gold to be the oldest form of money around, and many government currencies are backed by this commodity.
While the dollar continues to grow less powerful, gold maintains its value throughout the years and decades. There is no sign that it will slow down any time soon. 
Vaulted is one of the easiest platforms to use for investing in gold. They facilitate everything from the purchase to storage or shipping with just a few taps of your smartphone on their user-friendly app. Backed by well-recognized companies, Vaulted should be on the short list of investment apps. 
Are you ready to learn more about how you can invest in gold through simple-to-use apps like Vaulted? Here is everything you need to know about the process of buying and selling gold on this app.
Vaulted Review
If you have determined that investing in gold is the right fit for you, then it might be time to check out investment opportunities such as those offered by Vaulted. Investors have the option to buy gold without ever leaving their home to purchase physical products. It also cuts back on the safety risk of having to store it somewhere in their home. 
All of the gold that is sold through the Vaulted app is calculated in pure gold kilo bars that come from the Royal Canadian Mint where they are manufactured, weighed, and evaluated for purity. Each bar is 99.99 percent pure gold and bears that RCM hallmark and an imprint to certify the weight and fineness of the gold. 
To confirm your purchase, each bar has a serial number that Vaulted will track. The bar never has to leave RCM unless you request it.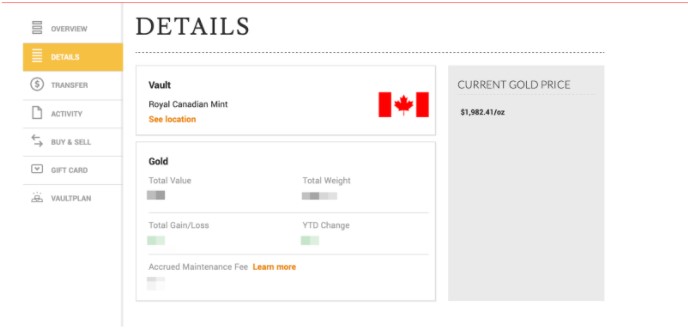 For those who are concerned about where their gold comes from, rest assured that Vaulted only sells gold that is ethically-sourced from a mine or a recycler through re-minting. It will always be conflict-free. In addition to Vaulted's commitment to ethically-sourced gold, the Royal Canadian Mint also takes part in the Responsible Precious Metal Certificate Program that validates chain of custody. 
Interested in learning more about buying gold through this app? Here is what you need to know to get started. 
Buying Gold With Vaulted
Vaulted is an online investment opportunity that operates out of Durango, Colorado. With their assistance, you can purchase 99.99 percent pure gold bars that are made and guaranteed by the Royal Canadian Mint. They offer to store the gold for you in their secure system at the RCM for a small fee levied twice each year. 
Alternatively, you can have the gold shipped to your home as long as it is at least one ounce. This allows you to cut back on the fees associated with buying and storing gold through the Vaulted system, but it does put the responsibility for safe storage on you. 
Many people like the prospect of the VaultPlan that automates their savings. Much like you can automatically contribute to a retirement savings plan each month, you can also arrange to have a certain amount of money converted into gold month after month. 
This makes it easier for you to consider investing in gold and takes some of the hassle out of manually adjusting investments monthly. 
If you are considering using the Vaulted app, you will be pleasantly surprised by the easy-to-use interface. They make it easy to monitor your portfolio as well as to buy and sell gold directly from the app. This is also where you will reach out to customer service which is open Monday through Friday. 
Liquidation is just as easy to manage. Unlike some investment strategies that require you to hold assets for years to come, Vaulted makes it simple to sell. During the NYSE hours, you can tap the "Sell Gold" button and confirm just how much you would like to sell. Vaulted will take care of the rest.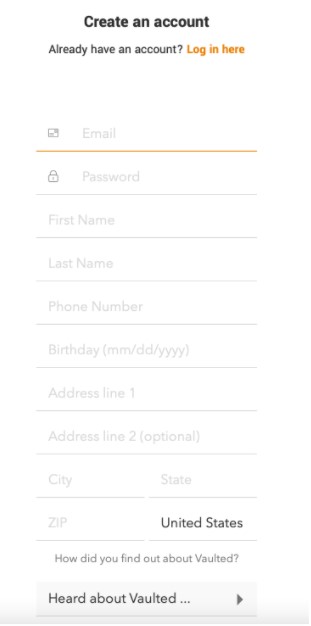 There is more good news for those who are just considering dabbling in the purchase of gold. Vaulted features a low minimum investment of just $10, allowing just about anyone to make their first real gold purchase. It takes less than 30 seconds to set up a new account and get started with their investment app.
Where is Your Vaulted Gold Stored? 
Investors often wonder where they could store their gold and rest assured that it is safe. Storing gold in your home can be risky in the event that you are robbed, have a traumatic house fire, or experience some other natural disaster. When storing gold inside of a residential property, there is no protection or insurance for it. 
Vaulted understands how much you value your investment. This is why they convert the dollars that you choose to invest into gold, and then store that gold at the Royal Canadian Mint. When stored here, all gold is insured against loss, theft, and damage. 
As a bonus, the records of your transaction are stored in a separate location so that it is far more difficult for anyone to tamper with the records. 
Their inventory is always tallied on a quarterly basis and is audited by the government each year. This allows investors to rest easy, knowing that their investments are in good hands. However, there is a small fee that is levied for this service. 
On the other hand, you can opt to have the gold shipped directly to your home if you have someplace safe to keep it. The option is completely up to you, though most users decide to store their gold at the RCM for convenience, the full insurance, and the prospect of safety. 
If you decide to have your gold shipped to you, there is a fee for physical delivery. RCM will charge a $50 fee and a $2 surcharge for each bar shipped. In addition, FedEx will set their own rates for next-day or second-day shipping. It can be quite expensive to have gold shipped to your home or business compared to the minimal storage fee incurred by the RCM.
Fees and Features
Once you know that you want to invest in gold, it is time to take a closer look at the fees and the features you will encounter with Vaulted. The good news is that this company is as transparent as possible for their investors, making it easy to determine if this investment strategy is going to be a good fit for your portfolio. 
We will start by taking a look at the fees you can expect to incur: 
Vaulted Fees
While some platforms for purchasing gold charge outlandish fees, you will be pleasantly surprised by what Vaulted has to offer. As part of their transparent fee schedule, you can expect to pay a low percentage based on the current wholesale market gold price. Their transaction fee is a small and doable 1.8 percent and includes: 
Spreads

Premiums

Commissions
This is not the only fee that they will charge for their services though. If you choose to have your gold stored at the Royal Canadian Mint in one of their secured vaults, you will also incur a 0.4 percent annual maintenance fee. This is billed twice each year in January and July. 
The important thing to note here is that you only pay for the services that you are using. If you elect to store your own gold and have it shipped to you, then the maintenance fee is going to be waived.
Features
While the low fees and transparent pricing structure of Vaulted make it a worthwhile option to diversify a portfolio, there are other features that should be considered as well. Investors who are considering making the transition to gold to help round out their portfolio may want to think about all that Vaulted has to offer. 
First and foremost, you are receiving fully-insured gold. Security is the top priority for many people when investing in tangible products such as gold bars. By choosing to have the gold stored by the Royal Canadian Mint, investors are protecting their initial investment to the best of their ability with fully-insured gold. 
Investors love Vaulted because it offers everything they need in one comprehensive platform. The companies behind Vaulted understand that investing in gold can be complex, but they strive to make it as easy as possible. This means that it is easier than ever to invest in gold, making the most of your assets. 
Vaulted will facilitate everything on your behalf from the moment you make a purchase all the way through storage and selling. Everything is handled directly on the user-friendly app.

Many users love the ability to "set it and forget it" when it comes to their investing. Using their VaultPlan, automating your contributions toward gold purchases is easier than ever. You can opt to have automatic purchases up to twice a month once you link your bank account information to your Vaulted account. They will handle all of the details on your behalf.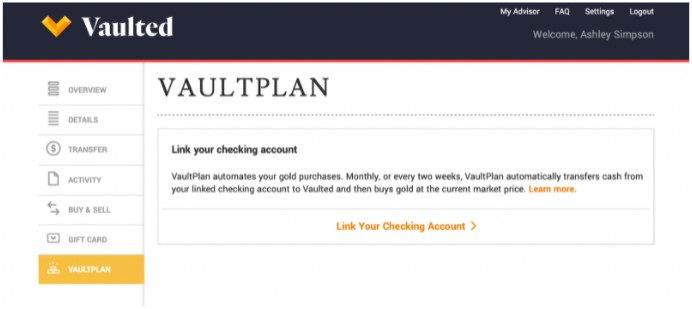 One reason why Vaulted is so beloved by its investors is that they are committed to providing top-notch customer service. Every user is entitled to assistance by one of their Vaulted advisors who can help you with common questions and investment advice. Each advisor has an average of about 20 years of experience managing investments related to precious metals. 
Some of the areas that they can help in include: 
Technical support for the platform

Questions about the gold market

Helping determine optimal time for a purchase
What it comes down to is that Vaulted is just convenient to use if you want to invest in gold. They have a robust platform that really makes investing in gold as simple as possible. Their fees and services are transparent, making it easy for investors to determine whether Vaulted is the right fit for their investment portfolio.
Is Vaulted Legit? 
Before making a hefty investment into any type of currency, it is important to know whether the platform they are using is legitimate. Vaulted has an excellent background and an association with some of the most prestigious companies. 
It is a division of the McAlvany Financial Group and the International Collectors Associates LLC. The former company has been around for decades, serving customers through providing market insights and portfolio balancing. The latter has been in business since 1972 and is considered one of the largest gold brokers in the United States.  
The McAlvany ICA has been able to maintain a premier status with the Better Business Bureau. They currently have an A+ rating from this well-known establishment. 
With the experience of both companies available at your fingertips, investors can rest assured that they are in good hands when they invest their money into gold with Vaulted. 
Not to mention, the gold is purchased and stored at the Royal Canadian Mint where it is audited and tracked on a regular basis.
Vaulted Review – Is Vaulted The Easiest Way To Buy Gold? 
Investors are all about finding the best way to simplify their investment strategy. If you can set it and forget about it, you are more likely to make contributions. Not to mention, investors don't want to have to jump through complicated hoops to manage their portfolio. Vaulted makes all of this as easy as possible. 
All you have to do is register, link your bank account, and set yourself up for the VaultPlan. Vaulted will do the rest from acquiring gold on your behalf to storing it at RCM. Of course, you can also buy or sell gold at any point within the New York Stock Exchange hours.
Overall, there are tons of great reasons to invest in gold through Vaulted. From their ethically-sourced materials to their secure storage system, investors can rest assured that their money is being put to good use by this company. 
If you have been thinking about investing in gold, now is the best time to do it. Set up your account on Vaulted today!