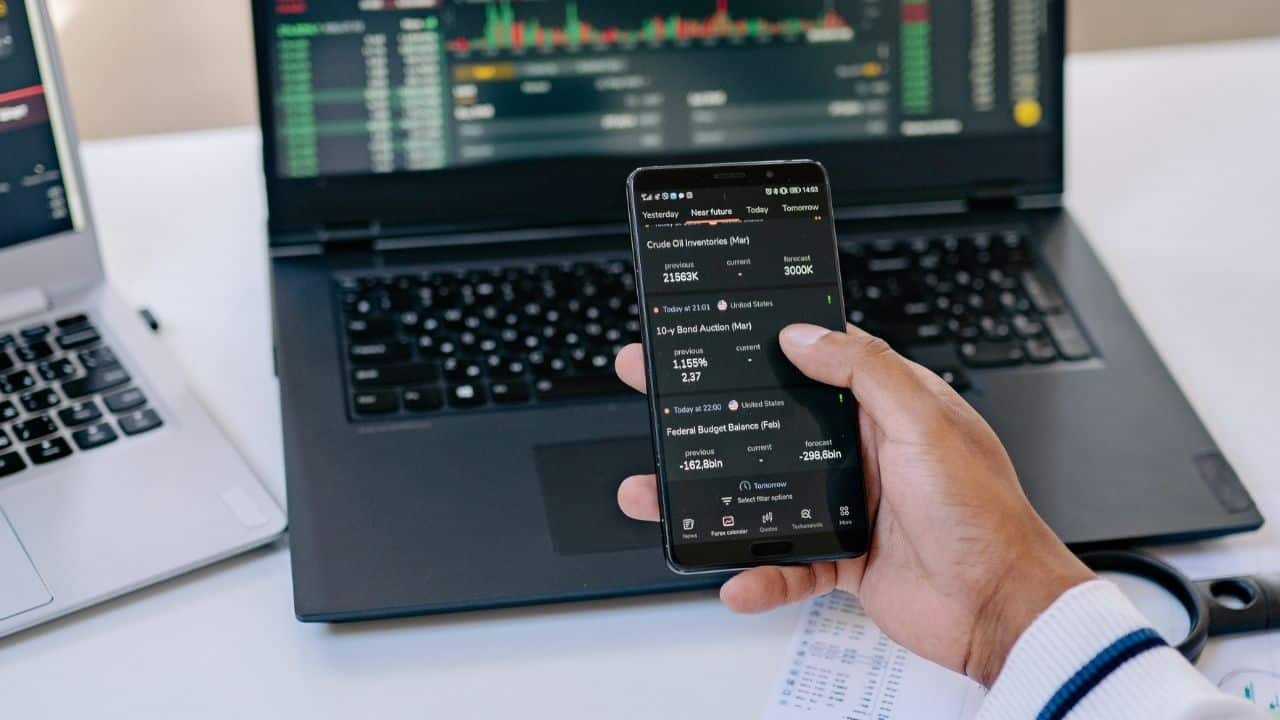 Disclaimer
We only endorse products that we truly believe in. Some of the links below may earn us some extra guac at no additional cost to you. Please pass the chips & thank you for feeding our habit.
As an avid investor, I've always got my eye out for new, cool investing apps. But it's still amazing to me how far investing has come in the last decade since I started. I grew up watching movies about the NYSE; now, I'm hanging out on my couch trading stocks and building wealth with the help of apps like Webull.
Despite it being one of the largest investment apps on the market, I've found that it is definitely not for everyone. Luckily, there are tons of Webull alternatives out there for both beginners and expert investors alike. These apps are low-cost and insanely easy to use, which opens up the stock market to a generation of investors like never before.
In this article, we'll break down all of the hype behind Webull, and go over why some investors may want to seek out an alternative brokerage platform. Then, we'll hop into some of the top Webull alternatives to consider if you're thinking about getting into the investing game yourself.
| Platform | Fees | Promotions | Link |
| --- | --- | --- | --- |
| | $0 Fees | Get a cash bonus of $30-$500 when you deposit $1,000+ in the first two weeks. | Learn More |
| | $0 Fees | Get one free stock priced up to $225 when you link a bank account. | Learn More |
| | $0 Fees | Get two free stocks when you deposit $5 within 30 days. | Learn More |
| | $0 Fees | Start investing with as little as $1. | Learn More |
Why You May Want To Consider Webull Alternatives In 2022
There are many ways to classify investors, but a big one is those who require a lot of support and those ready to dive in on their own. Webull tends to cater to the latter. 
Some Webull investors have found that support options are limited, which means investors that need more hands-on attention may struggle to find phone support, and there's no live chat option as many other investment apps have.
That means in order to get the most out of your Webull investing experience, you'll need to have some general knowledge of investing apps and how they work. And while it's easy enough to learn, it may not be the best option for beginners who are just starting out.
But Webull defines itself as a financial company driven by tech, so as you'd expect from a tech-focused organization, Webull has a host of features that makes it incredibly enticing for the young, active investor.
There's a simple app interface (with a desktop platform), analytics tools, and full fee transparency. But perhaps the most appealing aspect of Webull for any investor is their commitment to zero commissions. With no account minimums and no trade fees, investors can get started immediately with any amount of money.
With all that said, investing with Webull isn't for everyone. The following limitations could send you searching for a Webull alternative:
Limited educational resources:

Educational tools are extremely valuable for new investors. Unfortunately, Webull is limited in the amount of education they offer investors and tend to cater to a slightly more advanced investor.

Can be intimidating for brand new investors:

Webull caters to a slightly more advanced investor profile. That means it may not be as accessible as some of the Webull alternatives we outline below, like Robinhood or public.com.
Lack of automated investment options: Webull is designed for active traders. Meaning Webull is best for investors who are looking to trade and buy individual stocks on assets on the market. Currently, there is no way to set a recurring automated investment strategy as so many other tools offer today.
The Five Best Webull Investing Alternatives to Consider in 2022
After assessing fees, app features, security, and more, these are the five best Webull alternatives: M1 Finance, Robinhood, TD Ameritrade, SoFi Invest, and public.com. As always, be sure to do your own research before investing as no investment is ever guaranteed to make you money.
| Brokerage | Promotion | Fees | Investing Minimums | Recurring Investments | Link |
| --- | --- | --- | --- | --- | --- |
| | Deposit $1,000 or more within two weeks of opening your new M1 Invest account and get a cash bonus of $30-$500 to that account. | $0 | $100 | Yes | Learn More |
| | One free stock priced up to $225 when you sign up and link a bank account. | $0 | $0 | Yes | Learn More |
| | None | $0 | $0 | Yes | Learn More |
| | Sweepstakes promotions happen regularly. | $0 | $0 | Yes | Learn More |
| | One free slice of stock up to $300 when you sign up and deposit funds. | $0 | $0 | No | Learn More |
1.
M1 Finance
– Best For Investing For A Cause
Best for investors looking for pre-packaged investment portfolios with socially-conscious options.

M1 Finance is the app that does it all. Investors using M1 Finance can pull together all aspects of a healthy financial picture under one roof using M1 Invest, M1 Borrow, and M1 Spend. Each of these tools is focused on helping investors not only make money but grow their wealth.
The major benefit of the M1 Invest tool is that investors can choose from several "pies" that range from sustainable to black and women-led. These pies quickly enable investors to choose the most meaningful causes and put their money where their mouth is.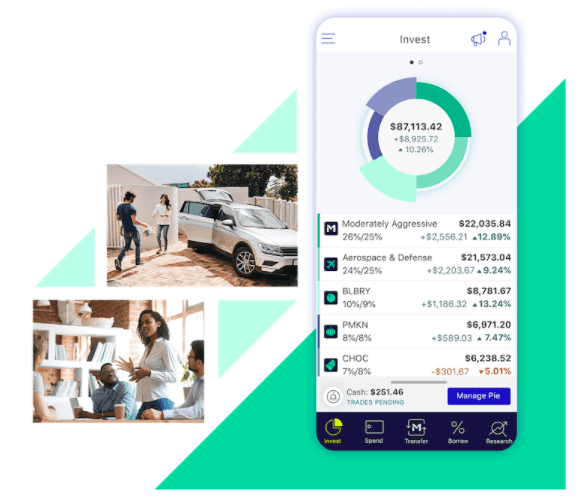 M1 Finance has the highest minimum investment of all the apps listed here with a $100 minimum investment. But if investors can cough up the initial cash, M1 has tons of features in store.
Automatic reinvestments to keep building your portfolio.
M1 Finance reinvests dividends once the cash balance exceeds $10. That means dividend investors can take a more passive approach and rely on the app to auto-invest in a specific pie on your behalf.
These auto-investments can be toggled on or off for those investors that may want to pause them temporarily as they transition to a new investing strategy, for instance.
2. 
Robinhood
– Best For Mobile-First Margin Traders
Best for new investors looking to trade solely from their phones.

Robinhood and Webull are comparable in a lot of ways, but Robinhood is by far the simpler investing tool for brand new investors. The app is sleek, accessible, and allows investors to trade fractional shares of stocks, ETFs, options, and crypto.
Robinhood offers margin trading rates that are significantly less than Webull by around 4%. That makes Robinhood the preferred choice for margin investors looking to borrow money to increase their trading power.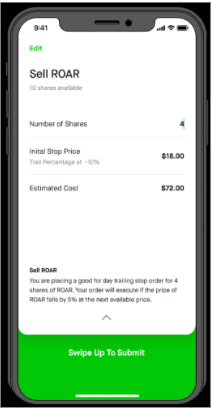 Robinhood was an early mover in the crypto investing scene but currently offers trades for only seven cryptocurrencies compared to Webull's eleven. Both platforms make crypto investing simple but lack some of the more prominent coins true crypto investors are looking for today.
The investing app that changed the fee game
Robinhood was one of the first financial companies to cater to a younger generation of investors. They were also the first to announce a zero commission trading structure.
Some speculate that the Robinhood influence encouraged industry behemoths like Charles Schwab to announce fee-free trades too. Without Robinhood, investing might still have high barriers to entry and be unavailable to the average joe.
3. 
TD Ameritrade
– Best For Investors Seeking An Education
Best for experienced investors looking to leverage data-driven tools.

TD Ameritrade's tools, like those available through the thinkorswim app, are industry-leading. The educational opportunities are a huge differentiator for TD, and their offerings range from webinars to calculators and interactive quizzes.
TD Ameritrade rises to the top of the list for advanced investors seeking more asset classes, like Forex and Futures. TD also offers investments in mutual funds, which Webull lacks completely. Another draw for potential investors is that TD is also a bank meaning the services one can use at the company overall include bank accounts, credit cards, or a meeting with a financial advisor.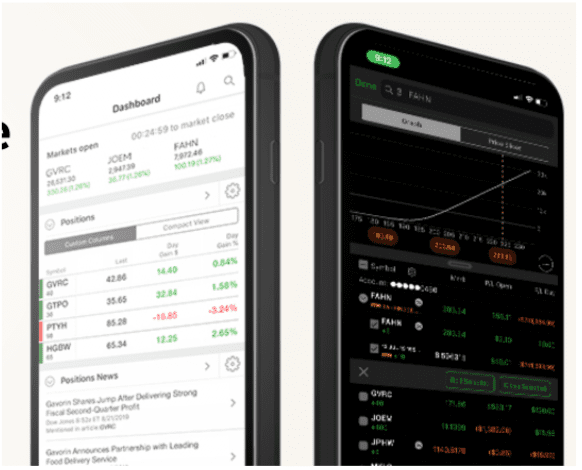 A major issue for beginner investors may be that TD Ameritrade doesn't deal in fractional investing. That means investors will need to cough up enough to purchase a full share, which may make certain investments inaccessible for beginner brokers without sufficient funds.
The good news is TD Ameritrade was recently acquired by Charles Schwab, so that means the fractional share limitation could be lifted as accounts are rolled into Schwab's style, which does allow for fractional share investments.
An award-winning brokerage
TD Ameritrade was ranked as the #1 overall broker of 2021 by stockbrokers.com, citing TD's advanced trading tools and ease of use. The company was ranked #1 in five categories, earning the top spot for #1 for beginner investors, education, and desktop platform for the 9th year in a row.
The fact that TD Ameritrade has been recognized so frequently speaks to their ability to manage a suite of investment options. They offer trading in mutual funds, stocks, bonds, options, forex, ETFs, and more.
4. 
SoFi Invest
– Best For Multi-Taskers Looking To Manage Loans And Investments Together
Best for investors that want to expand their financial footprint with an innovative brand.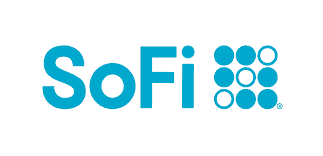 SoFi began as a student loan refinancing business in 2012 and has seamlessly adapted to changing financial needs. The SoFi Invest app was launched in January 2019 and is now a multi-faceted investment platform that enables investors to dabble in crypto, retirement accounts, active investing, and passive investing for as little as $5.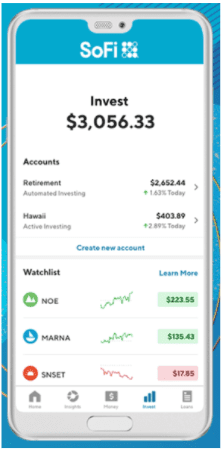 In addition to student loan refinancing, SoFi has expanded its loan provider footprint to include personal loans, mortgage loans, and more. They're also dabbling in the insurance space and offering credit cards which give investors a huge leg up if they're looking to manage multiple financial services within a single organization.
Another differentiator for SoFi is allowing investors to open a joint account. That makes SoFi a valuable tool for couples looking to manage investments together.
Get ahead of the crowd with pre-IPO trades.
SoFi differentiates by offering the ability for investors to get in early on IPOs. Trades that were previously limited to larger institutional investors are now available to the everyday investor.
The SoFi platform allows investors to submit an indication of interest, then convert that interest to a purchase. Plus, SoFi offers a number of helpful blogs that answer FAQs about IPO investing.
5. 
Public.com
– Best For Social Investors
Best for investors who want to be in the know with how everyone else is trading.
Public.com is truly the investing app of the next generation. It adds a social component to investing where users can create groups, participate in community conversations, share investments, and find out how others are investing.
But above all, public.com positions itself as a tool for financial literacy. The goal is to help the everyday investor reap the benefits of the public markets without feeling like they don't belong. Public's "Learn" section has hundreds of posts designed to educate investors and help them understand complex financial concepts like capital gains, bear markets, and the federal reserve.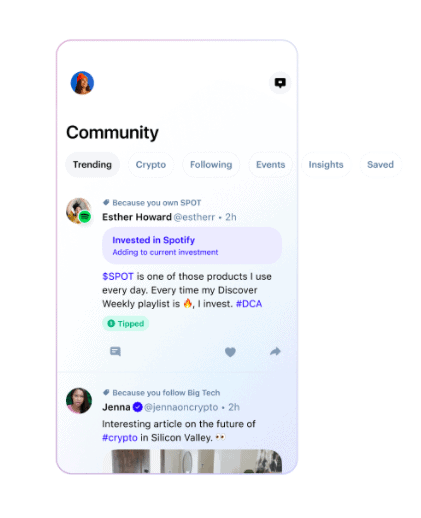 Public.com is limited to investments in stocks, ETFs, and crypto. So investors that want access to mutual funds or bonds are better off looking elsewhere.
Engagement potential for young investors
To gain the attention of the next generation of investors, companies like public.com know that aspects like social engagement are critical. The social feed aspect of this app makes it one that young investors are likely to come back to day after day.
If you know that social accountability can encourage you to use an investment app, Public.com is a good look. Plus, by encouraging your friends to join, you and your friends could each earn free stock from referral rewards.
Make the Most of Webull Alternatives
Which investing app you choose, whether it's Webull or a Webull alternative, comes down to the "why" behind your investment. It depends on how much money you're looking to invest and where you want to keep it.
For example, if you're a brand new investor and you want to dabble in the crypto space but only have an extra $20 a month, Robinhood could be the spot for you. But you'd be in quite a different position than someone who has an extra $1,000 per month and is ready to dump money in ETFs with a long-term vision in mind. They might be a better fit for M1 Finance or TD Ameritrade.
So whether you're craving the social interaction of public.com or want to invest alongside your student loans at SoFi, it's important that you dig deeper and research on your own before you link your bank account and transfer any funds to an app. Think about the intention behind your investment and the features you'll need to be successful, whether that's an easy-to-use interface or rich educational content.
As always, if you're unsure where to begin, a reputable financial professional can help you get started on the right path.