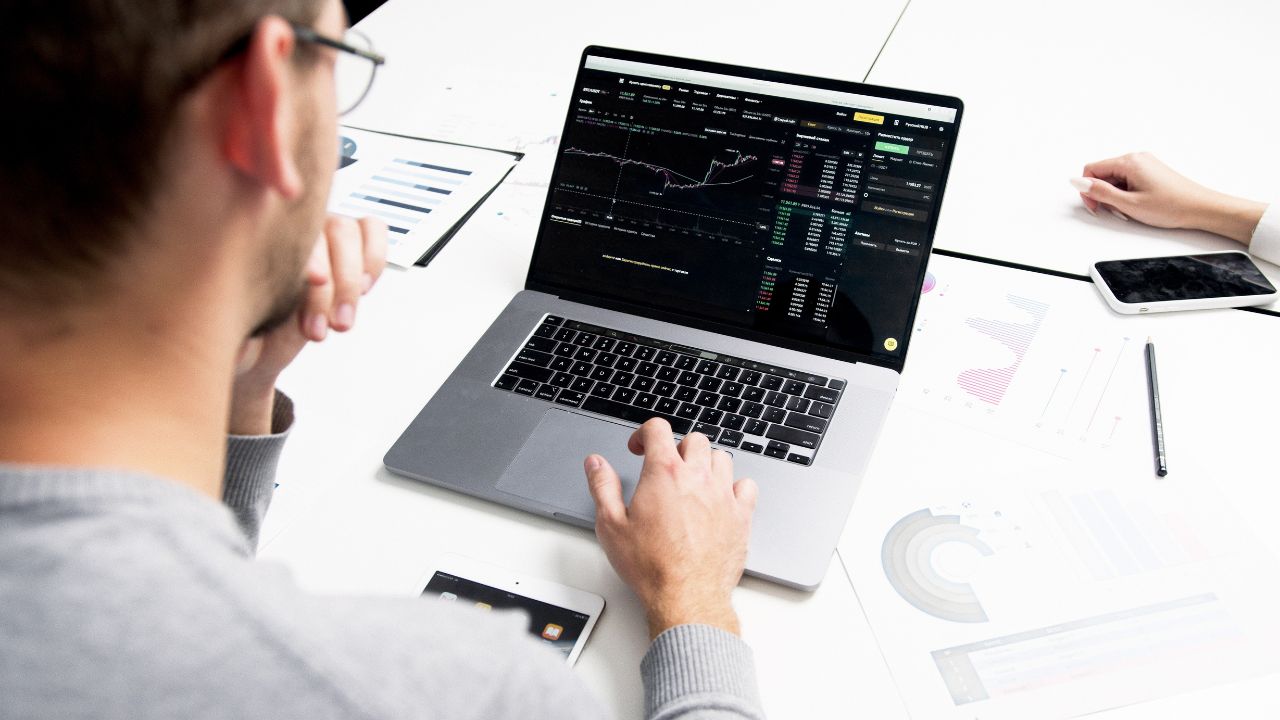 Disclaimer
We only endorse products that we truly believe in. Some of the links below may earn us some extra guac at no additional cost to you. Please pass the chips & thank you for feeding our habit.
You know it's high time to start investing, but where should you put your money? You're free to go to a traditional broker, but that's not always the most convenient or cost-effective way to manage your investments. If you want to manage your investments on the go, without paying fees, apps like Webull and Robinhood are a great place to start. 
The biggest difference between Webull and Robinhood is that Webull offers a community, more crypto coins, and advanced tools. Robinhood offers cash management, a beginner friendly UI, and diverse customization. The two platforms are similar in terms of trading, fees, and minimums.
Both apps are digital, intuitive, and let you trade stocks from your phone for a nice-'n'-low $0 from practically anywhere in the world.
Let's look at Webull versus Robinhood, and compare the two's fees, differences, similarities, and overall experience.
Webull VS Robinhood
Let's weigh the debate between Webull versus Robinhood to suss out which app is better for your investment journey.
In general, Webull is better suited for experienced investors that are looking to buy and sell stocks and other assets on a regular basis.
The app also utilizes a ton of charts, graphs, and other data to help users make trades daily, so advanced traders will get the most out of their investments with Webull.
Robinhood is much better for beginner investors, because of its simplicity and management.
The platform doesn't offer much in terms of analysis, but makes up for it with a variety of different assets like stocks, ETFs, and cryptocurrencies.
If you're short on time, here's a quick breakdown of how the two apps compare:
Webull
Robinhood
Platform
Fees

6.99% Margin Rate
$75 Outgoing Transfers

4.25% Margin Rate
$75 Outgoing Transfers

Minimum
None
None
Trading Options

Stocks
Options
ETFs
44 Crypto Coins

Stocks
Options
ETFs
11 Crypto Coins

Security

Two Factor Authentication
Encryption
SIPC Insured

Two Factor Authentication
Encryption
SIPC Insured

Customer Support

Help Center
24/7 Phone and Email
With that said, which app is better? 
Webull: Best For Experienced Investors And Day Traders
Webull is a much newer app that was created in 2018. It hasn't been as much of a smashing success as Robinhood, but it's quietly been growing over the years as more investors look for other options. 
Today, Webull has 2.7 million active monthly users, which is just a fraction of what Robinhood has. However, the app is growing by 265% year over year, so it's gaining a lot of steam and is definitely a worthy option to consider.
Features
Webull has more advanced features that experienced investors would love. 
Margin trading
Both Webull and Robinhood allow you to do margin trading, which means you borrow money to invest. But these platforms do offer different options and fees for margin trading. 
For Webull, margin trading accounts give you more day trading power as long as you have a $2,000 minimum. At $25,000, you unlock more day trading options on the platform, too. Depending on your balance, you could pay annual margin rates starting at 6.99%.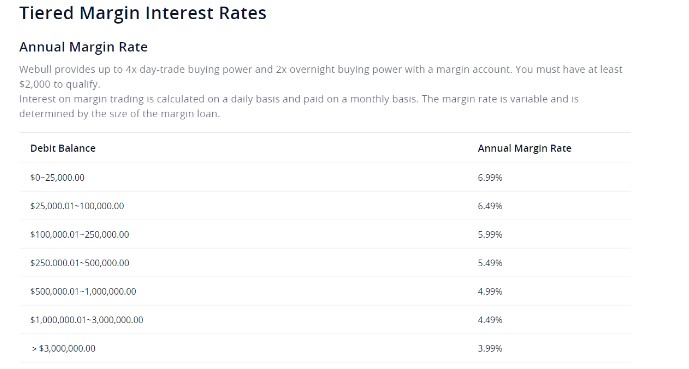 I personally don't like margin trading because there's always risk involved in borrowing. But hey, if you're a more experienced investor and you know what you're doing, go for it!
Cash Management
Webull doesn't offer any kind of cash management.
Customer Support
If you're considering Webull versus Robinhood, you'll definitely want to know how they stack up with customer service. 
Webull prominently displays its contact information on its website. That makes sense, though: it has a fraction of the number of users as Robinhood, which means it can offer more hands-on help. 
With Webull, you can get phone support during weekday business hours, as well as 24/7 email support.
User Experience
So, what's the user experience like when you use Webull versus Robinhood? 
Webull is okay, but it can be clunkier and less intuitive than Robinhood. Webull has a steeper learning curve, so if you want something that's easy to understand out of the box, Robinhood is probably better for you. 
But if you're okay with watching a few tutorials, you can definitely become a pro Webull user in no time — it just takes a little practice, that's all.
Webull also has a great desktop app, so if you want to check up on your investments while you're home or at work, the app can accommodate that. 
And hey, since the platform is designed for day traders who work on desktops, that's good news!
Cryptocurrency
Do you want to take advantage of the crypto boom? I can't blame you there, pal. Luckily for you, both Webull and Robinhood offer cryptocurrency trading. 
However, I don't consider either of these apps as a cryptocurrency platform, like Coinbase. Before 2022, you couldn't actually transfer your crypto away from Webull or Robinhood — you had to convert it into fiat currency and then transfer the money out of your account. 
If you want to simply speculate on the price of Bitcoin, that's not a problem. But if you want to own your crypto, neither Webull nor Robinhood would be a good option for you. 
Neither platform will charge you the typical 4% buy/sell fee that's common with crypto, which is nice. $100 of crypto gets you $100 of crypto. Both platforms let you buy fractions of a coin for as little as $1 to start, too.
Webull has 44 different coins available, including:
Bitcoin

Ethereum

Litecoin

Dogecoin

Cardano

Avalanche

Terra

Solana
If you want to invest in a wider spread of crypto, Webull is the clear winner.
Paper Trading Tools
If you're new to investing, it's understandable to feel a little anxious about putting your money on the line — especially if you're using a more advanced platform like Webull. 
While Robinhood just throws you into the pool and tells you to figure it out, Webull lets you get a little practice under your belt with Paper Trading.
Paper Trading is, hands down, one of my favorite features ever. This is a trading simulator that gives you fake money that you can use to place fictitious trades.
Robinhood: Best For New Investors Looking To Buy And Hold
Founded in 2013, Robinhood was one of the first apps to make mobile investing a reality for small-time investors like myself. As of 2021, the app had a whopping 22.45 million active users, so it's clearly doing something right. 
Features
Overall, Robinhood's features are intuitive, clean, and newbie-friendly. 
Margin trading
Robinhood takes a different approach to margin investments. To do margin trading here, you'll need to pay $5/mo for a Robinhood Gold subscription. 
That might sound silly because Webull doesn't charge subscription fees, but Robinhood's margin interest rates are just 3.5%.
Cash Management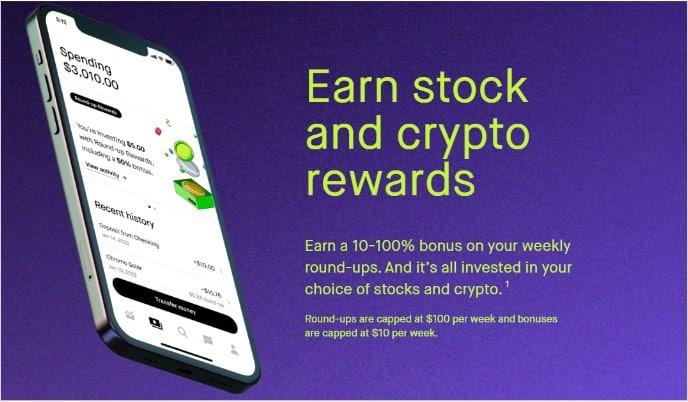 This isn't an online checking account, but Robinhood's Cash Card is a compelling option if you use the app a lot. 
With the Robinhood Cash Card, you can: 
Use a debit card on all of your purchases

Round up purchases to invest

Earn 10% – 100% in weekly bonuses

Use your rewards to invest

Pay zero fees for in-network ATMs

Invest your paycheck
The rewards cap out at $100 a week, but if you regularly invest through Robinhood, this could be an easy way to invest with your daily purchases.
Customer Support
Robinhood has a robust FAQ and help section, but if you need help with something that isn't in the knowledge base, it's pretty tough to get ahold of someone. 
You have to dig for their contact info, and even then, it's Robinhood's email support that could take a while to hear back from a human.
User experience
Robinhood is a sleek, clean, modern app that I really do enjoy using. The tricky thing about Robinhood's sleek app is that they've gamified investing. 
That sounds cool and everything, but if you use Robinhood for a while, you'll realize they've designed the app to be a little … addicting.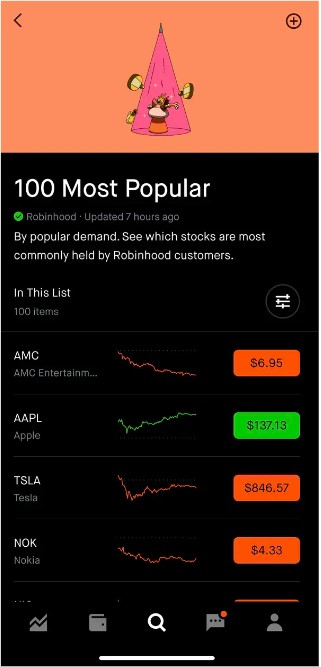 Since Webull and Robinhood both make money off of the frequency of your trades, this makes sense. But even so, gamified features can encourage you to make rash decisions that you normally wouldn't make. 
Regardless of the app you choose, don't let their fancy features or cool graphics cause you to veer off-course from your financial goals.
Cryptocurrency
Robinhood has plans to become more of a crypto-centric platform. If you have a crypto wallet currently, Robinhood has plans to allow you to bring your own to the platform.
With that said, Robinhood currently has more limited options, allowing you to invest only in: 
Bitcoin

Ethereum

Dogecoin

Ethereum Classic

Bitcoin Cash

Bitcoin SV
Paper Trading Tools
Robinhood doesn't offer paper trading tools. 
Fees
Deciding between Webull versus Robinhood mostly comes down to their features. That's because their fees are almost identical.
Webull
Robinhood
Similar Fees

6.99% Margin Trading Fees
Wire Transfer Deposits: $8 - $12
Wire Transfer Withdrawals: $25 - $45

4.25% Margin Trading Fees
Domestic Check Overnight Delivery Fee: $20

Index Fund Fees: $0.10 - $0.66
Outgoing Stock Transfers: $75
Paper Statements: $2 - $5
Neither platform will charge you: 
Trading fees

Commission fees

Inactivity fees
They will charge you $75 if you transfer your money out of the platform, so keep that in mind. 
You'll also be on the hook for non-platform fees that are charged by ETFs to Webull and Robinhood. These aren't technically Webull or Robinhood fees, but they're a cost that they pass on to you as an investor. 
The fees are reasonable, but it's just something to be aware of.
Webull VS Robinhood – Main Differences
Okay, so if the platforms are similar in trading, options, and fees, what are the big differences between Webull versus Robinhood? 
As an investor in both apps, I believe it comes down to:
Community And Support
Webull has a community in the app that functions almost like an investor's version of Quora. 
If you have questions that you can't answer in the FAQ or with a Google search, it's really nice bouncing ideas off of thousands of other investors. Webull also has more robust customer support than Robinhood. 
So, even though Webull is more advanced, you aren't left to your own devices like you are with Robinhood.
Margin Trading Fees
If you're a more advanced trader and you plan on doing margin trading fees, Webull and Robinhood do approach this differently. 
Robinhood's $5/mo subscription is a little annoying, but the interest rates are several percentage points lower than Webull. 
If you plan on investing millions of dollars at a time, though, Webull's tiered fee structure could be a more affordable option.
Cash Management
Webull doesn't offer any kind of cash management, but I do like Robinhood's cash card. If you're struggling to come up with enough money to invest regularly, it could be an easy way to round up your purchases and invest a little at a time.
Retirement
By the way, if you're saving for retirement, you'll have to stick with Webull. Robinhood doesn't support any types of retirement accounts, but Webull does allow you to open an IRA.
Crypto Options
Webull and Robinhood allow you to essentially speculate on the price of crypto without owning it outright. 
Robinhood does have plans in motion to allow users to own their coins and bring their cold wallets to the platform, but this feature isn't available just yet. 
In the current state, if you want a wider spread of crypto options, Webull offers way more.
Advanced Tools
Robinhood has a robust Learning center, but it pales in comparison to Webull's advanced tools, like Paper Trading.
Webull VS Robinhood – Similarities
With that said, these platforms do share a lot of similarities, including: 
Trading Options
Your trading options are pretty much the same. Both Webull and Robinhood allow you to invest in stocks, ETFs, options, and cryptocurrency.
Fractional Shares
If you don't have enough funds to buy a $500 share in Apple, don't sweat it. Both platforms allow you to buy fractional shares, which means both Webull and Robinhood are accessible to new investors on a budget. 
Fees And Minimums
You'll pay $0 to trade on Webull and Robinhood, which is a steal compared to traditional brokerage options. 
If you want to do day trading or margin trading, you will need to meet certain minimums, but for the majority of investors, you can start investing for as little as $1.
How To Decide Between Robinhood VS Webull
Let's clarify something first: neither app is guaranteed to make you rich. There are risks with investing in anything. With that said, certain investors are better suited to each platform. 
Webull is best for: 
Traders who do day trading as a source of income

Experienced investors

Investors who want to practice Paper Trading

Investors who want to save for retirement
Robinhood is best for:
Casual or beginner investors

Investors who want to invest with roundups

Users who are overwhelmed by Webull's advanced features
So, Webull is a solid option if you plan on investing for the long term or if you want to do day trading. But hey, if you want something simpler and easier to use out of the box, Robinhood is a great option, too. 
At the end of the day, you should pick an investment platform that has features that speak to you as an investor.