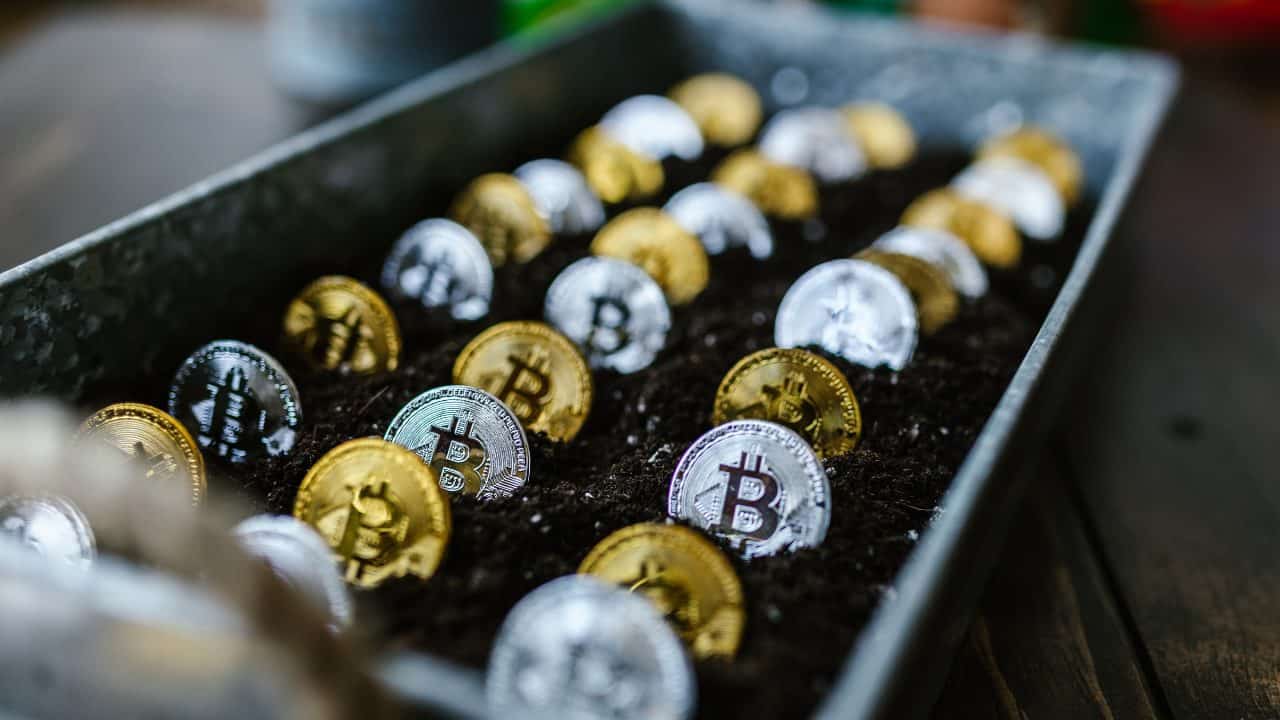 Disclaimer
We only endorse products that we truly believe in. Some of the links below may earn us some extra guac at no additional cost to you. Please pass the chips & thank you for feeding our habit.
Being an 80s baby, I grew up in a world where most people didn't even use debit cards. Fiat currency and checks were the norm back then, and there were no such things as smart phones or an internet either.
Most people didn't even own computers back in those times. If they did, it probably didn't have a graphical user interface (GUI) like my uncle's computer. I had to learn MS DOS basics just to play the cool games he had on it like Meteroid.
Fast forward a few decades and the entire world is upside down! Cash is slowly going extinct as credit and debit cards have become the new norm. Everyone now walks around with a super computer on their person, and the entire planet is connected by the internet.
The technology revolution has also led to the creation of virtual currencies called cryptocurrencies. These digital currencies are protected by cryptography and a network of computers. They emerged almost a decade ago and there are now over 10,000 cryptocurrencies.
Powering the networks of computers that power and run these cryptocurrencies uses up significant amounts of energy. Bitcoin is the most popular crypto and it uses up more energy than countries like the Netherlands.
Recent revelations about how much energy cryptocurrencies like Bitcoin use has left some investors looking for cleaner alternatives.
Enter green cryptos.
A green cryptocurrency does not add to the planet's CO2 emissions. These cryptos run off clean energy sources.
Bitcoin (BTC) and other cryptocurrencies took a significant hit when Tesla announced it would stop accepting Bitcoin as a form of payment. It helped to quell Bitcoin's historic bull run in early 2021, which ended with a new all-time high set at $65,000.
Cryptocurrencies are virtual currencies that are protected with cryptography, making them virtually impossible to double-spend or counterfeit.
These assets are often secured on decentralized networks of computers known as a blockchain. The blockchain ensures the integrity of the network by cross-checking transactional data with previous blockchains.
Platform
Fees
Promotions
Link
$0 Fees

Earn up to $250 in BTC bonus when you sign up and fund your new account.

Learn More
0.5% - 4.5% Other fees may apply.
Get $5 in Bitcoin when you complete your first trade.

Learn More
0.9% - 2% Other fees may apply.

No promotions at this time.
Learn More

0.5% - 3.99% 

$20 of BTC 

for new users after trading $100 or more within 30 days.

Learn More
The process of issuing new cryptocurrencies into a blockchain is called mining, and it uses up significant processing power and energy. These miners are also used to maintain and develop the blockchain, adding to their energy needs.
The computers powering the network are typically rewarded with newly issued cryptos as they solve sophisticated mathematical equations.
Bitcoin mining on its own uses up more energy than countries like Argentina, Netherlands, and the Philippines. It makes up 0.55% of the world's total energy use.
I first realized how much energy mining cryptocurrencies like Bitcoin used up when I decided to try mining in 2016. Back then, finding a miner that earned you a profit after accounting for your energy cost of running the computer was like finding a needle in a haystack.
Bitcoin's price was still a few hundred bucks at that point, so the small amount of BTC earned from mining seemed insignificant compared to the increase in my power bill due to my mining activities.
Why Green Cryptocurrencies Might Be the Future
Bitcoin uses more energy than any other cryptocurrency currently available due to its popularity and the sophistication of the mining process. Most cryptocurrencies are mined in massive data centers that coal-based power plants power.
Burning fossil fuels to run cryptocurrencies like Bitcoin adds to global carbon emissions, contributing to climate change.
The way the Bitcoin blockchain verifies transactions and issues new coins is inherently wasteful, and many cryptocurrencies work off similar systems.
Mining Bitcoin starts by connecting a computer to the blockchain. The process requires using lots of computational power to solve sophisticated algorithmic problems that have a 64-digit solution known as a hash. These hashes are used to verify the legitimacy of Bitcoin transactions on the blockchain.
The greater the number of miners competing for this hash, the larger the energy demands of the mining process. Mining powers the functionality and security of the blockchain as it verifies and audits new transactions. The hash is the proof of a block's legitimacy.
As far as security is concerned, it's a great system since it makes it virtually impossible to game the blockchain.
However, regardless of how many miners work towards solving a block, only the computer that comes up with the correct hash is rewarded. The remaining miners simply wasted energy. It's impossible to justify the considerable energy waste when you factor in the reality that about a billion people around the globe currently don't have access to electricity.
However, cryptocurrencies like Bitcoin, Ethereum, and Dogecoin don't inherently have to contribute to carbon emissions. Miners simply need energy to run their computers. How the energy is generated is irrelevant.
For example, some mining centers in China are powered mainly by hydroelectric energy. Electricity produced by burning fossil fuels currently powers most of the planet, so it's the most available power source.
Given that the energy demands of Bitcoin and other cryptocurrencies have been one of the biggest criticisms against these virtual currencies, you can expect an increasing number of mining centers to switch over to renewable energy sources to appease investors worried about its impact on CO2 emissions.
If that doesn't happen, the global shift towards renewable energy will eventually lead to all cryptocurrencies going green.
The Most Eco-friendly Cryptocurrencies
While Bitcoin and many other cryptocurrencies still have a long way to go before they are considered green cryptos, cryptos that do not add significantly to global carbon emissions exist. These include:
SolarCoin: Here is a cryptocurrency that promotes investing and using solar panels. A SolarCoin is generated every time a Megawatt hour of energy is generated from solar power
Cardano: Mining Cardano is based on the percentage of coins a miner has, rather than the processing power of all their equipment, significantly cutting down energy needs. It was developed using evidence-based methods and peer research
IOTA: This cryptocurrency uses a technology known as the Tangle to mine new coins and power its network. It provides an alternative to conventional blockchain mined cryptocurrencies like Bitcoin and their high energy demands
Nano: Nano uses a more energy-efficient network called a block-lattice to process transactions and create new coins
Investing in Green Currencies
Investing in a green cryptocurrency is no different than investing in cryptos like Bitcoin. Green currencies simply allow you to invest in these virtual currencies without contributing to the global carbon emissions problem.
Cryptocurrencies with substantial energy demands like Bitcoin have already taken a considerable PR hit as investors realize it's already using up more energy than countries like Argentina. That energy demand grows as Bitcoin prices rise.
That negative PR has been good for green cryptocurrencies like Cardano, as a growing number of investors are starting to factor in how their investment in cryptocurrencies will impact the planet.
It should be noted that a cryptocurrency not having significant energy demands doesn't automatically make it a great investment. You should spend some time researching its features and what separates it from other cryptocurrencies to better predict what the future holds for it.
Given the global push for renewable energy sources, it's only a matter of time before all cryptocurrencies become green.
Some of the things you should consider when deciding to invest in cryptocurrencies, green or otherwise, include:
Research the fundamentals: Many new cryptocurrencies are a more efficient version of a more established crypto. That doesn't always mean the better coin will see the most significant price increases. For example, Litecoin allows for more transactions per block than Bitcoin, leading to faster transactions, but it's not the most used cryptocurrency. That title belongs to Bitcoin. I recommend focusing on the 1% of cryptocurrencies that are usable and solve real-world problems. Going through white papers is an effective way to learn about the fundamentals of any crypto
Explore recent news topics: News articles about any cryptocurrency can give you insights into which direction prices are likely to go. For example, I converted a decent amount of my Bitcoin holdings into USDT as news about Tesla dropping the cryptocurrency and Chinese government officials cracking down on it circulated. The recent all-time high set and the barrage of negative press signaled prices were about to go down. Bitcoin dropped all the way down to $29,000 since then, but prices are starting to rebound, currently closing in on the $45,000 mark
Observe transaction volume: The transaction volume of a cryptocurrency indicates how much trading is going on in any given period. A high transaction volume lets you know others are also investing and using the crypto being researched. In my experience, less established exchanges tend to be dishonest with the data provided regarding trade volume, so stick to exchanges with solid reputations like Kraken and Binance
The Future is Green
Green cryptocurrencies use more efficient systems to create new coins and manage transactions, significantly reducing energy usage. Cryptocurrencies like Bitcoin waste lots of energy since many miners compete to solve a transaction hash, while only one gets rewarded. The energy used by all other miners attempting to solve the hash is wasted.
Most Bitcoin mining is powered by fossil fuels, adding to the global carbon emission problem. That issue will be eventually solved at some point, as an increasing number of Bitcoin miners use renewable energy sources to power their computers and more renewable energy stations are built around the world.
That would technically make Bitcoin a green cryptocurrency at that point, but the process of mining and managing its blockchain would still be wasteful compared to the systems used by cryptocurrencies like Cardano.
Green cryptocurrencies use systems that do not require insane competing power, providing a solution to the wasteful nature of Bitcoin mining.