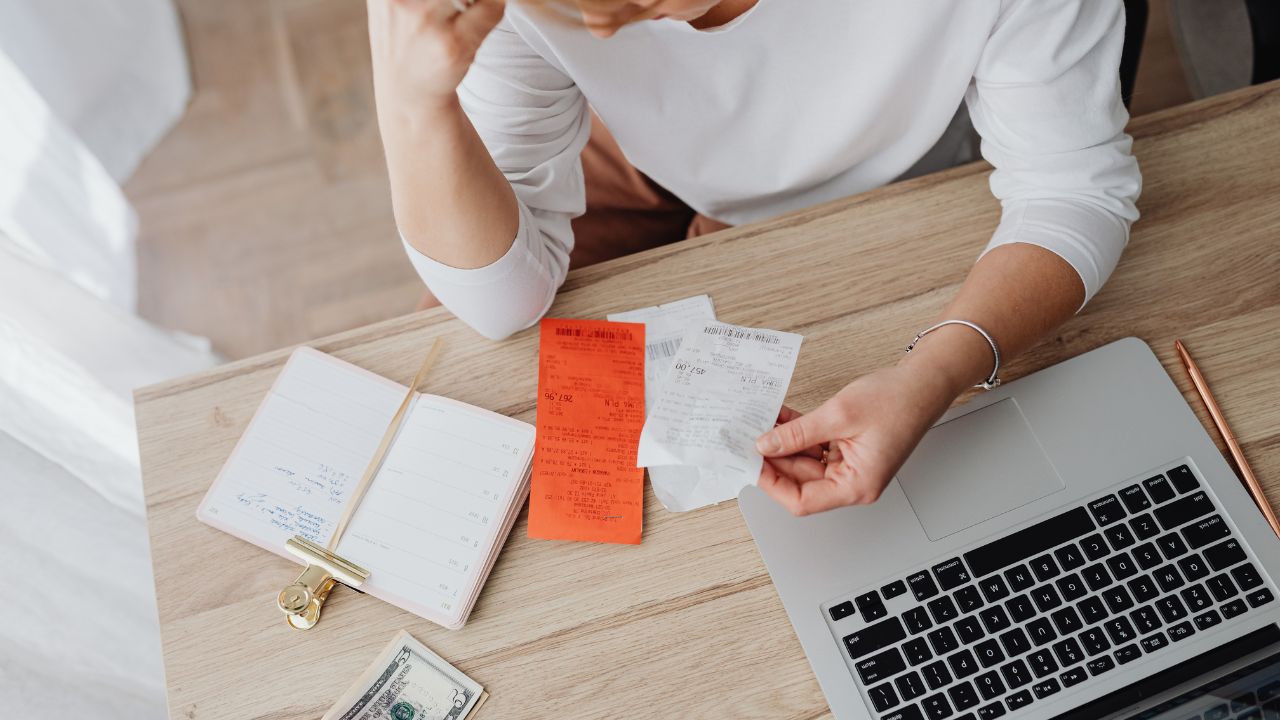 Disclaimer
We only endorse products that we truly believe in. Some of the links below may earn us some extra guac at no additional cost to you. Please pass the chips & thank you for feeding our habit.
It's frustrating when you head to the grocery store and see that the cost of a carton of eggs is several dollars higher than it used to be. And it's not just eggs – because of inflation, everything costs much more than it did just a few years ago. So what changed, and why is inflation so bad right now?
According to the Consumer Price Index, general prices for goods and services rose year-over year by 9.1% in June 2022, its highest point in over 41 years, caused by heightened cost-push demand, supply chain issues, and a massive increase in the US monetary supply.
For more information on what's causing inflation this year, here is the breakdown you have been looking for.
What's Causing Inflation In 2022?
If you have been noticing prices soar for everyday goods and services, you aren't alone. 
Inflation has been rising since the mid parts of 2021, and reached an over 41 year high of 9.1% in June 2022.  
But what's causing inflation in 2022? 
Here are the top four causes that you should know about if you want to keep up with the markets.
1. Cost-Push Inflation
It likely comes as no surprise to investors that prices are on the rise as raw materials costs have increased over the past year. 
When raw materials and even wages are on the rise, it is only a matter of time before the final price of goods begins to rise to accommodate those changes. 
This is one of the biggest reasons why you are noticing higher price tags at the store.
A simple way to think about it is that the rising cost gets pushed to the consumer.
Cost-push inflation is often first seen in the cost of commodity prices including oil or precious metals, something that many investors keep up with in their portfolios. 
Companies that utilize these materials in their production pass the costs along to the consumer, even if there hasn't been a change in the demand for the product itself.
In addition, with the sheer number of jobs available on today's marketplace, many employers raised their minimum wages to entice qualified candidates to their place of business. 
However, this cost must be absorbed into the business somehow. 
This plays a role in cost-push inflation as the cost of hiring qualified workers gets pushed along to the end-user.
2. Demand-Pull Inflation
Investors who are well-versed in economics are likely already familiar with the concept of demand-pull inflation. 
This occurs when there is a major increase in the demand for a specific type of product. 
If the demand is only created in the short-term (such as when a new product releases), there is no need to change the price.
Sustained demand at a higher level requires the manufacturer to increase their prices to offset the high levels of demand.
When there is more demand, the supply of the product dips below baseline. A higher price will either push the product out of what consumers will reasonably spend or they will come up with the extra cash to get their hands on whatever it may be. 
This pricing shift often decreases demand and gives the supplier more breathing room to come up with increased availability.
However, demand-pull inflation is not always influenced by this type of availability. 
Any company that notices consumers are demanding more of a particular product (like gas) can increase their prices. Because it is a highly sought-after commodity, corporations will use that to their advantage to increase prices. 
Housing
It isn't just the gas pump or the grocery store where you are likely feeling the effects of inflation in 2022. The housing market has been booming for a while now. 
When houses are in high demand and the economy is expanding, prices will rise. 
This is what we are seeing with the great influx of demand from buyers, many of whom have been priced out of the market with inflation.
In addition to the price of the home itself, many other industries related to housing are also raising their prices. For example, construction and the price of raw materials like lumber skyrocket in an attempt to keep up with the increased demand for homes.
3. Government Fiscal Policy
It isn't just the end users who can cause a shift in the economy that leads to inflation. Another main cause of inflation in 2022 is government fiscal policy. 
By decreasing taxes, businesses have more money to dedicate to improvements or to employee welfare such as pay raises. As the businesses invest more money into the employees, those employees likewise have more discretionary income at their disposal.
What does this mean for inflation?
It means that both businesses and their employees have more money burning a hole in their pocket. They are more likely to make more purchases, driving up demand and leading to demand-pull inflation. 
Another way that the government can contribute to overall inflation is by spending more money on infrastructure. Likewise, this often leads to an increase in goods and services with demand-pull inflation coming into the picture.
4. Monetary Policy By Central Banks
Closely related to government fiscal policy, the central banks can make it more likely that consumers will have money to spend. 
Central banks (like the Federal Reserve) can lower interest rates and reduce the cost for banks to give out loans to their applicants.
The Federal Reserve can also print money to increase our monetary supply and stimulate the economy, something they have done a lot of over the last two years.
For instance, at the start of 2020, the United States had around 3 trillion dollars in circulation. Now, there are over 20 trillion dollars circulating around our economy.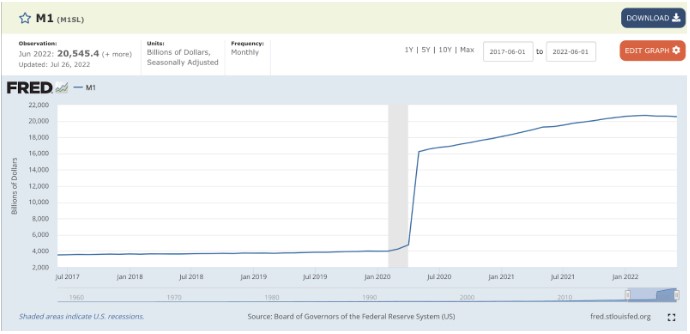 That sparks demand, too, as people have more money to spend. It also contributes to inflation, because with people buying more, businesses have to produce more.
All of that comes at a cost, which the business will typically trickle down by raising prices for its goods and services.
And when interest rates lower, it becomes more affordable to consumers to borrow money, whether for a house or a personal loan.
As a result, the consumer has more money to spend in the marketplace. 
They increase the demand for specific goods and services, tying back into demand-pull inflation. 
In the case of houses, the average market price may rise as well even though the loan itself is generally more affordable with lower interest rates.
How It All Connects
How do all of these aspects of inflation in 2022 connect? 
The truth is that increased demand for products including houses (demand-pull inflation) is causing a rise in material goods that is now being passed along to you, the consumer (cost-push inflation).
Government policy is making it more likely for businesses and their employees to have more discretionary income to spend, further increasing demand for certain products (another example of demand-pull inflation). 
Central banks have adopted more favorable lending policies that give consumers more money to borrow, which has a similar effect.
Meanwhile, housing prices continue to rise because more people than before are looking toward homeownership as a major financial goal in the near future.
As you can see, inflation doesn't happen just because of one specific occurrence. Instead, it is the result of all of these causes tied together that cause a significant impact on the overall economy.
And because these issues are highly complex and global, don't expect inflation to end anytime soon.
How You Can Stay In The Know On Inflation In 2022
Where is inflation headed next? The truth is, no one really knows, because the factors that cause inflation are shifting every single day.
That's why the best thing you can do is stay up to date on the latest inflation news, as it can impact how you invest, save, and spend your hard-earned money.
if you can, read or watch:
the primary financial statements from the US government
Company earnings reports
Interviews with government or company officials
These are direct sources of information, so you know it won't be biased or watered down by a news source.
You want to protect yourself in case inflation continues to rise so that you can afford basic necessities like gas and groceries.
In addition, keep yourself educated on how to manage your money in todays's economy.
But, what if you don't have a lot of time for either?
Market Briefs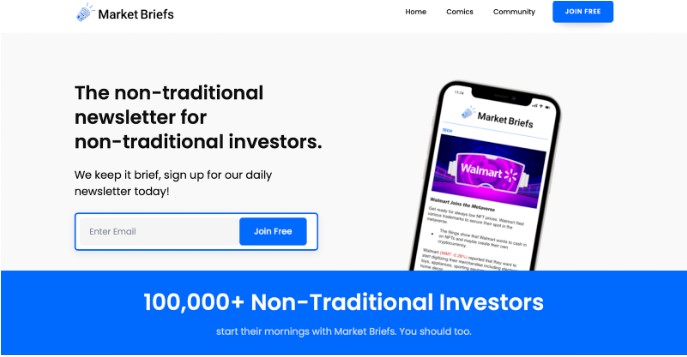 Sign up for the free Market Briefs newsletter to learn more about what goes on in the market on a day-to-day basis. 
It gives you the facts about inflation and everything that impacts the market in a quick and easy-to-read format that takes just five minutes.
In addition, Market Briefs breaks down the latest news into bite-size chunks with links where you can read the full story. 
Market Briefs shows up in your inbox first thing in the morning so that you can start thinking about how you want to change your marketing strategy for the day, if at all.
In addition, its team of writers and experts will help you understand how inflation is changing, and what could be coming next, so that you can make smarter money-moves.
All you have to do is head over here and enter your email address. 
Just like that, you'll be enrolled to receive your first Market Briefs email starting tomorrow morning. Oh, and signing up and reading the daily newsletter is completely free, so you'll get all of this news every morning for zero dollars! (No inflation here!)
Join more than 100,000 non-traditional investors who already start their morning with Market Briefs with just a quick signup process!
Inflation In 2022 – What You Need To Know
Inflation isn't a single thing, but many factors that are put together each month to help represent the value of our dollars.
Lately, our money has been losing value and buying power because of government money printing and monetary policy, supply chain issues, and heightened demand.
As these factors improve, inflation should soften throughout our economy. However, no one really knows when that will be.
So, the safest thing to do is to assume inflation is going to be around for the long-haul, and to do your best to adjust your savings and investments accordingly!