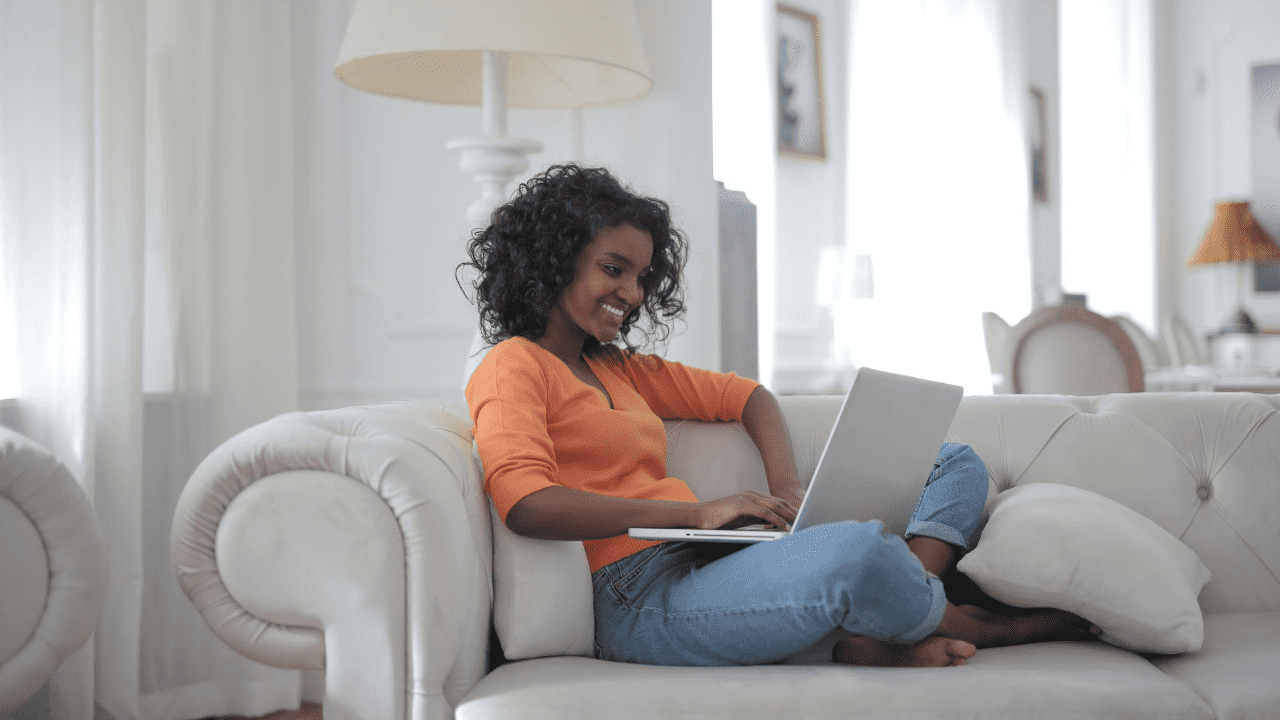 Disclaimer
We only endorse products that we truly believe in. Some of the links below may earn us some extra guac at no additional cost to you. Please pass the chips & thank you for feeding our habit.
Discover 64 work-from-home jobs across several industries, including high-paying jobs that don't require a degree, plus entry-level positions in a variety of fields.
If you have reliable WiFi and a willingness to learn, you can earn an excellent income working from home — even if you have no college degree. 
We show you where to begin with this list of 64 jobs across several industries that pay well and can provide you with steady work from the comfort of your home.
If you have the drive and determination to get to your computer and put forth your best effort every day, there's no reason you can't enjoy earning an excellent living working remotely.
In this article, we show you 64 types of remote jobs in several categories:
We use the term "job" interchangeably, to represent the work situation you prefer, whether it's as a part/full-time employee, freelance worker, or self-employed business owner. 
Work From Home Opportunities Are Here to Stay
If you're one of the 80% of workers who wished you could work remotely, even before The Great Lockdown of 2020, you'll be glad to know that working from home is here to stay.
Many employers who were hesitant to allow employees to work remotely have become work-from-home converts since the pandemic forced companies to allow employees to work remotely. The results have impacted employees, employers, and the environment in surprisingly positive ways.
It turns out that working from home improves our quality of life without reducing productivity, and businesses are saving between $45,000 – $90,000 a year per 100 people.
If you've ever wished you could work from home, now is the time to get started! According to a report by FlexJobs, remote work opportunities increased by 159% from 2008-2020, despite the global economic uncertainty.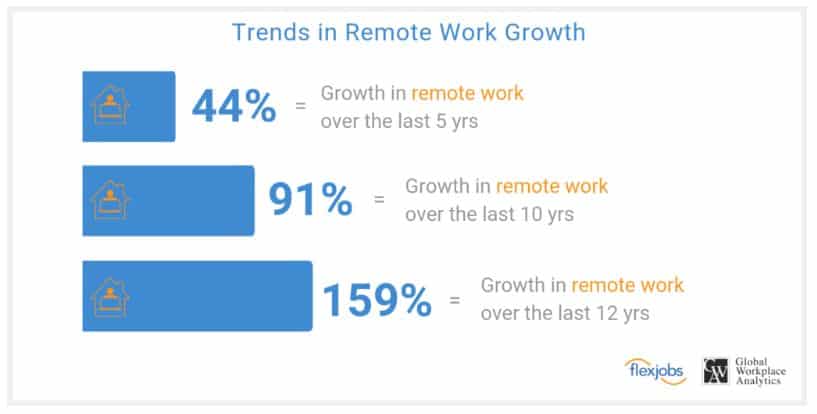 Source: Flexjobs
Now, 82% of U.S. office workers worldwide say they want to continue working from home post-Covid19.
"Our best estimate is that 25-30% of the workforce will be working-from-home multiple days a week by the end of 2021."
 – Kate Lister, President of Global Workplace Analytics
Many work-from-home jobs provide ample opportunity for people with no experience or degree. 
If you're new to the industry you want to work in, consider looking for entry-level positions or freelance projects to build experience in the field, which will lead to better-paying jobs over time.
If you're looking for entry-level positions, you might want to pick up a "side hustle"  to supplement your income as you gain experience in your field.
Online education and skills training has developed so well over the past ten years that the "sky's the limit" for people who are willing to learn. 
Sites such as Coursera, edX, Hubspot, and Udemy provide online training (often free) in nearly every industry. If you're new to the professional world, you have access to training, mentorship, and peer forums that can prepare and guide you in the transition to any new career.
Skills training sites such as Skillshare provide detailed training for nearly any business topic, such as SEO, analytics, graphic design, and sales.
Below are 64 types of work-from-home jobs to get you thinking about where you might fit into the world of remote working. 
Customer Service
Customer service is a popular work-from-home job with an average median salary of $33,750.
Companies such as Amazon, DocuSign, State Farm, and Williams Sonoma hire remote customer service workers, and most job boards publish new opportunities frequently.
The most in-demand customer service professionals, according to Upwork, are:
1. Live Chat Agent
Live chat agents provide one-on-one customer support, answering questions and problem-solving for customers.
2. Customer Support Specialist
Customer support specialists are expert customer service agents that often communicate through several channels such as email, chat, and phone. 
3. Help Desk Agent
Help desk agents assist customers and/or internal workers with software questions and troubleshooting.
4. Specialized Customer Support
If you have niche skills, experience, or training, you may be eligible for a higher-paying, more specialized customer service position. 
For example, bilingual customer support, customer support for technical and engineering firms, and finance-related customer support positions require more knowledge and therefore pay higher wages.
Customer service work varies from company to company. Titles are usually tailored to the company's preference, so a "customer service agent" might also be referred to as a customer experience agent, customer support specialist, or any variation of similar titles.
Other remote support positions, outside of customer service, include:
5. Virtual Assistant
Virtual assistants provide administrative support to clients, such as appointment scheduling, travel arrangements, digital communications, and more.
6. Transcriptionist
Transcriptionists transcribe video and audio recordings to written text.
Customer service and support positions can make excellent opportunities for entry-level remote workers.
Many companies provide plenty of growth opportunities for people who wish to work as customer support supervisors, managers, and coordinators.
If you love people and enjoying helping, customer service may be an excellent choice for you. However, if you're browsing customer service jobs because you need steady work but don't have a degree, you'll also find plenty of opportunities in sales, marketing, teaching, and writing.
Sales
Remote sales people earn an average salary of about $51,000 per year.
If you're a "people person" with good organizational skills and exceptional drive, you may enjoy remote sales.
You'll discover plenty of work-from-home, entry-level sales positions that don't require a college degree or experience.
Sales titles, responsibilities, and job requirements vary depending on the company and product. Below are some of the most-popular work-from-home, sales positions.
7. Inside Sales Representative
Inside salespeople typically answer the phone to "warm" leads, or potential customers who have expressed an interest in the product. Their job is to close sales and ensure that customers are matched with the right products.
For many companies, inside sales are entry-level or mid-level positions that can be managed remotely.
8. Lead Generation Manager
Lead generation managers track incoming sales leads and work with analytics and other research tools to develop strategies for increasing the amount and effectiveness of leads. 
LGMs aslo create and track sales campaigns, work with automation, and submit projections.
9. Business Development Representative (BDR)
Business development representatives (BDRs), sometimes referred to as sales development representatives, generate qualified prospects for sales teams. BDRs develop leads through cold call emails, networking, social selling, and other types of cold calling. 
BDRs are typically compensated based on the amount of sales-qualified leads they generate.
Improve your professional skills with 2 free months of unlimited classes. Try Skillshare Free For Two Months
10. Account Executive
Account executives take on more responsibility than sales reps. Their position is managerial in nature and is often the next step up from entry-level sales. 
Account executives contribute to the sales process through analysis, strategy input, negotiations, and a great deal of interpersonal communication on social media and within the company.
11. Account Manager
Account managers work with customers as advocates, after the sale is made. They focus on understanding customer needs, and are often the clients' main point of contact.
Account managers help develop long-term sales strategies to boost a product's return on investment.
13. Director of Sales
For people with years of sales experience, a sales director position provides an opportunity to play a key role in a company's sales operations. Sales directors oversee, supervise, develop, and strategize sales processes and workers.
While many sales positions require in-house employment, more and more companies are open to the possibility of work-from-home salespeople.
14. Phone Sales
Phone salespeople answer calls and sell products, much like inside sales reps, except that phone salespeople work from scripts designed to sell products.
Niche Sales Positions
If you have specialized training or experience in niche fields, you can secure better-paying remote work such as:
14. Financial Sales
Financial sales positions often require a bachelor's degree for entry-level jobs. "Financial" products may include insurance, securities, or banking products.
15. Advertising Sales
Advertising sales agents sell ads for a variety of media outlets such as radio, tv, and internet publishing.
16. Health and Wellness Sales
Health and Wellness sales may  include everything from selling fitness equipment to nutrition plans or alternative medicines.
17. Software Sales
Software sales requires extensive knowledge of a company's software, and reps work to sell the software products.
18. Sales Engineer
Sales engineers sell scientific and technical products to businesses. The products are complex and often require special experience, training, or an aptitude for science or technology.
Sales people who wish to earn over $100,000 annually should consider taking inbound sales courses at a site like Hubspot, to better understand how the digital sales process works.
A thorough understanding of digital marketing provides you with valuable insights on the motivations behind the sales processes that drive most of today's successful companies.
Marketing
Marketing is a massive industry, since nearly every company on the planet has to market its products or services to succeed.
Entry-level marketing positions and internships typically provide lower pay, but are a good opportunity for people who wish to learn "on the job" instead of in a classroom or college setting.
Remote marketing jobs pay an average of about $63,000 per year, but there's a wide pay range ($22,000 – $126,000) that depends mostly on your ability to deliver high-quality work or results.
Experienced salespeople should consider executive positions, since sales executive salaries can range from $125,000 – $200,000 per year.
Below are some of the most common marketing jobs for remote workers.
19. Entry Level Marketing Positions
Entry level marketing positions may include any mix of responsibilities that allow workers to learn their jobs along the way. 
For example, an entry level marketer may help with social media ad placement, writing of short blog posts, creating simple graphics, and updating managers on the latest trends.
Entry level marketing positions vary according to the needs of the company, and many are freelance, one-time projects that allow you to gain experience along the way.
20. Email Marketing Manager
Email marketing managers coordinate email lists, review customer feedback and analytics, and help develop and implement email marketing campaigns. Often, they are also responsible for the copywriting and content contained in emails.
21. Social Media Manager
Social media managers help brands represent themselves across multiple social media channels. They develop campaigns based on marketing goals, coordinate and curate social media content, analyze social media insights, and often engage with audiences by replying to comments.
22. Search Engine Marketing (SEM) Specialist
A search engine marketing specialist develops strategies to help a company's website rank high in the search engines (mainly Google).
23. SEO Expert
An SEO expert optimizes company websites to help them rank higher in the search engines. SEO optimization is a multi-faceted, layered process that dictates certain programming, design, and writing functions to gain favor with Google.
24. Content Manager
The role of a content manager varies, sometimes dramatically, from one organization to the next, and is mostly based on the size of the organization.
In most cases, content managers supervise the development, distribution, and strategic efforts of a company's branded marketing content.
Content managers are responsible for a wide range of activities that may be split between team members or executed solo, including:
Developing content strategy

Keeping up social media/publishing calendars

Writing content

Creating, editing, or approving video content

Creating or overseeing other types of content

Measuring the ROI and overall effectiveness of content campaigns
25. Brand Marketing Specialist
Brand marketing specialists manage marketing team members and help define the company's brand image through a variety of tasks and projects such as design, advertising, marketing, social media, and more.
26. Digital Marketing Consultant
Digital marketing consultants are experts who analyze a brand's marketing efforts and make strategy recommendations. 
Their expertise in multiple aspects of marketing allow them to recommend strategies that include advertising, SEO, SEM, inbound processes, content marketing, and social media marketing.
27. Marketing Automation Specialist
Marketing automation specialists are technical experts that may serve in any one of several critical roles such as Chief Marketing Officer, Web Analytics Director, VP of ecommerce, and Automation Architect. 
According to a report by MarTech, MAPS (marketing automation professionals) execute sophisticated campaigns, interpret and integrate data, track performance metrics, and present insights to marketing decision makers.
The marketing industry provides excellent remote opportunities for both experienced experts and for people who are willing to start in entry-level positions.
People who are self-driven and love to continually learn and develop new skills are likely to enjoy working in the rapidly-changing environment of digital marketing.
Turn "I can't afford it" into "How can I afford it?" 113 Ways To Make Extra Money Without Taking Surveys, Selling Out Your Friends, Or Getting Naked.
Teaching
If you have a passion for teaching, you'll find some fantastic opportunities to work from home as an educator. 
Salaries vary widely, depending on your training and certification. If you're not a certified school teacher or University professor, you might check out some of the positions below that don't require accreditation.
28. Virtual Tutor
As technology advances, the online tutoring industry is growing rapidly – and that means more work-from-home jobs are available for people who love to teach.
Online tutors provide support, guidance, and help with homework. If you have an area of expertise, you may qualify to work from home as a tutor (even with no college degree).
29. English Teacher
If you're fluent in English and have a passion for teaching, you may want to try teaching English online. 
Teachers willing to work during peak hours (mornings) earn the highest salaries.
Some online English teaching positions require a bachelor's degree (any type), but not all. There are many opportunities to work from home teaching English, even if you never got a degree, have no experience teaching, and don't know a second language.
30. Instructional Design
Instructional designers create and publish online learning content, often from instructor-led materials. This often includes using multiple forms of media, such as images, videos, and quizzes, to develop courses for companies. 
Remote instructional design is typically freelance work that allows you to earn more as you develop expertise and experience.
31. Course Creator
Course creators develop and produce instructional courses, then publish them on sites such as Udemy, Teachable, or Skillshare. 
Creating your own course can be an excellent project for people who are temporarily laid off or on break because once you publish your course, the work is complete and you collect a passive stream of income.
In addition to the usual online teaching positions listed above, many schools are looking to the internet for workers to help support online learning during the pandemic. 
To learn more about online teaching within the school systems, check out the "English Teacher" section of our Top Ten Work-From-Home Jobs guide. 
Writing, Editing, And Proofreading
If you enjoy writing and love to learn, online writing jobs provide plenty of opportunity for high salaries, rewarding work, and flexible schedules.
According to a report by Zip Recruiter, the average salary of an online writer is about $79,000. 
Entry-level writers should not be discouraged by low wages or unreliable clients because you can move into better positions quickly by improving your writing and gathering positive reviews from your clients.
32. Copywriter
Copywriters are trained sales writers who typically write sales copy, landing pages, and advertising.
33. Email Writer
Email writers combine copywriting and content writing skills to provide high-quality email content for brand list subscribers.
34. Content Writer
Content writers create SEO-optimized materials for websites such as feature articles, guides, instructional materials, white papers, and more.
35. Website Writer
Website writers are skilled copy and content writers who write and rewrite website pages. This may include sales pages, about pages, product pages, and more.
36. Product Description Writer
Product description writers are skilled at summarizing products clearly, often within a limited character count. Entry-level writers looking to gain experience and steady work often pick up work as product description writers.
37. Social Media Writer
Social media writers compose captions and introductions that engage followers and encourage them to interact with brands on social media.
38. Blog Writer
The term 'blog writer" covers a variety of writing styles, but most commonly refers to writing short, daily blog posts. It can also refer to content writers who contribute full-length feature articles and guides.
39. Proofreader
Remote proofreaders review all types of content before publication to ensure that there are no misspellings or improper grammar or punctuation.
40. Copy Editor
Copy editors review content before publication, often rewriting portions of the text to align with brand voice and style.
41. Editor
Editors review content for quality and alignment with the brand tone and voice, offering suggestions on structure, content, and topic development. Editors are usually the last person to review content before it gets published.
The roles of proofreader, copy editor, and editor are often intertwined. In smaller companies, one person typically manages all three roles.
Media
Creative-leaning freelancers enjoy plenty of work-from-home options like the ones below.
42. Digital Producer
Digital producers plan, supervise, and coordinate digital media projects. They often work with teams and are responsible for ensuring that all content meets brand and quality guidelines.
43. Voiceover Artist
Voiceover artists work from home recording scripts, books on tape, commercials, and more. Professional recording equipment is required for voiceover artists who want to work from home, but usually can be purchased for less than $200.
44. Video Editor
Video editors compile raw video into finished products such as advertising, training, product, and social media materials.
45. Production Coordinator
Production coordinators manage workflow, scheduling and deadlines, and operations of creative projects.
46. Graphic Designer
Graphic designers create the artwork you see on social media, news outlets, websites, and in print.
47. Art Director
Art directors oversee the development of artwork and templates for branded social media, websites, and print graphics.
Tech
If you have a tech-related degree, certificate, or experience, you'll discover plenty of work-from-home jobs and projects waiting for you online.
"Tech-related" work covers a broad spectrum of computer jobs. Many of the advanced positions provide hefty salaries that land somewhere between $100,000 – $200,000 annually.
48. IT Technician
IT workers "diagnose, repair and maintain hardware and software components," as well as install and configure computer hardware, according to IT Technician job board Betterteam.
49. Data Scientist
Many data science specialists can work remotely in fields such as healthcare, education, tech, sales, and more.
Dataquest recommends that data scientists wanting to work from home search small industry job boards and postings or visit data-science job boards such as Analytic Talent and Kaggle Jobs.
50. Engineering
Engineers in the tech industry enjoy many work from home opportunities such as product engineer, Ruby engineer, consulting engineer, and many others. Demand for frontend and backend engineers has grown in recent years, and salaries are among some of the highest in the tech industry.
51. Software Development
Software developers create the systems and applications that we all use when working and interacting online. 
In the past, software developers needed a degree to secure a good job. Now, though, there are more jobs than computer science students, making it possible for someone to become a software developer without a degree.
The Bureau of Labor Statistics expects software development to grow 31% by 2026.
Learn software development on Skillshare – get your first two months free when you sign up today!
Human Resources
According to a report by ZipRecruiter, remote HR professionals earn an average of about $62,000 per year.
Most HR positions require a minimum of a bachelor's degree (which you can get online), since HR work focuses on adhering to a wide range of legal issues and laws that apply to employment.
52. Human Resources Generalist
Remote HR generalists work from home managing several responsibilities, including:
Administrative tasks

Employee performance

Company policy development

Recruitment
53. HR Coordinator
A human resources coordinator assists HR managers with recruitment, records, payroll, and other administrative functions.
54. HR Business Partner
An HR business partner is an experienced professional who coaches executives about issues relating to planning and strategy.
55. Recruiting Coordinator
A recruiting coordinator works with businesses and job candidates to help place and onboard new talent.
56. Talent Manager
HR talent managers develop and implement strategies that connect HR processes (including recruiting and performance management) to company goals aimed at driving higher performance, greater ROI, and competitive advantages.
Best Entry-Level Work From Home Jobs
If you've worked in non-business fields such as restaurant or entertainment, and have no previous experience working with computers, you can often find entry-level positions that allow you to learn as you go.
Or, if you need to quickly build or replace a stream of income but aren't sure where to begin, you might consider an entry-level position that hires quickly.
Whether you're new to online work, have no experience in professional industries, or are hoping to start down a brand new career path, there are plenty of work-from-home opportunities for you.
To build experience and boost your chances of finding long-term, high-paying remote work, consider entry-level positions such as the ones listed below.
57. Data Entry
Data entry clerks type information into databases. While the work is repetitive, it requires detail-oriented people who are extremely careful about entering information correctly.
58. Appointment Management
Outbound appointment setters are essentially phone salespeople who work from a script, calling large numbers of people daily in the hopes of setting appointments for salespeople to visit them.
59. Virtual Receptionist
Entry-level virtual receptionists answer phones and direct calls to the proper departments. 
While the pay can be close to minimum wage, these positions do provide workers with the basic business experience needed to feel comfortable and begin to confidently navigate their way around corporate environments.
60. Promotions
Many companies create entry-level positions called "promotions," which are a blend of marketing, sales, and administrative tasks. 
These are great positions for people who want to get familiar with online business practices and learn what area of marketing or sales interests them most.
61. Remote Call Center Worker
Some call centers employ remote workers, and many require no experience. As a remote call worker, you'll read from a script and answer or place phone calls during your entire shift, sometimes mixing in a few administrative tasks along the way.
Call centers often provide lower hourly wages (slightly over minimum wage), but can help prepare you for better-paying jobs in customer service or sales.
62. Phone Survey Caller
Research firms often hire people to conduct phone surveys, and these positions require no previous experience.
63. Contact Tracer
COVID-19 contact tracers are employed by each state to track the spread of the virus. 
Check with your state to ensure that contact tracing is a paid position (some states only hire volunteers). 
Each state has different hiring criteria and work arrangements, but many require no degree or previous training. To learn more about working as a contact tracer, visit Contrace.org.
64. Researcher
The term "researcher" is so broad that you've got to go out of your way to ensure that you're looking at entry-level research positions. 
Many research positions require highly-specific experience and degrees. 
Entry-level research work is entirely different, and is often available as project work from individual companies. 
When companies want to learn what their competitors are doing, what their audience is talking about in forums, or other information that automation can't provide, they hire freelancers to research for them.
Entry level jobs and projects are often listed as job titles you might not think to look for. Instead of searching by job title, consider searching for "entry level remote" or "no experience needed" positions, jobs, or projects.
Entry level positions are usually simple, but they can also be exciting because they help you find your way to the field or industry that allows you to grow as a professional.
Work From Home FAQs
What are the highest-paying remote jobs?
According to a report by CNBC, the highest-paying remote jobs are positions that require college degrees or advanced degrees, and the top four are:
Psychiatrist

: Average salary $217,265 per year

Medical director

: Average salary $135,012 per year

Data scientist

: Average salary: $129,806 per year

Software engineer

: Average salary: $107,273 per year
Remote freelancers in any field who sharpen their skills and deliver high value to their clients can work their way into remote high-paying jobs or freelance work.
What are some high-paying jobs you can do without a college degree?
Some high-paying freelance jobs don't require a college degree, but instead require skills training or experience that you can usually get online. 
Some of work-from-home jobs that don't require a degree include:
Programmers

Writers

Graphic Design

Web development

Social media managers

Video editors
Whatever field you specialize in, remote working provides opportunities to reach high-salary ranges if you excel at what you do. 
To earn a high salary working from home, focus on delivering high-quality work, continually educate yourself and build new skills, and develop a list of satisfied customers and excellent reviews.
What types of jobs offer the most work-from-home opportunities?
According to Upwork, the most common categories of remote work include:
Web, mobile, and software development

Writing

Sales and marketing

Administrative support

Customer service

Data science and analytics

Engineering and architecture
If you're unsure what industry you belong in, it can help to browse remote job openings, which will give you a realistic picture of job descriptions, requirements, and salaries.
Sites like Audible and Skillshare can help you brush up or develop new skills that may improve your chances of landing the best remote jobs.
How Can I Connect With Other Remote Workers For Advice And Socialization?
Connecting with like-minded remote workers on social media and in forums can help you grow professionally and develop relationships with your peers.
Some of the places you can connect with other remote workers are:
Private Facebook groups that focus on your industry or speciality

LinkedIn

LinkedIn professional groups (in your industry)

Industry forums that you can find by Google searching

Seminars, workshops, and events related to your industry
If you enjoy working from home and plan on working remotely for a long time, making connections with others in your industry is essential for keeping yourself up to date and engaged in your field.
Work From Home Jobs — The New Normal
Work from home opportunities are for everyone! 
Whether you hold a PhD or have no formal education or experience, you can find remote work that suits your background and goals.
To make the transition to a work-from-home job, consider the industries and opportunities listed above, then do further research to learn how to gain an edge when applying and interviewing for work.
Keep Reading: