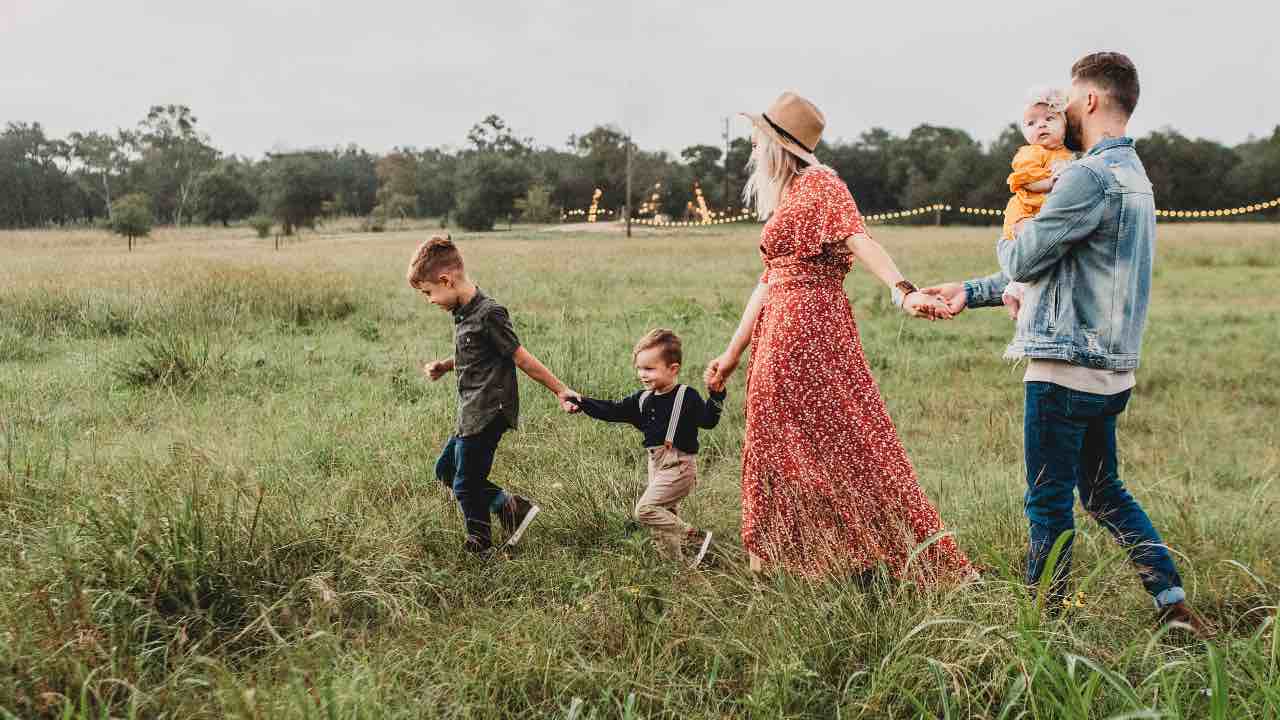 Learn everything you need to know about life insurance to make the right decisions when it comes to protecting your family in case something should happen to you or your spouse.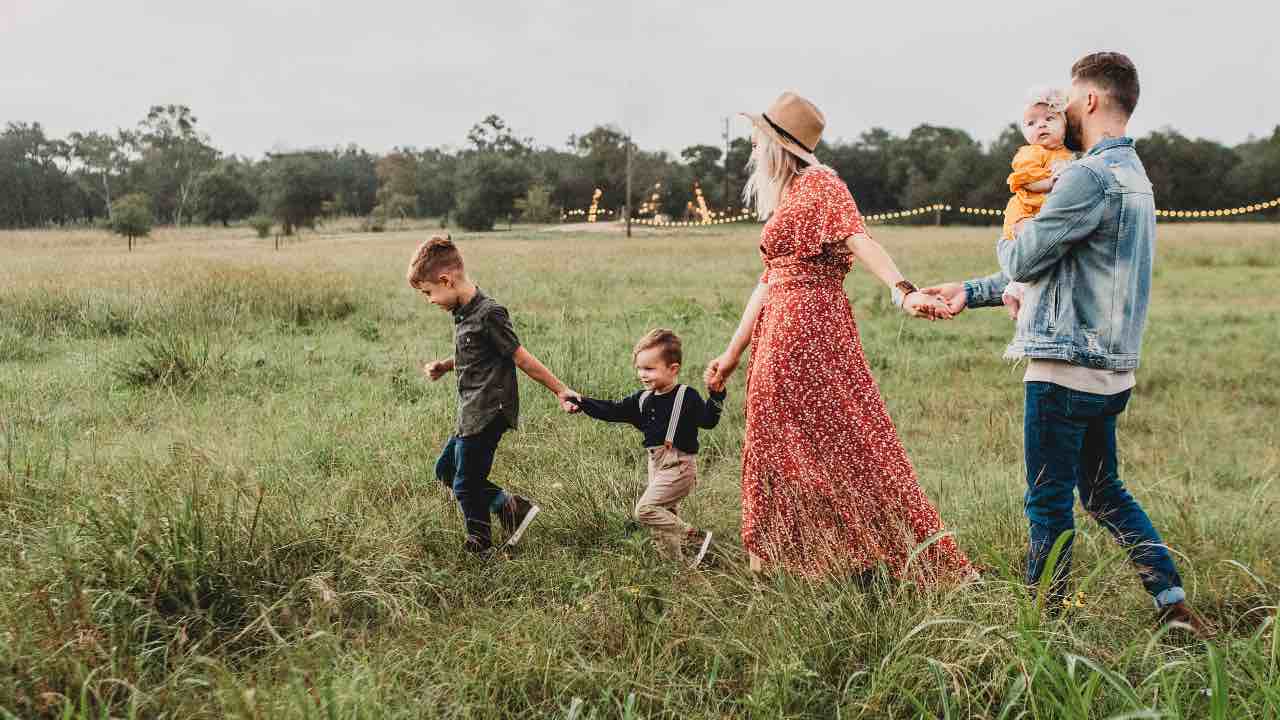 Purchasing life insurance can be a lifesaving decision or a complete waste of money. 
We hope your life insurance is a big waste of money (you'll see why by the time you're done reading this article)!
We want you to enjoy life for a very long time, so you can say "Boy, I'm sure glad that life insurance policy wasn't needed!!"
It's an awkward topic, we know, but in this article, we introduce you to two families whose lives are forever altered because of their decisions about purchasing or procrastinating on life insurance.
We also walk you through everything you need to know about life insurance before you buy a policy.
By the end of this article, you'll be able to quickly gather insurance quotes, talk to an agent and "speak their language," understand your life insurance options, and steer clear of overpriced policies, unnecessary charges, and scams.
Here's what you'll learn:
What Is Life Insurance?
Life insurance is a risk management strategy for adults of all ages and incomes. 
A life insurance policy is insurance on your life that pays your family enough money to cover bills and living expenses if something happens to you. Life insurance gives you peace of mind while you're living, knowing that the people you love will be well-cared if you're no longer there to help them.
Life insurance gives you peace of mind while you're living, knowing that the people you love will be well-cared if you're no longer there to help them.
Let's be honest. Death is an awkward topic that's not much fun to think about, so a lot of people end up avoiding or putting off getting life insurance.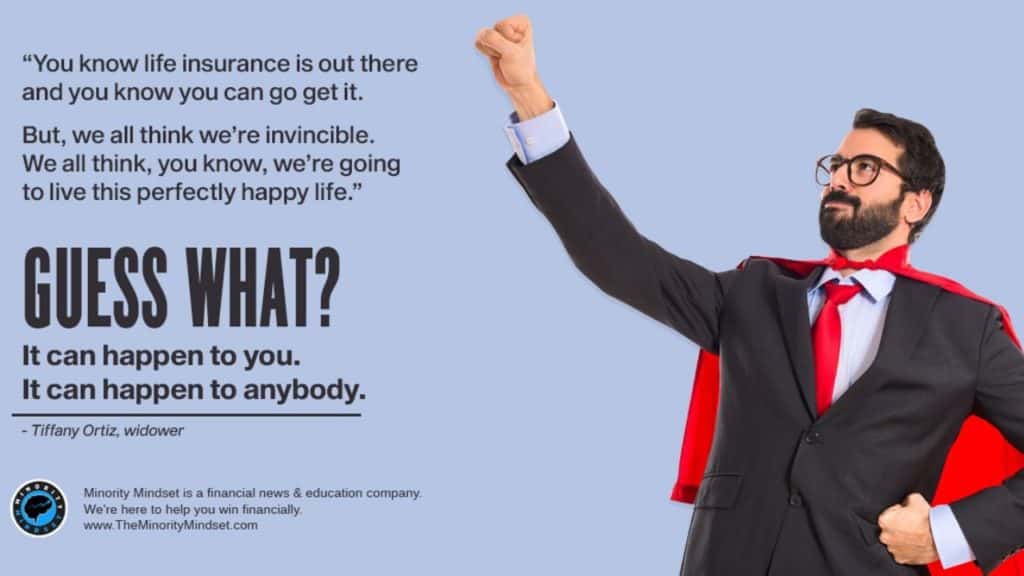 Procrastinating can cost you money, though, or worse — leave your family unprotected at a time when they need help the most.
Think of life insurance as "love insurance" that cares for and protects your family if you or your spouse can't be there to care for them.
Think of life insurance as "love insurance" that cares for and protects your family if you or your spouse can't be there to care for them.

As one insurance agent, Rodly Youyoute, explains it:  "I don't sell life insurance. I sell the privilege to not have to make financial decisions in a crisis."  
How Life Insurance Works
If you know what you're looking for, purchasing a life insurance policy is a simple 4-step process that won't break the bank. 
If you choose the right type of policy and search for the lowest price, then paying for life insurance can cost you less than a dollar a day, if you're healthy and under the age of 35.
Then, if something does happen to you, your family gets a check for the full amount you insured for.
Step 1: Research life insurance policy types and terms so you know what to buy.
There are 3 basic things you want to understand before purchasing a life insurance policy:
What type of life insurance policy to buy

How much life insurance to buy

What policy term to buy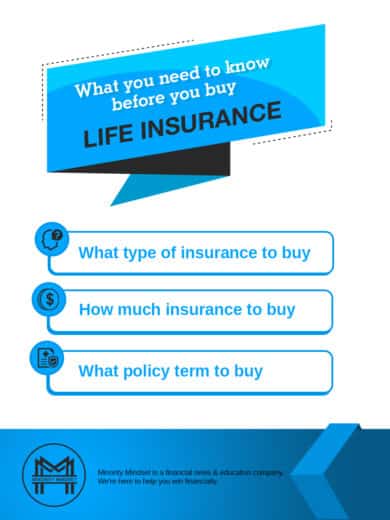 We explain these three things (and more!) below, so be sure to keep reading!
Step 2: Get and compare quotes from several life insurance companies.
Different insurance companies may offer a variety of rates for the same insurance policies, so you'll want to shop around to ensure that you're getting the best price.
We recommend using Policygenius insurance brokers to gather and compare life insurance quotes. Their reputable service is simple, quick, and free – plus their agents are not incentivized to sell you certain types of policies (as many insurance agents are).
Step 3: Choose the best policy.
Once you understand the different types of life insurance and the terms and pricing that go with them, all you need to do is make a decision on which policy to purchase and sign up.
When you sign up, you'll choose one or more beneficiaries (the people who receive death benefits if you pass away). You can pick anyone you want (minors need a designated trust or legal guardian), and you can usually change your designated beneficiaries later on without having to rewrite a new policy.  
You should notify the beneficiaries of your life insurance policy, and provide them with a copy of your policy, so they know to file a claim if you pass away.
Most life insurance policies require you to get a basic physical exam, often paid for by the insurance company, before your coverage can begin.
Step 4: Make policy payments for the length of your term.
Whether you sign up for a 10, 15, 20, 30-year life insurance term, or whole life insurance, the process is the same.
You make payments (usually monthly) for the length of your term, and if you die before the term is up, then your family receives a check for the amount of coverage you purchased. 
If you die during the term of your policy

, your family gets a big payment that helps replace your income, so they can avoid losing their home or struggling for basic necessities such as food, clothes, and bills.

If you don't die during the term of your policy

(assuming you didn't purchase whole life insurance), then your family does not get a payout from your life insurance. Congratulations — you've just wasted your money in the best way possible!
How Are Death Benefits Paid?
If you purchase the most simple, straightforward, and affordable type of life insurance (term life), your beneficiaries can usually choose one of three ways to get paid:
One lump sum

Monthly payments

Annuities
Is Life Insurance Taxable?
According to the IRS, beneficiaries don't normally pay taxes on life insurance proceeds. Any interest earned on that money, though, will be taxable.
Why Life Insurance Matters
If you or your spouse pass away unexpectedly, the surviving spouse will face a long list of unexpected expenses, such as:
Funeral expenses

Attorney fees

Living expenses

Time off work
If you have a home or kids, the challenges are even greater, and may include:
Mortgage

Daycare

Private school or college tuition

Therapy

Extra time spent with kids to help them transition
If both parents work, the surviving spouse has to try and cover expenses on a portion of your normal salary. 
If one parent works and the other stays home caring for the children, an untimely death can leave the surviving spouse with no income at all with which to support the children. 
After being out of the workforce to take care of children, it can be difficult for an at-home parent to find work again. Reentry into the workforce may require education and training that takes months, or even years, to complete.
If you're married without children, your spouse may be left trying to navigate a whole different world, and potentially facing losing their home, car, or even health insurance.
Single parents face the possibility of leaving their children without the financial ability to attend their preferred schools or colleges, obtain full medical care, or participate in activities such as special events, school trips, and vacations that their peers are experiencing.
Single people with no dependents or spouses also need to consider financial obligations such as who will pay for their funeral expenses and whether they have any cosigned loans or other debt that could fall back onto someone else.
No matter what your family status is, life insurance is a responsible strategy to manage the damage to others in the event something happens to you.
When Is The Best Time To Buy a Life Insurance Policy?
Many people put off getting life insurance when they're young and healthy because they think "Nothing bad will happen to me."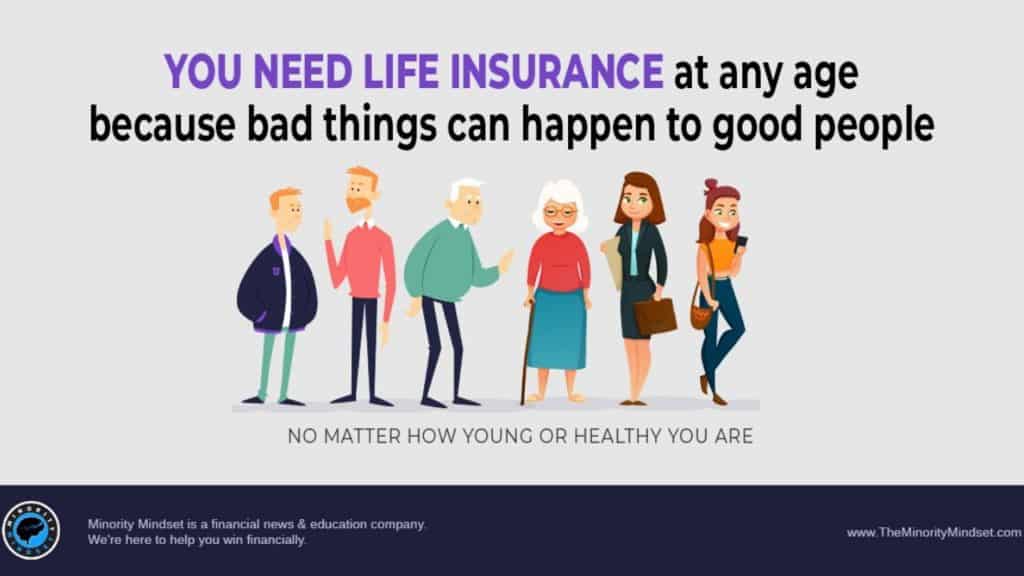 You need life insurance at any age because bad things can happen to good people — no matter how young or healthy you are.
For example, Marc Ortiz was a smart, healthy, and strong HVAC technician with a wife who worked as a cafeteria lady in the school system. 
Marc's two kids, Marcus and Chezera, were only teenagers when their dad died due to complications from undiagnosed diabetes that led to a stroke. 
Without any life insurance to help get them through the grieving period and supplement their cost of living, the family's situation quickly spiraled downward.
Marc's wife, Tiffany, stopped working after his death, due to depression, and there was no one to support the family.
The family was unable to pay bills and support themselves after his loss.
Daughter Chez, 19, explained, "It got to a point where…. everything I owned could fit in a backpack and we just moved around a lot." 
She says her family wound up living at a motel while she supported them by working at Target and Sonic Drive-In restaurant.
According to Tiffany, her 19-year-old daughter "basically worked and gave her entire check up to get us food and a place to live," even as she was going through her own loss.
"You know life insurance is out there and you know you can go get it. But, we all think we're invincible. We all think, you know, we're going to live this perfectly happy life."  "Guess what? It can happen to you. It can happen to anybody." – Tiffany Ortiz, widower
On the other hand, when you do leave your family with life insurance, it helps them to financially recover from your loss and rebuild a promising future.
Newlyweds Benji Dutton and his wife Desreen Brooks thought they couldn't afford life insurance, especially since Desreen had just started her own business and wasn't yet drawing an income. 
Desreen decided that to save money, they should take out a life insurance policy on her husband, but wait to insure herself until she began earning an income from her new business.
The couple lived with their 2-year-old son, in a rental, and had no money in their savings account when tragedy struck and Desreen was hit and killed by a car while walking down the street with her husband and son.
Fortunately, when Desreen had decided to forgo life insurance for herself, only 8 months before she died, her husband insisted otherwise. Because Desreen was insured, her husband and son received death benefits when she died.
"The money from the life insurance company came through really quickly, and I was able to buy a house and secure a future for my son and myself." 
More importantly, he says, "was being able to get him the emotional support he needed" and the "emotional and mental support that I needed, too."  
Thanks to her life insurance policy, Desreen's husband was able to cut back on his work hours and spend more time caring for his son. He eventually became a blogger and author who helps other people deal with loss and grief.
The Ortiz family and the Brooks-Dutton family prove that the choice of whether or not to buy life insurance can change the course of your family's future if something should happen to you or your spouse.
Do I Need Life Insurance if I'm Young and Healthy?
Unless your net worth is over five million dollars and you have zero debt, you need life insurance. Life insurance isn't just for families or older people.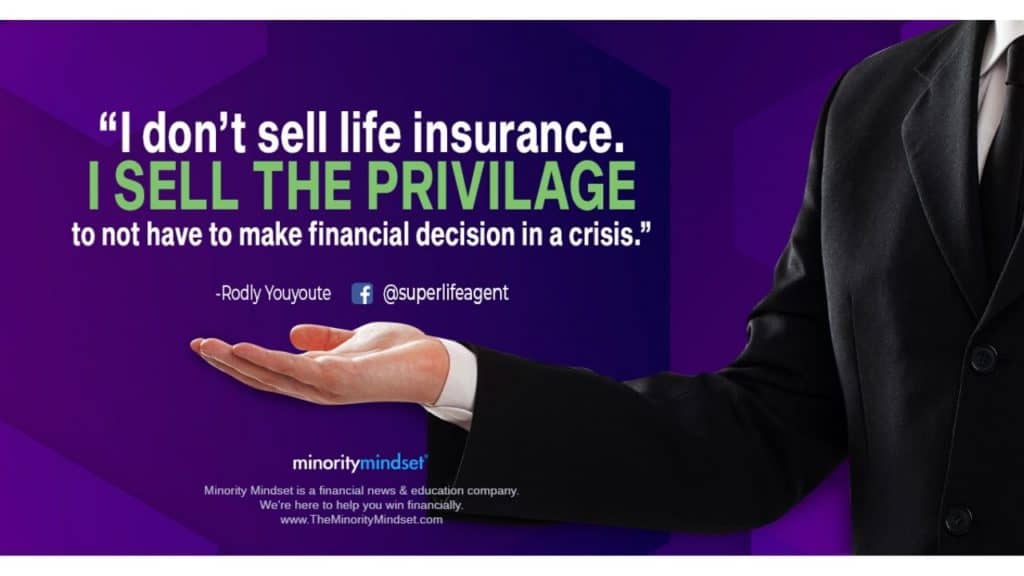 Do I really need life insurance if I'm healthy and in my 20's?
Single people in their 20's often have debt that's tied to their parents or other family members, such as a mortgage, student loans, or cosigned leases or loans. 
Life insurance can cover your debt if something happens to you so that your loved ones aren't stuck with your bills.
Purchasing life insurance in your 20's is significantly less expensive than it is in your 30's and beyond, making it very inexpensive to ensure that your loved ones are taken care of if something happens.
Should I get life insurance if I'm healthy?
Plus, you can lock in low rates for the length of your term so that you don't have to pay higher premiums if you do have health problems down the road.
If you procrastinate on buying life insurance, you put your family at risk if something bad happens to you. 
No matter what your age, life insurance is a financially-responsible purchase that protects your loved ones after you're gone, and gives you peace of mind while you're still alive.
Is Life Insurance A Worthwhile Investment? 
Sorry, but that was a trick question.
The thing is, we believe life insurance should be a risk management strategy, not an investment.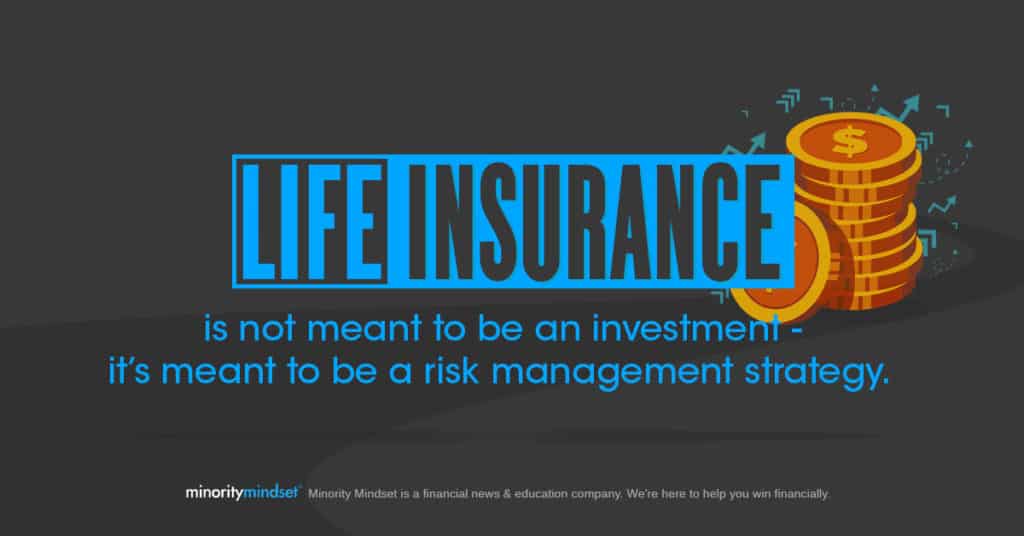 As an investment, life insurance is a poor choice because the average return on a high-priced (whole) life insurance policy is just 1.5%. That isn't equal to the type of return you receive on smart investments such as real estate, stocks, or businesses.
Life insurance is not meant to be a wealth-building tool.
Those types of insurance policies make high commissions for insurance agents, who can make them sound very appealing because… cha-ching for them!
Whole life policies don't always allow easy access to your money, don't pay death benefits equal to the amount you invested, and put you at risk of losing most or all of your investment if you don't keep up with the high monthly payments for the rest of your life.
If you understand how to invest your money, you should view life insurance as a risk management strategy and steer clear of anyone trying to sell you high-priced life insurance as an "investment."
For example, a regular life insurance policy for a healthy 30-year-old might cost $30 a month if it's term life insurance, but whole life insurance will cost you about $850 a month.
Let's say you invest that difference of $820 a month into real estate, stocks, etc, for the next 50 years and get an average return of 7% annually (as opposed to the 1.5% return whole life insurance provides). 
By investing your money yourself (like we recommend in our free money management eBook) instead of whole life insurance, you become a multi-millionaire with over 4 million dollars in the bank and full access to your funds while you're still alive to enjoy it.
Even if your own investments do poorly and you only make 4% annually, you'll still be worth over $1.5 million dollars in 50 years. Plus, if you get 25 years into investing and decide to take a break to pay for college tuition or to buy that beach home you always dreamed of, your assets don't get sacrificed…unlike with whole life insurance. 
Avoid looking at life insurance as an investment, because real investments allow you to build wealth and live better while you're still alive.
Is Life Insurance the Only Option for Protecting my Family?
Ultimately, if you're a Minority-Mindset thinker, your goal is to provide for your family independently with your own assets and investments.
However, while you're on the path to building wealth, life insurance is a solid risk-management strategy that will protect your family until you reach your goal of becoming independently wealthy.
What is Minority Mindset thinking?
People with the Minority Mindset think differently than the majority of people when it comes to their money. 
Your goal is to become financially self-sufficient with enough assets and investments to take care of your family without the need for insurance, banks, or debt.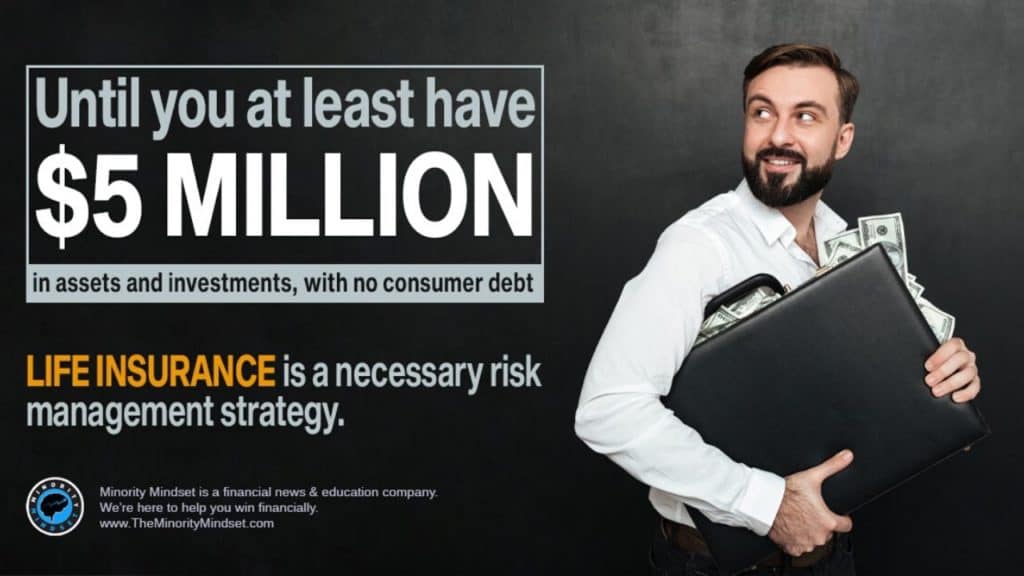 Until you have at least 5 million dollars in assets and investments, with no consumer debt, life insurance is a necessary risk management strategy.
The 6 Different Types Of Life Insurance
Understanding how life insurance works means you can buy the best coverage at a fraction of the cost. 
We strongly recommend term life insurance for Minority Mindset, wealth-building thinkers, and we'll tell you more about that in the next section. 
First, here's a brief list of the different types of life insurance:
#1 – Term life insurance: Term life lasts for a set number of years (the "term"), and if you die during that time, the death benefit is paid to your beneficiary. 
Term life is a popular and highly-recommended life insurance because of its low cost and simple structure.
#2a – Whole life insurance: Whole life is a permanent, lifelong commitment that provides death benefits and some cash value if your payments are made on time, every month, for the rest of your life. 
Its high monthly premiums (often $800/mo or more) pay for a combination of death benefits, cash value, and insurance fees. If you stop paying into the insurance, penalties include high surrender fees, taxes, interest, and other considerations.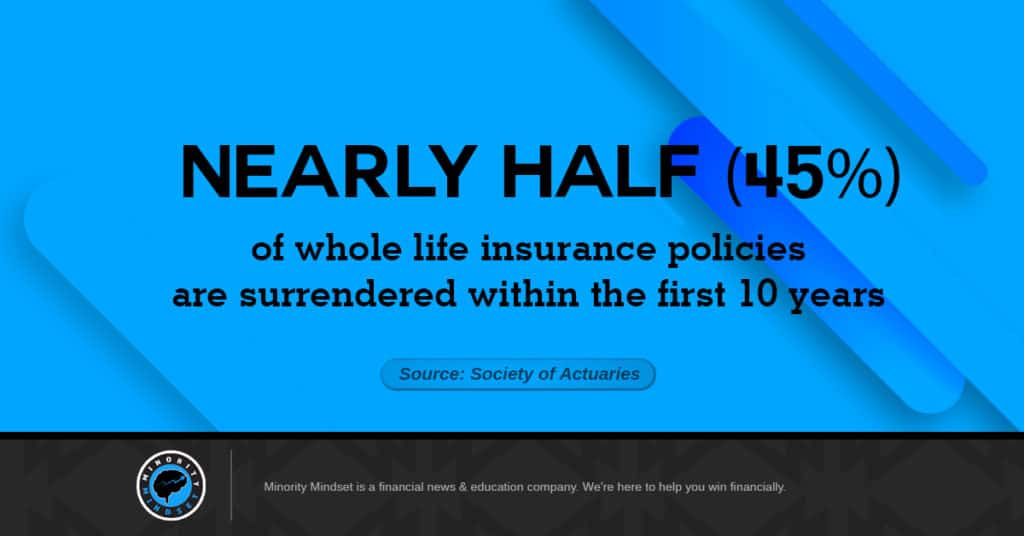 Nearly half (45%) of whole life insurance policies are surrendered within the first ten years, making whole life insurance a high-risk, low return investment strategy.
#2b – There are three variations on whole life insurance: 
Universal life insurance

Variable life insurance

Variable universal life insurance
Universal, variable, and universal variable life insurances provide different levels of flexibility, but all fall under the category of "whole life insurance" and are not a recommended investment for wealth building or smart money management.
#3 – Simplified issue life insurance: Simplified life insurance policies allow you to skip the medical exam required for most life insurance policies. You still need to fill out a health questionnaire, though, and people in poor health may be required to take an exam after all. 
Simplified issue insurance may work well for healthy people who would rather skip the exam and save time on the underwriting process. 
The drawback to simplified life insurance is that the policy prices can be considerably more expensive than regular term life policies that require medical exams.
#4 – Guaranteed issue life insurance: Guaranteed issue life insurance allows you to skip both the medical exam and the health questionnaire. 
This is an attractive option for many older people or others with declining health issues. If you're young and healthy, though, you'll get a much better rate by choosing standard term life insurance.
#5 – Final expense insurance: Final expense insurance is life insurance that covers only the expenses related to your funeral. 
This type of insurance is often purchased by older people who can't afford another insurance policy, or who outlived their term life insurance but want to make sure that their funeral expenses are covered. 
Premiums for Final Expense Insurance tend to be high, and the benefits are very low — usually between $5000 – $25,000.
#6 – Group life insurance: Group life insurance policies are often provided through employers and are a nice benefit to taking advantage of if it's offered for free.
Unfortunately, most group life policies don't provide well for your family, only offering about 1 -2 years' worth of salary as a death benefit.
What Is The Best Type of Life Insurance to Buy?
If you're looking to build wealth, enjoy your money while you're still alive, and protect your family in the event something should happen to you, then term life insurance is your best choice.
How Much Life Insurance Should I Buy?
We recommend purchasing a minimum 10-year term life policy equal to 10X your salary. How much does life insurance cost?
How much does life insurance cost?
Life insurance rates vary according to your age and health, but let's take a look at an example of what term life insurance might cost an average person.
For example, if you're a 35-year-old man with no health issues, accidents, tickets, or license revocations, you can expect to pay about $25 a month for a one million dollar, ten-year term life insurance policy.

Where Can I Buy Cheap Life Insurance?
You can find the best rates on life insurance by shopping around and comparing quotes. 
You can quickly get life insurance quotes from a reputable insurance broker like Policygenius without having to worry about salespeople hounding you for months afterward.
Get a free life insurance quote from Policygenius in under 5 minutes
If you'd like to learn more about the purchase process, check out our Step-by-step guide to purchasing life insurance for a walkthrough of how to get quotes and purchase life insurance.
Top 10 Things To Know Before You Buy Life Insurance
Life insurance is for adults of all ages, even the healthy ones.

The best time to buy life insurance is today.

Term life insurance is the best type for Minority Mindset thinkers.

Term life insurance is affordable on almost any salary.

Insure your family for 10X your annual salary.

Death benefits are not taxed.

Always compare life insurance quotes before purchasing.

A life insurance broker can help you quickly gather and compare quotes.

Life insurance is a risk management strategy, not an investment.

Eventually, you will build wealth and self-insure through your own assets and investments.

Purchasing Life Insurance Doesn't Have to Be Painful
Even though life insurance may not be the happiest subject, purchasing a life insurance policy doesn't have to be a painful experience. 
By understanding life insurance before you talk to an agent, you can avoid overpriced policies and poor spending choices. 
Using a reputable insurance broker to help you find and compare quotes can make the whole process quicker and help you avoid pushy salesmen and long-winded conversations. 
A smart life insurance policy won't cost you a lot of time or money, but it will grant you peace of mind, knowing that the people you love will be well-cared for if something happens to you.