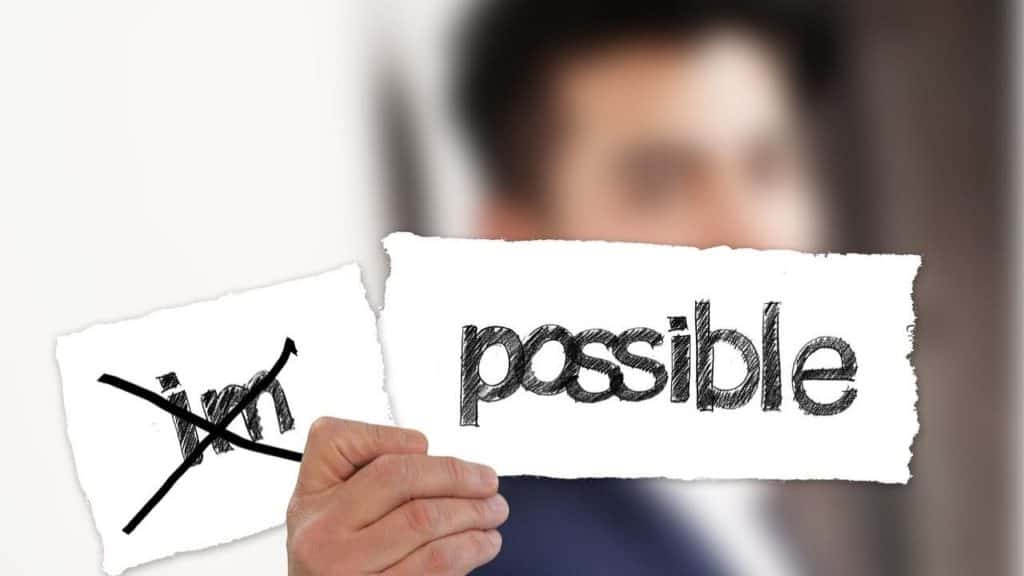 There's a bunch of stuff you said you were going to do last year, but you never did. So, you made a New Year's Resolution to do those things this year. It's March and you haven't done anything.
SHOCKER!
I don't think you're lazy or unmotivated. I bet you're scared.
Somewhere along the way, you decided the things you wanted to do were impossible. Other people told you going to the gym at 5 AM was too early. Your family said you weren't cut out for the business world, and so you abandoned your ideas.
You accepted their version of impossible.
I need you to stop doing that right now. Don't ever accept something to be impossible. It's all a matter of perspective. There have been so many times people doubted me and called me crazy. That's how I knew I was on the right path.
Here are my tips to accomplishing the impossible.
1. Create Your Impossible List
You guessed it–you have to write it down. Bust out a notebook or a spreadsheet and slap your list of impossible tasks on there. For added pressure put deadlines on every single task. If the deadline hits and you haven't completed the task, adjust the date and NOT the goal.
Make a separate section in your Impossible List for the date you completed the action. Also, record these as achievements. This way you can always refer back to your finished impossible tasks and use it as motivation for other tasks.
Check this list consistently! Whether it's once a day, once a week, or once a month. Make this part of the routine. You won't get anywhere if it's a dead document.
2. Envision the Task As Completed
Everything in life is about perception. When you believe something is impossible your mind works to find evidence to confirm that suspicion. Think of it as a thesis; you state your claim and then find a body of work to support it.
That's how your mind works.
Do me the biggest favor. Actually, do yourself a favor and visualize yourself completing the task. Open up your mind to that reality. I know this sounds hokey, but it works.
When I was moving from the Midwest to the East Coast there was a lot to consider. I had no prospective place to live, I had no idea where my income was going to come from, I had no friends, and I had no family. However, I told my roommate months before leaving that my mind was already on the East Coast, only my body was in Ohio.
What happened? I was torn apart by a wild pack of Eagle's fans.
That would be way cooler, but actually, I found a place to live, I made friends and figured out an income. Visualize it, then do it.
3. Move the Needle Every Day
Consistency.
BAM! You wanted the key to success, there you go. You're welcome.
Be consistent. Do something every day that moves you closer to your goal. Don't make it difficult either, make it bite-size. Make the daily task so stupidly simple that it wouldn't make sense to avoid it. Create a whole daily ritual to help you stay on track.
A little movement every day compounds over 365 days.
The Absolute Truth: Believe In Yourself
If you don't do any of the above things, but you believe in yourself you'll be magnificent. Lots of things seem daunting, like driving a car for the first time or giving your first public speech. That's just it though–seems–it's not.
As long as you trust yourself and your abilities there's nothing that can stop you. The idea of impossible is a seed of doubt that came from other people. You are capable. You know yourself better than anyone.
Punch that impossible task square in the jaw. Knock out a couple of teeth while you're swinging. Make this a year of victories.