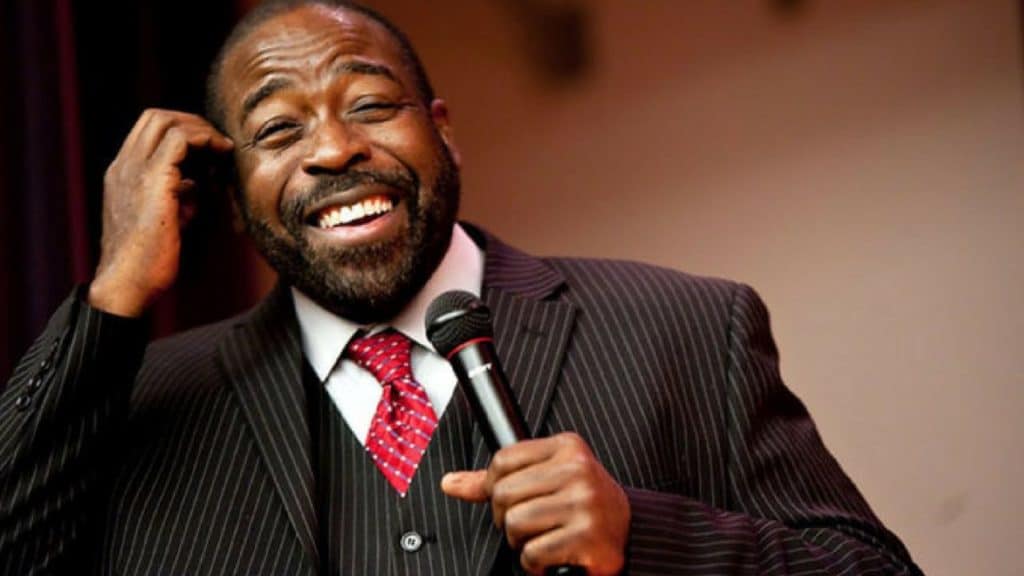 Imagine a successful person. I'll bet your person wears fancy clothes, lives in a colossal house, and drives a fast car. Perhaps your successful person even wears a monocle, eats caviar, plays golf on the weekends, and drinks wine with one pinky raised. Yes, I can read your mind. It may even be second nature to think that this person has always been successful—grew up in a wealthy family, attended all the right classes, and ascended into a financially freeing career.
Truthfully, successful people come from all different kinds of circumstances. Oftentimes they don't come from mansions and caviar-eating backgrounds. Oddly enough very few wear monocles too. Anyone, from anywhere, can be wildly successful. Les Brown is the perfect illustration of just that.
Looks Can Be Deceiving
From the moment he was born Les Brown's life did not have any of the characteristics of a successful life. He and his twin brother were born on the floor of an abandoned building in a poverty-stricken area of Miami, Florida. Since they were the children of an affair they were put up for adoption in three weeks. Luckily, Mamie Brown adopted them.
In his early schooling teachers commented that Brown was a terrible student. They stated he had difficulties reading and concentrating. This led to him receiving the label "educable mentally retarded." Brown was repeatedly told he was slow and incapable. He heard this so much he began to believe it. There's nothing worse than having no faith in yourself.
Encouragement
Despite all the negativity Brown never stopped dreaming. While in high school he encountered a drama teacher, LeRoy Washington. Brown told Washington how he fantasized about being on stage speaking to crowds of people. He was so enamored with this dream that he would habitually write "I am the world's greatest orator" on pieces of paper. Although Brown was captivated by the idea of speaking to hordes of people, he said he'd never achieve that dream because people had labeled him "educable mentally retarded."
LeRoy Washington, a simple high school drama teacher, did not condone this malicious self-talk. In response to his disparaged student he said, "Someone's opinion of you does not have to become your reality."
These words awoke Brown to his true potential.
Tenacity

Brown's success began after graduating high school. Initially he began working in sanitation, but he continuously pestered a local radio station owner for work. Brown was so relentless that the owner finally gave in and hired him. (Sometimes it's good to annoy people!)
Of course, Brown wasn't on the radio right away. He was mainly hired to do odd jobs around the station. Then, one fateful day the regular radio DJ showed up drunk. This led to Brown getting his shot. He was so adept at his work that the owner quickly made him the full time DJ.
Even though he'd experienced success Brown eventually left Florida and moved to Columbus, Ohio to become a broadcast manager. It was in Ohio where he became engaged in social activism. Motivated for change, Brown ran for the Ohio House of Representatives. Brown won and passed more legislation than any other first year representative in the state's history. Not bad for a guy with no college education or family connections.
Speaking to the Masses
The fire to reach millions of people never burned out for Brown. Accordingly, he decided to become a motivational speaker. At first Brown spoke to elementary school students, then high school students, and a few club organizations. He even spent some time speaking to prison inmates.
Brown soon became such a highly sought-after speaker that he was invited to companies such as General Electric, AT&T, Proctor & Gamble, and the McDonald's Corporation. Maybe you've heard of one of these companies?
Brown made millions by starting his own company, giving speeches, writing books, and selling motivational tapes. His message of fighting mediocrity has reached millions of people. It's safe to say he achieved his dream. Who could have guessed that a sanitation worker would become an award winning speaker?
Conclusion
Life is brutal. Les Brown was consistently boxed into a corner and slapped with arbitrary labels. He was so beaten down by other people that he'd nearly given up on himself. With the kindness of a few people and a powerful dream he kept going. He had no college education, no wealthy upbringing, and little encouragement. None of that mattered.
Remember that you decide who you are and what you can achieve. Many people will tell you that you're not capable. Don't believe them. They do not shape your reality. You determine your success. With ambition, grit, and persistence you can make anything happen.