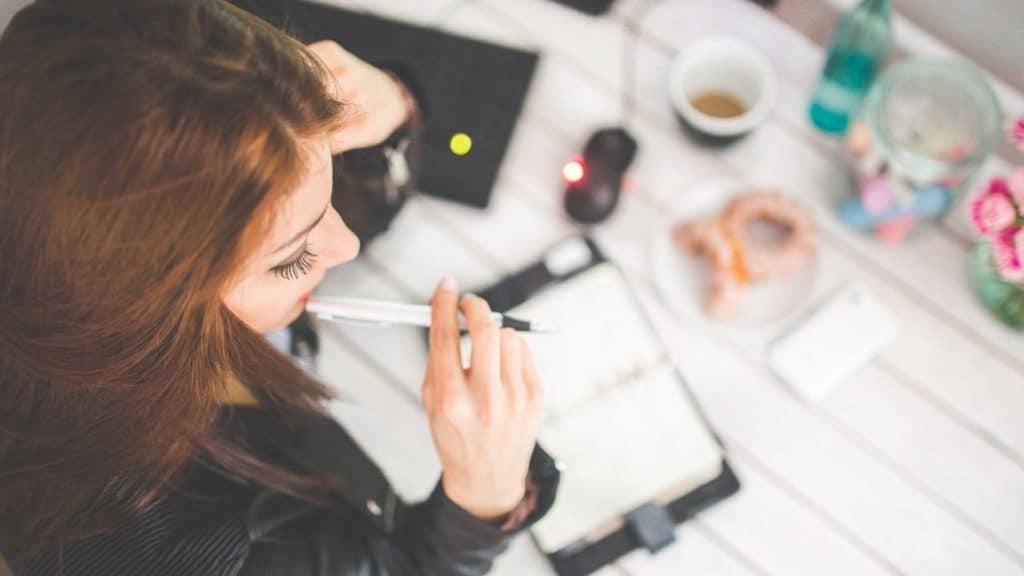 Today might be the day you finally decide to march into your boss's office and quit. It could be the day you commit to losing 100 lbs. You might even be deciding to ask someone to marry you! Maybe you're doing all three today.
Sort of a busy day, huh? Well, I guess I'll cut the intro short. Here are 5 things you should avoid when making major decisions.
1) Flip Flopping and Second Guessing
Don't second guess yourself. Just don't do it. That's it.
Like so many things, this is easier said than done. We all have a tendency to get in our own heads and begin doubting all the options. Personally, I have a terrible habit of turning on the negative self-talk.
I second guess myself even with the most trivial decisions like figuring out where to eat.
Do I go to Chick-Fil-A or do I go to Applebees? What about pizza? Hmm…I'm trying to eat healthier so maybe I should just make something? Homemade food it is! But wait, I did great all this week I need a cheat day.
There's a glimpse into my internal monologue. It's wildly unhealthy, and usually about food. I hope your thoughts are nothing like mine!
To stop myself from second-guessing I commit to my decisions. I tell myself "Nope. This is my decision. I already thought about this long enough. I will not give this any more mental energy." I recommend pre-determining how much energy and time you want to take in making a decision. Stick to that determination through self-discipline.
2) Postponing the Decision
Nah, I don't need to figure anything out until the end of the month when the deadline is closer!
-Every Procrastinator Ever
Some people need the added pressure of a time crunch to make a decision. That's just dandy, but that's not all of us. It's foolish to keep pushing important things off until the last second. If you're able to do this, then there isn't an important decision to make. It's a frivolous thing that may require an hour of thought.
When I postpone things, I feel rushed. For instance, today I snoozed my alarm three times. I woke up late, got to the gym late, got in a crappy workout, forgot to take my medicine, and neglected to put on deodorant until I was sweaty and putrid. I was putting off the decision to wake up—an easy and important decision—which then negatively impacted the rest of my day.
I could have woken up on time, gathered all my things at a steady pace, and accomplished things in a timely manner.
Make an agreement with yourself for when the decision needs to be made. Hold that deadline. This way you'll naturally carve out time to think through it and give the task the time it deserves. When you rush you forget tiny, but significant, details.
3) Seeking Advice from the Wrong People
Everyone wants to give you advice.
"You want to start a business? That's great. You know what you should do? Create glow-in-the-dark cowbells! Everyone wants 'em, they'll be a hit!"
I'm sure someone's neighbor has given them this kind of input. Don't take advice from people who aren't where you'd like to be. If you're dating someone and trying to figure out whether to marry that person, why ask a single person? Similarly, if you're trying to determine if the market is ready for glow-in-the-dark cowbells why ask someone who's never sold something a day in their life?
It's natural to seek out help when a challenging problem arises. We want different perspectives, we want to know the benefits and the drawbacks. Additionally, we want to blame someone else if things go poorly due to someone else's suggestions.
If you're slammed into a deadline, your employees are ready to grab you by the collar and shake you for a decision, but you STILL don't have an idea of what to do, ask someone who's stood in your shoes.
Don't know anyone? Look through history, through blog posts, through books, and everything else! Remember, it doesn't have to be the exact situation, just close enough to offer some insight.
4) Thinking Only About the Short-Term Benefits
Apply the same mindset of investing in your life decisions. Hopefully, when you invest you're not thinking about 1 day, 1 month, or 1 year. Ideally, you're putting your money into things that will pay out in 5 years, 10 years, and 20 years. The biggest payouts come from playing long-term cycles. Life is no different.
For instance, YouTuber Ryan Scribner mentioned in a video that he worked 34 hours/week for about $0.17/hour when he was first starting the channel. That's a mind-bogglingly minuscule amount of money. Of course, he didn't give up after a few months of YouTube, he saw the long-term potential and kept working at it.
He endured the short-term discomfort for the long-term payoff. That's the key. If you're determining if a choice is right or not, just imagine yourself a few years later with each decision. Which one yields a better result?
5) Worrying About What Other People Will Think
It's not high school or college anymore, we all need to stop being concerned about what other people will think of our decisions. If the decision doesn't hurt anyone (physically) other people's opinions don't matter! Who cares what Sarah's mom thinks? Why is Mrs.Riley's opinion relevant?
You pay your own bills; be more concerned about what you think. Don't go against your guiding principles or beliefs when making the big decisions. Go towards the path that adds the most value to your life.
Conclusion
Believe in your own judgment. Don't run from making hard decisions, create the deadlines and hold them. Make sure you don't ask fake self-proclaimed gurus for advice or worse your meddling neighbor. Always play out each option in the long-term, the short-term wins never measure up. Finally, people's thoughts of you will come and go, what you think of yourself will follow you for forever.