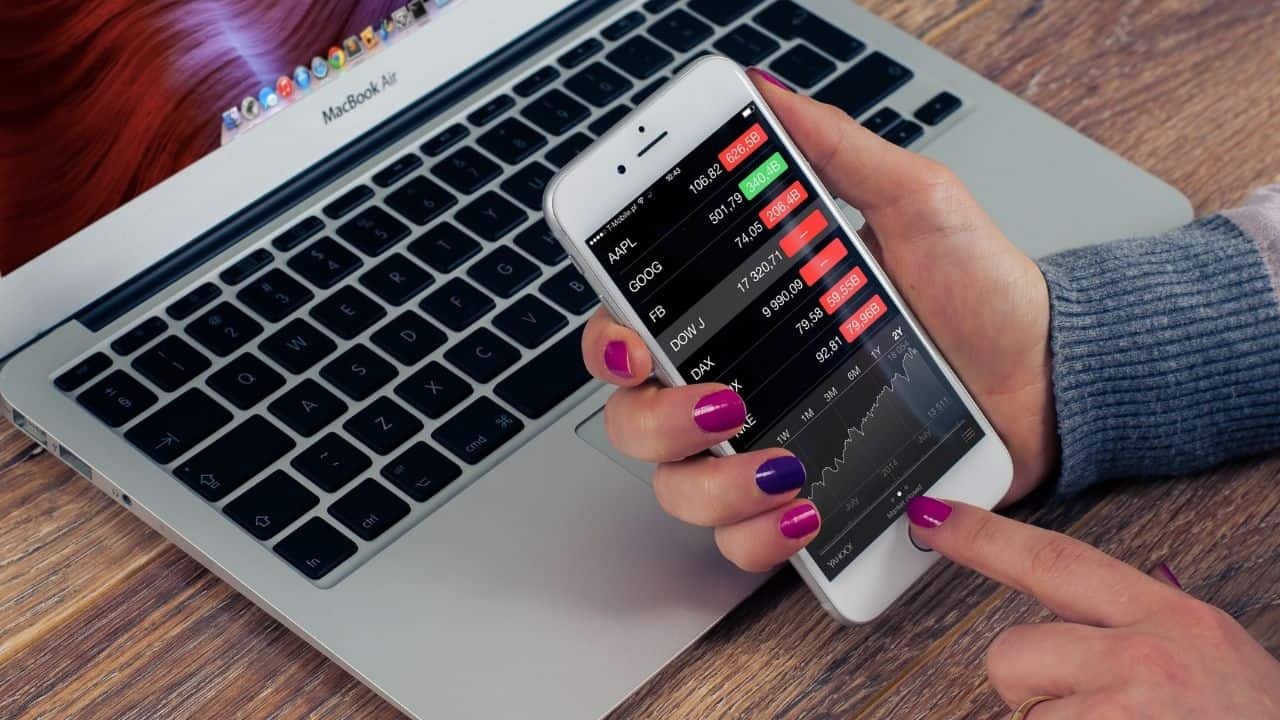 Disclaimer
We only endorse products that we truly believe in. Some of the links below may earn us some extra guac at no additional cost to you. Please pass the chips & thank you for feeding our habit.
Wall street … Hedge fund managers … People shouting "Buy! Sell! Trade!"
As cliché as these images may seem, they're undeniably associated with what most people think "investing" is all about.
For some, it's the money. The stock market seems like an easy road to fast riches.
For others, it's all about the excitement and allure. Social media is full of millennials portraying themselves as these wealthy entrepreneurs, all because they invested in this or that. It's a lifestyle that they're attracted to.
I can remember some of the first books I ever read about money revolved specifically around the stock market and basic investing strategies. I remember my younger self thinking, "If I'm ever going to get rich, this has got to be the way!"
To some degree, being an investor has almost taken on a rock-star-like appeal. Technically, people like Gordon Gekko and Jordan Belfort are criminals. Yet, our insatiable social desire for more has made it so that we put them on a pedestal.
We think "They were able to manipulate the system and get rich, so I must be able to as well." In some strange way, they're a symbol of hope.
Yet, so many people never get around to investing. According to data from the Federal Reserve, only 52 percent of American families have money invested in the markets in some shape or form. The most common way is through retirement accounts.
However, when you isolate this down to just people who invest in individual stocks, that number drops to 14 percent.
| Platform | Fees | Promotions | Link |
| --- | --- | --- | --- |
| | $0 Fees | Get a cash bonus of $30-$500 when you deposit $1,000+ in the first two weeks. | Learn More |
| | $0 Fees | Get one free stock priced up to $225 when you link a bank account. | Learn More |
| | $0 Fees | Get two free stocks when you deposit $5 within 30 days. | Learn More |
| | $0 Fees | Start investing with as little as $1. | Learn More |
To make matters worse, those proportions get more slanted as you look at them by income bracket. Only about one-third of households below the median income threshold have any money invested in the markets.
Meanwhile, stock ownership among the top 10 percent of wealthiest households stands at an overwhelming 90 percent.
If you've been putting off getting into the investment game, I want you to know: There's still hope! You don't have to be some fresh-faced college graduate who's just starting their career to take advantage of the markets, recover from your losses, or even make up for the lost time.
You could be in your 40s or 50s, and it still wouldn't matter! What is important is that you don't procrastinate any longer. And in this post, I'm going to show late bloomers how they can become first-class investors.
Why Do We Put Off Investing?
Becoming an investor is not as hard as you might think. I can remember I had a lot of the same fears and reservations that I'm sure a lot of other people probably have.
But at some point, I confronted my doubts, ripped off the band-aid, and actually put some skin in the game through purchasing my first mutual fund.
That's why I believe that before you can have any success whatsoever at becoming an investor, the first step will be to resolve any reservations you might have. The following are a few of the most common reasons why we tend to put off investing.
Getting Caught Up in the Day to Day
If you've never bought a single stock, then it probably feels like there's a lot more to it than there really is. Perhaps you're assuming that you'll have to read a bunch of books, listen to hours of what the so-called "investment gurus" have to say, and then sort through chart after chart of analytical data to make your best pick.
In reality, investing is not like that at all. Most of the people who invest their money actually do it on autopilot without any real analysis or manual interaction whatsoever.
In the upcoming sections, we'll talk more about why this can be a good thing and how you can use these methods to your advantage too.
Too Busy Trying to Pay Off Debt
Another reason why some people choose to put off investing is that they are hyper-focused on paying off their debts. This might be their student loans, mortgage, or even high-interest credit cards.
As noble as that effort might be, it can, unfortunately, lead to missed opportunities.
For instance, if you're paying off a mortgage that has a 4 percent APR but you're neglecting to invest for retirement in funds that could yield an average of 10 percent per year, then you're actually shorting yourself on a potential 6 percent annual gain.
This is why the best approach is to strike a balance. Invest enough of your money to ensure you'll hit your goals, but at the same time make gradual strides towards becoming debt-free.
Untrusting of the Markets
During my first job, I had the pleasure of working with this guy named Dan. Dan was in his 60s and had never invested a dollar towards retirement. One day when we asked him why he replied "Why would I give those clowns any of my money?"
While I'm sure a lot of people feel the same way as Dan (especially after everything that's happened in 2008 with the Great Recession), it's too bad because it's nearly impossible to become prepared for retirement.
Investing is how you multiply your money several times over thanks to the power of compound growth. Every year, the money you earn on top of your contributions has the power to produce even more gains.
This can build and escalate to unbelievable heights the longer you give yourself to invest; hence why young people are encouraged to start as earn as possible.
Even though compound growth works best when you give it decades to grow, it's still possible to do good things with your money if you're late to the game. In the sections that follow, we'll talk about how you use them to your benefit.
What Do You Want to Accomplish?
When I was in my 20s, I had a very simple reason why I wanted to get into investing: To become rich!
Of course, as I matured, my needs and purpose for investing transitioned towards the goals of financial security and retirement at an early age. And as my priorities changed, so did the methods and strategies I needed to learn to accomplish them.
If you're a late investor, then you might have totally different motives for wanting to get into the markets.
You might be in a unique situation with your home life or career that could greatly shape what your next steps will be. Here are just a few of the reasons why most people get into investing.
Preparing for Retirement
Without a doubt, the majority of people who are currently buying mutual funds are doing so for one main reason: Their 401k retirement plans.
In the past, American workers prepared for retirement by contributing to a company-wide pension fund. Your employer and pension fund manager would control the investments, deciding what it would hold and what strategies they would use to promote growth and stability.
However, that all changed when pension plans were replaced with 401k plans in the 1990s. With these types of retirement accounts, it's on the individual worker (not the employer) to pick and choose what they will invest in and how much to contribute.
Therefore, if you want to have any chances of building up your retirement nest egg, then you pretty much don't have a choice – you have to invest!
While I believe that the 401k gives you more control and significant advantages over the old pension system, I also recognize this isn't everyone's cup of tea.
It can cause some people a lot of heartache if they are uncomfortable and unsure of what they're doing.
Additionally, retirement plans work the best when you start contributing to them as early as possible. Again, this is because the sooner you begin, the greater the chances that compound growth will cause your money to multiply.
If you're getting started on the track to retirement later in life, it's not impossible to get to the finish line in a reasonable time. However, you might have to accept and be willing to take steps that are above the norm. This might be actions like making larger contributions and putting your money into more aggressive investments.
Building Wealth
When we talk about building wealth, this is not necessarily the same thing as being able to retire or becoming rich for the sake of having more money.
Over the years, I've worked with several different people who spent pretty carelessly in their 20s and early 30s, and now they're looking for a change.
Perhaps they've now settled down, had some children, and simply want to be able to be providers rather than consumers.
For that reason, they get into investing as one of the potential avenues towards building wealth. That wealth might be used:
As a way to make to pay for something large (such as a down payment on a house)
As an emergency fund in case something unexpected happens
To pay for college for their children
To start their own business
To leave a legacy or inheritance
There can be many other reasons why focusing on wealth creation is so important. Even though money isn't everything, it sure does make it easier to do the things you want and live stress-free when you don't have to constantly worry about the state of your finances.
Becoming More Knowledgeable
One of the byproducts of getting into investing is that it can pique your curiosity and motivate you to want to learn more about personal finance in general.
The first time I ever invested money in my 401k plan, I had absolutely no idea what it was or what I was doing. But I knew this was an important step towards someday becoming retired, and that's a topic worth learning more about.
This lack of knowledge inspired me to get out of the dark and master the game. I started reading books about retirement planning and learning about all the various rules and strategies that people use to navigate their nest egg towards success.
The more you learn about investing, the more you can put it into action. Then, based on the outcome of those actions, that can make you want to learn even more about what's happening. It's a feedback loop where you're adding more and more to your knowledge database each time it cycles.
Not only will this help you to get closer to your financial goals, but it can also help you to avoid financial predators as well.
I've had many salespeople approach me over the years and offer their "services" to manage my nest egg claiming that they can beat the market or double my money in 5 years or whatever.
"Thanks, but no thanks …" By grounding yourself in good, solid financial education, you'll know that claims like this are fake, and people like this should be avoided at all costs.
What Should I Invest In As A Late Investor?
Perhaps the biggest barrier to entry into the world of investing is in knowing exactly what it is that you should invest in.
There are literally millions of different stocks, funds, and products that you could purchase. And each of them comes with its unique set of pros and cons.
So I think this is where a lot of people who want to invest get stuck. Will I pick the wrong one and lose all of my money? How do I know a good investment from a bad one?
My advice: Don't be afraid! You can basically throw out about 99.99 percent of the financial products out there and focus on just a handful of important ones. Here's where you can start looking.
Mutual Funds
A mutual fund is simply a collection of investments that are bundled together into a single financial product. You and thousands of other investors will mutually pool your money together to buy these assets and share in the profits that they generate.
This means that each share of a mutual fund could represent hundreds or even thousands of different securities.
Most mutual funds have what's known as a fund manager. The fund manager is the person who decides what securities the fund should invest in and what the overall strategy should be. These types of funds are called "active funds" because someone is actively making decisions for them.
The benefits of a mutual fund are that you'll spread out your risk of loss through diversification.
Because you are part of this larger pool of investors, you can afford to buy large quantities of various securities that you might never have been able to buy otherwise. In addition, you've got this fund manager who is helping you to supposedly pick the "good ones".
Mutual funds have been around since the early 20th century and continue to be a classic way to invest. Most 401k retirement plans are made up of different mutual funds for you to choose from. In fact, the majority of people who invest in them have absolutely no idea what securities they hold.
I believe for beginners that mutual funds are definitely one of the easiest places to get started. Thanks to their structure and natural ability to provide diversification, the price fluctuations aren't nearly as wild as what you'd experience with individual stocks.
That means you'll sleep a little better at night, even if you're someone who's risk-averse.
ETFs
An ETF or exchange-traded fund is similar to a mutual fund. At their core, they contain a bundle of securities that are bundled together and sold as one package.
However, they have a fundamental difference. Unlike mutual funds whose value is recalculated once per day after the markets close, ETFs can be bought and sold in the open market the same way that stocks can.
This means their value fluctuates creating opportunities to buy them at a premium or discount (relative to the assets they hold).
ETFs are relatively newer financial products and have caught on in popularity thanks to their simplicity and low cost. Many of the new digital trading apps that might not be registered to sell mutual funds will instead offer ETFs as an alternative.
Individual Stocks
Individual stocks (also known as equities) are shares of publicly traded companies. These are the stocks that regular, everyday people like you and I can buy on the open stock market.
To make a purchase, all you have to do is pick a broker and place your order – that's it!
People have definitely made a lot of money by buying individual stocks. If you think that you've found a company that you believe will be the next Google or Amazon, then there's nothing stopping you from buying a couple of shares.
However, putting too much money into just a handful of stocks can leave you incredibly vulnerable to risk. If the company gets bad press or goes bankrupt, then your shares can lose a significant amount of their value – sometimes all of it!
Yes … this even happened to me. I bought shares of a distressed automotive company back around the time of the Great Recession.
Even though that company made a turnaround, I learned that in bankruptcy anything is possible – including the ability of the company to cancel its old shares and issue brand new ones under a new name.
Overnight, my stock in this company was completely worthless!
However, not all stocks are so dangerous. If you do your homework and pick companies with strong financial fundamentals, then you can definitely earn some money over time. I took this approach for my next stock purchase and bought shares of a much more reputable company: Apple.
That was a decision that turned out to be quite a good one!
Index Funds
Chances are when you watch the news at night, they'll say something about the stock market being up or down. When you see this, they're not telling you what happened with every single stock on the market. Instead, they're reporting how the "index" performed.
An index is just a group of companies that represents the market as a whole. On the news, this is usually represented by the Dow Jones Industrial Average, the 30 largest industrial companies in the U.S.
For the broader market, the Standard & Poor's 500 Index (S&P 500) represents the top 500 companies in the U.S.
So how does someone invest in an index? Go back to the definition of a mutual fund or ETF. What if instead of having someone pick the securities, you just generically copied all the companies that are contained in the S&P 500.
That's exactly what an index fund does.
This incredibly simple idea was popularized in the 1970s by the founder of Vanguard Jack Bogle. He proposed that index funds would always outperform active funds because their fees would be lower (since there wouldn't be any need to have a fund manager).
Decades later, it turns out he was right, and index funds are now a well-known way to invest.
If you're an absolute beginner at investing, then index funds are definitely the place you want to start. Without knowing anything, you can basically capture the performance of the whole market and achieve an "average" return rate, which is something that not even most active funds can claim!
How Much Should I Invest When I'm A Late Investor?
Unfortunately, I wish there was an easy answer to this question.
You've probably heard from friends or read online that you should be saving at least 10 percent of your income into an investment account (like a retirement plan). However, let me be the first to tell you that this is very generic advice.
In reality, the best answer is one that aligns with your goals. For example, let's say you'd like to retire by the time you're 60 years old.
However, you're currently 40, never invested, and have only been saving your money into a regular old bank account.
In this case, you'd have some work to do if you'd like to get on track. For starters, you'd want to stop putting your money into the bank and instead start investing it through a tax-advantaged retirement account.
At the same time, you'll most likely have to bump up your savings rate to 20 or even 30 percent. This is to make up for the shortcomings of less growth since compound returns aren't going to have enough time to multiply your savings.
A Helpful Tool
No matter if you're saving up for retirement, a new house, or college for the kids, it will be helpful to know what kind of numbers to shoot for.
That's why a free online calculator like this one here from Investor.gov can be useful. Just input your numbers and find out exactly how much you should be investing every month.
Where Do I Get Started?
So now that you know what to invest in and have maybe spent a few minutes with a savings calculator, the next question will be where you can go to make your investment.
These days, you have a wide variety of options to work with. Here are some of the best places to get started.
Retirement Plans
Hands down, I will tell anyone of any age that if they want to get involved with investing, the best place to start is through a retirement account.
This is for one major reason: Tax savings. As a way to motivate people to save for retirement and use these plans, the IRS has made special exceptions where you get to defer the taxes made on contributions to the following types of accounts:
Workplace plans: 401k, 403b, 457
Individual retirement accounts (IRAs)
Additionally, there's another style of plan where instead of taking the tax break upfront, you can take it when you retire and withdraw the distributions. This applies to:
I personally see investing in my 401k as a golden opportunity to save thousands of dollars in taxes every year. When I save up to the IRS limit of $19,500, I avoid giving the IRS approximately $4,290 of my earnings. Since both my wife and I do this every year, we effectively double this value!
Investment Options
With workplace plans like the 401k, you're generally only limited to whatever investment choices your employer allows for the plan. For some companies, this can be a huge array of choices including mutual funds, ETFs, stocks, etc.
For other companies (usually smaller ones), the choices may be limited to just a handful of mutual funds.
With IRAs, because you can pick which broker to use, you've also got a ton of flexibility on what it can include. This can be pretty much any mutual fund, ETF, or stock. It can even include alternative investments such as precious metals (like gold and silver).
401k Matching
In addition to the tax savings, another reason to invest your money through a workplace retirement plan is that you might get paid too!
I'm not joking. If your employer offers something called 401k matching, then this means they will make contributions into your 401k plan alongside the money you put in. Plus, those contributions are also tax-deferred!
Sometimes the matching is dollar for dollar. Other times it's $0.25 to a dollar. It all depends on who your employer is and what their rules are. The best way to find out is to contact your HR department, ask if they offer 401k matching, and then request the specifics of their rules.
Catch-Up Contributions
If you're 50 years or older, then the IRS makes this even more enticing. As a way to better prepare for retirement and attempt to make up for being a late investor, they'll allow you to make what's known as "catch-up contributions".
Here are the limits as of 2021:
Workplace retirement plans (401ks, etc.): $6,500 on top of the normal $19,500 limit.
IRAs: $1,000 on top of the normal $6,000 limit.
Brokerage Accounts
Like I mentioned – I love retirement accounts because of the tax savings. But they also come with a big limitation: You're not allowed to start making withdrawals from them until age 59-1/2. (Hence, the fact that they are supposed to be retired.)
This is why if your primary goal is not saving for retirement or you need access to the money sooner then another option might be to use what's commonly referred to as taxable brokerage accounts.
There are many of these types of services. Many cities have local Edward Jones branches where you can walk into an office and meet with an actual financial advisor.
If you're more like me and prefer to do things online, then there are plenty of ways to do that too. Sites like Vanguard and Fidelity have easy-to-use websites. Discount brokers like E-Trade and Robinhood have also streamlined investing from a computer or smartphone.
All of these sites have plenty of customer support representatives available to help you if you get stuck or have a question about something. Some of the bigger companies will even offer to have you work with a financial advisor (depending on how much money you've got to invest, of course).
Robo Advisor
If you'd really like to take a hands-off, do-it-for-me approach to investing, then you may want to consider using a robo advisor. Robo advisors are apps you can download to your smartphone and the software picks out your investments for you. There's no human interaction involved.
Robo advisors have become a very popular way for young people and millennials to get involved with investing. This is all thanks to their simplicity, low cost, and convenience.
If you'd like to give this a try, check out apps like:
Where Can I Learn More About Investing?
For late investors, there are tons of ways you can educate yourself. I'm actually a little jealous that more of these didn't exist back when I got started.
Here are a few good ones to try:
Books for Beginners
If reading is your thing, then head on over to Amazon or check out any of the following from your local library:
"The Little Book of Common-Sense Investing" by John Bogle
"A Beginner's Guide to the Stock Market" by Matthew Kratter
"The Only Investment Guide You'll Ever Need" by Andrew Tobias
Free Educational Websites
There are thousands of great websites and blogs related to investing as well as a whole array of personal finance topics. Specifically for people just getting started, I would recommend you check out the following:
YouTube Channels
If you're more of a visual learner (like me), then try these free online videos:
Khan Academy

– Search "finance" to see all of the investing related topics
Don't forget about Minority Mindset!
Proceed with Caution
Investing can be incredibly simple if you stick to the strategies we've outlined above. But, oh … the allure of quick money! The raving financial gurus telling you about the next once-in-a-lifetime purchase! The next "big thing" that everyone is talking about!
Please … don't fall for any of it. When you allow yourself to make investment decisions based on emotion rather than logic, this is when you start running the risk of making poor choices.
And like investment master Warren Buffett says, "Rule number 1 is to never lose money. Rule number 2 is "don't forget rule number 1."
On that note, here are a few common investing pitfalls I want to help you avoid.
Don't Get Greedy
Some financial salesmen are really good. Years ago, I had this one meeting with a life insurance guy who really wanted me to sign over our nest egg to him. "We've got strategies that can double your money within the next 5 years!"
Oftentimes, their pitch sounds really good! And to someone new to investing who hasn't had a lot of financial education, you might be tempted to believe their claims.
But don't. There's, unfortunately, no proven way to beat the returns of an index fund over a long period of time. Stay grounded in this fact, and it will make your investment life a whole lot easier.
Never Invest in What You Don't Understand
Options … Futures … Cryptocurrencies!
Every once in a while, I'll talk with a friend or coworker about investing. They'll laugh when I tell them I'm nearly 100 percent in mutual funds, and then try to convince me that one of these exotic investments is where the "real money" is at.
Let me be the first person to tell you: There's no faster way to lose your money than to pour it into an investment product that you don't fully understand yourself.
I've been working with mutual funds, ETFs, and stocks for years. They make sense to me. They're easy to understand, easy to work with, and I've seen how money is made on them.
If anyone ever tries to tell you about some exotic investment product that you've never heard of, do this little trick: Ask them to explain it to you.
If their explanation makes absolutely no sense, then not only should you not invest in it, but there's a good chance that this person will also lose money on the very thing they're promoting.
Don't Fool Yourself
Perhaps your greatest enemy when it comes to investing will be yourself and how quick you are to believe that you've found a golden opportunity.
When I bought those shares of that bankrupt automotive company, I was so incredibly certain that I knew what I was doing. I thought to myself "It's just pennies! All the stock price has to do is go up to $1, and I'll have made ten times my investment!"
… Fool!
The truth was that I had no evidence to back up my actions. I was investing based on pure speculation instead of the facts.
I had completely ignored the reasons why this company was in bankruptcy in the first place and was simply trying to make a quick buck.
It was a painful and costly lesson. But it forever taught me that before you invest in something to do your homework first. You make money when the companies you invest in make money – plain and simple.
The Bottom Line
If you're a late investor, don't think that the train has left and you're flat out of luck. It's totally possible to make up for lost time and still achieve your financial goals as long as you're willing to put in the work.
The first thing you'll want to do is figure out what your goals are. This will help you to refine which strategies you'll use and how much of your money that you'll want to invest.
To keep things simple, I suggest sticking to basic investment products like mutual funds, ETFs, and individual stocks. If you really want to make life easy, then check out index funds.
For the best tax efficiency, I strongly recommend using retirement accounts like 401ks and IRAs. If you need access to the money, then go with taxable brokerage accounts or robo advisor apps instead.
The best thing you do to become a better investor is to keep things simple. Don't try to get creative or greedy. This rarely ever works out the way you want it to.
Most importantly, work on educating yourself. No matter what age you are or where you're starting out, there will always be hope that you can achieve financial freedom if you learn the proper fundamentals and put them into practice.