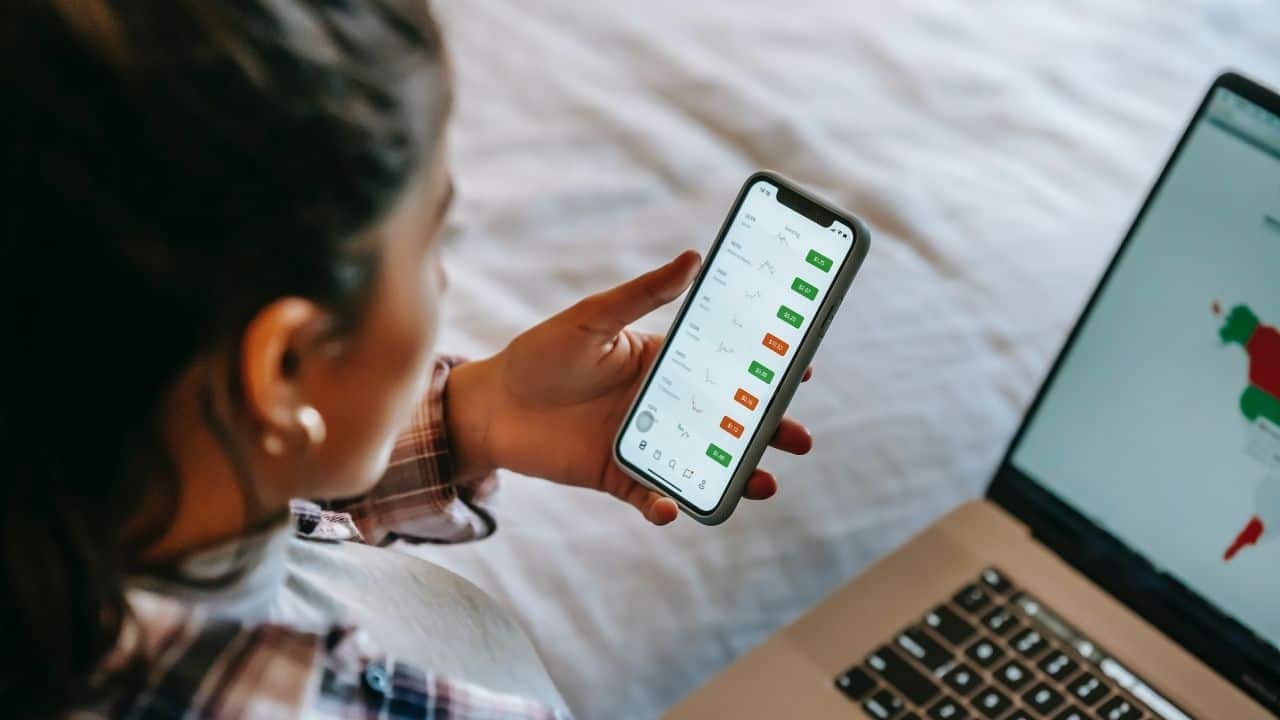 Disclaimer
We only endorse products that we truly believe in. Some of the links below may earn us some extra guac at no additional cost to you. Please pass the chips & thank you for feeding our habit.
Are you sick of paying out the wazoo for investing fees? Or spending hours of your precious time managing your portfolio? 
M1 Finance is a popular platform for experienced investors who want to streamline their investments. You won't find any fancy tools or advisors here: just no-nonsense investing, lending, and banking features that balance automation with customization.
M1 Finance is only available to US citizens and permanent residents with a green card. You also need to be 18 or older, have a current residential address in the US, and a valid US phone number. You can only use M1 finance outside of the US if you're a citizen or permanent resident temporarily living outside of the country.
But it isn't all doom and gloom. As long as you meet M1's qualification requirements, you can take advantage of this platform to put your money management on auto-pilot. Let's dive into how M1 Finance works, who's eligible to invest, and how you can set up an account.
| Platform | Fees | Promotions | Link |
| --- | --- | --- | --- |
| | $0 Fees | Get a cash bonus of $30-$500 when you deposit $1,000+ in the first two weeks. | Learn More |
| | $0 Fees | Get one free stock priced up to $225 when you link a bank account. | Learn More |
| | $0 Fees | Get two free stocks when you deposit $5 within 30 days. | Learn More |
| | $0 Fees | Start investing with as little as $1. | Learn More |
How Does M1 Finance Work? 
M1 Finance has been around since 2015. It's mostly an investing and money management platform, but you can also use it for loans and even as a checking account. 
Investors love M1's ultra-low fees and automation features. For a $125 annual fee, you can join M1 Plus and access even more features on the platform. M1 Plus gives you lower interest rates on loans, a checking account, and even a crazy 10% cashback credit card.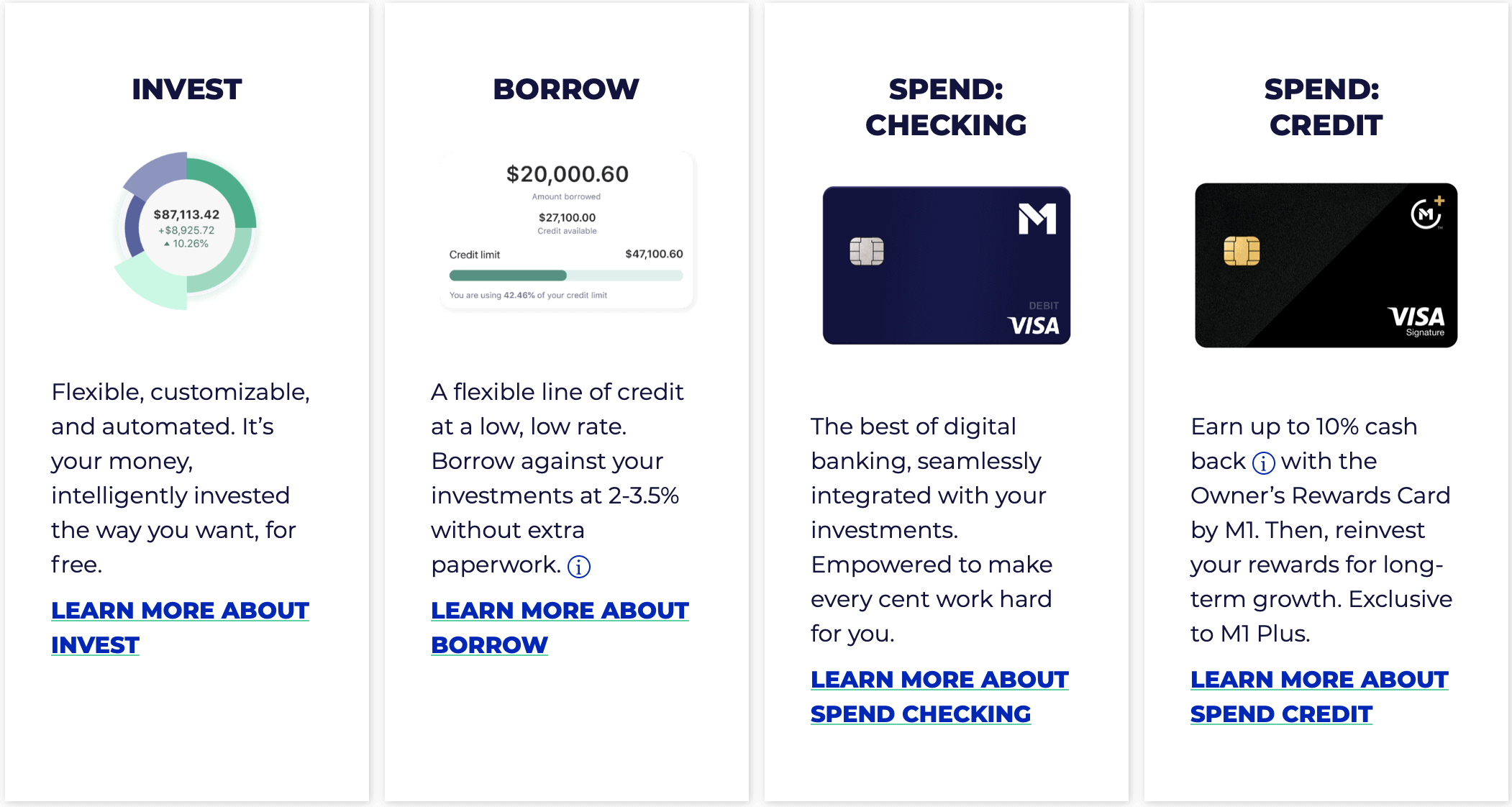 When you sign up as an M1 member, you'll have access to its three main products: 
M1 Invest

: The platform lets you invest in individual stocks, REITs, ESGs, and ETFs. M1 will even let you set up a traditional IRA, Roth IRA, SEP IRA, custodial accounts (M1 Plus only), and trusts. Pick from any of M1's 80+ Expert Pies, which are curated portfolios chosen by the M1 team, or create a completely customized portfolio of your choosing.

M1 Spend

: M1 can provide a digital checking account for you through Lincoln Savings Bank that comes with a debit card and ATM fee reimbursement. If you're an M1 Plus member, you can access the

Owner's Rewards Card

for 2.5% – 10% cashback.

M1 Borrow

: Both Basic and Plus members can borrow against their M1 portfolio. As long as you have $10,000 in your account (aside from an IRA, which doesn't allow borrowing), M1 allows you to borrow against that money. Basically, you can use your investments as a line of credit, borrowing up to 35% of your portfolio's value. The benefit is that you can score a 2.5% – 3.5% interest rate on the loan, which is lower than what you'd probably find elsewhere. 
Honestly, there's a lot to love about M1 Finance. 
In terms of fees, there are no portfolio management fees or trading fees. M1 mostly makes its money from interest and Plus memberships, as well as miscellaneous fees. 
But compared to other platforms, it's a downright cheap option for investing. Aside from the low costs, investors also like M1 because: 
It has low minimums

: If you're investing in individual stocks, M1's minimum is $100. For retirement accounts, it's still a nice-and-low $500 minimum. 

It keeps your goals on track

: M1 has

a "rebalance" button

that helps you stay on track with your goals over time.

It's customizable

: M1 is better for more experienced investors who want to save time. But if you aren't a fan of its Expert Pies, the platform allows you to build one of your own. You can even combine a Custom Pie with an Expert Pie if you want to add your own spin to a pre-existing Pie.
However, keep in mind that M1 Finance doesn't have financial advisors on hand to help you out. That's why it's better suited for experienced investors who want to save time and money.
Can I Use M1 Finance Outside Of The US?
M1 Finance clearly has a lot of benefits. But is it available to everyone? 
Unfortunately, no. Although M1 Finance allows anyone to create an account, it doesn't mean you can actually invest through the platform. 
To qualify for M1 Finance, you need to meet their criteria:
You need to be 18 or older. 

You must be a US citizen or a legal permanent resident with a green card.

You need a current residential address in the US (no, a PO box doesn't count).

You need a valid US phone number. For security reasons, M1 doesn't accept VoIP phone numbers.
M1 is registered with the SEC, so it's a legitimate investment platform in the US. As long as you live in any of the 50 US states or 3 territories, you can use M1. 
As a US financial institution, M1 isn't available to international investors. M1 requires a W8 form, which means you need a Taxpayer ID from the IRS to invest. It might sound like bureaucratic red tape, but this is necessary for fraud prevention and anti-terrorism reasons.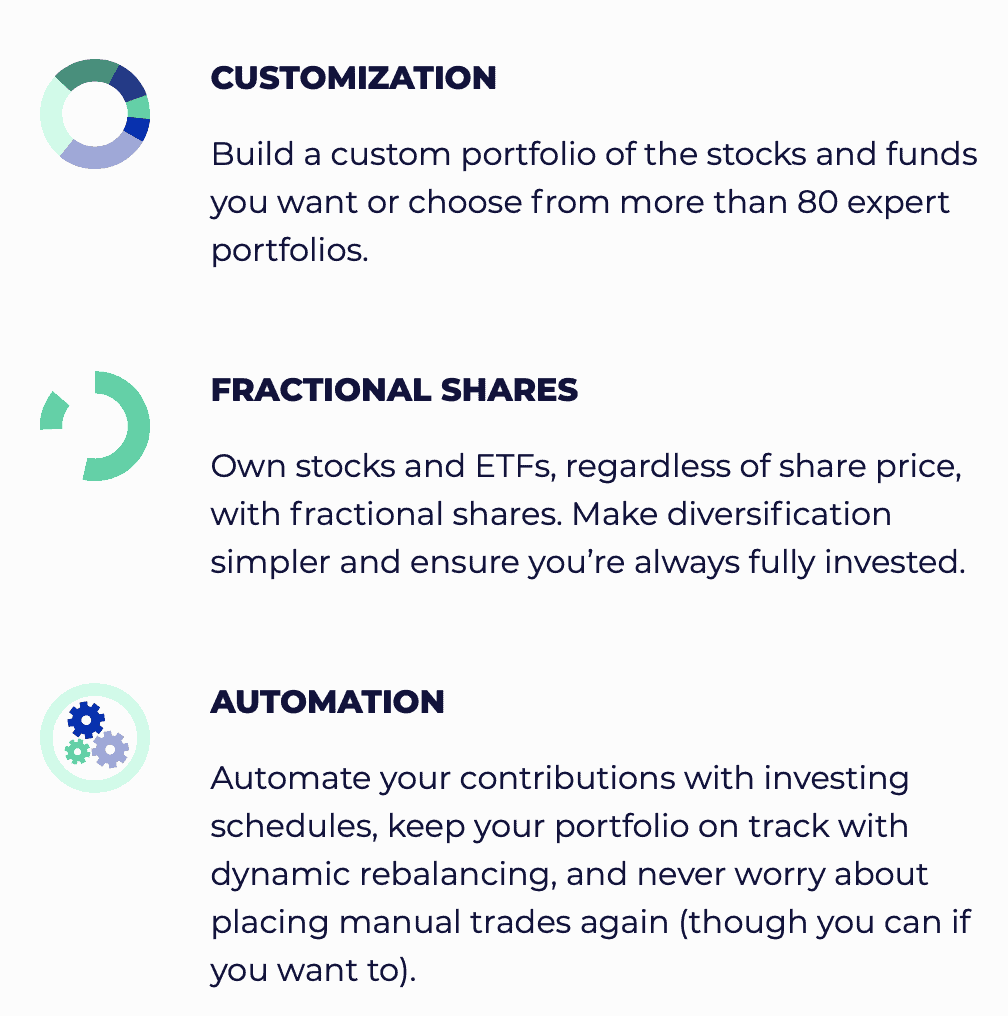 Who Can Trade On M1 Finance?
In a nutshell, M1 Finance is only available to legal US residents. You don't need to be a citizen, but you do need to have a green card (permanent resident status in the US) to qualify. 
You can't use M1 Finance if:
You're younger than 18 years old.

You're living in the US without documentation.

You're a foreign citizen temporarily living in the US.

You don't have a residential address or phone number in the US.
Using M1 Finance Outside Of The US
Look, you can't skirt around M1's rules. The residency requirement is a bummer, but there's no way to get around the IRS's rules— unless you want to get into serious trouble. 
However, in certain circumstances, you might be able to use M1 Finance even if you're outside of the US.
For example, if you're a US citizen but you're living in China for 3 months for work, you can still use M1 Finance. You still need to meet its age, phone number, and address requirements, though, so don't get rid of your US address if you want to use M1 Finance!
Alternatives To Using M1 Finance Outside Of The US
Ready to start investing? Great! 
Firstrade is one of the few investing apps that doesn't require a Social Security Number and can be used by US and Non-US residents alike.
Here's how you can open an account with Firstrade:
Sign up with Firstrade
Fill out the online forms to apply
Fund your account
Start investing!
Firstrade: Great For International Investors
M1 Finance helps experienced investors save more time (and money) thanks to its blend of automation and customization. Its investing, borrowing, and banking features are popular with investors thanks to M1's super-low fees. 
However, M1 Finance is only for US citizens and permanent residents. If you need an alternative to M1 Finance – Firstrade might be your best option for international investors.