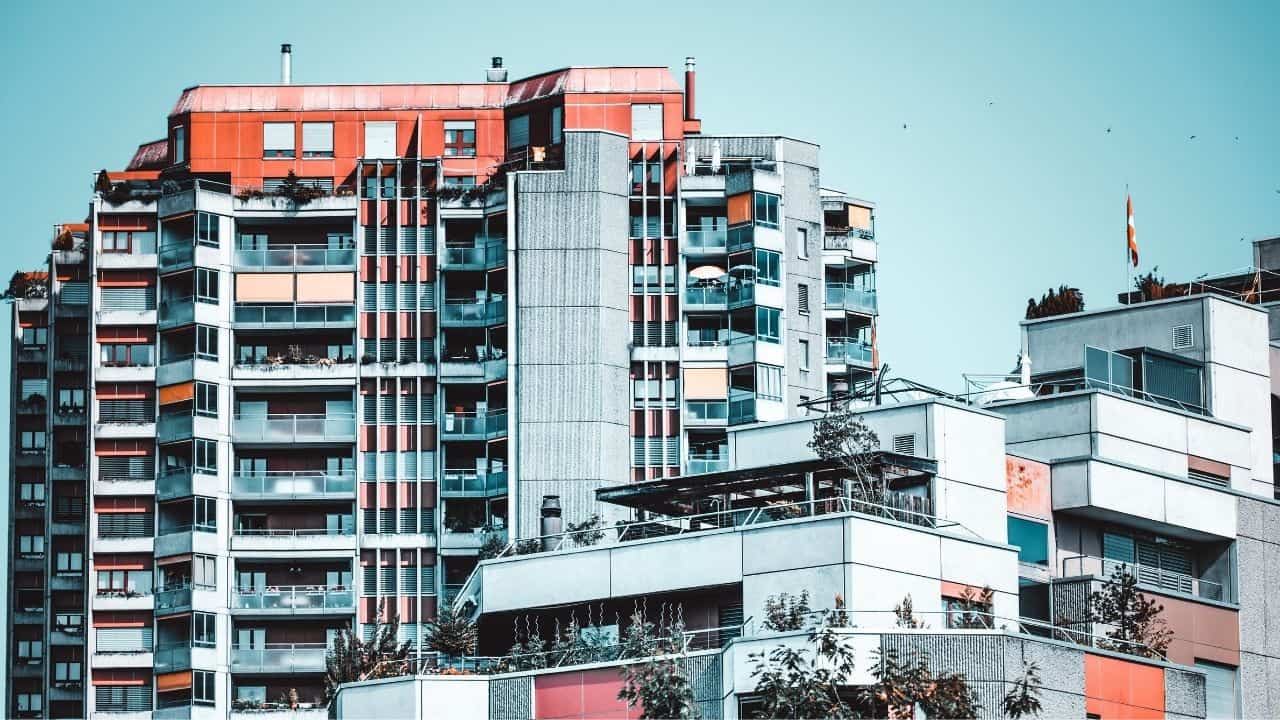 Disclaimer
We only endorse products that we truly believe in. Some of the links below may earn us some extra guac at no additional cost to you. Please pass the chips & thank you for feeding our habit.
Anyone who's ever wanted to make money from real estate but doesn't want the risk of owning or managing physical property can solve both of these problems by investing in crowdfunded real estate. And one of the most reputable and popular platforms on the market today is a company called Fundrise.
Fundrise combines the entrepreneurial spirit of "crowdfunding" with property development and investment opportunities that were classically reserved for REITs (real estate investment trusts) and private equity firms. They give people from all income levels the chance to fund and participate in a portfolio of vetted real estate projects that are poised for the best future potential.
This begs the question: Can you really earn decent returns with Fundrise? The answer is: yes! 
There is definitely an opportunity for investors to make money with Fundrise. The platform not only pays regular dividends, but capital gains can also be earned as the equity shares appreciate in value. Even seeing average returns (9%), a $1,000 investment after 3 years could yield you $270 or a 27% return on your investment.
In this post, I'd like to give you a better appreciation of what Fundrise is and how it works. We'll also walk through the best ways to make money with Fundrise.
Platform
Minimum Investment
Fees
Link
$10
1% Fee
Other fees may apply
Learn More
$1,000
2% Fee
Other fees may apply
Learn More
$25,000
0.5% - 2.5% Fee
Other fees may apply
Learn More
Can You Make Money With Fundrise?
Classically, anyone who's ever wanted to invest in real estate, especially large-scale commercial projects, could buy shares of a REIT. Or, if they were what's considered an accredited investor (someone with a net worth of $1 million or more not including their primary residence), then they could invest with a private equity firm.
However, there were challenges to both. REITs had minimum investment requirements and offered little transparency about how investors' money was being managed. Private equity was even more extreme catering to only the most wealthy individuals and involved high levels of risk.
Thankfully, Fundrise came along and disrupted the entire real estate market by using a relatively new way for adults to raise capital in the age of the Internet: crowdfunding. Here's how they work.
What is Fundrise?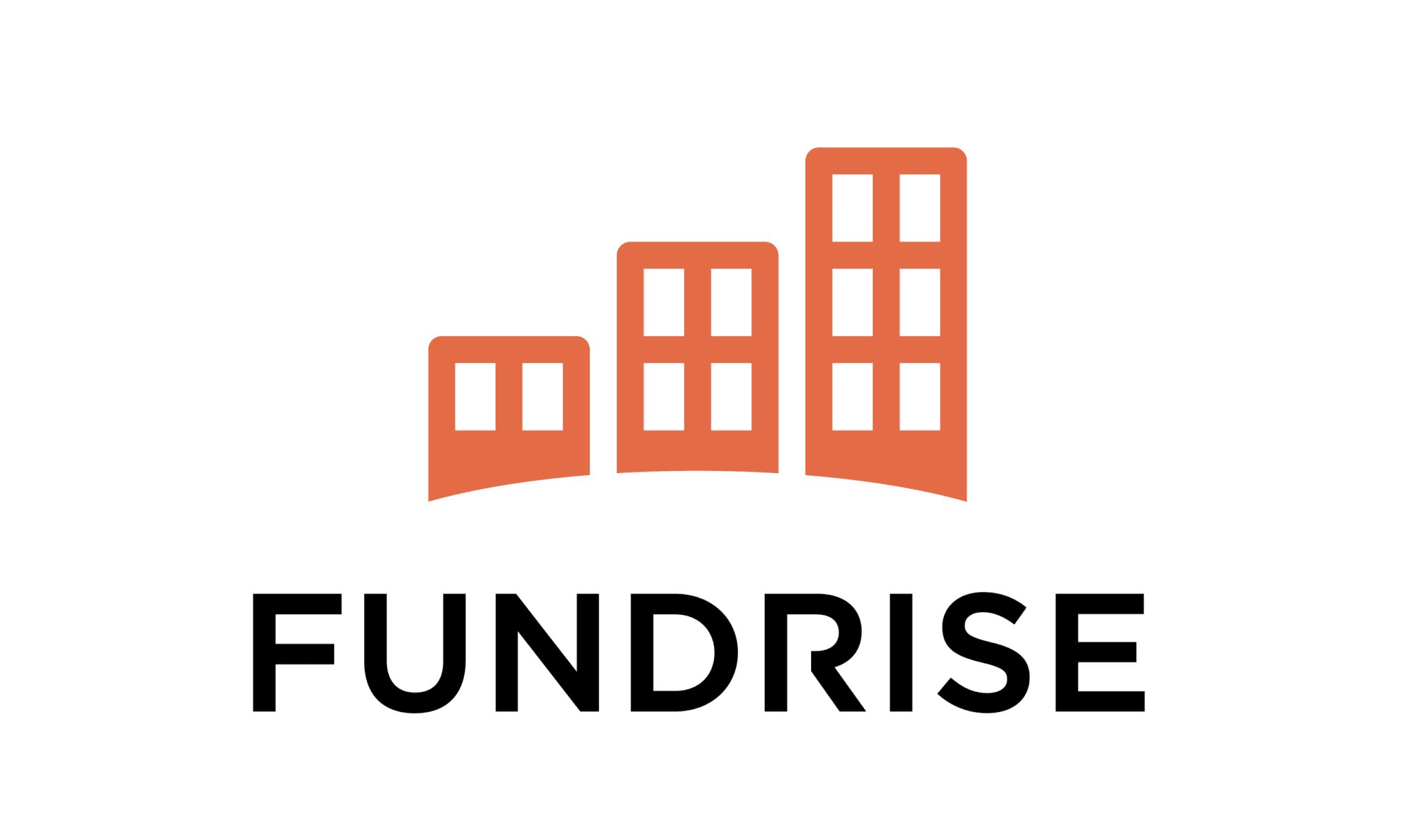 Fundrise is a real estate crowdfunding platform that connects sponsors and investors. Commercial real estate developers and other entrepreneurs apply to Fundrise to become sponsors by submitting their projects for a vetting process. Only those projects which meet certain criteria and have the best chances for success are selected. 
Capital is raised for these projects through the crowdfunding process. Similar to how perfect strangers will donate to causes on sites like GoFundMe or Kickstarter, users are welcome to contribute. 
However, they won't be donating to the projects. Instead, they will be purchasing shares of equity. These shares will entitle the investors to a portion of the proceeds that these projects earn.
Fundrise's portfolio of real estate projects is a multitude of different ventures. They have everything from rental properties to apartment complexes, warehouses, and commercial spaces. Fundrise supplies this capital to the sponsors through both debt and equity stakes in their projects.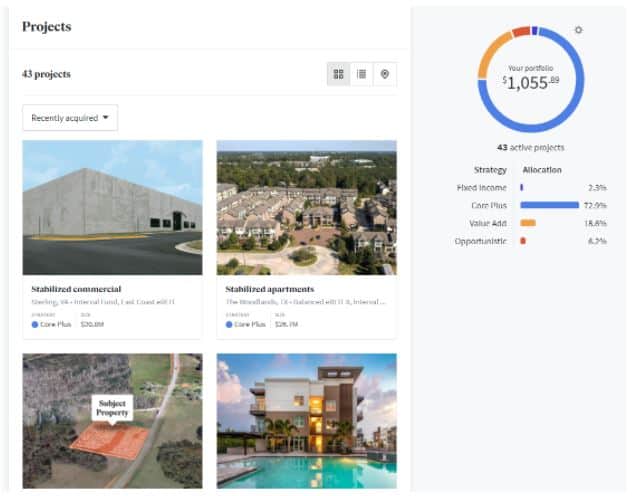 Dividends vs Asset Growth
Because Fundrise sponsors deal exclusively with real estate, there are two primary ways an investor can make money from their projects:
Distributions

– Distributions are the quarterly dividends that are paid to shareholders which represents a portion of the income generated by the real estate property.

This income may come from rental revenue or debt interest

.

Asset appreciation

– Asset appreciation is the value of Fundrises's shares increasing over time. Shares represent the equity spread across all of the physical properties and are usually realized when they are sold.
Similar to a REIT, investors who combine the stability of dividends with the possibility of asset appreciation position themselves for some pretty lucrative growth potential. This can be even further compounded by the fact that Fundrise allows participants to invest in both registered and unregistered projects.
Fundrise's Performance Track Record
Anyone curious about Fundrise's historical returns doesn't need to look too hard. Fundrise regularly updates its investment returns and makes this data public on its website.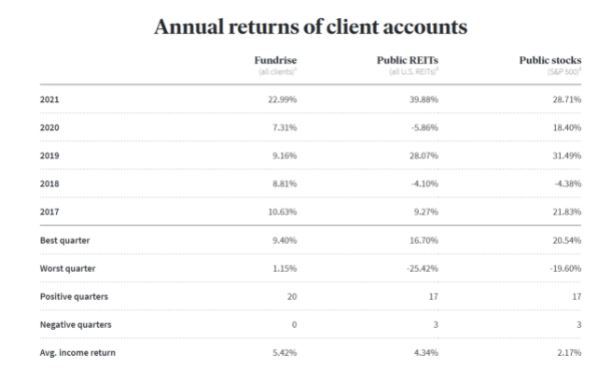 In general, Fundrise has had an average return of 15% from 2017 to 2021.
While they may not have always outperformed the stock market or public REITs during some periods, Fundrise did however seem to do a better job of mitigating losses during the negative times. While growth is important, so is stability. Therefore, anyone who wants to hedge against losses while achieving reasonable rates of return would benefit from considering Fundrise.
How We've Made Money with Fundrise
Now that we know how Fundrise makes money for their investors, let's go over what investors can do to maximize their opportunities for success. Here are a few tips to follow:
Diversify your investments.

Fundrise gives investors who have a Core account or higher the ability to choose which of their funds they'd like to invest in. This gives them the chance to handpick the ones that have better growth potential or higher dividend payments. We'll talk more about how to qualify for a Core account in the section below.

Reinvest dividends.

No matter what size account you have with Fundrise, participants are always given the ability to reinvest their dividends rather than receive them by check. Dividend reinvesting is one of the easiest ways to buy more equity shares which can then compound into greater future returns. Be sure to activate this feature when you sign up. 

Keep a long-term mindset.

Remember that investing in real estate is not the same as investing in stocks. It takes time to develop a property, find tenants, and start generating income. Therefore, investors need to plan to keep their money invested for the long haul if they want to see their account produce their expected returns.
In short, the best chances for success are to take a balanced approach. Diversify your investments across a mixture of stable and growth-oriented projects. And be patient as these projects work their way from concept to maturity and start producing revenue.
Fundrise's Fee Structure
The high prospect for high returns is great. But as any investor knows, it's what's leftover after expenses are taken into account that matters.
Fundrise participants need not worry. The platform charges some of the most modest rates available on the market. Investors pay:
No sales commissions

A 0.15% annual servicing fee
A 0.85% annual management fee
Compared to other real estate platforms or public REITs, these charges are reasonable. Remember that Fundrise provides a service to their investors by reviewing and providing oversight to the hundreds of possible real estate projects available. They are also allowing you to participate in ventures that might have been previously only reserved for the wealthy.
Best Way to Make Money with Fundrise
To make money with Fundrise, you don't have to take our word for it. Here's how to start your own account and find out how much money you could be making from investing in crowdfunded real estate.
1. Open an Account with as Little as $10
Signing up for Fundrise can be done in less than ten minutes. New users will create a profile, connect their bank account, and then wait for first deposit to transfer. 
Unlike other real estate platforms and REITs, new investors can get started with a minimum of $10. Anyone who invests between $10 and $999 will be placed in Fundrise's "Starter" plan. Investments of $1,000 or more will qualify for the Basic plan. 
At both of these levels, investors will be placed in Fundrise's Interval Fund which is a diversified portfolio of private real estate. Users at the Basic plan level will be given the choice between three types of investment objectives:
Supplemental Income

Balanced Investing

Long-term Growth
For an overview of how these plans differ, you can check out this comparison page.
2. Build Up Your Portfolio and Unlock More Features
To unlock valuable account features beyond the Starter plan, participants will need to meet certain investment thresholds. Here's an overview of those features and the minimum investment required.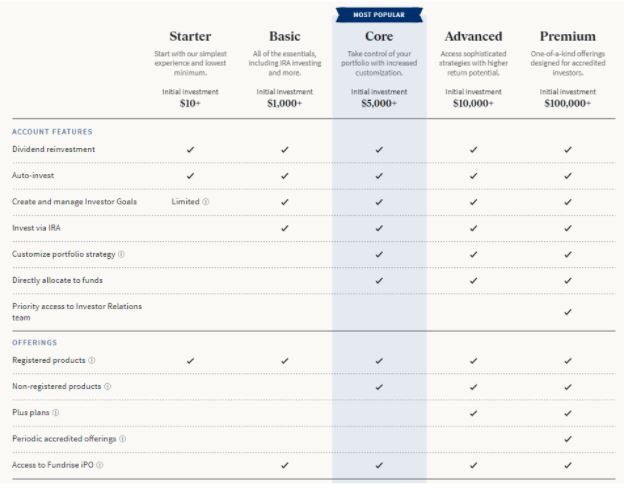 For instance, investors who are interested in saving for retirement and would like to set up their account as a traditional or Roth IRA will need to first qualify for the Basic account level. The custodian for Fundrise IRAs is Millennium Trust Company, LLC and standard IRS rules would apply to contribution limits.
Investors with $5,000 or more will be upgraded to the Core account level. This will allow them to invest beyond Fundrise's traditional registered funds and participate in their private, non-registered products.
For a complete overview of Fundrise's proprietary eREITS and eFunds, click here. Investors can read about the investment's strategy, compare dividends and appreciation data, and then customize which ones they'd like to put their money into.
Investors can always simply make additional contributions to go from one account tier to the next. However, a more systematic approach to slowly build your portfolio is to sign up to make regularly repeating automatic contributions. Reoccurring investments can be as little as $10. 
3. Learn About How Your Money is Being Invested
No matter how much you've invested in Fundrise, one of the neat features they have is to learn more about the projects your money is going towards. Although you won't be able to change them or pick which ones you want to invest in specifically, it's kinda interesting (and transparent) to have this ability.
For example, I've kicked around the idea of buying a vacation property such as a beach-front condo that I could rent out to tourists. However, through investing with Fundrise, it looks like I'm coincidently already doing this in a roundabout way since it's listed as one of my projects.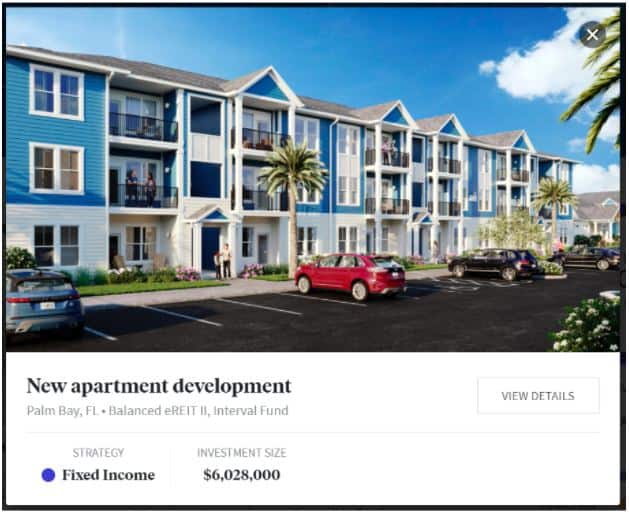 Unlike a traditional REIT, Fundrise makes it easy to find out more about how my money is being invested. By simply going to my projects and clicking the "Details" button, I can find out all kinds of information such as:
Project goals and strategy

Where this property is located

How much has been invested so far

A timeline of developments and events

And a whole lot more!
Again, investors who want to invest in projects that have specific objectives such as income, growth, or a balance of the two, will want to work their way up to the Core account level. That way, as time goes on your investment needs change, you can make adjustments to your asset allocation as needed.
4. Don't Forget to File Your Tax Return
Each year that passes, investors will need to remember to pay taxes on the dividends they received (unless they opted to open their account as a traditional IRA). To do this, they'll need to download their statement from the dashboard and report it on their federal income tax return.
Similar to an ETF, the dividends that Fundrise pays will most likely be considered as "non-qualified". To recap, dividends paid on most stocks meet the IRS definition of being qualified and will be subject to a lower tax rate. However, because the profits from crowdfunded real estate are essentially passed through to shareholders through dividends, the IRS considers them to be the same as regular taxable income.
5. Plan to Invest for at Least 5 Years
As we've already mentioned, investing in real estate is not the same as buying stocks. Properties take time to develop, renovate, and attract tenants. Sponsors need to ensure that the capital they need will remain consistent so that they can accurately plan and make decisions for the future.
For this reason, Fundrise will impose a penalty for any withdrawals on funds held for less than 5 years. This fee is a flat 1 percent.
Additionally, Fundrise shares are subject to a "First in, first out," policy. This means that the shares you've held the longest will be redeemed first.
Also, investors should note that redemption requests are not always guaranteed. While Fundrise insists they will try to honor those participants who need liquidity, this could be limited during times of economic turbulence.
Will I Make Money With Fundrise? 
If there's any doubt about whether or not you can really make money with Fundrise, let the results speak for themselves. Fundrise is a crowdfunded real estate platform with many characteristics similar to REITs and private equity. However, once you start investing with Fundrise, you'll find that they've got some pretty unique features.
Investors will make money through a combination of distributions and asset appreciation. Dividends will be paid as Fundrise projects generate income from their tenants and collect interest from debt. Asset appreciation will be realized as properties are sold for a profit.
Investors can maximize their opportunities for success by keeping a long-term mindset and reinvesting dividends for compound growth. As they get into upper account levels, they can also unlock the ability to customize their portfolio and have more control over how their funds are invested.