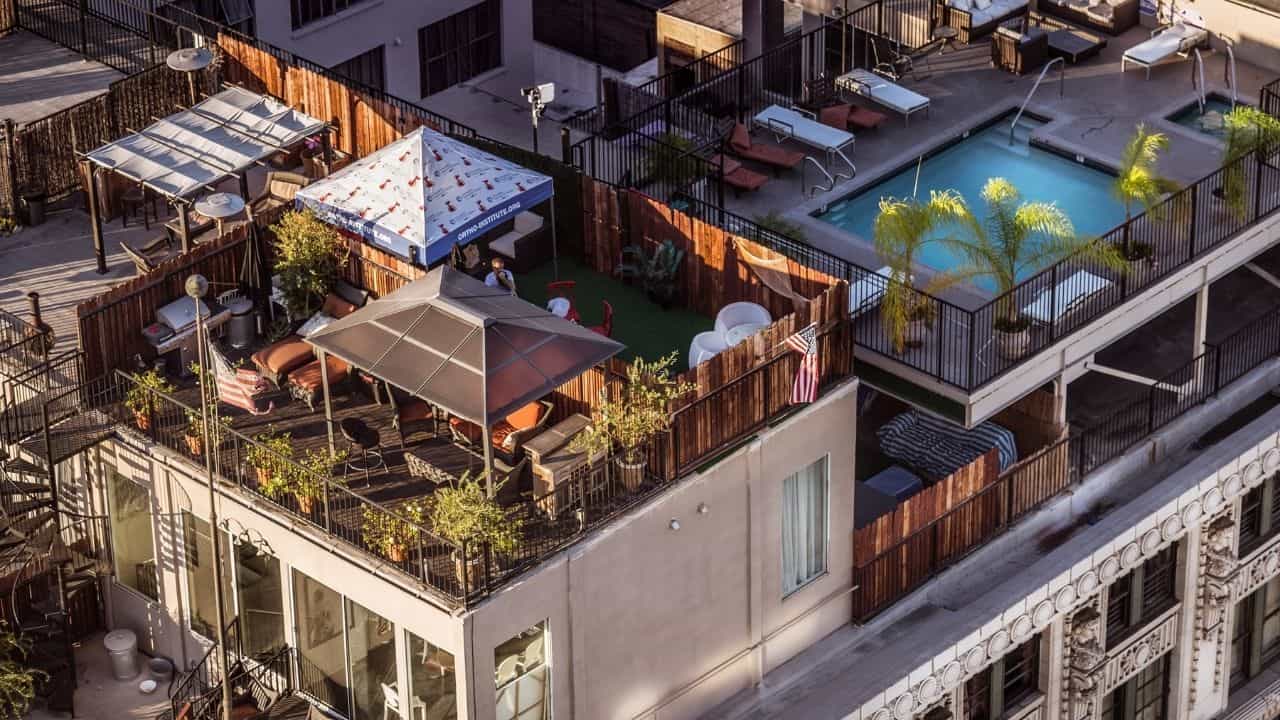 Disclaimer
We only endorse products that we truly believe in. Some of the links below may earn us some extra guac at no additional cost to you. Please pass the chips & thank you for feeding our habit.
CrowdStreet Review
CrowdStreet Review
CrowdStreet has high minimum investment requirements and risk to invest in commercial real estate. Its only available to accredited investors. Despite these hefty requirement, users are incredibly happy with the platform as a whole.
Pros
Wide Selection Of Projects
Excellent Resource Training
Cons
High Minimum Requirements
Only Available To Accredited Investors
As the nation's largest online crowdfunded real estate investment platform, CrowdStreet provides a wide selection of private equity investment opportunities across several asset classes.
With its high minimum investment requirements and higher-than-average risk, we wondered what made CrowdStreet so attractive to investors. So we did a deep dive on the pros and cons of its services, plus took a close look at dozens of customer reviews to find out why people like, or don't like, investing on CrowdStreet.
CrowdStreet is a crowdfunded commercial real estate investment platform for accredited investors. It provides investment opportunities across 10 asset classes, including multifamily retail, industrial, and hospitality properties, plus direct access to sponsors, without charging fees to investors. 
Find out the #1 thing experienced investors insist on to ensure satisfaction with CrowdStreet and learn about its pros and cons, plus how to get started, in our complete review below.
Best Real Estate Investing Platforms
What Is CrowdStreet?
CrowdStreet is a real estate marketplace that helps accredited investors find their way to crowdfunded real estate projects, funds, and properties.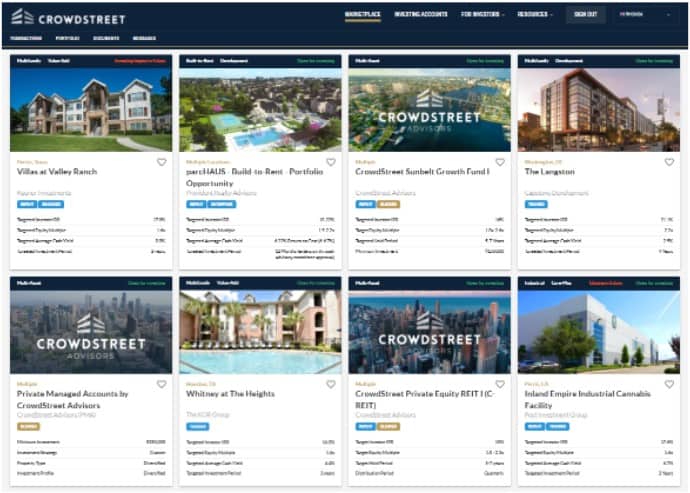 Since 2014, CrowdStreet has helped investors earn more than $500 million in distributions (based on internal CrowdStreet data) across over 600 deals.
CrowdStreet's internal rate of return (IRR) is 18.5%, based on past performances of fully realized deals.
The platform makes it easy for investors to consider a range of commercial real estate opportunities by providing comprehensive information on each project at the click of a button.
According to a recent poll by Minority Mindset, nearly half (48%) of money-minded people invest in real estate, and more than 70% say they love it!
You'll find extensive details on each investment opportunity on each project page, including a project summary, webinar, related resources, business plan, comprehensive project financials, and other information. Each project also provides downloadable documents such as
Private Placement Memorandum

Subscription Agreement

Operating Agreement with Manager Consent

Series Appendix for Series 1

FAQ

Marketing Deck
Investors considering CrowdStreet should be aware that the platform is a real estate marketplace. Its experts and advisors conduct research and compile information to help you choose investment projects, however, investors should also conduct their own, thorough, due diligence on projects and sponsors before making any investment.
Distributions from your investments depend on the business plan and are subject to cash availability. Some offerings begin paying distributions shortly after closing, while others may need all their capital for expenses such as construction, improvements, and lease-up activities.
Some sponsors pay distributions monthly, but most pay quarterly.
Your level of risk, potential earnings, and the timing of distributions and returns vary depending on the project and sponsor, so you'll want to review the full details of each opportunity on its project page thoroughly before investing.
The minimum investment requirement varies per project, ranging from $25,000 – $200,000 or more.
CrowdStreet At A Glance
Here are Crowdstreet's fees and basic investor requirements:
| | CrowdStreet |
| --- | --- |
| Minimum Investment | $25,000 |
| Fees | 0.5% - 2.5% |
| Investor Status | Accredited investors |
| Average Return | 18.5% IRR |
| Commitment | Varies; average 4-10 years |
| Asset Classes | Commercial real estate |
| Types Of Investments | Debt and equity |
What Kind Of Investments Does CrowdStreet Offer?
You can find many types of deals from several asset classes on CrowdStreet, including multifamily rentals, self-storage, and data centers.
CrowdStreet provides accredited investors with three ways to invest in crowdfunded commercial real estate:
Investment Option #1: Diversified Funds
Diversified Funds are professionally managed institutional-quality Real Estate Funds managed by investment professionals to save you the time and effort of choosing and researching individual investments.

CrowdStreet offers several types of real estate funds, each targeting a specific niche such as a region or property type, or another type of theme. These are single-sponsor funds managed by one real estate firm (sponsor), usually focusing on the firm's specialty. 
For example, CrowdStreet's Sunbelt Growth Fund I focuses on a collection of properties within the Sunbelt region of the U.S., while the Multifamily Opportunity Fund III is a collection of multifamily assets in the Western and Sunbelt states.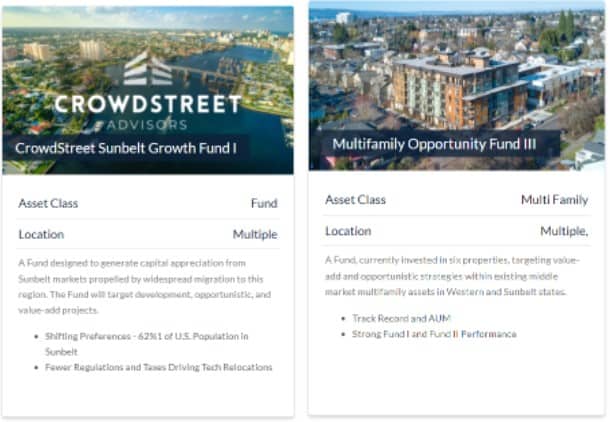 Diversified Funds are designed to generate income through capital appreciation.
Investment Option #2: Individual Deals
Individual Deals are real estate investment opportunities that allow you to hand-pick crowdfunded investments so you can choose the sponsors and deals you prefer. 
Unlike Funds, which choose assets for you, Individual Deals let you invest directly into specific projects with other investors.
Two examples of CrowdStreet Individual Deals are The Langston Project, a multi-family luxury apartment development in Washington D.C., and Inland Empire Industrial Cannabis Facility, an industrial building located in Perris, California.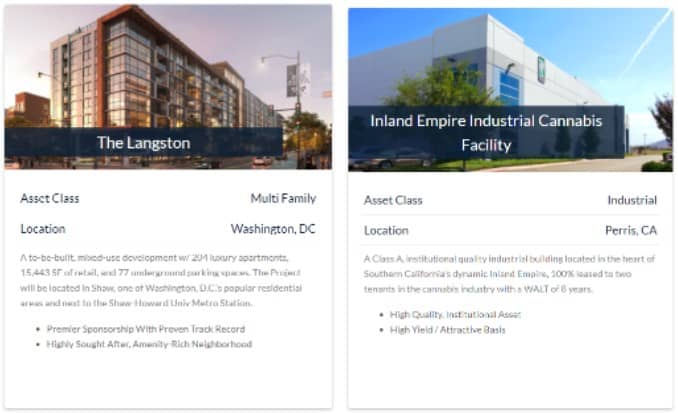 Individual deals allow you to communicate directly with the sponsor to help you make informed decisions.
Investment Option #3: Tailored Portfolio
A Tailored Portfolio, or private managed account, lets you work with CrowdStreet's investment advisors to customize a portfolio of real estate assets from its Marketplace
You must have a minimum balance of $250,000 to invest in a private managed account, and fees vary according to the size of your investment.
CrowdStreet offers three ways to invest, Diversified Funds, Individual Deals, and Tailored Portfolios. The minimums, terms, and risks vary depending on how you invest, but thorough information is shared for every investment consideration.
Who Can Invest On CrowdStreet?
CrowdStreet has three requirements you must meet to invest on its platform:
Be a U.S. Citizen* or resident

Meet accreditation requirements

Undergo an

ID verification

process.
*Some exceptions are made for people investing through U.S.-based entities. Please see the CrowdStreet orientation video for full details.
Only accredited investors can invest with CrowdStreet. Accredited investors are people who meet one of the following criteria:
Earn more than $200,000 per year ($300,000 with a spouse) for the past two years.

Have a net worth of more than one million dollars, not including primary residence.

Hold a series 7, 82, or 65 license.

Have an entity/trust with more than $5 million in assets, and each owner or trustee is an accredited investor.
To prove your accredited status, you'll need to do one of the following:
Provide a signed letter from a verified professional such as a licensed attorney, licensed CPA, or licensed wealth advisor. For this, you can use CrowdStreet's verification template available on its orientation page.

Use VerifyInvestor third-party software, for free
To invest with CrowdStreet, you must be a U.S. citizen who is an accredited investor, willing to comply with AML/KYC laws to verify your identity.
How Do Fees And Returns Work?
CrowdStreet earns its money from sponsors and does not charge fees to investors except when they choose to pay for extra help from a CrowdStreet advisor.
In some cases, you may be required to pay fees to the sponsor for access to their investment opportunities
CrowdStreet Pros And Cons
In our review of dozens of CrowdStreet customer reviews, we found that the most satisfied customers seemed to be experienced investors who conducted their own due diligence prior to investing, and who also had realistic expectations on how much the project would earn.
Customers who were unhappy with the platform cited poor customer service and low returns as their main source of complaints.
Pros:
18.5% IRR (Internal Rate of Return).

Wide selection of several types of real estate investments.

Comprehensive project information is available instantly.

Excellent training resources, including an orientation webinar.

Some due diligence and vetting of projects is conducted for you.
Cons:
High minimum investment requirements.

Accredited investors only.

Many unhappy reviewers complain about a lack of customer service and poor communication.

Risk is high and relies heavily on the project's sponsor.
Overall, Crowdstreet provides a solid user experience with several features that experience investors appreciate.
Compared to similar platforms such as Fundrise and RealtyMogul, Crowdstreet's lack of fees are a standout for investors looking to save money on investing fees.
CrowdStreet Vs. Fundrise Vs. RealtyMogul
We think CrowdStreet is an excellent Marketplace for accredited, experienced investors who are willing and capable of conducting thorough research of each sponsor and project before investing.
For example:
CrowdStreet customer and Google Reviewer Tim Mahoney, who has been a Commercial Real Estate professional for more than 34 years, enjoys investing through CrowdStreet (since 2017), citing quality sponsors, a wide variety of deals, and excellent due diligence materials as some of his favorite aspects of the platform.

Reviewer Ali Merchant explains that CrowdStreet is his favorite crowdfunded real estate platform, and reminds readers to be realistic in their approach, bearing in mind that it's a real estate marketplace.
"I like CrowdStreet and it's my preferred crowdfunding real estate site…Keep in mind that CS is a marketplace, not a company you are investing in. They do some background checks and help to provide a standardized format in which the due diligence is presented.

The responsibility is on the investor to look through it and decide if the investment will succeed or not.  If the Sponsor does not perform as promised, it's an issue with that Sponsor not CS." – Ali Merchant, Google Reviewer
As with any investment, real estate comes with risks, and CrowdStreet is no exception. Experienced investors may be a good fit for CrowdStreet, however, the platform is not recommended for new and beginner investors, due to the risks attached.
CrowdStreet: Our Final Recommendations
CrowdStreet is a user-friendly, robust real estate investing platform that provides a sizable selection of crowdfunded real estate opportunities for accredited investors. Its minimum investment requirements are generally high, ranging from $25,000 – to more than $200,000, depending on the project. The company charges no investment fees to its users and provides excellent guidance on how to get started investing on its platform.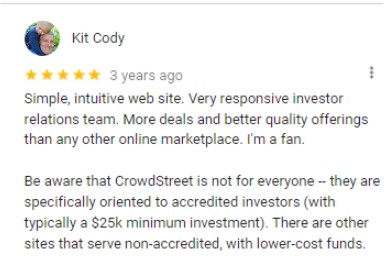 CrowdStreet is a real estate marketplace that offers some amount of due diligence and vetting of projects, however, conducting your own research is vital to your success and satisfaction on the platform.
We really like the platform's ease of use and selection of investment opportunities, and recommend CrowdStreet for accredited, experienced investors looking for the opportunity to earn decent returns across several types of projects.